Updated September 1, 2023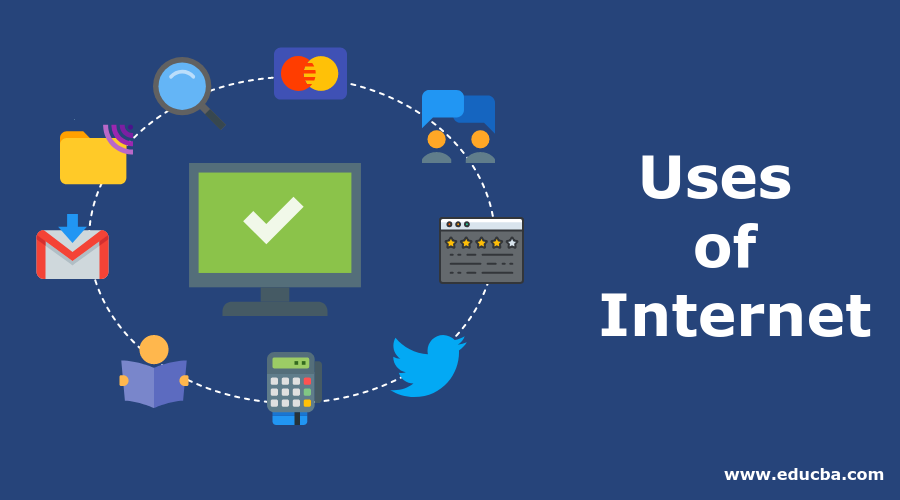 Introduction to Uses of the Internet
The Internet is a huge virtual networking web medium that enables users to send, receive, store, update, delete, and more. The Internet can search for anything and everything with a simple click or typing the necessary question in the search box on any device with a network connection.
Internet usage has new boundaries today. A few of the major uses of the Internet are e-commerce, e-learning, sharing information, social connections, etc. So, we will learn about the uses of the Internet. You are here with the use of the Internet, like how you came across this article through the Internet.
Table of Contents
Top 12 Uses of the Internet
Here are the top uses of the Internet explained below in detail:


1. Communication
Communication is all about how we talk to each other and share important things. The Internet has email, instant messaging, social media, online discussion forums, video, and voice calls for the major portion of communication. The following tools make it easier for us to connect, collaborate, and learn from one another.
Email: Email was one of the earliest and most important uses of the Internet. It allows people to send messages, share files, photos, and videos, and communicate for both personal and business purposes. While there are now many other advanced collaboration tools available, email remains extremely popular for official and personal communication. There are numerous free email websites that offer email services, and almost everyone has an email address.
Social Media Platforms for Connecting: Social media is where we connect with friends, family, and others online. We can share updates, pictures, and videos on platforms like Facebook, Twitter, and Instagram. It's like having an online diary on which others can see and comment. We can also use social media to find jobs or connect with professionals through platforms like LinkedIn.
Online Forums and Discussion Boards: Online forums are like virtual places where people with similar interests can have conversations and ask questions. It's like being in a big group chat where you can discuss specific topics. Websites like Reddit have different communities called subreddits where people can share ideas, ask for help, or discuss things they're interested in.
Video and Voice Calls: Sometimes, we can't meet in person, but we still want to see and talk to each other. That's where video and voice calls come in. Apps like Skype, Zoom, or Google Meet let us talk to someone using our computer or phone. We can see each other on the screen and have a conversation, just as if we were in the same room.
2. E-Commerce
E-Commerce is about buying and selling things on the Internet. It's like shopping, but the Internet allows you to do it from your computer or phone instead of going to a physical store. There are different parts to it that we'll talk about.
Online shopping and retail websites: Online shopping means buying things from websites instead of going to a store. There are websites by various vendors to find what you want, compare prices, read reviews, and order what you like. It's like going through a virtual store on your computer. For example, let's say you want to buy a new pair of shoes. You can go to a shoe website, browse through different types of shoes, select the one you want, choose the right size and color, and then enter the shipping and payment details to complete the purchase.
Payment gateways and secure transactions: When you buy something online, the payment gateway transfers your money from your bank or credit card to the seller's account. For example, you might see options like PayPal or Stripe for making payments when buying something online. These are payment gateways. They redirect you to their websites, where you can enter your payment information securely. Once the payment is authorized, your purchase is complete.
3. Content Creation Using AI
With artificial intelligence (AI) advancements, the Internet offers tools to generate content autonomously. These AI-powered content generators can produce articles, blog posts, product descriptions, and social media captions based on specific input or prompts. Platforms like OpenAI's ChatGPT and Copy.ai leverage language models to generate human-like text, providing content creators, marketers, and businesses with valuable resources.
4. Online Banking
The Internet has been the most important factor in introducing Net Banking. We can transfer money from our mobile phones, tablets, laptops, etc. There is no need to visit the banks during rush hours, which takes hours to complete a simple cash withdrawal or money transfer. Banks close at the end of the day, but the Internet is available 24/7. There is no stress of carrying bundles of cash on the streets to deposit in the bank or after a withdrawal.
The Internet allows payments for electricity bills, online shopping, etc. Every bank has its net banking website to allow customers to decrease physical cash movement in the system. The Internet also includes transactions through plastic money like debit, credit cards, vouchers, etc. The introduction of UPI Gateways has made it easier to transfer money without signing in to the net banking account of a particular bank.
5. Education
In today's world, the Internet has new ways for our research and education. With the Internet, we can access online databases and libraries, take online courses, collaborate with others, find tutorials and resources, and attend classes online. The following uses of the Internet have made learning more accessible and fun for everyone.
Access to vast online libraries: With the uses of internet, researchers, students, and teachers can find many articles, books, and other resources without leaving home. This means we can find the information we need quickly and easily.
E-learning platforms and online courses: Now, we can learn online! There are special websites where we can take courses on different subjects. These courses are flexible so that we can learn at our own speed and whenever possible. Many websites have courses on various topics like Investment Banking, Financial Modeling, Data Science, Python, etc. We can watch videos, do quizzes, and even get certificates for finishing courses. It's like having a school in our own homes!
Virtual classrooms and distance learning programs: Sometimes, we can't go to a physical classroom. But the Internet lets us attend classes online! We can join virtual classrooms using video calls and special software. Platforms like Zoom and Microsoft Teams are used for virtual classrooms. We can talk to our teachers and classmates, join discussions, and submit assignments online. Distance learning programs are also available for people who can't attend regular school. These programs use online resources, video lectures, and virtual interactions to teach us.
6. Entertainment
Entertainment and media have become much easier and more fun because of the Internet. The following features of the Internet showcase how we can create videos, share them online, and watch any video we want.
Streaming of movies, TV shows, and music: Streaming services on the Internet are like giant libraries where we can watch and enjoy TV shows and movies and listen to music without buying them. Instead of going to a store or waiting for a specific time on TV, the Internet allows us to subscribe to services like Netflix and instantly watch many different things on our phones, computers, or TVs. It's like having access to a huge entertainment collection at our fingertips.
Online gaming and multiplayer platforms: Online gaming lets us play video games with people worldwide through a global internet connection. Games like Fortnite are popular because we can join in big battles with many other players who are also using the Internet. Platforms like Xbox Live and Steam on the Internet bring gamers together.
Content Creators and Influencers: Social media has also allowed creative people to show their talents and get recognized for their work. Influencers create videos or posts on the Internet through platforms like YouTube, Instagram, and TikTok that many people enjoy.
7. Government Websites
The Internet provides access to government websites, such as The White House, National Portal of India, National Informatics Centre, etc., where you can find helpful information. These websites are user-friendly to navigate and find what you need, even if you're not tech-savvy. For example, you can complete the tax filing procedure online using the website of the Income Tax Department instead of filling out physical tax forms at any administrative office. Government websites also inform you of real-time updates on policy changes or safety alerts.
Students can access government exam timetables and syllabi from a particular website link on the Internet. The Right To Information (RTI) allows everyone to know and share everything happening around the world. When visiting these websites, look for the lock symbol or "https://" in the web address to ensure secure transactions and protect your sensitive information.
8. Health
In today's world, the Internet has changed how we care for our health and well-being by making it easier to stay healthy, get the support we need, and connect with others in similar situations. Let's look at some ways the Internet has made things easier for us:
Telemedicine and online consultations: Instead of going to the doctor's office, we can now have appointments through video calls. This is called telemedicine. It's helpful for non-emergency cases and saves time and effort. So, if you have a minor illness, you can talk to a doctor online using apps like Doctor On Demand.
Access to medical information and resources: Nowadays, we can find lots of medical information online. Websites and apps detail different health conditions, treatments, and ways to stay healthy. For example, websites like WebMD and Mayo Clinic give us information about symptoms and advice on what to do.
Health and fitness apps and platforms: Some apps and devices help us keep track of our exercise, heart rate, and what we eat. They can help us set goals and stay fit by monitoring our activities and calorie intake.
Online communities and support groups: The internet has created communities where people facing similar health challenges can connect and support each other. These communities make us feel like we belong and offer emotional support. Websites like PatientsLikeMe and Inspire let people with chronic conditions share their experiences and learn from others.
9. Booking Tickets
Gone are the days of standing in long queues to purchase movie tickets or making tedious phone calls to book flights and hotels. With the Internet, we can now easily book movie tickets or plan our travel with just a few clicks. Websites and apps like BookMyShow, Expedia, and Kayak aggregate information from multiple sources.
For example, imagine you want to watch a newly released movie. Within seconds, you can select your preferred showtime, choose seats, and make a quick payment, ensuring a hassle-free movie experience.
10. Social Impact
Social Impact and Activism are about how people use the Internet to make a difference and improve society by using viral content to spread messages and letting regular people share news and opinions.
Online activism and awareness campaigns: This means using websites and social media to discuss important problems and get people involved. For example, in Feb 2023, the Indian Government launched "Stay Safe Online", an online campaign to increase awareness about cybersecurity.
Social change through viral content: Sometimes, videos, pictures, or funny things spread quickly online. This can bring attention to important issues and get people talking about them. For example, the Ice Bucket Challenge video became very popular and helped raise money and awareness for ALS.
Online petitions: An online petition is like signing your name to support a cause. It's easy for many people to show they care about something. Grassroots movements are when people come together to protest or fight for something they believe in. Both of these things can start online and then grow into something bigger.
11. Converting Files
The Internet also offers various tools and services for converting files from one format to another. Whether converting a document from PDF to Word, an image from JPEG to PNG, or a video from one format to another, online file conversion services simplify the process.
For instance, let's say you received a PDF document but need to edit it in Microsoft Word. Instead of retyping the entire content, you can use an online PDF-to-Word converter. By uploading the PDF file and selecting the Word format, the converter will transform the file into an editable Word document, allowing you to make the necessary changes easily.
12. Video Editing
In the past, professional video editing required expensive equipment and specialized software. Now, with the help of the Internet, many platforms offer user-friendly interfaces and a range of editing features. Users can upload videos, trim clips, add transitions, apply effects, and even incorporate music and text to create engaging videos without investing in complex software or hardware.
For example, you want to create a short video montage for a family event. You can use an online video editing tool instead of purchasing and learning professional editing software. You can quickly assemble your clips, add music and text, and produce a polished video to share with your loved ones.
Infographic

Conclusion
In the future, the internet will keep getting better with new technologies like artificial intelligence, augmented reality, and wearable devices. These advancements will make us more connected and aware of the world. However, there are some challenges we need to address. One is ensuring our privacy and security are protected as more data is collected and analyzed. Another challenge is dealing with fake information, cybercrime, and online bullying, which are issues that require ongoing efforts to solve. So, while the future of the internet looks promising, we must also be aware of and address these challenges to make the most of its potential.
Frequently Asked Questions (FAQs)
Q1. How to Run an Internet Speed Test?
Answer: To run an internet speed test, follow these steps:
Step 1: Open any web browser (Chrome or Firefox) on your device.
Step 2: Go to a website called Speedtest.net.
Step 3: Click the big "GO" button on the screen to start the test.
Step 4: Wait for some time for the test to finish.
The screen will show the internet speed in megabytes per second (Mbps). That's it!
Q2. What is the "Dinosaur no Internet Game"?
Answer: The "No Internet Game" refers to a popular browser game known as the "T-Rex Game" or "T-Rex Runner." It is a simple side-scrolling game on Google Chrome with no internet connection. To play the game, you can open Google Chrome and try to load a webpage while offline. When the "No Internet" page appears with the T-Rex dinosaur icon, press the spacebar or tap the screen (touch-screen devices) to make the dinosaur jump and avoid obstacles like cacti. The goal is to survive for as long as possible by calculating the jumps correctly and achieving a high score. The game is a fun distraction during internet unavailability.
Recommended Articles
This is a guide to the Uses of Internet. Here we have discussed the introduction to uses of the internet, the top 9 uses, and respective applications. You may also look at the following articles to learn more-