Updated November 1, 2023
Introduction of Email
Back in the 1970s, people communicated mainly through letters and telegrams, which could take a long time to reach their destination. But then came electronic communication, which revolutionized how people communicate with each other. This new form of communication is what we now know as "Email".
Ray Tomlinson is widely recognized as the father of the electronic mail system. He sent the very first email between two computer systems on ARPANET. From then on, the email system became increasingly popular, quickly replacing traditional mail in many cases.
The most powerful advantage of it is that it's electronic, meaning you don't need physical paper or envelopes to send a message. Instead, you only need an email address and an internet connection. These two things are essential for sending and receiving electronic mail.
What is Email?
Email, i.e., electronic mail, is a fast method of exchanging messages between the sender's and receiver's systems using the Internet. You can even send non-text files like images, videos, and audio files as attachments.
One of the great things about it is that it's fast, cost-effective, and convenient. You can easily communicate with people personally or professionally in real time without worrying about your location. Plus, you can send emails to multiple recipients and hide their names from others by adding them to Bcc.
Now, how does it all work?
Email relies on protocols such as the Simple Mail Transfer Protocol (SMTP) for sending mail and the Post Office Protocol 3 (POP3) and Internet Message Access Protocol (IMAP) for receiving mail. Let's understand this in detail.
How Does Email Work?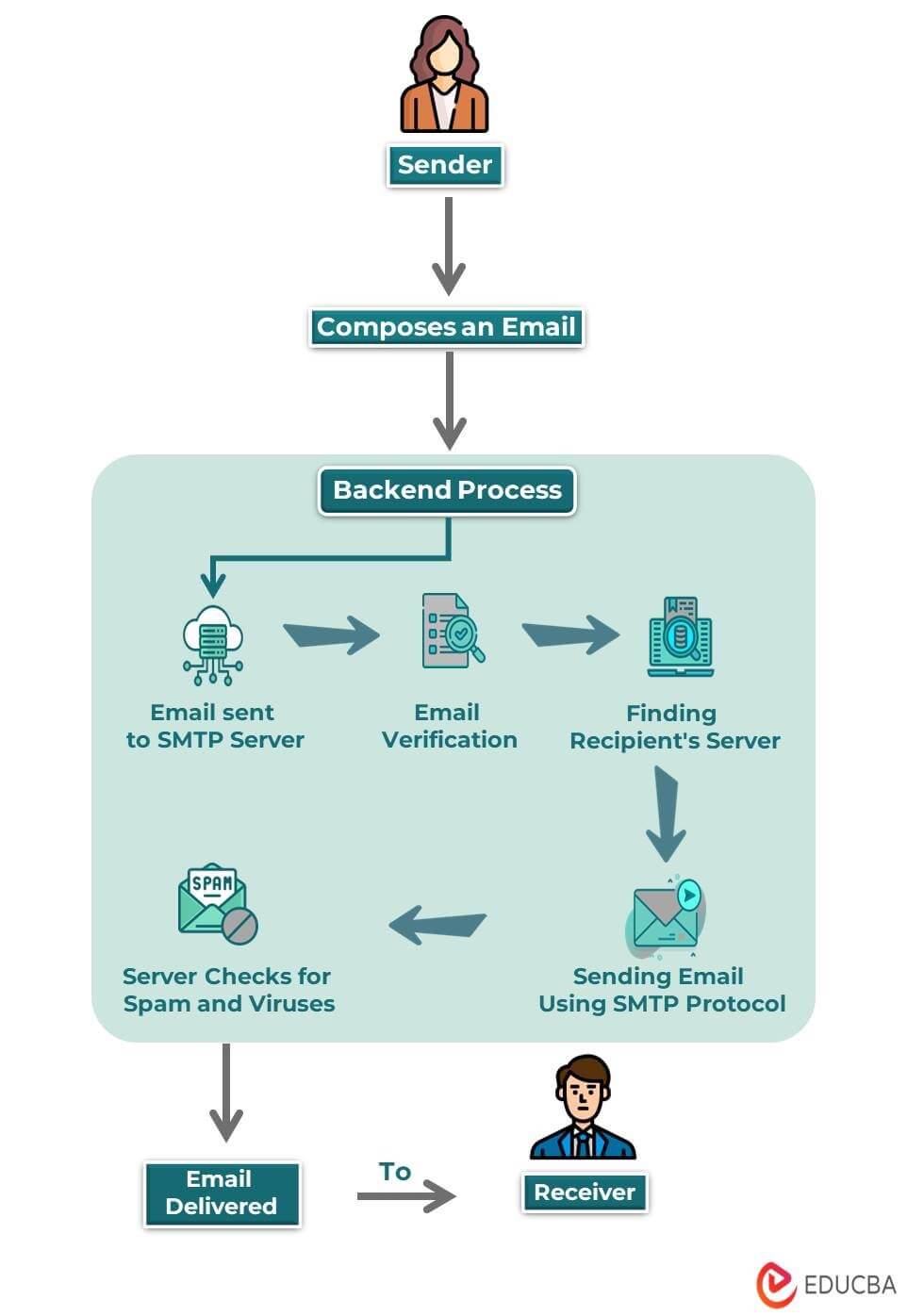 When a person clicks on the "send" button after composing an electronic mail, it goes through many steps to reach the person you sent it to. Here's how it works:
Step 1: Compose an Email
You log in to your email account and write an email using a computer or phone.
Step 2: Email sent to SMTP Server
When you click "send," your email goes to a special server called an "SMTP" server.
Step 3: Email Verification
The SMTP server checks your email to ensure it follows the rules before sending it.
Step 4: Finding Recipient's Server
The SMTP server finds the server where the person you sent the email to has their account.
Step 5: Sending Email using SMTP Protocol
The SMTP server sends your email to that server using something called the "SMTP protocol."
Step 6: Server Checks for Spam and Viruses
The server that got your email checks it for spam and viruses before deciding whether to put it in the person's email inbox, promotions section, social section, or spam.
Step 7: Email Delivery to Recipient's Inbox
The person gets an alert that they have a new email in their inbox, and they can read it on their computer or phone.
Components of an Email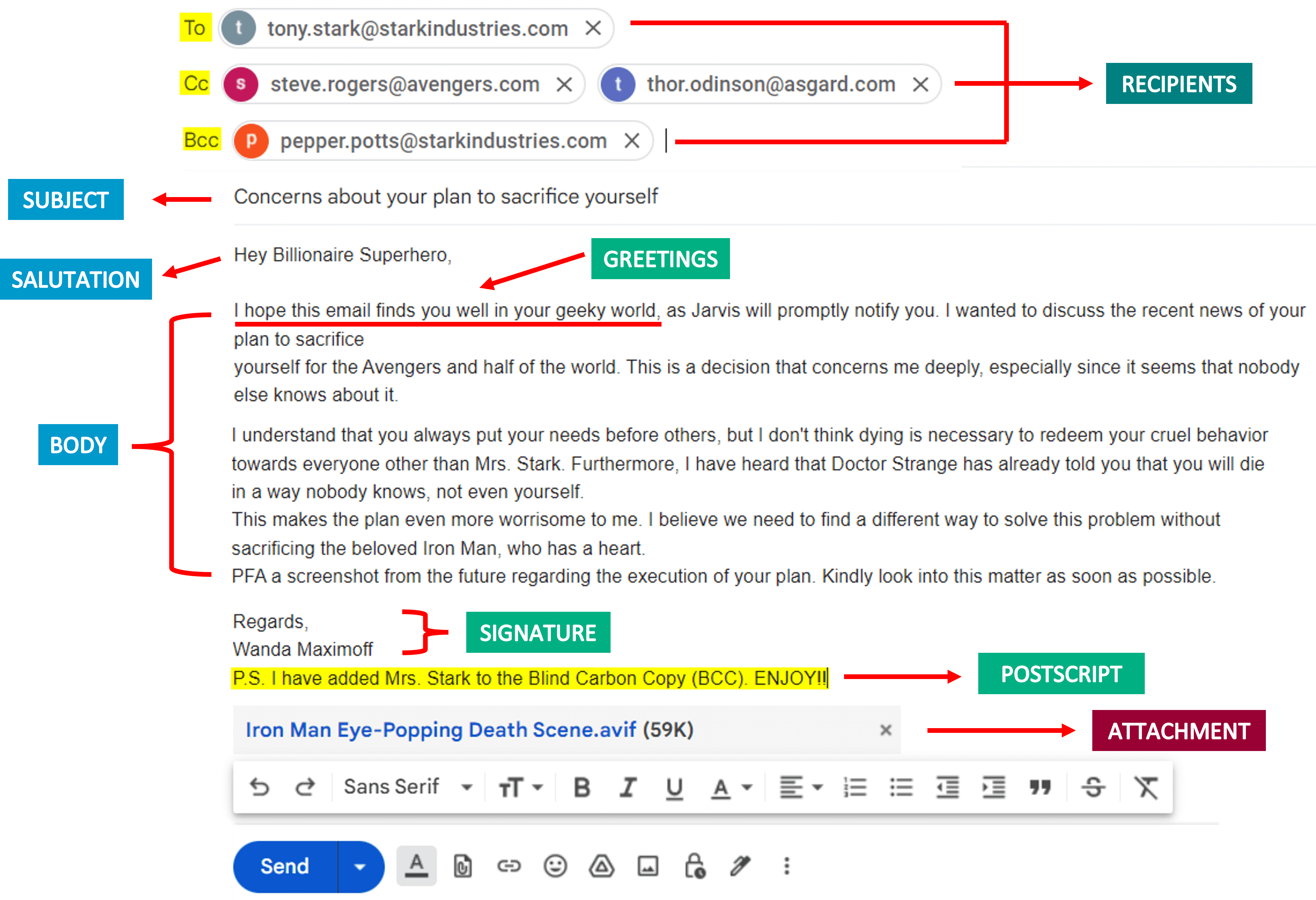 1. Recipients
This is the main component of electronic mail, including the email addresses of the people to the individual(s) you want to send the email. You can enter the recipient's email addresses in the "To" field. You can also include additional recipients in the "CC" and "BCC" fields. It is also important to enter a valid email address to ensure that it reaches its recipients.
1. TO: The "To" field specifies the email's primary recipient(s). This is the person or group of people who will be responsible for taking action or responding to the electronic mail.
2. CC: The "CC", i.e., the "carbon copy" field, includes additional recipients in the electronic mail. These people are not the primary recipients but may be interested in the electronic mail's content or need updates on a situation. A cc recipient can simultaneously reply to everyone, including the primary recipient.
3. BCC: The "BCC," i.e., "blind carbon copy" field, includes recipients who should receive the electronic mail but whose email addresses should not be visible to others. This feature acts as an incognito mode. Therefore, the receiver needs to be careful while conversing via electronic mail. The cc recipient can only reply to the sender unless the BCC recipient replies to everyone by choosing "Reply All". Then only the cc recipient will get the "Reply All" option.
2. Main Text
1. Subject: The email's subject line should summarize the email's content. It should be clear, concise, and informative so the recipient knows what to expect when they open the email. It should not be a one-word vague subject like "Appointment". Always specify the purpose to avoid confusion.
2. Salutation: A salutation addresses the recipient with an opening greeting depending on the electronic mail type. It can be formal or informal, according to the relationship between the parties.
3. Greetings: Greetings are friendly messages usually written after the salutation. It can express gratitude, show appreciation, or wish the recipient well.
4. Body: The email's body contains the message's main content. It should be well-organized, easy to read, and contain all the relevant information as per the need of this communication.
5. Signature: The signature is a text block at the end of an email. It typically includes the sender's name, job title, contact information, and other relevant details. Some users prefer digital signatures, which makes it easy and reliable.
6. Postscript: The postscript (P.S.) is a brief message usually added after the signature. It can emphasize an important point or add a personal touch to the electronic mail. It also includes any text the reader forgot to mention in the email's main content.
7. Attachments: Attachments are files attached to electronic mail. These can include documents, images, videos, or any other type of file that the sender wants to share with the recipient. The size of the attachments can't be more than 25 M.B. In that case, Gmail will automatically add a google drive link instead of the attachment(s).
Uses of Email
Email is useful because you can contact people anytime, and they can respond on their own schedule.
It's a respectful way to communicate without interrupting someone's day.
In the past, contacting someone far away was expensive and time-consuming. Now, with email, anyone with an internet connection can stay in touch with just a click.
Emails are versatile and can be useful for many purposes, like sharing updates, instructions, or directions.
They are also useful for educational purposes, such as applying for admission or receiving job offers.
Pros
Allows for easy referencing and storing of messages and files
Environmentally friendly and paperless
Mass sending of messages to multiple recipients simultaneously
Provides a faster means of communication with instant access to information and files
Easy to filter and prioritize messages
Can include multimedia content
A secure and reliable method of delivering messages
Cons
Potential for information overload and messages left unread
Lack of personal touch and potential for misunderstandings
Disruptive to work and requires constant maintenance
Possibility of containing viruses and spam
Requires timely responses and can lead to misunderstandings
Informal method of communication that cannot manage documents requiring signatures
Access to the Internet is not universally available
Limited emotional expression
Requires checking inbox regularly to stay updated.
Types of Email – For B2B Communication
1. Transactional Emails
Transactional emails get triggered by subscribers' specific actions, such as changes to their account, subscription, payment confirmations, and free trial expirations reminders. These emails provide necessary information to the subscribers, and their click-through rates are typically high due to the customers' anticipation of receiving them after a completed action.
Sample Template:
Subject: Your Order Confirmation – Order #21289
Dear Harry Potter,
Thank you for shopping with us! We confirm that your order is duly received and is being processed. Please find below a summary of your order details:
Order Number: #18765
Order Date: 09/05/2023
Order Total: $77
Billing Address: The Cupboard Under the Stairs, 4 Privet Drive, Little Whinging, Surrey, England
Shipping Address: The Cupboard Under the Stairs, 4 Privet Drive, Little Whinging, Surrey, England
Items Ordered:
"One Thousand Magical Herbs and Fungi" by Phyllida Spore: 1*$15 = $15
"Hogwarts: A History" by Bathilda Bagshot: 1*$22 = $22
"The Dark Forces: A Guide to Self-Protection" by Quentin Trimble: 2*$20 = $40
To clear any doubt or query regarding your order, feel free to contact us at bookwizards.hotmail.com or reply to this email.
Thank you again for your order!
Best regards,
Golden Trio
2. Promotional Emails
Promotional or offer e-mails are a powerful tool for businesses to inform subscribers of discounts, limited-time promotions, and deals. The main objective of promotional emails is to convert e-mail leads into customers quickly.
Sample Template:
Subject: Limited Time Offer: Get 20% off on your next purchase!
Dear Peter Parker,
We're thrilled to offer you a discount of 20% on your next purchase of the Symbiote Suit at our store. This offer is valid for 24 hours only, so grab this opportunity before it's gone!
Simply use the code DISCOUNT20 at checkout to apply your discount.
Hurry, this offer ends soon, so start shopping now!
Best regards,
Stark Industries
3. Newsletter Emails
E-mail newsletters are essential for businesses of all sizes to build brand awareness, increase engagement, and drive website traffic. A well-done newsletter can serve as a hub that directs subscribers to other valuable digital resources and offers content that complements the business's products or services. Newsletters are typically sent out consistently and often contain the company's blog content, upcoming events, and updates that interest the subscribers.
Sample Template:
Subject: Exclusive offers and updates just for you!
Dear Lucious Fox,
We hope this email finds you well. As one of our cherished customers, we are happy to keep you up-to-date with the latest news and promotions from our e-commerce website. Here are some exciting things happening right now:
New Arrivals: We've got a Batmobile that we know you'll love!
Exclusive Offers: Get 15% off on your next purchase using the code WAYNEDEALS15 at checkout.
Free Shipping: We're offering free shipping on all orders above $20 for a limited time.
We are grateful to be your favorite e-commerce website. We appreciate your attachment to us and wish to continue serving you in the future.
Best regards,
Wayne Enterprises
4. Milestone Emails
Milestone emails are an ideal way for businesses to use customer data to celebrate important moments in their customers' lives, such as birthdays and anniversaries. By sending personalized campaigns, businesses can show their customers they love and appreciate them.
One significant advantage of milestone e-mails is that they help create a positive emotional connection, loyalty, and advocacy in the customers' hearts.
Sample Template:
Subject: Happy Birthday from Wonka Bank!
Dear Charlie Bucket,
Happy Birthday from us all at the Wonka Bank! We hope your special day is abundant with love, joy, and celebration.
As an adored customer, we would like to offer you a special birthday gift. Please check your inbox for a personalized offer just for you.
Thank you for choosing Wonka Bank for your financial needs. We look forward to serving you in the future.
Best regards,
Wonka Bank
5. Welcome Emails
Welcome emails create a positive impression and build a long-lasting customer relationship. They provide a great opportunity to engage new subscribers and showcase the brand's personality. Additionally, welcome emails increase brand awareness and drive sales by offering discounts or showcasing the most popular products.
Sample Template:
Subject: Welcome to Biffco Enterprises!
Dear David Samuelson,
We're thrilled to welcome you to Biffco Enterprises! As a new customer, you'll now have access to thousands of products, great deals, and fast, reliable shipping.
At Biffco Enterprises, we pride ourselves on providing a seamless and enjoyable shopping experience. Whether you're looking for Hoverboards or Biff Tannen's Pleasure Paradise Casino and Hotel merchandise, we've got you covered.
Below are a few tips to get started;
Use our search bar to discover exactly what you're looking for.
Create an account to manage your orders and preferences easily.
Our customer support team will be available via phone or e-mail for any query or doubt. We'll gladly assist you.
Best regards,
Griff Tannen, Biffco Enterprises
6. Abandoned Cart Email
Abandoned cart emails help customers complete their purchases and convert lost sales. They provide a gentle reminder to customers who may have accidentally closed their browsers or gotten distracted, showing them the items they left behind and offering information that can address any concerns they may have had about the purchase.
Sample Template:
Subject: Oops! Looks like you left something behind
Dear Alice Abernathy,
We noticed that you left some items in your cart, and we wanted to reach out and check if there was anything we could help with. We are aware that life can be chaotic, and it's easy to forget things in your cart, but we don't want you to miss out on these great products.
If you're still interested in these items, click the button below to return to your cart and complete your purchase. And if there is something we can do to enhance your shopping experience, please don't hesitate to let us know.
Click here to "Return to Your Cart"
Thanks for considering Umbrella Corporation for your shopping needs.
Best regards,
Umbrella Corporation Team
Email Sites
Email is an essential tool for personal and professional communication, and there are many providers available to choose from.
1. Gmail
Gmail, introduced in April 2004 by Google, offers a clean, user-friendly interface, powerful spam filtering, and advanced search capabilities. Gmail also integrates with other Google services like Google Drive and Calendar, making it easy to manage e-mails and collaborate.
Features:
File collaboration through cloud-based Google Drive
Accessible from any internet-connected device and browser
15 GB of free storage with advanced filters for e-mail organization
Machine learning technology for predictive writing suggestions
Tools such as a calendar, Hangouts for text and video chat, and an email unsend feature
Pricing:
Its free plan is great for anyone wanting to send and receive emails without paying. However, some users may find the folder and label system confusing. Additionally, Gmail offers a 14-day free trial of its paid plans.
Personal:

Gmail Basic: Free with 15GB storage
Gmail Premium: $1.99/month for 100GB storage

Workplace:

Google Workspace Business Starter: $6/user/month with 30GB storage
Google Workspace Business Standard: $12/user/month with 2TB storage
Google Workspace Business Plus: $18/user/month with 5TB storage
These plans are worth considering if you need additional features.
2. Outlook
Outlook.com, introduced by Microsoft on July 31, 2012, is a replacement for Hotmail. It offers a clean, modern interface, excellent spam filtering, and advanced features like sweep and rules to help users manage their inboxes. Outlook.com also integrates with Microsoft services like OneDrive and Office Online, allowing users to share files and collaborate easily.
Features:
Robust calendar, task manager, and customizable features for creating new meetings, tasks, and contacts.
Ability to share or assign tasks with coworkers and share calendars.
Scheduling e-mail delivery and setting up message alerts.
Use flags and categories to organize the inbox.
Seamless integration with other Microsoft products like Word and Excel.
50GB mailbox size and e-mail alias support.
Attachment size limits of up to 34MB.
Pricing:
Outlook is initially free to use, but users can opt for Outlook Premium to increase mailbox size, and it has two pricing plans: Office 365 Home at $99.99 per year and Office 365 Personal at $69.99 per year.
3. Yahoo
Yahoo Mail, developed by Yahoo in 1997, offers a modern interface, fast performance, and advanced features like customizable themes and rich text formatting. Yahoo Mail also integrates with other Yahoo services like Yahoo News and Yahoo Finance, providing users a personalized experience.
Features:
Customizable inbox themes
Easy calendar integration
Ability to manage multiple email accounts from one place
Good spam filters
Built-in GIF database
Pricing:
Yahoo Mail offers a free and paid version, with the business mail priced at $1.19/month. To remove ads, users need to purchase the subscription plan.
4. iCloud
iCloud, developed by Apple, initially announced on June 6, 2011, is a cloud storage and computing service which includes iCloud Mail as part of the suite of apps. While not a traditional email service, iCloud Mail offers a simple interface, excellent privacy and security features, and integration with Apple services like iMessage and FaceTime. In addition, iCloud allows users to store and sync files across devices, making it a useful tool for managing data.
Features:
Automatic message filtering and spam filtering
Ability to mark senders as VIPs
Scheduled emails and access to IMAP
Ability to view videos and photos on iCloud.com and create Keynote presentations
Pricing:
iCloud Mail offers 5GB of free storage, and users can purchase additional storage starting at $0.99/month for 50GB, $2.99/month for 200GB, and $9.99/month for 2TB. The 200GB and 2TB plans can be simultaneously accessible by family members or co-workers.
Examples of Email Attacks
| | | | |
| --- | --- | --- | --- |
| Threat | Description |  Targets | Real-World Example |
| Phishing | A fraudulent technique to gather sensitive information by pretending to be a reputable individual through email, instant messaging, or social media. | Individuals, businesses, and organizations |  In 2019, Office 365 users unknowingly gave away their login credentials. |
| Spear-phishing | A targeted phishing attack is where the attacker customizes the email to the specific victim by researching their interests beforehand. | Individuals, businesses, and organizations |  In 2016, hackers got access to the email accounts of Democratic National Committee officials, which led to the release of sensitive information during the U.S. Presidential Election. |
| Whaling | A phishing attack targets high-profile targets within organizations, such as senior executives, politicians, and celebrities. | Senior executives, politicians, and celebrities |  In 2018, Snapchat's payroll department got tricked into sending sensitive data about current and former employees to the attacker. |
| Pharming | An online fraud where scammers impersonate a legitimate website to trick users into providing login credentials, credit card details, etc. | Individuals |  In 2017, PayPal users got redirected to a fake login page allowing the hacker access to their financial login credentials. |
| Spam | Unsolicited emails are useful in advertising or obtaining sensitive information like bank account details. | Individuals, businesses, and organizations |  In 2021, millions of citizens received fake COVID-19 vaccination appointment invitations with malicious links or attachments (trojan horse). |
Difference between Email and Webmail
| | | |
| --- | --- | --- |
| Aspect | Email | Webmail |
| Definition | An electronic message is sent and stored via a server or a  computer network system. | A web-based e-mail service to access e-mail accounts from anywhere through an internet connection. |
| Full-form | Electronic Mail | Depends on the service provider. |
| Dependency | Requires e-mail client software such as Microsoft Outlook, Apple Mail, or Mozilla Thunderbird to access and manage e-mails. | Accessible from any web browser, even without installing a specific app. |
| Security | E-mail encryption and two-factor authentication depend on the e-mail service provider. | SSL encryption, spam filtering, and two-factor authentication are available in most webmail service providers. |
| Ease of Use | May need technical assistance for configuration of e-mail client software. | User-friendly interface. |
| Tap-able Links | The E-mail needs an additional click to open a link in a web browser. | Webmail allows a single tap to open a link in a new browser. |
| Extensions | E-mail clients generally have third-party extension support. | Webmail may have in-built extensions or add-ons but limited support for third-party extensions. |
| Features | Features include Calendar Integration, Task Management, and Contacts. | Webmail offers the same features as E-mail but is often included within the web interface. |
| Storage | E-mail clients require more memory to store the e-mails. | Webmail services have memory requirements as e-mails get stored on the server. This storage capacity can increase after payment of a certain subscription amount. |
| Examples | Microsoft Outlook, Apple Mail, Mozilla Thunderbird, etc. | Gmail, Outlook, Yahoo, etc. |
Frequently Asked Questions (FAQs)
Q1.  What is the format of the email address?
Answer: An email address consists of the local and domain parts, separated by an at-sign (@).
The local part is a username that identifies the email recipient, and
The domain part identifies the email service provider or organization responsible for the email account.
For example, in the email address "[email protected]", "johndoe" is the local part, and "gmail.com" is the domain part which represents that the user sent this email through Gmail.
Q2. How to change your email address?
Answer: To change your email address, consider the following steps:
Log in to your account
Go to Account Settings or Profile Information
Find the option to change your email address
Enter your new email address
Save changes and update any other relevant account information
Inform your contacts of your new email address if necessary.
Recommended Articles
This article is a guide to What is Email? Here we also discuss the introduction and importance of Email, its uses, and advantages. You may also have a look at the following articles to learn more –