Updated May 29, 2023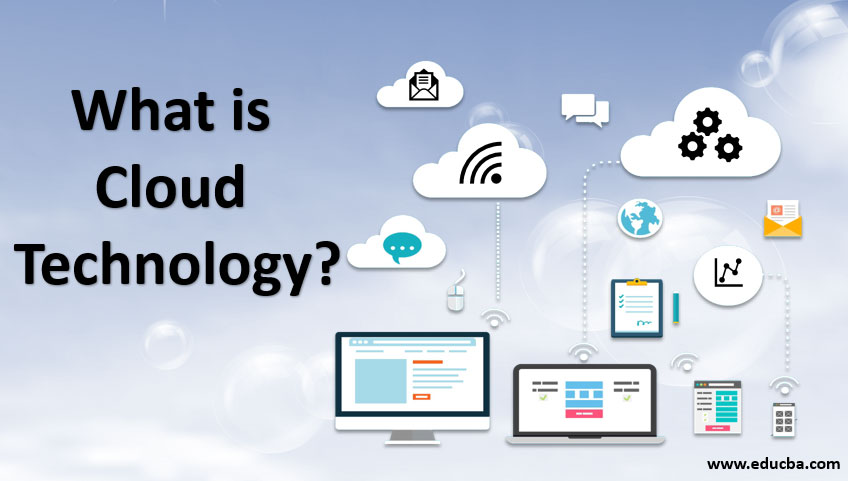 Introduction to Cloud Technology
Cloud computing is the delivery of various internet services. Such tools include data storage, servers, databases, applications, and networks. Cloud-based storage allows you to save files on a central network rather than on a proprietary local storage device or hard disk. So long as an electronic device accesses the Internet, the data and software programs are available. For many reasons, Cloud Computing is a popular option for individuals and companies, including cost savings, productivity increase, speed and efficiency, performance, and protection.
What is Cloud Technology?
Cloud computing technology is an on-demand technology where users utilize IT resources over the internet platform and work on pay-per-use mechanisms instead of the previous subscription-based technologies.
Below are a few points:
It refers to cloud computing which stores data and resources in an online server, and user fetches the same for their use instead of saving directly in the computer's hard drive, which is not secured and safe for use.
Cloud here refers to virtual space or online platform, and the technology becomes widespread where the end users can store large files and applications on remote servers, allowing them to work remotely from anywhere in the world.
Some Cloud technology services allow end-users to consume the facility at a specific price. In contrast, some technology services provide facilities over the network to some particular set of user clients to use the resources.
Various cloud technology services are very popular and widely used in today's world: huge storage and backup, testing and maintaining apps, analyzing data, and delivering relevant software on demand.
Why do we Use it?
Cloud computing technology is an internet-driven platform where resources are transferred through channels of networks from server to client that replaces physical hardware and software.
Therefore, in today's world, where technology is upgrading at the speed of light, it is essential to know which technology to go for and the right use of technology. Thus, cloud technology comes in, and despite having adverse effects on the Internet, it remains the fastest technology to work with, and it has become the latest trend in today's market. So the purpose of using it is to diversify resources worldwide by interconnecting customers and allowing business users to expand their market by retaining their customers in this field by utilizing the proper resources at the right time.
The biggest reason, in my opinion, why everyone uses the cloud is that it provides us with the best backup system for any resources of any file size that can be corrupted or become unusable if kept in a local drive or storage. There has been a tremendous boom in the recent trend of technologies for IT professionals who can access resources and work from anywhere in the world, making it more flexible to work and handle clients.
Advantages
If I started to write about the benefits of Cloud technology, it would be a never-ending topic since its advantages vastly eradicate its minor disadvantages.
In spite of that, I have listed down its major advantages that are worth considering:
Cost Optimization: This technology brings various useful resources that utilize the overall cost and saves the cost. This technology does not require any physical hardware installation, and the user can use it on a pay-per-use basis rather than subscription charges.
Scalability and Resource Utilization: This technology offers the best scalability by utilizing the resources across the platform, offering better storage reliability for the users.
Data Security: Having a huge amount of data stored in one cloud server still provides the best data backup and the security of its resources. It makes it readily available for users whenever they want to do something with it. 
Collaboration and Ease of Use: The cloud technology platform provides an effective collaboration that makes the users to be interconnected from anywhere in the world by using the Internet, connected virtually.
Fast Software Updates of Resources: Software updation and upgradation happen automatically and quickly without requiring manual steps to integrate applications of choice.
High Speed and Flexibility: Cloud computing services are readily available for clients, and the high speed of acquiring and utilizing the resources makes them work from anywhere and anytime.
Rapid Deployment: The cloud technology platform allows us to deploy resources faster over the cloud. Thus after deployment, the resources and the system deployed become fully functional and ready for use within a few moments.
Working of Cloud Technology
Cloud Technology nowadays provides various useful services that require an internet connection, and users can access and download data from any physical device anywhere, anytime they want. The users also benefit from using various cloud storage providers that provide unlimited free cloud storage spaces, minimizing the limited spaces available on CDs, DVDs, and pen drives.
The main model of cloud technology works in two layers are:
1. Front End: This end comprises the client or user systems having their user interface. This end also consists of the necessary resources that the client requires for their use. This end is the receivers that receive the resources through cloud-connected Internet.
2. Back End: This end comprises the data storage systems and the servers that make up the cloud. It contains a dedicated server to work on cloud performance.
Conclusion
Thus, cloud technology is the current renovation in the fastest growing and fastest earning technologies, making life easy for every user. The Internet or cloud binds us through its network branching system, making our lives comfortable, safe, and secure.
Recommended Articles
This is a guide to What is Cloud Technology? Here we discuss the basic concept, working, why we use it, along with advantages respectively. You can also go through our suggested articles to learn more –