Updated June 14, 2023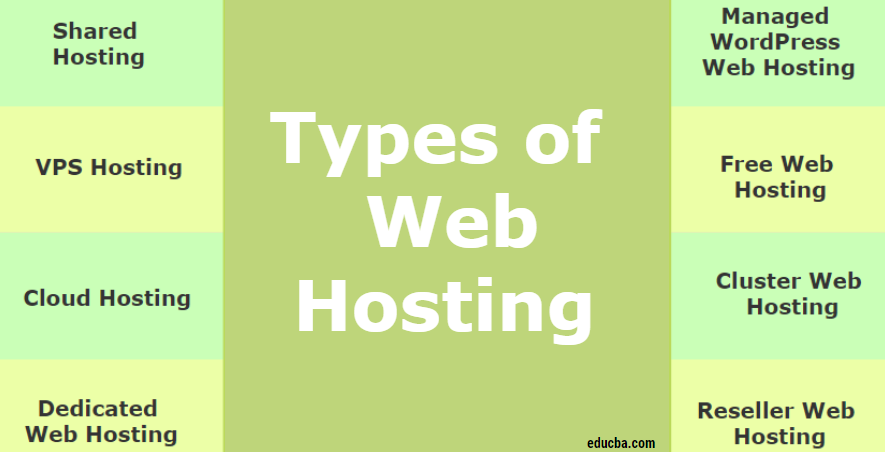 Introduction to Types of Web Hosting
This post will introduce what is web hosting and which web hosting is available in the market. Then we will discuss the different web hosting types, including how they work, what they do, and which are best for you.
What is Web Hosting?
Web hosting is a service that allows organizations and people to publish on the Internet a website or internet page.  On special computers called servers, websites are hosted or stored. All you need to do is type your web address or domain in the browser if you want to view your website. Many web hosting services providers include FrontPage ® extensions to create your website in FrontPage ® and File Transfer Protocol (FTP) to help you quickly upload the web hosting files from your desktop.
Types of Web Hosting
There are different types of web hosting which are as follows:
1. Shared Hosting
This is a perfect hosting for entry-level of hosting. In this, your websites will be stored with many different websites on the same server, which would be anywhere at a range of hundred or thousand. Usually, when most people begin an online business, they start with a shared hosting scheme to reduce cost; the same server resources like RAM and CPU are used for all domains, but this hosting is very low.
Pros
The main benefit of this solution is to share server costs with a large number of people. If the hosting provider can put several hundred or thousands of clients on a single server, then the operating costs can be spread to many parties.
This is also the reason why shared hosting is the cheapest. The average price is $5–$10 per month for you, as low as $2/month.
Cons
However, the main downside of this arrangement is the sharing of a server with many parties. A server is, as mentioned above, a computer with hard drive space, CPU speed, and RAM resources.
For this thing, we called the Poor Neighbor effect, and this is the main reason why shared hosting is more problematic.
2. VPS  Hosting
VPS stands for Virtual Private Server. VPS Hosting is one of the kinds of internet hosting accounts you can select for online hosting. You must have your database files on a webserver to have a website on the Internet. These physical servers are usually split into various different or shared VPS servers.
Pros
It is less costly than a dedicated server.
Your hosting environment is much more controlled.
VPS servers provide greater flexibility and help you to customize your environment and another important advantage
You can make changes without affecting others because your account is within a virtual machine.
VPS hosting has a supporting staff to help their customer and technical issues.
Cons
However, while the average cost of VPS is around $50 per month, but it is possible around $20 per month.
The price is probably the greatest disadvantage of VPS hosting.
3. Cloud Hosting
Nowadays, cloud hosting is more popular. The cloud is a concept used in many technology areas and is now also being used in the hosting arena. Cloud hosting provides a service provider with its infrastructure services in a utility model to outsource an organisation's computing and storage resources. There is no physical thing in the cloud that you can indicate and label as the cloud. Just as there is no physical server with cloud hosting, you can tell that it is a cloud host.
Pros
The scalability is the biggest benefit of cloud hosting.
It will increase your data delivery speed
Modern cloud hosting services can identify which server is close to a customer so that the contents are received from the nearest source to reduce delays and page load times.
Cons
Although cloud service providers implement the best safety and industry certification standards, external suppliers' storage of data and important files always opens up risks.
It can be difficult for organizations to move their service from one supplier to another.
Cloud hosting's main downside is that costs cannot be fully estimated.
4. Dedicated Web Hosting
Dedicated Web hosting means your paying for a single server which means there is no other webpage on that server. That means it fully controls the site owner; even the owner also has the root access. Because of the high traffic, people use this dedicated web hosting.
This means if you plan to use dedicated web hosting, you should know how to use and manage the server. Dedicated web hosting offer you both managed and unmanaged server.
Pros
You've got your own dedicated server, so you can use it as you want to.
Dedicated servers are very secure because several clients don't share them.
 You can choose the most suitable server because a variety of choices are accessible.
Cons
The most expensive type of host is dedicated to hosting.
Dedicated servers can be hard to manage if you're unfamiliar with servers.
Installing the software, day-to-day maintenance, daily operations, and other tasks you have to control and will require technical understanding.
Hosts can provide safety guidance, but it is your responsibility to guarantee your server is safe.
5. Managed WordPress Web Hosting
This Managed WordPress web hosting is only used for WordPress. Your host handles everything instead of using cPanel, Plesk, etc. This type of plan is for those people who do not like all the technical things that come with web hosting.
Pros
Managed WordPress hosts are built to help WordPress and guarantee that they become available as quickly as possible.
They're continuously optimized, so even as your site grows, you don't have to worry about slowdowns.
Cons
Managed WordPress Web hosting cost more than shared Hosting because WordPress hosting handles the technical issues.
It's unhappy, but sometimes sites get hacked. WordPress sites are usually hacked via the backend or using defective plugins or topics.
Web designers and web site owners with a technical interest may be disappointed that particular plugins cannot be allowed or that advanced server functionality can be limited in access to them.
6. Free Web Hosting
Free Web hosting means non paid free service hosting. Many internet hosts provide subdomains to anyone interested in making a website. Blogger and WordPress are much popular among them. Your site will be named your.blogspot.com and your.wordpress.com site when you create your sites with these free website service hosts. If you want to have a Web site without a foreign site's name, you have to purchase a domain and then get a web hosting service that is usually paid for.
Pros
Free website hosting, and it is free of charge.
They use your websites to create an ad, banners, and other advertising media types to gain a profit when you create your free website.
Cons
Sometimes ad income is shared with the website holder, and sometimes it is not.
The specific plan and policy can differ from hosting supplier to hosting supplier.
No domain name is provided with the free hosting plans; they only provide the Subdomain name to the owner.
Free Web hosting does not have customer supports to solve the technical issue.
7. Cluster Web Hosting
Clustered web hosting will increase hosting reliability and performance on various servers. In this Customer, websites are hosted in many different cluster site, and because of that, sites get traffic without affecting the websites' performance.
Pros
Because a whole cluster of web servers powers the hosting account with their hardware and bandwidth resources, clients receive high processing capacity.
Multiple servers connected to each front end server provide more space when consumers need it.
Cons
Cluster web hosting cost is very high.
Cluster web hosting needs perfect hardware and design.
8. Reseller Web Hosting
Web hosting for resellers is a plan that allows you to sell various shared plans. There is a control panel on reseller plans that helps you to have control over your shared accounts for billing, storage, RAM, etc. This will help you to have full control, which you will offer to your client on different plans. Many web designers use reseller hosting to track their customers.
Pros
With your internet hosting accounts, you can have more flexibility.
From the Reseller web hosting, you can save money.
At a low price, you can earn more income.
Conclusion
In this article, we have seen different types of web hosting. You can decide what type of hosting plan you need based on your requirements. It may vary for every person. Many hosts offer various kinds of plans. You can, therefore, move to a higher or lower plan always.
Recommended Articles
This is a guide to Types of Web Hosting. Here we also discuss basic meaning with different Web Hosting types with their detailed explanation and their pros and cons. You can also go through our other suggested articles to learn more –