Updated May 24, 2023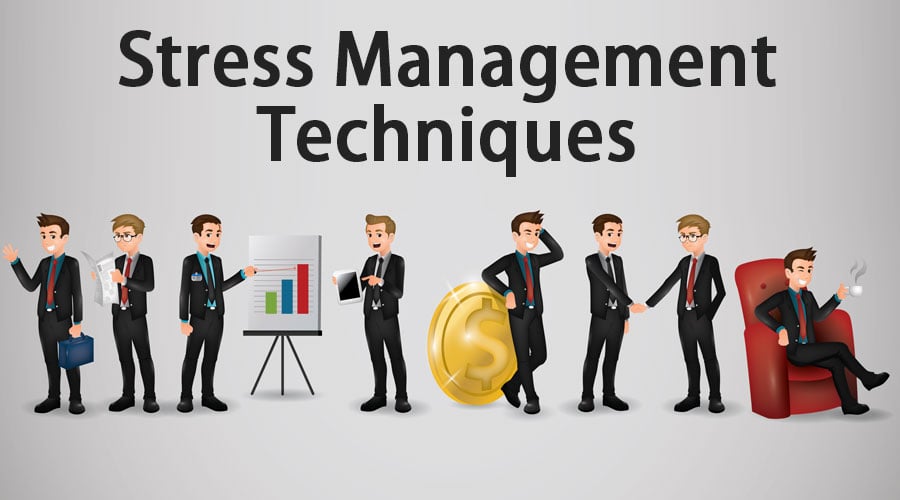 Introduction to Stress Management Techniques
The following article provides an outline for Stress Management Techniques. "The best way to cheer yourself up is to try to cheer someone else up." This clearly defines that internal happiness is only achieved when one can try to come out from his inside chaos and make someone cheer and happiness. In this modern world, everyone is busy with his own life and forgets that human is mortal. We are busy with materialistic things, which leads our life toward stress, or hypertension, the stage where a person does not realize that his internal chaos is taking him toward the grave.
Stress is a big menace to human life, which may come with the workload and other personal problems in a person's life. A person with hypertension does not realize he is under stress, but this produces many big problems and diseases inside the body like Heart problems, brain problems, insomnia, etc. So this is very important to counter this so that we can enjoy our costless lives happily.
Symptoms of Stress
A person facing the problem of hypertension has some symptoms: Heartburn, panic attacks, headache, fatigue, difficulty sleeping, stomach pain, and others. So it is essential to learn these symptoms to get identified and put effort into relieving stress and coming out from this menace.
Types of Stress Management Techniques
Below are a few relaxation techniques that will go well and help you reduce stress.
1. Reduce the Noise
There is so much disturbance outside the world, and the pressure of work and other gadgets that we use daily are the things that work as stress boosters, so these are harmful noises that need to be switched off for a couple of hours daily. This will give immense relief to the brain.
2. Manage your Time
When we wake up in the morning, instead of enjoying a lovely morning, we start thinking about the daily routine and work, which also leads our brain toward stress, so there is a need for time management so that we can cheat some time for ourselves from the daily schedule. Because when we spend time with ourselves, this imparts positive energy.
3. Spend Less Time with Gadgets
Today in this modern world, many types of gadgets are in our hands, like- mobile, laptops, and others, which make our life easy, but also with that, we forget about inter-personnel linking or personal contact. These gadgets make us lazy, and we start procrastinating our work, which at the end of the day puts more burden on our brain and leads us toward hypertension.
4. Spend Time with Friends and Family
A family is an entity that is always there for us in every up and down in our life. So the best way to relieve stress is to spend time with family members daily and discuss things. This is the best technique to come out of focus, making us internally happy.
5. Meditation
Internal happiness is achieved when one is positive from the inside and enjoys each and every second of life. But different problems and conditions make us succumb in front of problems, and we start keeping stress in our minds. So the most suggested method is Meditation, also mentioned in our holy scriptures. This method concentrates our brains and helps us rekindle new energy in us.
6. Yoga
Our country is the leading country in the world, teaching the whole world the benefits of ancient YOGA. It is also one of the best methods of stress management. A regular 10-20 minute yoga session daily makes us healthy and helps us eradicate many diseases, including stress.
7. Hobbies
Hobbies are the things we like to do in life; pursuing different hobbies makes us cheerful, and we enjoy the time. So one who is stressed must adopt a hobby and spend some time on that, surely he will best result in every manner.
8. Diet and Exercise
A good diet daily and exercise make our body healthy and protect us from different types of inborn diseases. So a proper diet and a 10-20 minute walk daily is an excellent method to be happy and young.
9. Sleep
Our brain is the organ in the body, which works continuously, so proper sleep is necessary for daily approx. 7-8 hours to keep our body and brain healthy. Improper sleep or insomnia are the main causes of stress, so sleep is paramount in daily life.
10. Movies and Music
Entertainment is also important in our lives because continuous work imparts fatigue in our bodies. So some relaxation in the form of movies and music gives immense relief to the brain. So one should listen to good and mild music when you have time.
Conclusion
Everything that we discussed above is the major technique for stress management. Stress is a big problem nowadays, and every second person is facing this problem. So the best way to eradicate this from our lives is to understand the cause of the stress and then take appropriate steps to keep it out. The workload is the most significant cause of stress because every profession is difficult, and there are new daily challenges. But work is work we have to do for survival.
Companies and all other departments should focus on this area because employees are the source of their income and work and are responsible for taking care of them. There are many ways, like weekly parties, manager-employee interaction, etc. As Maslow suggested in his need hierarchy theory, the self-actualization needs of an employee should be taken care of, which is necessary for every firm because only work and work cannot give profit to the company, but a motivated employee sure brings good for the company. So more focus is needed on stress management rather than continuous work.
Recommended Articles
This has been a guide to Stress Management Techniques. Here we have discussed the symptoms and techniques of Stress Management. You can also go through our other suggested articles to learn more –