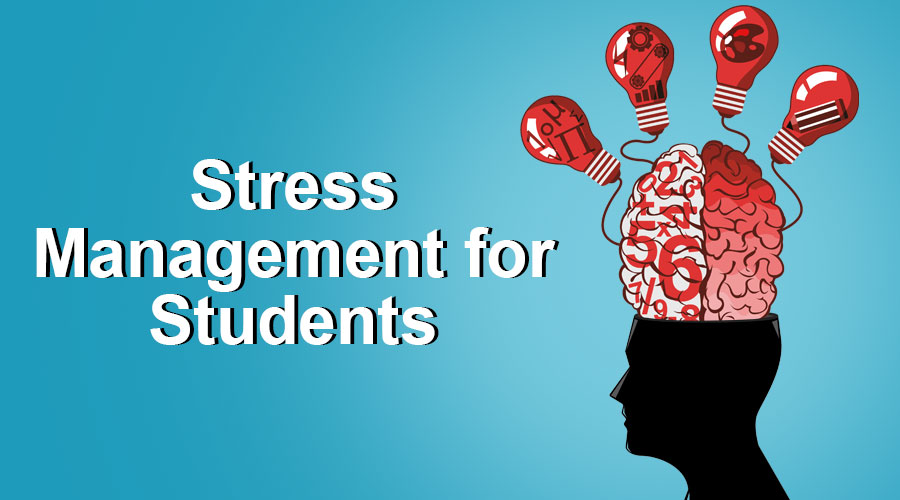 Introduction to Stress Management
Stress, the most heard term from everyone, has a particular definition in the dictionary which is "a state of mental and/or emotional strain or tension resulting from adverse, demanding, or any external circumstances." However, as anyone in the medical profession knows, everything has a clause, "interference in the quality of daily life." This means that everyone experiences stress, be it a student or a retired person, nevertheless only certain situations need to be addressed or cared for. In this topic, we are going to learn about Stress Management for Students.
Different Levels of Stress
In other words, there are different levels of stress a person experiences in life nearly every day; however, a selected few call for medical help.
The different levels of stress can be stated as –
Stressing on maintaining a daily routine or over any daily chore (like dusting or gardening) can be solved with minimal attention. These kinds of instances do not need professional help as it is extremely common, and stress is relieved once the stimulus (that is, the chore) is out of the picture.
Stressing over certain scenarios that grow into anxiety, like examinations or competitions, can be overcome with some support or guidance.
 Stressing over a problem that hinders the quality of everyday life and controls a person's emotions requires serious professional help (like a certified wellness coach or psychologist) — situations like parents going through a divorce, quitting a job, etc.
It is important to be aware of the cause of one's stress, accept the situation, and assess if it is positive stressors (like a new job) or negative stressors (such as peer pressure). There are numerous ways to address this, especially for young adults or students whose life can impact their career/future. Sometimes a student may go through multiple problems at the same time, which can cause immense stress, impacting concentration/focus, health, emotions, etc. Hence, it is essential to be cognizant of distress and the various methods to cope and move on.
Before getting in-depth with ways to manage stress, it is essential to understand that stress cannot be ignored. Many may assume that, since it is students, stress would not be more than an examination fear. However, students are delicate with delicate minds; they are the future of the world. Hence, it is important to never undermine their stress. They could be fighting off bullies and peer pressure or face multiple issues simultaneously, like fighting to work hard to pay off tuition fees while preparing for some scholarship exam when he/she comes to know of parents' divorce. In such cases, a psychiatry's/psychologist's advice is of prime importance who will ensure that the student comes up with the stress while not affecting work or preparations and staying strong through the situation.
Different ways to Handle Stress for Students
Animal Therapy
Individual Consultation
Medication
Inculcating miscellaneous techniques that act as "everyday" stress busters
Developing the right attitude
Exercises
Following are some of the ways of stress management for students to handle stress, some interesting, some well-known, and some worth adopting.
1. Animal Therapy
This is a way to handle the stress that is gaining a lot of importance and "trend." This involves trained dogs, sometimes along with trained personnel, to ease tension, anxiety, homesickness, loneliness, and depression. These dogs provide love, emotional connection, companionship, thereby relieving stress. This way, students may create a bond with these dogs, which may yield an outlet that helps them break away from depression or homesickness (missing family or pets) and develop new relationships.
2. Individual Consultation
This involves a one-to-one meeting with a certified professional, be it a health wellness coach, a yoga expert, a counselor, etc., to help identify the cause of stress. It could be coped with well and help learn about oneself grow individually. This gives way to bringing in transparency or openness in a person to speak up about himself/herself encouraging him/her to be more aware, "accepting," and bold about his/her personal life.
3. Meditation
One of the most renowned methods of busting stress is meditation. Meditation helps to control stress, manage anger, and keep one calm in many nail-biting situations. It may include deep breathing, "asana" meditation (that involves right posture and "mudra"), or just chanting of "Om" to create a positive aura around a person. This may aid in strengthening one's concentration/focus, create a way to learn new things (scientifically put as developing more "gray" matter in the brain), and see-through things or situations from a different perspective.
4. Inculcating Miscellaneous Techniques that Act as "Every day" Stress Busters
Creating a routine, such as meeting up with people who remain cheerful or stress-free, often takes frequent break-ups from a time-consuming task. Bringing in minute inclusions in daily life like focusing on the current issues, giving importance to social life, taking proper "down-time", working on weaknesses and improving the strengths will add on to building a person to face stress positively while avoiding negative stressors with better understanding.
5. Developing the Right Attitude
A positive attitude helps keep a smile and face stress with great ease and strength. It may be something as small as planning in advance or something as big as faith, but a positive attitude always makes way for feeling great mentally, physically, and emotionally, as well as creating the path to success while fighting away stress as a minor hurdle which had negligible impact. This will definitely bring in a magnanimous change through small steps by helping create a schedule or building self-motivation to complete goals set for the day, speak up, and courageously ask for support during tough times, staying determined and focused on achieving something (anything) in life, inducing self-assessment and improvement, and developing faith.
Similarly, a negative attitude may push one away from his/her goal and create a negative aura by making the person feel low mentally and emotionally, and physically ill. It may be as simple as a casual "careless" attitude such as "that can be seen later" or "not worth the time" but has a magnitude of effect in the career or future. This may break things over time as procrastination, laziness, cynicism, arrogance and ignorance, a passive approach (slowly turning to flee away from situations), and carelessness are learned, which is absolutely hard to break away from.
6. Exercises
Exercises may bring in physiological changes and mental energy as well; since a change from strenuous activity is brought in, it is an effective way to handle stress. This may be a morning jog that brings in tremendous stamina to sail through the day or a brisk evening walk with friends or a casual badminton game with family, but regularly doing them will create relaxation in one's mind, which will rejuvenate and refresh the person thereby pushing them to get rid of the negative stress.
Conclusion – Stress Management for Students
Life can be made simple if one is willing to make it because everything is resolvable. It is the attitude that matters. So why not start with the basics and assess from within to understand what is distressing such that the distress can be turned into positive stress, which helps an individual to grow up to face bigger and better things. After all, there is a long way to go and the best time to get going on the path is now!
Recommended Articles
This has been a guide to Stress Management for Students. Here we discussed the different types of stress and different ways to handle stress. You can also go through our other suggested articles to learn more –