Introduction to Social Media Marketing on Facebook
Social Media Marketing on Facebook is a process of scaling your brand ventures on Facebook through various strategies. In 2021, the advertising revenue amount generated by Meta was $114.93 billion worldwide. Facebook has the most extensive audience reach of 2.9 billion users. Hence, social media marketing on Facebook can be beneficial in raising brand awareness and generating leads. Facebook is one of the early platforms that helped pioneer customer relationship building in businesses via the internet. What started as the primary medium of casual chit-chat between friends is one of the most relied-upon means of marketing for multinationals and domestic businesses today.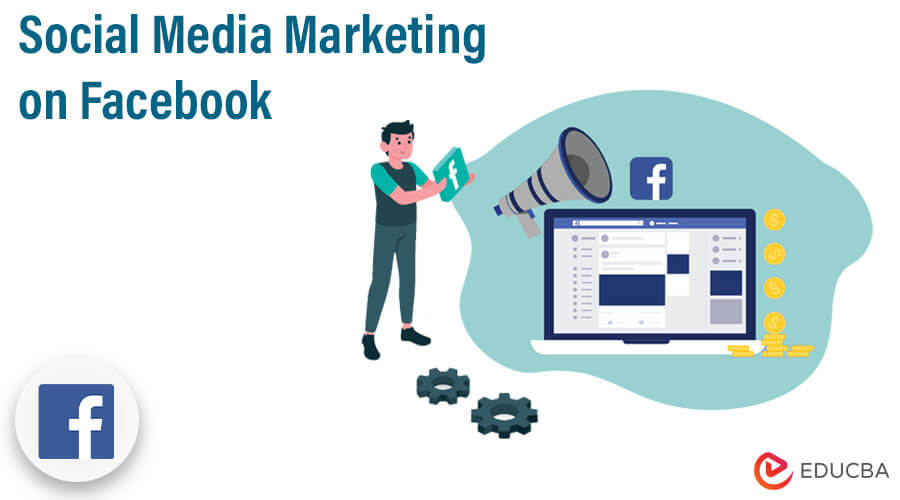 Key Highlights
Social Media Marketing on Facebook involves scaling your business on Facebook through various strategies.
The key to marketing on Facebook is first to know one's audience and then have an effective social media calendar filled with quality content.
Having and enabling your target audience's communication directly with one's brand is the key to improving sales on Facebook.
Facebook offers the most extensive user base of all social media platforms and targeted advertisement options.
What is Facebook Marketing?
Facebook was founded in February 2004 by Mark Zuckerberg, Eduardo Saverin, Andrew McCollum, Chris Hughes, and Dustin Moskovitz. With Facebook being a multimedia platform that provides ad spaces, there are various ways to market a business as an uprising brand.
More than 200 million businesses use Facebook and its tools for marketing. Advertising on Facebook carries a total engagement potential of 2.11 billion users.
How to do Facebook Marketing?
Some basic steps to follow to promote a brand on Facebook:
#1: Create a Facebook account by signing up for a new personal account (if one doesn't have an account).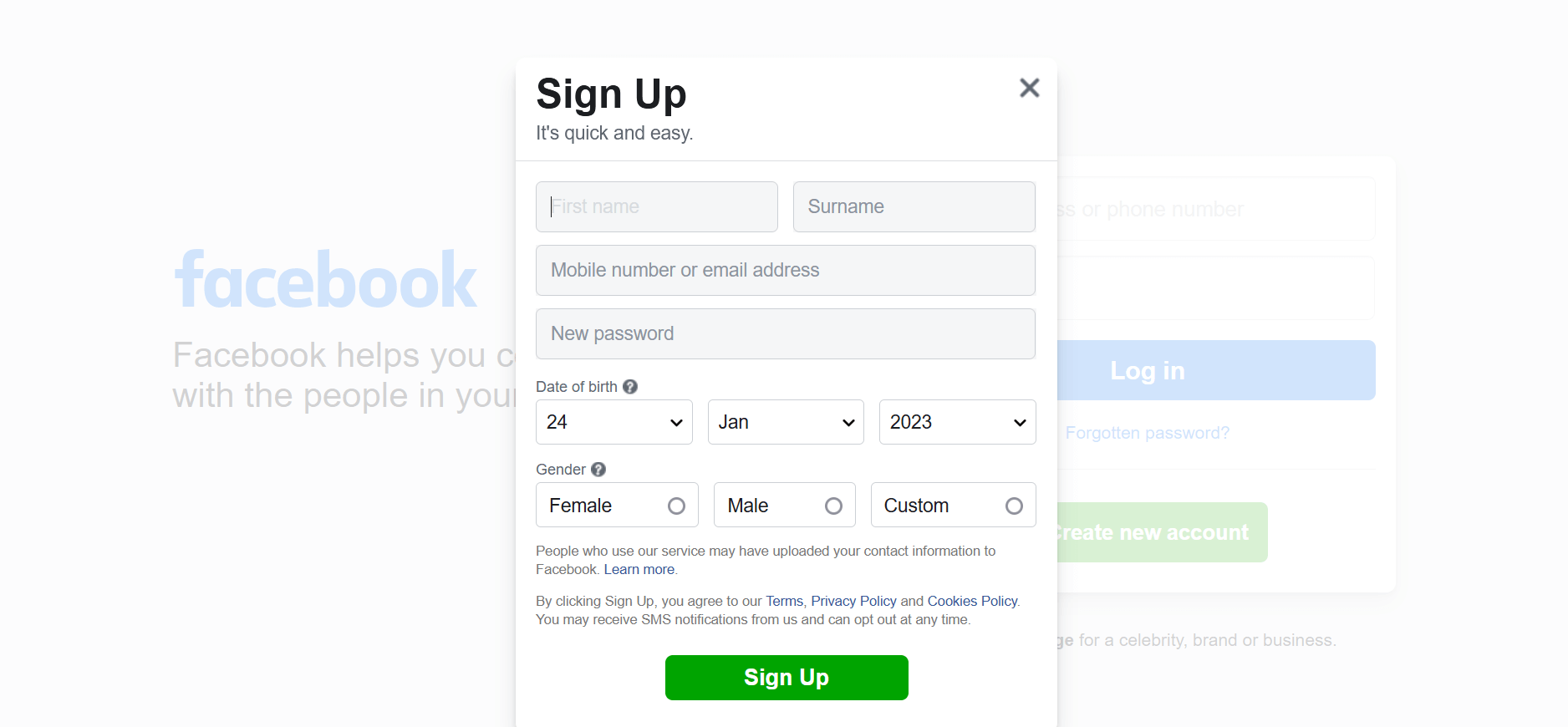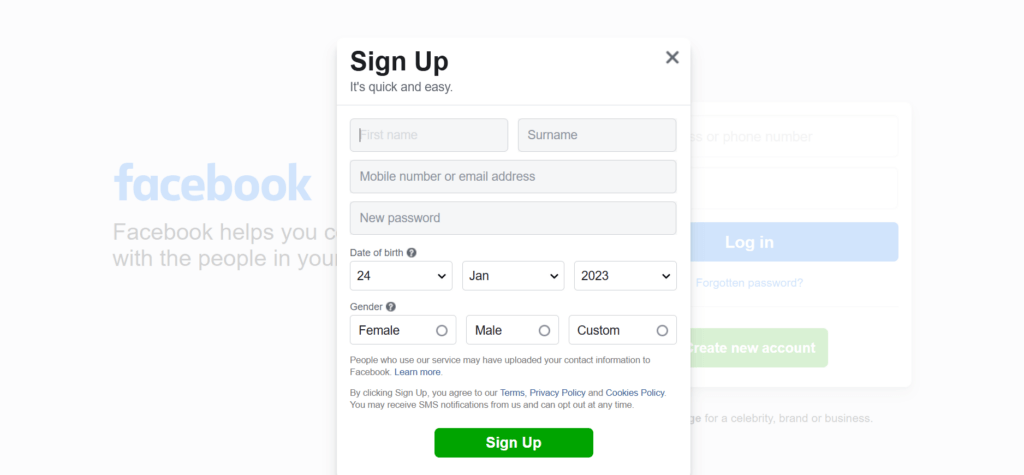 (Image Source: Facebook)
#2: Go to the right-hand corner and click on the menu icon (9 dots).

(Image Source: Facebook)
#3: Under the Create section, click Page.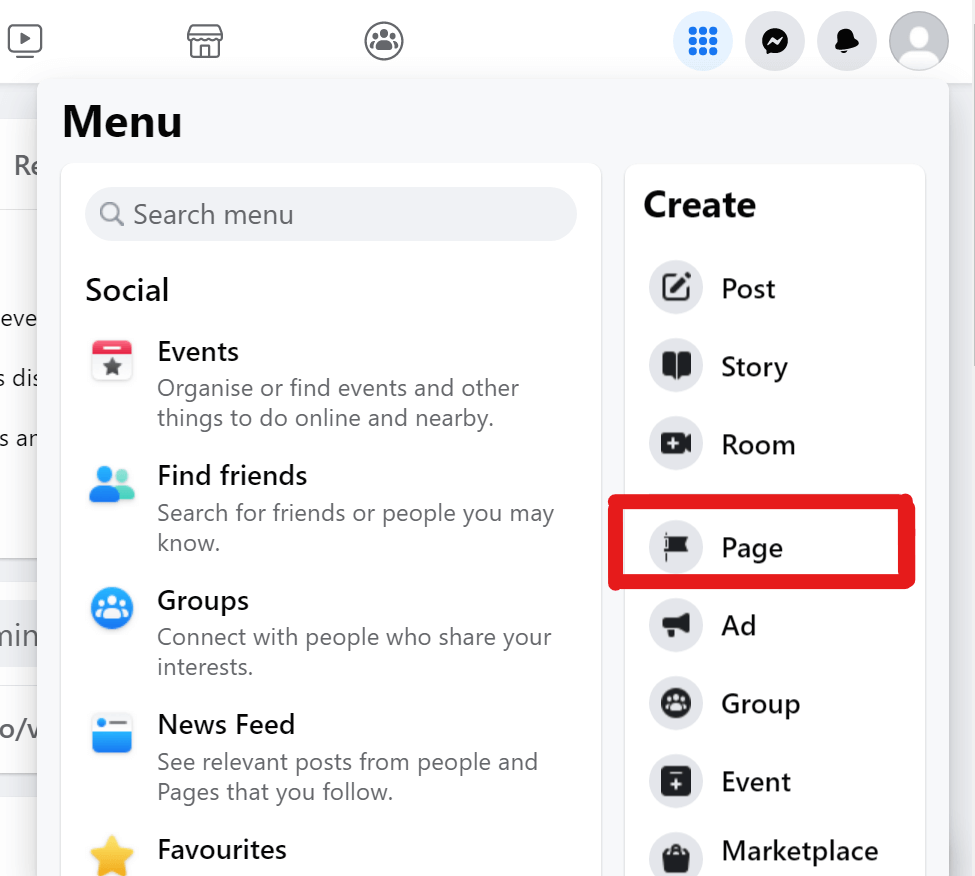 (Image Source: Facebook)
#4: Fill out all the information on all tabs, such as "Name," "Category," and "Description."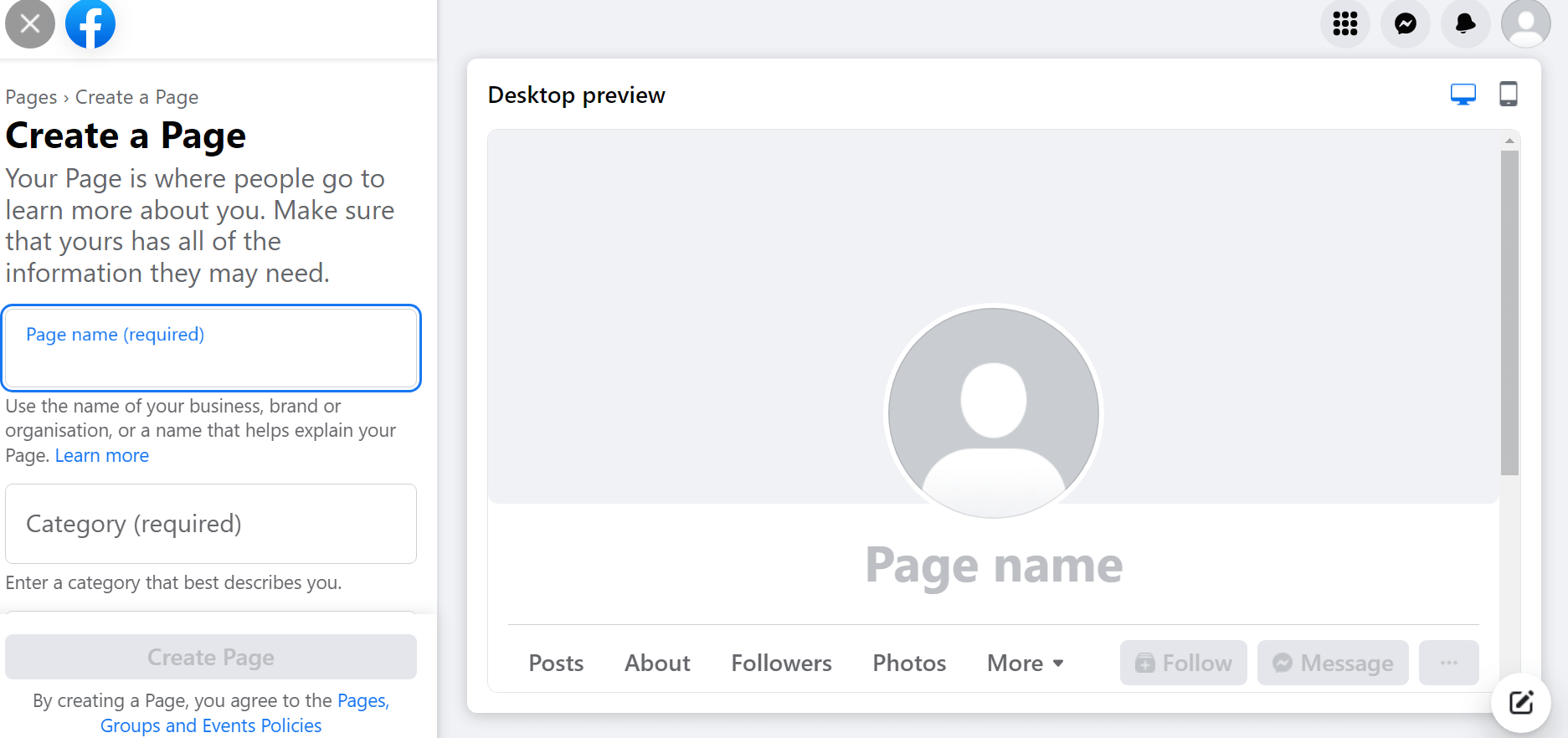 (Image Source: Facebook)
#5: Once done, the page is live. This is how a business enters the public domain by having an account for the brand.
Facebook Marketing Strategy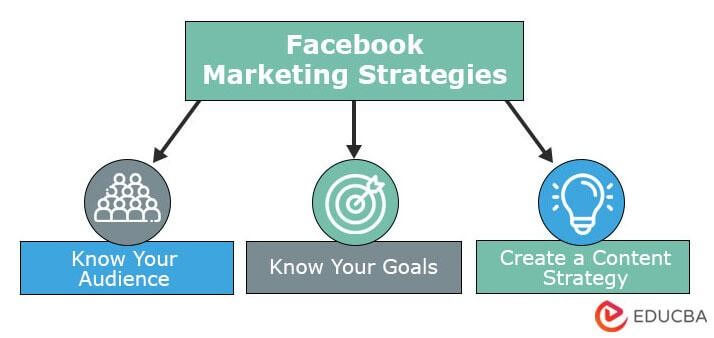 1. Know your Audience
This starts with understanding what value the brands offer and, eventually, whom you want to appeal to the most.
Now, find customer demographics such as age group, location, gender, and user behavior on Facebook.
Audience Insights by Meta's Business Suite can accurately target a brand's consumers.
2. Know your Goals
Define marketing goals and the purpose they serve.
Some common goals of having a Facebook page include building strong customer service leading to better outreach, building a bigger brand awareness campaign to overcome regional limitations, and more.
3. Create a Content Strategy
A content strategy requires two things: what to post and when to post it on Facebook.
It is simple but the most crucial factor that leads to a page's growth.
When to post depends on what time your audience is most active on Facebook.
When thinking about what to post, think about what the audience wants. But be bold and experiment with new ideas independent of conformity. One never knows what will go viral!
How to Increase Sales on Facebook?
1. Post Engaging Content
Posting content that fully engages with one's audience is essential.
The higher the engagement, the bigger the branding.
4/5th of Facebook posts should be just enjoyable or informative (depending on your niche), and only the remaining ones should be promotional.
2. Engage in Social Listening
Understanding how people talk about one's brand and what pros and cons they face.
Responding publicly to all compliments, queries, and complaints helps bridge a comfortable relationship between customer and seller.
Moderate the brand's approach and policies accordingly – This sends a powerful message that you understand your customers.
3. Enable Reviews
Nearly 90% of the leads read reviews before landing on your sales page and eventually buying your product.
One can enable the reviews tab on Facebook by going to Settings > Templates and Tabs > Review Tab.
4. Polish your Profile
Use attractive logos and banners that accurately reflect the brand and capture the audience's attention.
Add appropriate Call to Action (CTA) buttons and contact information to allow customers to interact with the brand easily.
5. Use Facebook Ads
Use Facebook's ad spaces to reach more than 1/4th of the world's population.
Create ads that appeal to a typical day of the audience's lives.
One can develop Facebook ads in many formats, such as Image ads, Video ads, Carousel ads, and more.
Facebook Marketing Analytics
#1: Open the business page on Facebook and select "Insights." If not available on the surface, click on "More."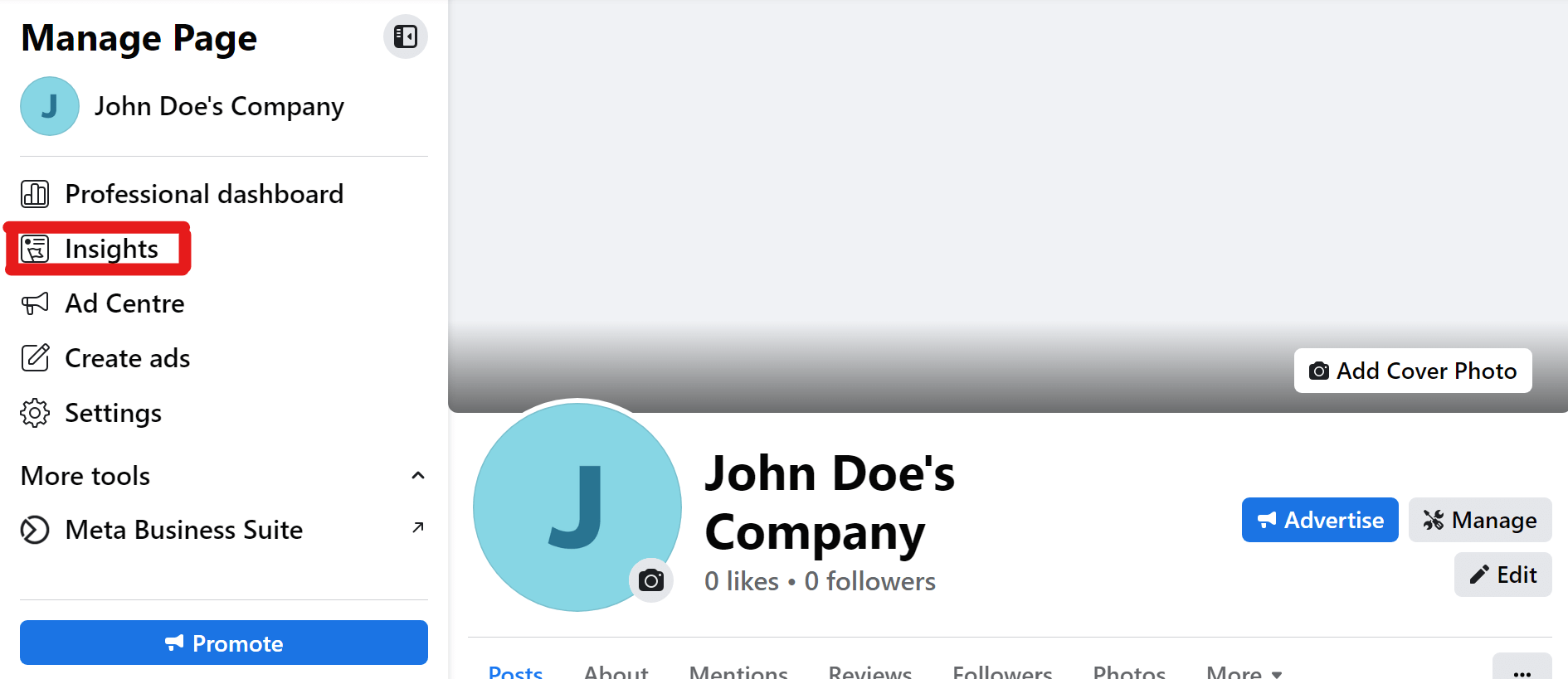 (Image Source: Facebook)
#2: The "Overview" section shows the page summary. This summary gives a holistic view of the brand's performance over a particular period compared to the last session.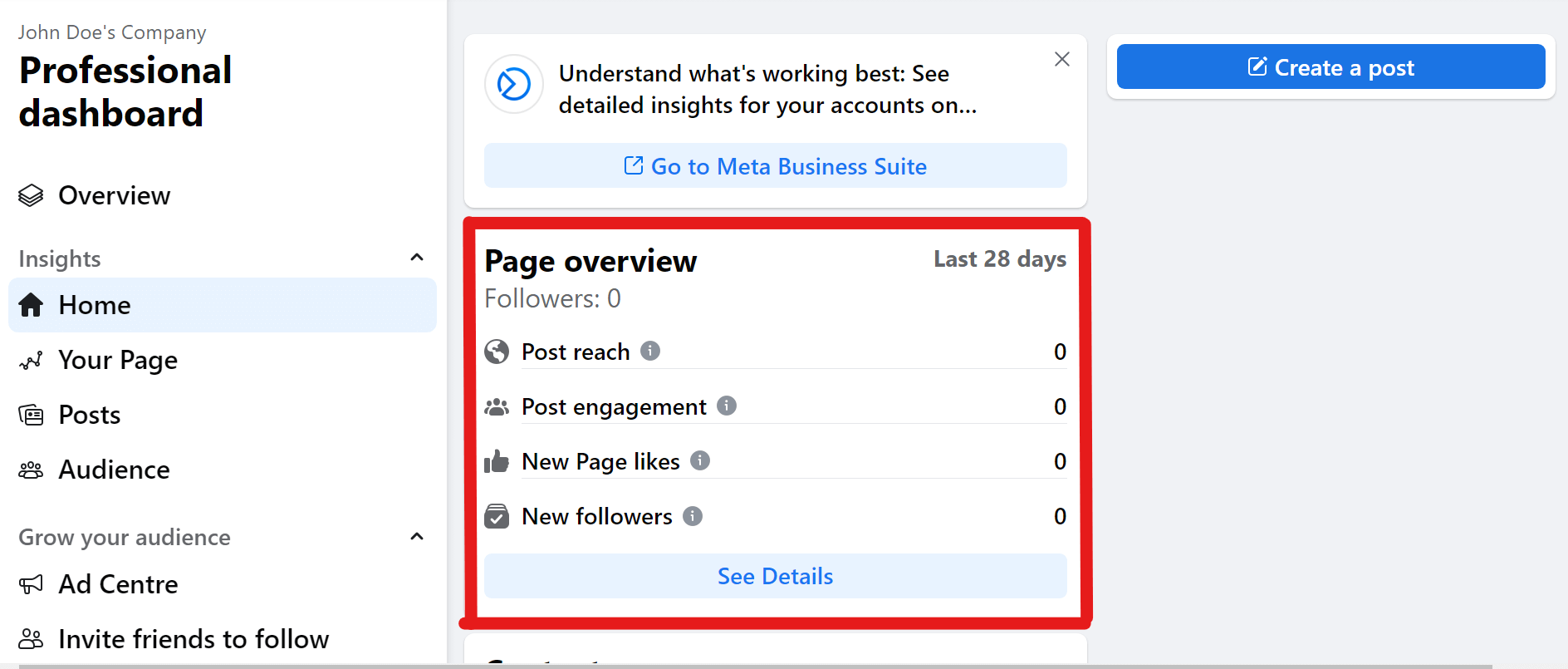 (Image Source: Facebook)
#3: One can view several performance metrics for a page, such as total impressions, cumulative like count, the most liked post, and much more.
Advanced Facebook Marketing
Creating the Purpose of Building a Community: A good way to create purpose would be to relate it to the value the brand gives to the audience.
Choosing the Right Community: Some of the various Facebook groups are the general communities, e-commerce, gaming, social learning, jobs, work, and parenting.
Promoting the Community to the Right People: There are various ways to promote a community. One of the popular ones is to cross-promote with similar communities.
Pros and Cons of Facebook Marketing
| | |
| --- | --- |
| Pros | Cons |
| Large user base: Facebook has a large user base, which allows businesses to reach a wide audience. | Ad fatigue: With the increasing number of Facebook ads, users may experience ad fatigue, leading to decreased engagement with ads. |
| Targeting options: Facebook offers various targeting options, such as location, age, and interests, which allow businesses to reach specific demographics. | Algorithm changes: Facebook's algorithm is constantly changing, making it difficult for businesses to maintain a consistent reach and engagement with their audience. |
Final Thoughts – Social Media Marketing on Facebook
Facebook is a reliable marketing funnel for any brand. Choosing the first-of-its-kind social media platform will only help understand marketing in the rest of the other platforms, such as Instagram and Twitter. Consistency is required to use social media marketing on Facebook to one's advantage.
Frequently Asked Questions (FAQs)
Given below are the FAQs mentioned:
Q1. Is Facebook a social media marketing tool?
Answer: Yes, Facebook is a widely used social media marketing tool. It allows businesses to create a presence, interact with customers, and promote their products or services.
Q2. How can we use Facebook for social media marketing?
Answer: Facebook allows social media marketing by creating a business page, posting regular updates, and running targeted advertising campaigns to reach a specific audience. One can also use influencer marketing and Facebook stories and reels for advertising.
Q3. Why is Facebook best for social media marketing?
Answer: Facebook is one of the best platforms for social media marketing due to its large user base and targeting options. It also offers a variety of features such as groups, events, and Messenger to engage with customers and promote products or services.
Q4. What is Facebook social media marketing?
Answer: Facebook social media marketing means using Facebook to promote a business, product, or service. It includes creating a business page, posting regular updates, and running targeted advertising campaigns to reach a specific audience. It also includes using features such as groups, events, and Messenger to engage with customers.
Recommended Articles
This is an EDUCBA guide on social media marketing on Facebook or Facebook marketing. You can refer to EDUCBA's recommended articles to learn more –