Introduction to Social Media Marketing Companies
Social media marketing companies are firms that exclusively provide tools and knowledge to expand your branding on social media. Social media is an internet platform that connects virtually with your knowns or anyone beyond the proximity of time and space. Nearly 4.89 billion people across the world use social media. This number implies that whatever you post or share on this platform can gain international attention. That's why brands today focus on spreading awareness of their campaign on social media.
Key Highlights
Social media marketing companies provide tools and knowledge to expand your branding awareness online.
The top 11 social media marketing companies are Thrive Marketing Agency, LYFE Marketing, Disruptive Advertising, Ninja Promo, Cleverly, Iron Roots, Moburst, Audiencly, Sculpt, Ignite Social Media, and Viral Nation.
As a brand, social media marketing is necessary in the modern world.
To excel in your growth in awareness, you need some masterful force behind your purpose.
Top Social Media Marketing Companies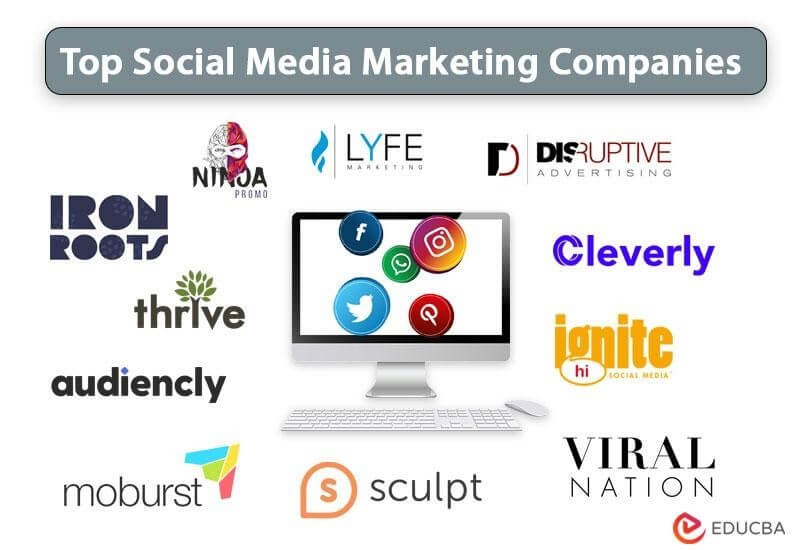 1. Thrive Marketing Agency
With 200 plus online five-star reviews across Google, Clutch, and UpCity, Thrive Marketing Agency is an all-rounder in marketing.
Forbes, Influencer Hub Marketing, The Manifest, and many more have internationally recognized it.
Since 2005, some of the 26 most notable companies Thrive has worked on which include Geoforce, Sneaker Boutique, and STEM education providers.
2. LYFE Marketing
LYFE offers advertising and management services in the social media domain. Established in 2011, LYFE has driven almost a million leads for 2,000 clients, per their claim.
LYFE assigns a qualified social media manager to execute the best strategy specific to your business.
After completing each marketing calendar, the social media manager is accountable for frequent reporting.
3. Disruptive Advertising
Disruptive Advertising primarily specializes in Pay-Per-Click (PPC) and LinkedIn and Facebook ads in social media marketing.
The agency optimizes the PPC campaign weekly.
As of 2022, Disruptive Advertising claims to manage an expense of $450 million plus on its client's behalf with over 150 full-time employees.
Their minimum project size costs at least $5,000.
4. NinjaPromo
Starting in 2017, NinjaPromo takes pride in its adaptability to social media marketing trends.
They offer a guide full of services catered to the latest marketing demands and client-specific requirements.
Not only do they take accountability for the smooth operation of ad campaigns across all platforms, but they also carry expertise in setting ads for specific target audiences.
E.g. setting up a Reebok ad for millennials.
5. Cleverly
Cleverly is a one-stop toolkit for all the marketing tactics on LinkedIn.
They have over 5,000 LinkedIn clients, including Uber, Paypal, Timex, LEGO, Sony, Amazon, and many more.
Cleverly has generated over 150,000 leads, creating $37.6 million in client revenue.
They also provide a course on LinkedIn lead generation.
6. Iron Roots
Iron Roots is ideal for magnetic progress in app downloads, eCommerce sales lead generation, and beyond.
Iron Roots hosts top-notch experts involved in the marketing process, from copywriters and designers to project managers.
Iron Roots runs on this full-service, omnichannel approach that has attracted gigantic returns in ROI for its clients.
7. Moburst
A company that started handing out the blueprint for digital marketing on mobile devices became one of the world's most sought-after overall digital marketing agencies.
Moburst caters to clients' digital marketing needs, such as Google, eBay, Pfizer, Reddit, and Samsung.
The services vary under the spectrum of the end-to-end domain, from brand storytelling to designing and copywriting.
8. Audiencly
Based in Dusseldorf, Germany, Audiencly's main objective is the creation of successful influencer marketing that eventually benefits companies of all types and sizes.
They act as a reliable connection between the creator and the corporation.
Audiencly hosts over 100 brands through its services, successfully pulling off 5,000+ campaigns and over 1 billion impressions.
9. Sculpt
Founded in 2012, Sculpt leads B2B marketing and business leaders into proven social media marketing programs.
Their approach to getting magnificent numbers on reach and pipelines is first assessing the current behavior of brands on social media, then pointing out the lack and executing the most suitable strategy.
Clients include Adobe, Schneider Electric, Velo 3D, and many more.
10. Viral Nation
Founded in 2014 by Joe Gagliese and Mathew Micheli, The Viral Nation is the first-stop preference for all things related to influencer marketing worldwide.
It emphasizes its strategy of bringing an unconventional wave to the mainstream forum that will intrigue audiences and eventually set new trends.
Viral Nation works for clients such as Bud Light, Aston Martin, Calm, and many more.
11. Ignite Social Media
Established in 2007, Ignite Social Media claims to be the "original social media agency."
It proves its legacy by winning the 2016 Corporate Social Media Awards for the best social media agency.
Services in its profile include Community Management, Strategy Development, Measurement and Monitoring, Social Listening, and much more.
Final Thoughts
For brand awareness to advance, social media marketing is no longer a choice but rather a requirement. Because of this, if you are unfamiliar with the idea, don't take the reins. Instead, you should rely on some verified, reliable knowledge provided by a reputable social media marketing firm.
FAQs
Given below are the FAQs mentioned:
Q1. Which company is best for social media marketing?
Answer: There are many social media marketing companies offering excellent marketing services. A few of the best social media marketing companies are Thrive Marketing Agency, LYFE Marketing, Disruptive Advertising, Ninja Promo, and Cleverly.
Q2. What is the most popular social media marketing platform?
Answer: Facebook is the most popular social media marketing platform marketers use. According to a survey, 90% of respondents used Facebook to market their businesses.
Q3. What is an SMM company?
Answer: A SMM (Social Media Marketing) company is a company that specializes in promoting brands and products through social media platforms. They employ a variety of strategies to raise brand awareness and boost sales, including content creation, advertising, and consumer engagement because they aid companies in expanding their internet presence and achieving their intended demographic.
Q4. What are the 5 Pillars of social media marketing?
Answer: The five pillars of social media marketing are strategy (developing a clear plan for social media), content (creating valuable and engaging content that appeals to the target audience), audience (identifying and understanding the target audience to reach them effectively, amplification (using paid promotion and other tactics to increase the reach of one's content), and measurement (measure effectiveness of social media efforts through analytics and metrics).
Recommended Articles
This is an EDUCBA list of top social media marketing companies. You can refer to EDUCBA's recommended articles on marketing to learn more on this topic.