Updated June 6, 2023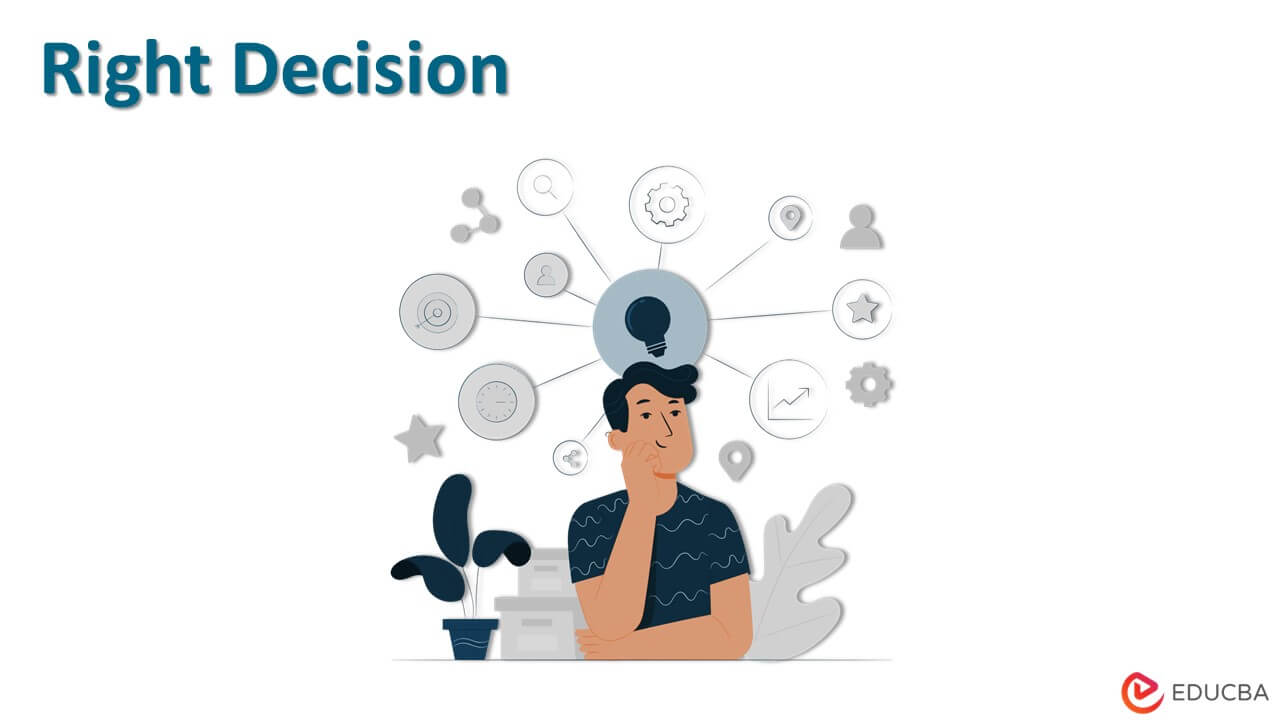 Introduction to Right Decision
A right decision is taken with a clear and rational mind, free from bias, emotions, or external pressure. While the outcome of a decision may not always be favorable, the right decision is based on sound reasoning and judgment to do what is best in the given situation. Right decision-making is a great skill to master. Right decision-making refers to choosing among all the options that seem right for the individual, organization, country, or world. All right decisions are not as impactful as few are.
How to Make the Right Decision?
Only some people can muster the courage to make a bold decision the first time and be confident about its success. What about you? Do you make a lot of the right choices every day? How do they turn out to be?
If you are in your mid-career, you would know how important it is to make the right decision the first time. It can make or break a company. For example, an executive decides to let go of a client without considering the consequences. Now it turns out that the company's competitor got the same client, and that single client has generated double what they earned in the last quarter. Now, what would the executive feel?
In this article, you will learn how to divide your decisions into different categories and how to create a decision framework for your big-impactful right choices.
What to think before making any right decision?
Now everyone makes the right decision. Primarily based on the given moment in time!
Before you know how to make the right decision, you need to know the elements which can support your decision in every sphere of your life, especially your career. So, to improve one's ability to choose the right option from a series of alternatives, one needs to know what to do.
1. Limitations/Constraints
You will not be able to know everything about everything. When a career decision is due, your time is limited to making the right decision. So what would you do then? You need to know your limitations. Thus it's always better if you can set a series of constraints.
For example, if you want to choose a specialization, set time, institution, money, and campus placement constraints. Suppose you put a time of 15 days to decide what profession you should choose. And you chose the institutions (suppose the best 20 and no more). You also chose how much money you would spend on hiring a career counselor to help you with the right decision-making. Lastly, you will check the placements provided by the institutions (in different specializations) only in India. Now you can see that you need to make the right decision within the purview of these constraints.
Once you limit your area of thinking, you can immediately improve your right decision.
2. Opportunity Cost
Suppose you are the manager of a product company. You're about to launch a product. How would you decide to go for market testing before launching a product? How about going ahead with it? Here's a simple thing you need to understand: opportunity cost.
Suppose your product launch becomes extraordinarily successful due to market testing. Or else the market testing may not be successful. We will not go with success. Let's see what happens when we pick the worst scenario. If you imagine that market testing is a failure, what else can you do with the money if you don't invest it? You may use it to improve the product features. You may enhance your value chain or hire a vendor to provide great value. So, if you choose to go for market testing, your opportunity cost would equal the price of failure plus what you could do if you had not invested the money in market testing. Think about it.
3. Impact
If you hire a person and he leaves within ten days, there will be a loss for the company. But if you compare it with the strategic failure of the company, the impact is much lesser. So, at the beginning of making the right decision, always consider the implications of wrong choices. No, there's no point in becoming risk-averse. But you need to understand the impact beforehand. You may need to take the help of an experienced professional.
You need to take care of these three things before making the right decision. No, there is no guarantee that you will make the right decision. But you will be closer to perfection.
Types of Right Decisions
Right Decisions can be of many types. Categorize decisions so you can understand where to make the right decision.
1. Long-term/Short Term
Some decisions have a long-term effect. So, if you're currently making the right decision and it has a long-term impact on your career, think twice. A slight misstep can cause a butterfly effect and ruin your career. That's why author Robert Greene mentioned in his book "The 48 Laws of Power" – "Never outshine the master."
2. People/Money
These are tough choices. If a company wants to thrive, it has to make confident decisions about its people. But this is a delicate situation as people are the organization's cornerstone. If you keep or let go of any employee, it will also affect the existing people in the company. If you're making any right decision about money, either you will gain a huge profit if you make this decision or lose a considerable sum. Sometimes, the decision regarding people would be more critical than money decisions or vice versa.
Ask questions like – "Who would get more affected if this decision goes wrong?" or "What would we risk here by making the right decision?"
3. Contraction/Expansion
Now, you need to decide which types of decisions you are making. Is it a decision to step back, or is it a decision to grow ahead? Accordingly, you will set up your right decision-making constraints and take a final call.
These are the fundamental decisions you make in your career and business. As you expand your business and trade, you will face many choices, like negotiating a deal, increasing the overall investment in training and development, and stopping the production of certain products. But if you see the above types, each of the right decisions you will make will ultimately fall into these six categories: long–term, short-term, people, money, contraction, and expansion. Understand them well, and you will make the right decision.
Framework for Making Right Decisions
There is no all-size-fit formula for every decision. No. But there is something that you can use. We will discuss a framework that will help you make the right decision, especially in cases where the impacts are the biggest for the company and career.
Let's look at the framework. We will call it – "Yes/No Framework."
You should only proceed with the decision in this framework once you get a yes to all the framework stages. Now, you can tweak the framework as per your need. But if you follow the same framework, you will get a reasonable benefit in a much shorter time.
Step 1: Visualize
What exactly are you looking for? Why are you compelled to make the right decision? There should be an outcome that you're visualizing right now. What is it? Write that outcome down on the paper right away. Now ask yourself – "If I make the right decision, will it provide me this outcome in the end (provided all things work as per plan)?" If your answer is yes, go to the next step. If your answer is no, spend some more time clarifying the outcome.
Step 2: Journey Towards Outcome
If you answered the question in the previous step, ask yourself, "What need/s to happen before the outcome?" For example, if your outcome is to increase sales for the next quarter, here is what needs to happen before the outcome –
You need to improve your strategic position in the market
You need to recruit sales superstars or train the existing sales professionals
You need to spot weaknesses in the process/structure to get more converts
Once you write down these things, ask yourself – "If these things happen, would the desired outcome be achieved?" If the answer is yes, go to the next step, and if the answer is no, spend some more time on the things which need to happen before the outcome.
Step 3: People Matter
As you decide upon the steps before the outcome, allocating resources is time. You need to choose people who can do these things (things before the outcome) and ask yourself – "Can the person/employee to whom I allocated the resources deliver the outcomes?" If the answer is yes, go to the final step, and if the answer is no, pick better people till you are satisfied. These people are generally in top positions or senior-level positions in the company.
Step 4: Make the Right Decision
The things you need to do before the outcome are to improve your strategic position, recruit/train your salespeople and work on the weaknesses that act as hindrances in generating better revenues. After analyzing every step taken to reach here, execute your ideas.
Often, while making the right decision, people need clarification about all the other options they can take. Draw a framework for each option and see which one you feel most confident about. Ask yourself – "If I make this decision, will it give me better results than the other alternatives?" If the answer is, you can make the right decision.
Conclusion
The final analysis can be challenging. It's a very complex process, especially involving your business or career. But use the above framework and the information we have shared here. The right decision-making process will become much more manageable.
Recommended Articles
We hope that this EDUCBA information on "Right Decision" was beneficial to you. You can view EDUCBA's recommended articles for more information.