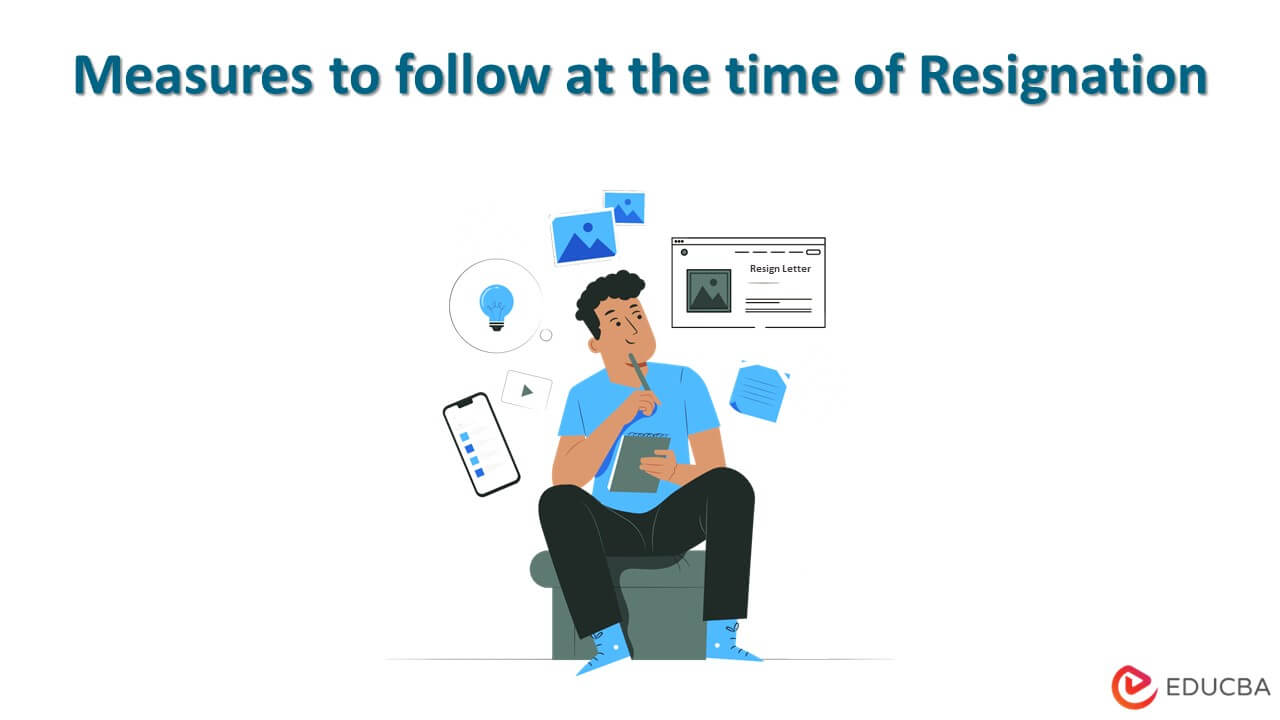 Introduction to Resigning Job Letter
The time was when a graduate would get a job, he would be the happiest man on this earth and would devote whole his life serving the same company. But, now, as the different avenues are beaming with lucrative offers, how could he remain satiated with the same portfolio and similar occupation? He had to move where he could get greener pastures. It has become quite a phenomenon in the corporate world where the working class keeps on shifting from one job or the another, and when they move, they still have to give their good shot and resign with grace.
No employee should leave the company without officially announcing it and without informing your manager or a boss. It shows you in a bad light. However, here are few things you should do to resigning in grace.
1. Inform about your resignation to your boss personally
This is not a message that you should send through email or leave a note on his desk. If you are working in the same department tell your boss about your decision by personally meeting him. Fix an appointment with your boss and tell him the reasons for your resignation, be very honest with your answer and also with the date you would like to leave. This personal meeting can bring you in good books with your boss, and he will believe that there are genuine intentions behind your resignation.  He would then be glad to help you in whatever way he could and submit your documents.
2. Tell your manager the reasons for your resigning Job Letter
You can discuss the resigning reasons for your leaving the job with your manager, but be honest about whatever you tell him, like the current situation is not conducive for you to work for long hours, or you are not able to meet your needs with your current pay scale. Further, in the current portfolio, you have very limited opportunities to grow. But if you are suspecting that your manager is not responding to your candor, make it clear that this is a golden opportunity, and your resignation would prove to be best for both yourself and the company.
3. Give Two weeks Resigning notice on your resignation letter
It is always better to give a minimum of two weeks' resigning notice before resigning. It is a most professional approach as then the company gets sufficient time to find the substitute. You can finish all your backlogs and can also meet all necessary obligations. However, in the rare case, if you are resigning due to any health issue, you can sincerely apologize to your boss and explain the situation. It would also give you time to figure out if you really want to leave the company and join a new one. If your boss is ready to offer you more salary, would you still leave the company where you have already established yourself and where all your colleagues know you? It is really not a good idea to accept a counteroffer, as you have already decided to resign and to look for another job offer where you can get a raise and more job satisfaction.
4. Be ready if you think your boss is not responsive to your resignation
Many employers are not good at handling the resignations as they become aggressive and even abusive. If your boss has a track record of that, make yourself ready for it. You could still offer two week's resigning notice as this is a very professional step. Still, if you are mistreated or yelled at, do not stick n the office for long, but quietly leave your resignation and leave the job.
5. Keep on working till the last day of your resigning
Never think that as you are going to leave the job, you are not obliged to work anymore, and you have the right to linger around. This is a most unprofessional attitude. Keep on working as you have been working before, and keep on putting in your best efforts. Never allow your colleagues to assume that as you are leaving so, you won't be interested in work now.  Always remember that though you are working for a company, it is your work and if by continuing to work will make you stand in good stead in a company, and you would leave a good impression.  It might also be possible that your colleagues might consider you in future for any work or projects. Remember, it is your reputation that counts more than your pay package. Always try to work and carry yourself in a way that even if you leave the company, you have left an incredible impression on your colleague.
6. Do not leave anything messy in your workstation before resigning
Before leaving the job, make sure to compile everything. Prepare complete documentation of all your passwords or important contact numbers and make sure that you have properly organized all the files, and leave all write-ups where you have key projects. Leave your phone number, email id and address as an offer that though you have left the company, still you will be available to them whenever they require you.  This would generate goodwill and better standing. Mention all the important documents that show your current assignment. In that document, mention the list of the name of all the people you are currently working with, any issues and all important dates. This document will help the person who would take your place once you are gone.
7. Inform your contacts About Your Decision to Resigning
You must be dealing with the clients or other stakeholders or must be having contacts outside the department.  It is quite professional if you let them know about your decision so that they can easily make adequate adjustments. Also, tell them the status of items or any other services or issues so that they can follow up. For instance, you are working to resolve the issue or a problem, arrange an open problem ticket from the vendor and let the contacts know about the details. The best way is to have a transition meeting between you, your contacts and your substitute so that you can clear the status and explain the complete situation.
8. Check Your Insurance Coverage
Always make sure that you have no gaps or anything left in your health or disability insurance, especially if you are planning to avail the unpaid off days, which are between your new job and the old one. Also, be very careful about the coverage that could be available to you under the Consolidated Omnibus Reconciliation Act — COBRA. Under the aegis of this act, workers can avail the same benefits they have been getting all through even though they have left the company. This kind of coverage is available for the employees who keep on shifting from one job to another.
Check if any agreement does not bound you before you have joined the company.
Have you signed any agreement before you have joined the company? If you have signed it read it very carefully if there is any clause that goes against you?  For instance, many companies get the agreement signed with a decree that you cannot leave the job before a certain year/month. If you intend to leave it before the prescribed period, you need to reconsider your plan again. Else, you have to forgo your salary or other benefits for which you are eligible. Also, check if you have signed any non-compete agreements. This agreement places constraints on the employee to compete against the other employee in certain ways like the type of work, duration or geographic location.  Some courts consider these agreements as an infringement on the rights of the employees, especially in California, while some courts espouse such agreements. Maybe your former employer can ignore this agreement, but if you are thinking of challenging it, think of all the possibilities and consult a good attorney.
Your company might get you to sign other agreements like conditions on a number of working days during your tenure or on late coming to the office or a number of leaves. Get the same cleared from your HR before your final day in your current office.
9. Fulfill all the formalities
You should go in for the exit interview to get all the information that might be related to your final pay and benefits. You would be asked to submit your identification cards, credit cards, keys, tools and other equipment. Taking out your busy schedule to be a part of the exit conversations means learning what they do to retain the important employees. This is also a time for you to convey your thanks who have given you support and promise your colleagues that you would keep in touch with them even though you have joined another company, and do not forget to send them your contact number.  It is also a great idea to plan a special activity to make the last day a grand affair and a memorable one for you.
An exit interview is also conducted by an employer to collect all the information on how to make improvements in the working conditions for the employees, establish best practices, and assess job satisfaction. The aim here is to let your employer know that you have been at your best in the job, and you can be motivated to ask for references.
What else you can do To Ensure everything is in place so that neither your employer faces any problem nor you.
Get the support of your friends and relatives: Have a discussion about your decision with your family, friends and trusted officers. Their support and encouragement will prove to be a blessing for you in the case of any self-doubt. They will also get tremendous emotional support.
Take care of your finances:   Make sure that you have sufficient finances with which you can sustain yourself. Any emergency can crop up between the day you quit your job and the day of your rejoining another company. Therefore, you need to calculate your budget and find out what you would do if you fall into any emergency. In such a situation, you may be requiring quick cash.
Spend some time every day to organize your files:   Organize the files by removing personal sorting methods by neutralizing away so that it becomes easy for your substitute to decipher the files and tasks. Who so ever come to your place will appreciate the easy and clear filing system and how the best way you have organized everything.
Keep all your credentials in place:   You should make sure to keep all the professional credentials on record and update if you are undergoing any training programs. Complete that the program before you leave.
Create your portfolio: You develop your work portfolio and keep samples of the work that you have done. Also, let your senior or a manager know if you would like to carry any particular sample with you.
Do not forget to get your performance review:  In case your performance review is going to come up, make sure that you collect it before you leave. Leaving the job with the clarity of what you have achieved and what your previous employer think about your performance is a great idea. If the performance evaluation report is good, it would boost your confidence and make it easy for you to seek good references.
10. You can feel let down or nervous by the sudden turnover
You have spent many years in the company and many hours with your colleagues who have become more than your family. So while leaving, it is natural for you to feel let down and sort of emptiness. But do not feel as these are normal things and a process of change. Now it is time for you to look forward and prepare yourself to adjust to a new company where you will find new co-workers and friends.
If you follow the above measures during the time of your resigning, you can get a good standing in the industry. Even though you have resigned, you might be contacted again for rejoining the company. So resign after leaving the same remark and what is a positive impact on your lives.