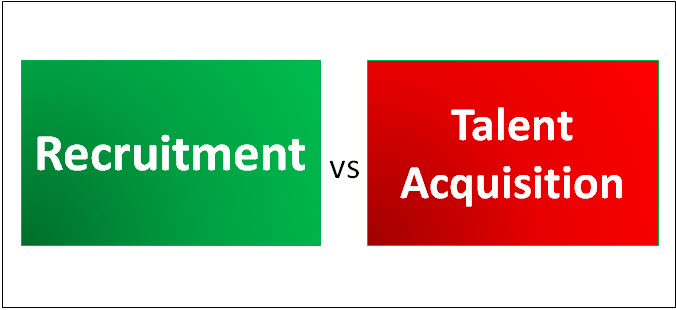 All About The Recruitment vs Talent Acquisition
Recruitment vs Talent Acquisition – There's a fundamental difference between Recruitment vs Talent Acquisition. But the fact that these two terms, recruitment vs talent Acquisition, often get mixed up probably goes a good deal to explain why many companies are today suffering from an acute talent shortage.
The article on Recruitment vs Talent Acquisition is structured as below:-
Recruitment vs Talent Acquisition Infographics

So what's the difference between recruitment and talent acquisition?
Recruiting is a component of Talent acquisition, where there's a pertinent need to fill up a vacancy. It's usually a knee-jerk response when you lose your staff member, which triggers a system to replace the person who has just left the organization.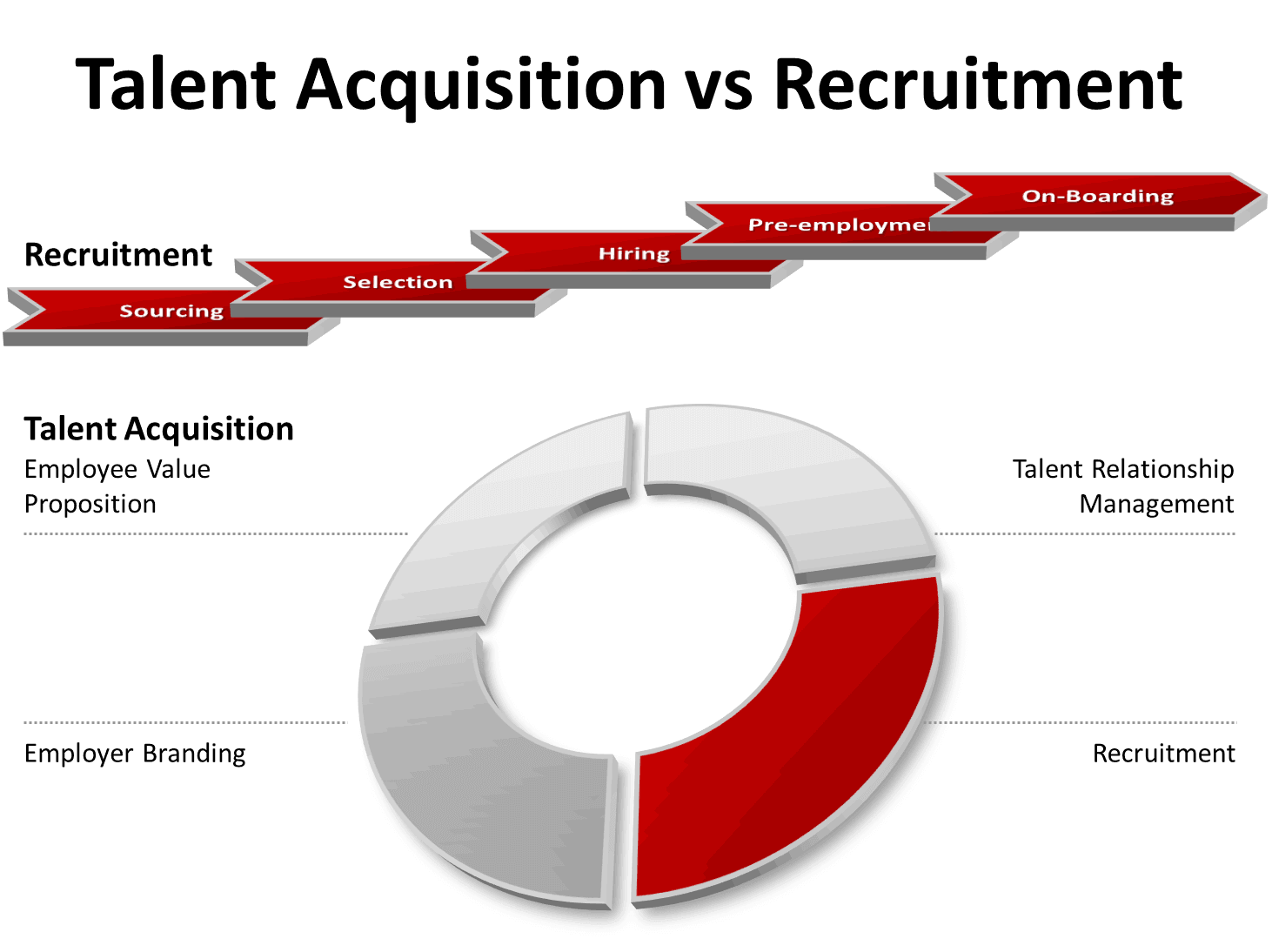 On the other hand, talent acquisition is a long-term strategy to identify future business needs and build a talent pool for the future.
This could include positions that don't exist now but using industry experience and predictive analysis, future talent acquisition for the business can be planned. Potential candidates can be identified before the need arise.
Talent acquisition professionals are a set of individuals skilled in standard recruitment techniques and employment branding practice, and strategic corporate hiring.
Recommended courses
The latter includes analytic's and metrics to make better recruitment decisions and improve and make the workforce future-ready.
As a function, Talent acquisition is closely aligned with public relations, marketing, and human resource (HR) management. Effective talent acquisition calls for a well-thought-out corporate message that revolves around talent development and hiring.
Therefore, it includes the procurement of talent and explains the corporate employee development approach.
If the recruitment is the component of a laid down talent acquisition policy, the latter part of a wider management strategy includes employee engagement, career management, and learning and development.
A recent global survey carried out by Halogen and Cranfield University shockingly revealed that less than 50% of the companies had any talent management strategy.
Another 29% of the respondents said, though they had a strategy, it was largely non-working. But over a third of the respondents said that they were interested in putting in place a talent management strategy within the next few years. But is this too late?
The findings of the varsity's survey seem to suggest that if companies don't take some immediate action, performing staff are likely to leave promptly because of frustration stemming from the lack of opportunities, training, and advancement.
Instead of a well-defined talent management policy, there'll be a disruption in customer service and performance. The company itself will struggle to replenish a depleted workforce with a shallow talent bank.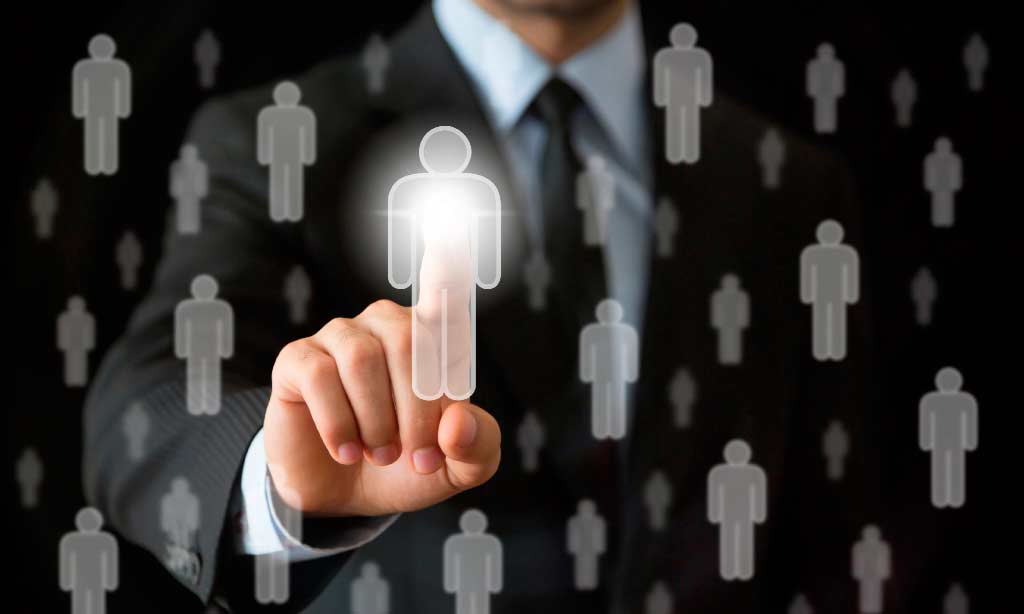 Accenture is a great example of how to put in place an effective talent management system. The company was awarded "The Personnel Today Award for Innovation in Recruitment" in 2014 for doubling its hires, following the introduction of new technology.
The company, in 2013, triggered a major change program that changed the organization's structure. It led to recruiting for positions that didn't exist before, e.g. cloud programmers, big data consultants, and similar professionals.
Accenture needed to beat the competition in the highly sought-after digital talent domain. It adopted a fresh new visionary strategy for reaching out to talented individuals they were scouring and communicated with them via platforms and technology these professionals were using every day, i.e. Facebook, Twitter, Xbox controllers, iPads, etc. Accenture spoke in the language of the candidates, engaged with them, and tapped the talent pool it wanted.
In the end, the company ended up hiring 42 of the 400 individuals who attended these special events, i.e. a higher ratio compared to the CV-to-hire model).
One in six candidates was handed the appointment letter instead of one in every 20 previously. It doubles the number of hires compared to the previous year.
EON—the runner-up in the same category—had to persuade a whole new generation of graduates to consider working for the company in a highly competitive market.
The company knew it had to offer something unique to stand out and attract talent. Some of the strategies adopted included inviting the candidates to the "room of the future"—an immersive experience where the students played their part to change the energy supply for the better.
EON came up with a supported media strategy that covered job boards and student publications. The company's graduate recruitment site was redesigned to realign everything with the core concept, including videos from current graduate intakes.
EON's results were impressive. The company attracted 1500 more applicants within three months compared to what the previous campaign achieved in six months.
All the 45 graduate positions were filled, and more were recruited in other roles. EON reentered the Times Top 100 Graduate Employers.
In these hard times of talent shortage, companies must adopt both short-term and long-term strategies to come up with a talent management plan that includes talent acquisition at the corporate level. The success of all organizations, whether small or big, now depends upon it.

How the two Recruitment vs Talent Acquisition differ?
The language of hiring, especially searching for the proper talent, has become more difficult over the years. Let's set things straight about the difference between "Recruitment vs Talent Acquisition" to clear out things.
There is some key difference in the speed at which the two things recruitment vs talent acquisition happens. While recruitment is a prompt exercise, talent takes place over time and is often an ongoing process. The type of talent sought and the employer goals also determine what counts the recruitment vs talent acquisition differ.
Recruitment need of the hour, the acquisition is ongoing:
As already said, recruitment is an immediate process. If there's a position that has to be filled, you have to find someone who meets the hiring criteria.
For instance, if you are working with an HR company, you may have to devise a challenge that tests the key skills required to identify and hunt down top performers, quiz them, and then hire the individual who best fits the job role. All these have to be done within the shortest possible time.
Talent acquisition, on the other hand, is a less hurried process. Instead of hiring the best candidate coming your way, you may begin the process by having a clearer idea about whom to hire for your company and build a relationship.
You may also get into this, sans any knowledge of who exactly you're looking for, i.e. simply finding candidates that impress you and reach out to them.
Recruiting for today, acquiring talent for tomorrow:
If you are ready to offer a job to someone today, then you are probably into recruiting. But the difference between recruitment and talent acquisition is more about building relationships.
The recruitment process ends with the hiring of the right candidate, whereas this has no end date. Once you begin the talent acquisition process, you can pursue it as long as you like.
It is sensible to start an acquisition strategy that has no end. As long as you remain careful to maintain a positive relationship with those in the process, you can happily rope in top talent in this way.
Recruitment is static; talent acquisition is about growth:
Recruitment ends when somebody has been hired. In that way, the recruitment process is static. It doesn't change. The effect of the company in recruitment is usually not felt because it merely involves filling up an empty position.
Filling up major positions at the managerial or operational level is important to ensure that you continue with the great work you're doing already and everything else that must be done is accomplished.
Acquiring talent is largely about roping invaluable people to your company. The process becomes more fluid if you create a new position or make a big change to the existing one. People hired for various open positions will change along with your company.
The goal of talent acquisition is creation and growth. Devote enough time to these processes for learning more about your prospective employees. In this way, you can be confident about bringing them and merging them with your growth plans.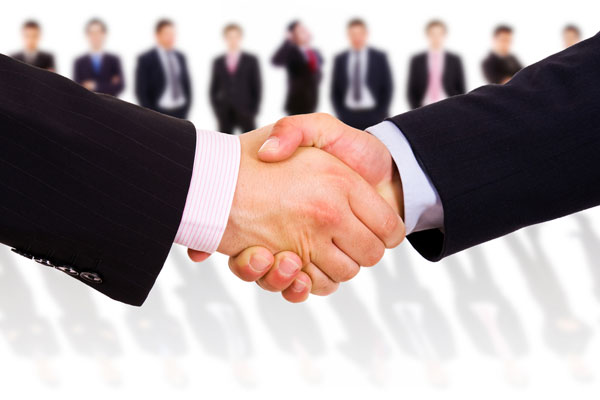 Image Source: www.pixabay.com
At the micro-level
Many professionals and even some industry experts often interchangeably use the words "recruitment" and "talent acquisition".
Talent acquisition can be more clearly defined as "a strategic approach towards identifying, attracting and onboarding top talent to efficiently and effectively meet dynamic business needs."
Recruitment is the final component of a difference between the recruitment and talent acquisition process that begins with sourcing, screening, questioning, assessing, identifying, and hiring.
In many organizations, the entire process extends to the first stage of onboarding, which goes ahead and becomes the shared responsibility between the hiring manager and HR.
6 key strategic elements of talent acquisition.
Planning and strategy: It ensures business alignment, examines the workforce plans, and requires a fair understanding of labor markets, particularly in line with global considerations.
Workforce segmentation: This requires the understanding of the various workforce positions and segments within these segments, as well as the competencies, skills, and experience necessary to reach success.
Employment branding: It includes activities that help to articulate, uncover and define the company's image, key differentiators, organizational culture, products and services, and reputation. Employment branding helps to advance the organization's market position, attract quality candidates and show what it's truly like to work in the organization.
Candidate audience: It calls for understanding and defining the audience within an organization to scour for specific roles. Different sourcing strategies are applied, following the understanding of the jobs.
Candidate relationship management: Includes setting up positive candidate experiences, managing candidate communities, and maintaining a relationship with those candidates who are not selected.
Metrics and analytics: It is the continuous tracking and using of the key metrics for fostering regular improvement and to make better recruitment decisions that ultimately improve the quality of the hire.
Within these key elements, there are several best practices and sub-activities. And, of course, there is the selection of technology, tools and outsourcing partners that are a key component of a firm's talent acquisition strategy.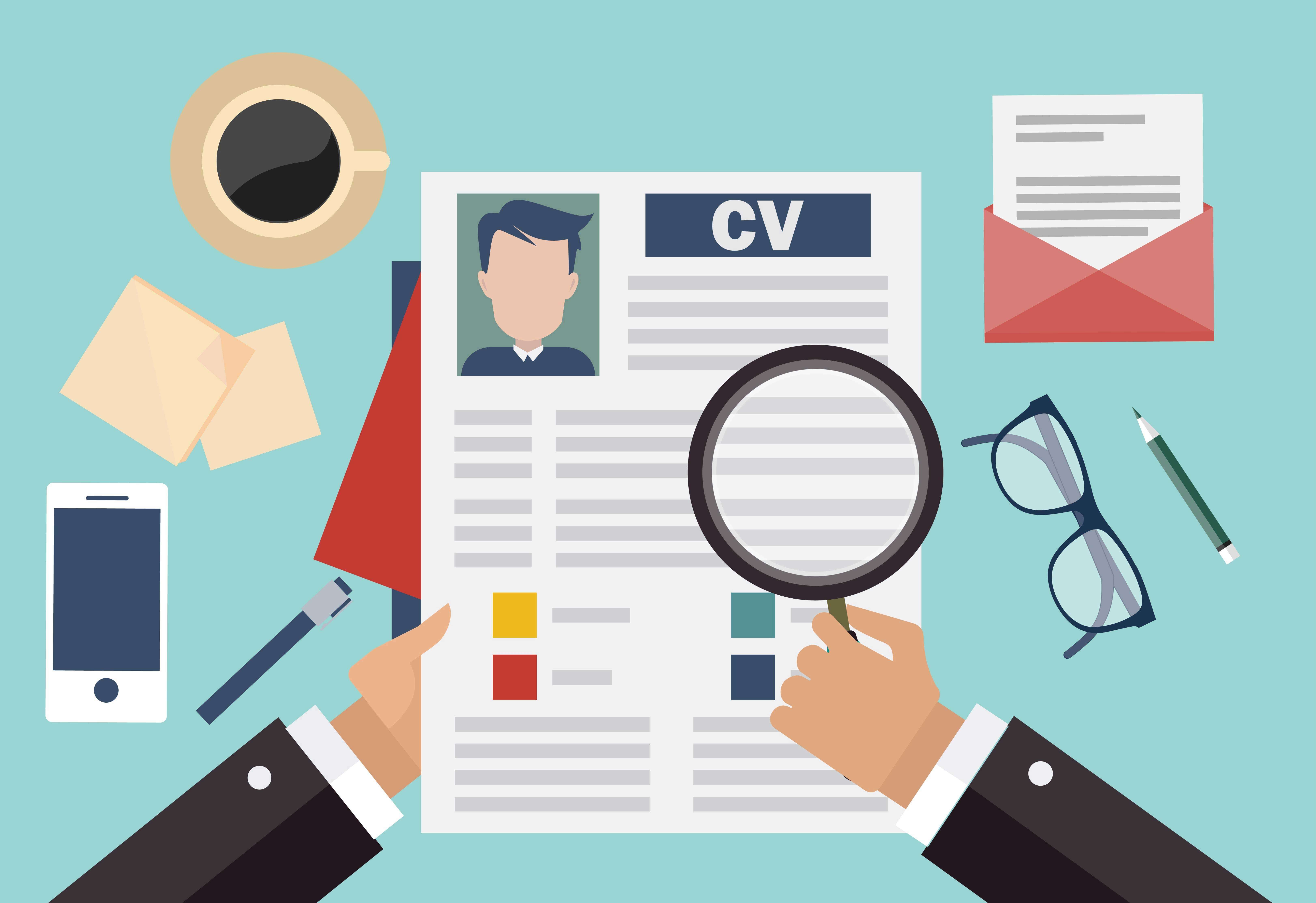 Image Source: www.pixabay.com
Final words to know about Recruitment vs Talent Acquisition
So what do all these finally mean? For one, it certainly makes sense that you have both recruitment vs talent acquisition processes in your organization. Recruitment is important because you'll need to fill up vacant positions as people are promoted or move on to a new job.
Recruitment is in no way easier than talent acquisition vs Recruitment. You still have to find the best person for all vacant positions. As a recruiter, you're expected to find the best talent for your company. It could mean that you select the proper candidate based on his/her CV.
Talent acquisition is great if you have the ability to think out and spend more time in the process.
Whether you are hiring today or preparing a list of candidates for the future, an established talent acquisition vs Recruitment strategy means that you have the resources to match your company's demands for the talent that you rope in. You have to utilize their skills to the maximum.
Talent acquisition vs Recruitment professionals has to understand that every talent has some value to offer. They also have to build relationships with the best talent available to lead to greater networking, more referrals, revenue, and the amazing exchange of knowledge, expertise, and information. Recruiting can take tremendous effort.
This takes a productive and efficient process that revolves around candidates and is easy to use.
But who exactly is a talent acquirer? Identifying and selecting individuals who have technical/creative skills and other special traits, which can contribute and influence or drive revenues to your business by pressing some extraordinary effort, exercising robust relationship management, can be termed as a talent acquirer.
But the speed of filling up open positions is very important. Business owners know that no particular economic condition will last forever. They want to squeeze every last revenue dollar. Talent acquirers have to focus on pre-candidate communication.
The key here is to have a talent pool ready to fill up positions as and when the need arises. While mid-level positions are usually filled by recruitment, companies often keep a fresher pool ready for long-term absorption.
Sourcing proper talent is one of the most important exercises. You have to deal with a large pool of talent and fish out the most suitable for your company. It's, in fact, a process without end.
Recommended Articles
Here are some articles that will help you to get more detail about Recruitment vs Talent Acquisition, so just go through the link.