Updated May 8, 2023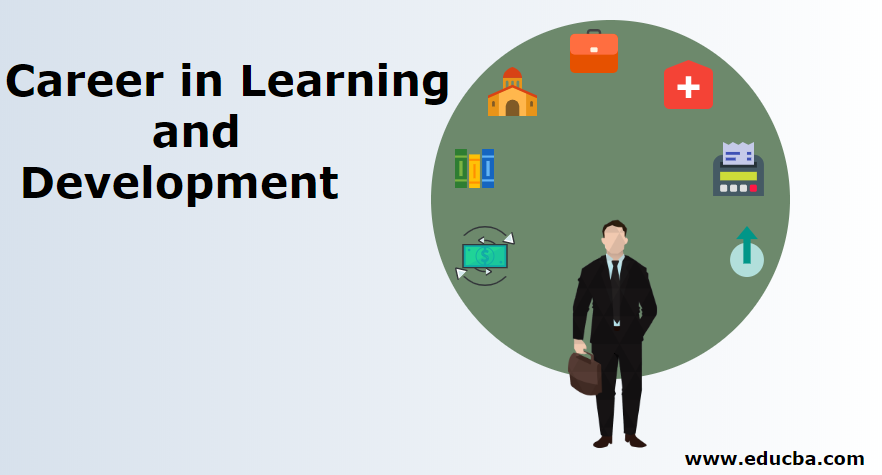 Overview of Career in Learning and Development
Learning and Development (L&D) is a field of work which focuses on providing and managing job-related training to impart knowledge and skill to the employees and individuals. Those who have planned to establish themselves in this field will usually be responsible for developing the workforce's capabilities and practical skill level.
The current decade of digital disruption, rising of artificial intelligence, and the gig economy intensifies the need for developing a workforce with the right skill and knowledge to stay prevalent in the rapid transformation of the business environment in the corporate sector of India. According to a recent survey report, most of the organization's Learning Development Index (LDI) is below the expectation level. That is why some organizations attempt to implement the alignment of employee development strategy with business strategy. In these current years, the demand for learning and development personnel has been increased for developing knowledge levels of employees across various industries, and swiftly it turns out to be a lucrative career opportunity.
The Forthcoming Industries for L&D Professionals
Though L&D professionals have mostly aspired in the HR and sales industries, yet all types of industries prefer to hire them. After all, a knowledgeable workforce is the backbone of the growth of any industry. The industries that recruit L&D professionals are as follows –
Health care
Educational services
Financial and insurance
Scientific and technical services
Retail companies
Central and Local Government
Law firms
Manufacturing organizations
Training consultancies
Different Roles for L&D Professionals
The professionals can choose this career path at any stage of their career. It provides a wide range of opportunities both at the junior and senior levels. Some common L&D roles are as follows–
L&D Advisor
L&D Manager
Head of L&D
Training Project Administrator
Talent Acquisition Consultant
Sales Trainer
The Career Stance and Salary structure
This is a specialized area where demand is high, but the supply of talent with the required skill is very less. It is anticipated that 89% of Indian companies will increase their effort and spend on the growth of the workforce in the near future. Indian L&D industry was valued to be worth US$ 3.5 billion as of August 2012 and is predicted strong grow in the near future due to the high demand for experienced and knowledgeable professionals.
As Indian companies are expanding their businesses globally, it becomes essential to increase the investment in L&D to enhance the skill level of employees at per global standard, though India's investment in L&D is less compared to the developed countries. TCS, Cognizant, Infosys Limited, Maruti Suzuki India Limited, Hindustan Aeronautics Limited, etc. They also provide an environment of continuous learning for its employees. Till 2017, the average salary of a Learning and Development professional was Rs. 914,951 in India, and the salary structure may be changed and increased on the basis of experience.
Required Qualification to Pursue L&D Profession
All professionals in the L&D field have a college degree, while some have acquired master degree qualification also. But recent survey report shows that many professionals have graduation or post-graduation degrees in human resources, law, social science, education, and psychology. As technology plays a crucial role in the learning and development field, the candidates of computer science or information technology are also considered to recruit in this field by different industries. Besides qualification, a professional must have some essential skills and personal traits to establish him or herself in this field.
The Requisite Skills Career in Learning and Development
The following skills are essential to succeed in the L&D field.

Interpersonal Skills: The trainer must have good interpersonal skills to make the training program interesting and effective. It is recommended to have good listening skills to realize the audience's requirements. If the trainer has to improve the quality of social perception, which helps to empathize with others' reactions and can adjust messages and approach accordingly. The professionals in the L&D field have to develop a constructive working relationship with others rather than working as a consultant in their organization.
Communication and Motivational Skills: The professionals who have decided to enter the L&D field must develop excellent oral and written communication skills. Because as a trainer, he or she may address a large or small group of people and write effectively for a large group of viewers. With giving training for skill or knowledge development, the trainer has to motivate the audiences with inspirational speech or story sharing as well as game playing.
Initiative and Creativity: L&D professionals think creatively to design new programs and approaches for communicating information effectively to the trainees. That is why they need to take the initiative for the implementation of a new design or approach.
Planning: The L&D professionals have to be capable to chalk out detailed plans for an effective training program and collect materials accordingly.
Technology Skill: It is important that L&D professionals must have technological skills. As a trainer, he or she should have knowledge about the operating of technology in the classroom as well as effective use of the learning management system and online meeting platform.
Apart from that, a professional must develop some personal qualities to become a successful trainer.
Personal Qualities: Career in Learning and Development
Extrovert: Most of the training professionals are extroverts than introverts as they engage with training delivery. But introverted persons also become successful trainers if they choose to teach a small group of people or to use an online platform for providing training.
Flexibility and Problem Solving Skill: As trainers do their own planning and pay attention to detail, they must have to think on their feet and quickly adjust to any unwanted situation. This Learning and Development field has so much diversity that all types of personal traits can get the opportunity.
Time Management: The trainer designs the entire training program within an estimated time frame, and he or she should not deviate from the time schedule.
There are a lot of opportunities in the L&D field, but jobs are unfilled because of the lack of skillful workers. Even the organizations should enhance their training function by investing time and budget to upskill the training team. This investment will help the training team to traverse the challenges of today's business environment to deliver world-class training.
Recommended Articles
This has been a guide to a Career in Learning and Development. Here we have discussed the different roles, career and salary structures, qualifications, and skills of L&D professionals. You can also go through our other suggested articles to learn more –