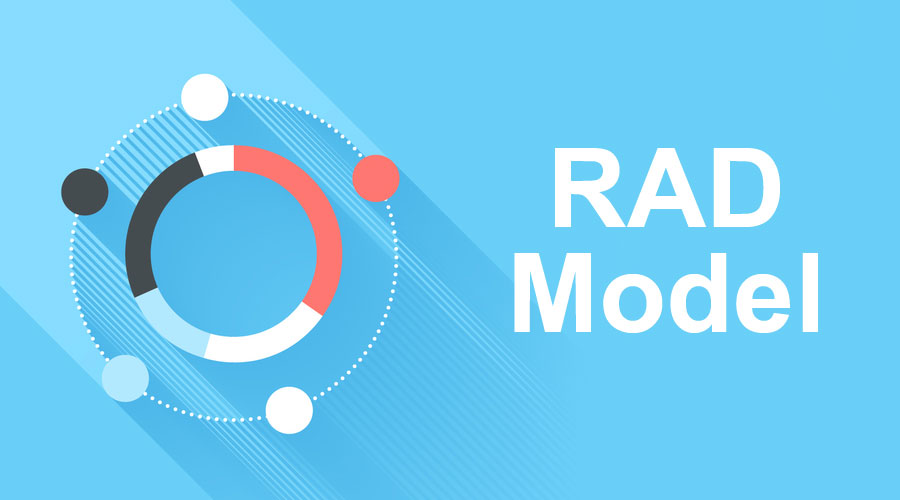 Introduction to RAD Model
RAD model stands for Rapid Application Development model is a parallel development of functions and subsequent integration, where each component or function is developed in parallel as if they were mini-projects. The development of components is time-boxed, delivered, and then assembled into a working prototype. This methodology or model allows rapid change and development of the components or product, encourages active customer feedback by providing the early visibility of the product to a customer.
We would like to discuss and explain more about the Rapid Application Development model or RAD model in the undergoing section.
Like every other software development model, RAD also has few phases on which it emphasizes. These phases are listed below:
Requirements
Design
Implementation
Test
Maintenance
But before taking our discussion to our next topic, we would like to focus on one most crucial point, which is – "How to decide which Software Development Life Cycle Model is best?".
How to Pick the Best SDLC Model for our Project?
It is very crucial to note that picking the SDLC model is not only sufficient. The SDLC model picked and practiced should full fill all our requirements. There is no single SDLC model which suits all. Every model has its own pros and cons. So before picking and following any SDLC model, it should be analyzed, tested properly then; only it should be taken in practice ahead.
Coming back to our topic, let's discuss a few other things step by step:
What is RAD Model?
By now, you would have already guessed about the RAD model. Rapid Application Model or RAD model is one of the software development models which is in practice highly.
RAD model is typically an incremental model where multiple developments of small – small chunks are picked and developed simultaneously to achieve the bigger picture. Also, the incremental model is processed in which major features to be developed are divided into smaller, feasible chunks. These chunks are then developed individually.
A typical RAD model could be divided into five phases which are as follows:
Planning and Requirement Analysis.
Designing Project Architecture.
Development and Programming.
Testing.
Deployment and Maintenance.
1. Planning and Requirement Analysis – This stage is one of the most crucial stages. Here initial requirements are gathered and analyzed properly. Remember proper understanding of requirements is very much necessary so that the final product which is built should meet the expectations.
2. Designing Project Architecture – Once requirements are gathered, the next focus is on project architecture development. A project architecture should be flexible enough to accommodate the new addition of files and folders easily.
3. Development and Programming – Once the architecture is designed, the next major task is to develop the project. This step involves writing piles of code so as to get the product's feasible state.
4. Test – The testing phase involves testing of the product developed. There is a team that is involved in the proper testing of the developed product.
5. Deployment and Maintenance – Once testing is done, the product could be deployed on the server. A deployed project generally requires maintenance and maybe an addition of a few extra features.
Advantages and Disadvantages of RAD Model
Below are the advantages and disadvantages mentioned:
Advantages:
The rapid development of the product.
Development of reusable small components.
Repetitive review during development.
Integration of reusable components at an initial level hence saves effort in spite of not adding bigger modules.
Constructive feedback.
Disadvantages:
Requires lots of effort for gathering all requirements at the initial stage.
Modeling skills have lots of dependencies.
Not suitable for a low-budget project.
When to Use the RAD Model?
As discussed earlier, the RAD model finds suitable if we have the following requirements:
When there is a requirement of developing a product in a short span.
If there are a large number of developers so that multiple components could be developed simultaneously. These small, independent, individual components are integrated to make bigger modules.
If there is an availability of resources, who could gather all requirements at the initial stage.
To understand the current topic more clearly, we would like to discuss when one should use a spiral model so that it would be more clear to differentiate between the two. Also, it would help to choose when to pick what.
Why do we Use the Spiral Model?
A spiral model follows a risk-driven software development model. Based on the unique pattern of risk, this model helps the team to follow or integrate different models or processes.
Example
A few of the typical use cases of the RAD model is:
A typical use case can be the development of any product which requires initial requirement gathering, development, testing followed by deployment and maintenance.
Conclusion
For SDLC, it is very important to follow one of the models for the proper development of the software. Each model has its own advantages and disadvantages. What is more important is to pick one SDLC model to follow its best practice that suits the requirement. Whether one follows the Waterfall model, Spiral Model, V-Shaped Model, RAD Model, or any other typical model before processing and practicing it further, it should be properly analyzed. A good SDLC model will help in the development process in many ways. It will save the efforts and resources, resulting in the better and quick development of the components.
Recommended Articles
This has been a guide to RAD Model. Here we have discussed the RAD model phases, advantages, and disadvantages. You can also go through our other suggested articles to learn more –