Updated August 25, 2023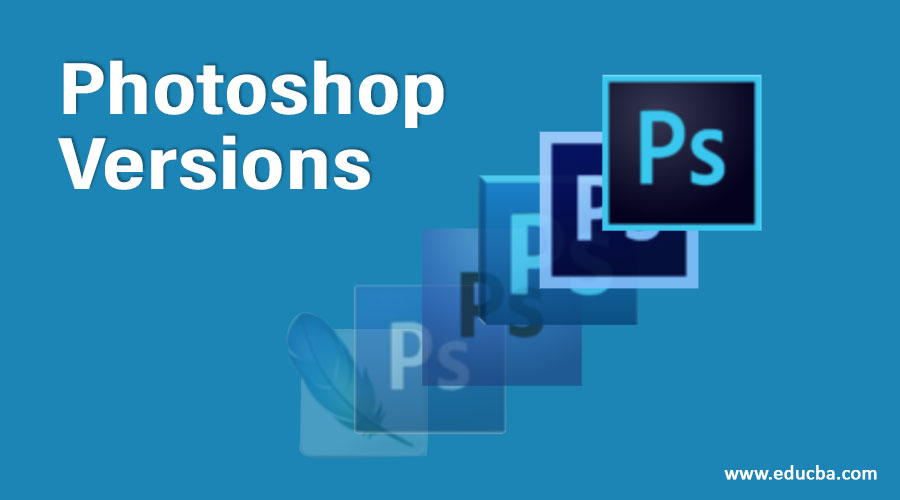 Introduction to Photoshop Versions
Every software is one of its kind and new to its field keeps on evolving and upgrading with time and technology development, such as the case with Adobe Photoshop. Adobe Photoshop has a history of its versions and the oldest being the version that was named in numbers. The first number version of Photoshop was known as version 0.07. In 2003, the version numbers were donated, and an official and marketed version of Photoshop was released as Creative Suite (CS). Since then, CS has been updated and upgraded numerous times, and the last version of CS was CS6, released in the year 2012. Finally, Photoshop was upgraded to Creative Cloud versions in the year 2013 and was called Creative Cloud (CC). The latest version of Photoshop CC is the CC20, released in November 2019 with the latest tools and technology.
Versions of Adobe Photoshop
Below are the all the versions of adobe photoshop released till now is available with a brief explanation:
1. Photoshop CS
This version of Photoshop was launched and released in the year 2003 after numerous attempts to create an official program for image manipulations and editing. Earlier versions lacked a smooth user interface and control over the workspace. Although, this version was launched with new capabilities and improvements. Matching color schemes was the latest development in this version of Photoshop.
2. Photoshop CS2
This version of Photoshop was released in the year 2005, and it quickly took over the industries and market by storm. A more developed and upgraded installment of the CS Version resulted from this version of the program. Some of the newly added tools, such as the Image wrapping tool and vanishing point, gave the program a newer outlook and structure. Moreover, this version came up with Camera Raw 3.0 that helped users edit multiple raw images simultaneously.
3. Photoshop CS3
This version of Photoshop was released in the year 2007 and offered users smooth control and management over the program's interface. The newer tools added in this upgraded version were the Fill Light tool, Quick selection tool and refine edge tool. Like the improvement in Smart filters and Camera Raw support, some of the functions were also updated and developed according to the needs and demands of the users. With this version, users were introduced to the Clone options and properties as well. The interface was also updated that did not crash at any point in time.
4. Photoshop CS4
This version was released in the year 2008 with not much up-gradation and enhancements as compared to version CS3. Minor improvements were made to the program's workflow and working engine. Functions such as content-aware scaling and masks panel were introduced in this version.
5. Photoshop CS5
This version was released in the year 2010 with a lot of enhancements and developments. This version introduced the support of a 64-bit version of Photoshop as well. This version focused primarily on the development of tools only. Some of the newly added tools in this version were Mixer Brush, Puppet Wrap, Auto Image Straighter and Color Picker tool. Moreover, this version introduced the adobe mini bridge, which easily helped the users manage and organize their files and documents.
6. Photoshop CS6
This version of Photoshop was released in the year 2012 with some minor enhancements in the toolsets and functions. The automatic saving option was introduced in this version. Camera Raw was also updated accordingly, and its 7th version was released along with CS6. Some vector and color tools were also updated accordingly. A new interface and workspace were designed and replaced with this genre of Photoshop.
7. Photoshop CC
The CS version was used now, and it saved files on a particular computer and was designed for a one-time purchase option. However, the CC version that Creative Cloud version was released on a subscription basis. The user can purchase the software on subscription for a month or for a year. This was major breakthrough version for the users and editors alike. Moreover, the files can be saved on the Cloud service, which can be accessed at any point in time with any random machine.
This version introduced the intelligent upsampling of images and provided the feature Camera Raw as a newly added filter in the program itself. Smart objects and their linking with other objects were also the highlights of this version. A smart feature to reduce and remove the shakiness created while taking pictures with the camera was also introduced in this version.
8. Photoshop CC 2014
Released in the year 2014, CC 2014 did have so many enhancements. It basically improved the interface and speed issues faced in the previous version of Photoshop. Some new tools such as Spin Blur and Path Blur were introduced in this version.
9. Photoshop CC 2015
Released in June 2015, this version introduced Camera raw 9.1 versions and added Adobe Stock as well. It also introduced the Export options for exporting the file to various other programs.
10. Photoshop CC 2018
Released in the year 2017, this version of Photoshop had many improvements and up-gradation of the toolset and function gallery. More brushes were added, and masking capabilities were improved. Efficient and effective modification with the Content-Aware fill tool was made that promoted error-free changes and editing. A live preview of blending options was also introduced in this version of Photoshop.
11. Photoshop CC 2019
This version came up in the year 2018, and it no longer supported the 32-bit version of Windows with it. Some new tools were introduced, such as Frame tool and multiple Undo tool as well. More specifically, this version was the extended version to the CC 2018 and focused on working with Photoshop and other platforms as well.
12. Photoshop 2020
This is the latest version that came up in the year 2019. It supported enhanced functions of the frame tool and introduced a new workspace and design altogether. This is the 1st version of Photoshop that could be installed and used on the iPad as well.
Conclusion
Adobe Photoshop is the oldest program known for image editing. Today it is familiar to even a layman and non-editor as well. It has a long history to understand the process of the development of this enormous yet super useful program.
Recommended Articles
This is a guide to Photoshop Versions. Here we discuss the latest version of photoshop as well as the oldest one in detail. You can also go through our other related articles to learn more –