Updated August 24, 2023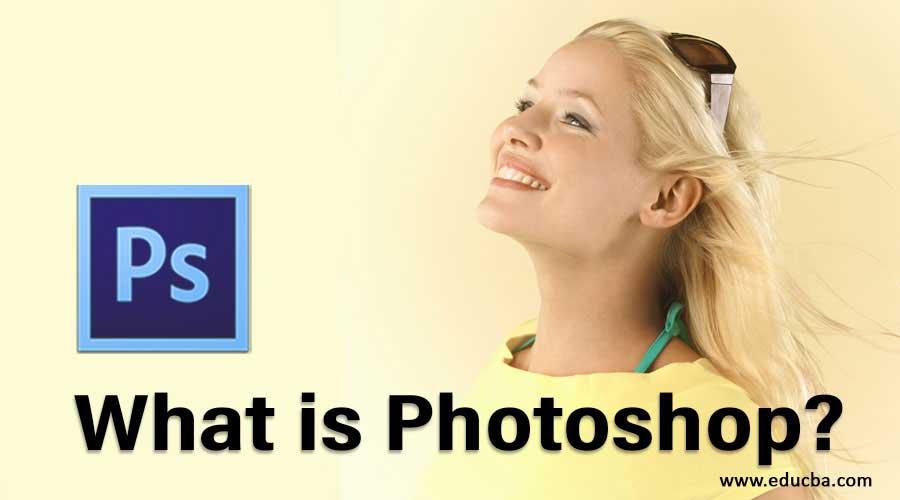 What is Adobe Photoshop?
Photoshop contains all the information related to the image editing software launched by Adobe that, includes an introduction to Photoshop, a career in Photoshop, Installing Photoshop, Plugins used in Photoshop, Shortcut keys in Photoshop, Uses of Photoshop, and many such topics intended to provide the reader with all the knowledge and skills about the image editing software with the latest posts and tutorials that are easy to learn and practice and helps in leveraging the career of budding designers and artists.
What is Photoshop Software?
This question always comes to the mind of a beginner graphics designer. After this article, you won't have to worry about this question. You will get great knowledge about Photoshop software once this article ends. So let's discuss this question.
As its name indicates, Photoshop software, photo. Yes, editing software works on editing Photos that are images, and images should be raster images. When you search for Photoshop software, you will find it with the name Adobe Photoshop software. This software was initially developed in 1988 by Thomas and John Knoll and later taken over by Adobe Systems. At present, it is maintained by Adobe Systems and is a part of the Adobe Creative Cloud desktop app of Adobe Systems. You have also seen the names: Photoshop CS software, Photoshop CS6 software, Photoshop CC software, and so on. These are just the updated versions of the Photoshop software with some new features.
Adobe Photoshop is considered one of the best raster image editing software and is very user-friendly. This software is compatible with Windows 10 and its later versions, as well as MacOS and its later versions. You can find it in many different languages: English, Chinese, Japanese, Dutch, Polish, etc. Getting this software on your personal computer is very easy. To download Adobe Photoshop software, go to the official website of Adobe Systems and search for Adobe Photoshop software in the search box of this website, www.adobe.com. Adobe Systems offers a free trial facility for a limited time to better understand the software. You can download the free version of Photoshop software from this website, and once you find this software relevant to your work, you can buy the full version of Photoshop software from the same website with some nominal charges. After downloading this software from the website, install it on your computer by following simple steps and enjoying its features.
Features of Adobe Photoshop Software
Features are the most important terms of any software. In this article, we will also look at the features of Adobe Photoshop software very interestingly. So let us move toward the features of Photoshop software.
We have an enjoyable user interface in this software. In its interface, we have a Tool panel at the left corner of the working area, which helps in picking up any tool very quickly in the opposite direction is the right corner of the working area; we have the Color panel and Layer section for a quick inspection of our work at the top of the working area we have Menu bar for some setting. Below the Menu bar is the Property bar, which shows the property of the active toolbar at the bottom; we have the Timeline panel, which makes this software to the next level of editing. This Timeline panel allows this software to animate the raster images. These features of the interface make this software very eye-catching as well as user-friendly.
In the tool panel section, we have many exciting tools. Are Move tool, which allows easy moving of images Selection tool, provides a wide range of freedom to select any particular section of an image for manipulating that section according to our purpose most important tool is Pen Tool, which plays a major role in the selection work like these tool we have many other tools in this software which makes it different from other editing software.
The unique thing about this software is a Timeline panel. This software allows you to edit your raster images and animate their properties with a Timeline panel's help. You can animate the image's position, shape, feather of the images, rotation of the image, and many other properties according to your requirement and make your work more effective.
This software has many other features; you will become familiar with all the features by and by once you start working with this software.
Why Do We Use Photoshop?
After knowing the features of Photoshop software, there is no means of this type of question in the context of this software because its unique features make it different from other editing software, and you become ready to use this software as your editing software.
It has one more reason that one can use it as its editing software. It has very simple and easy handling tools and terms so that one can learn it in minimum time with great perfection. After this, becoming an expert in this software will not be a big task for anyone.
Conclusion
Now you have great knowledge about all aspects of the Adobe Photoshop software at the end of the article, and you can also use it for your professional work. After getting familiar with this software in this article, you can get more and more ideas for manipulating your work to cope with the real world with great impact.
Recommended Articles
This is a guide to What is Photoshop? Here we discuss the introduction to Adobe Photoshop software along with its features and usage. You may also look at the following articles to learn more –