Introduction to PERT Charts for Dummies
PERT Charts – Within the realms of program management, it is key to be able to efficiently manage the projects you're in-charge of to get the results desired by the management and the business on the whole. In order to do that, there are many different tools and techniques available that can be chosen, as per the requirements set by the program. In the case of any project, the PERT tool often proves to be quite efficient for use and can be utilized in many ways possible. Whether it is multiple projects doing the rounds or a large program that is being initiated, PERT has managed to stand its ground and make organizing and scheduling projects much easily than previous thought or carried out.
PERT uses the concept of PERT charts as their main components of managing and scheduling individual tasks and activities within projects. PERT charts are effectively put to use by project managers and, subsequently, program managers to facilitate easy and optimum maneuvering of their respective projects and programs. In this article, let's unravel the truth about PERT charts and how PERT charts really works to bring order and accurate forecasting for our projects and programs.
What is PERT?
Harold Kerzner has very accurately mentioned in his book, Project Management, that
"Program Evaluation Review Technique or simply, PERT, is basically a management planning and control tool. It can be easily considered as a road map for a particular program or project, where all the major elements (or events) have been completely identified, along with their corresponding inter-relations."
So, simply put, PERT is that statistical project management tool unlike any other that was specifically designed to correctly analyze and diagrammatically represent the tasks involved in achieving the completion of a said project.
Commonly used in conjunction with the Critical Path Method (CPM), PERT ensures that a program/project manager is able to accurately judge the schedule of the project and how much time each task or activity would occupy in the scheme of the entire project life cycle.
PERT estimates the time each activity within a project would take and hence, calculates, based on PERT charts analysis, the minimum and maximum time of completion of the entire project. This tool was the first one of its kind to simplify the process of determining the time and schedule of the project without actually knowing the specifications and the duration of the activities involved.
It is slated to be an event-oriented technique and is mostly used in projects where the focus is on time rather than the budget allotted for it. Apart from time-dominated scenarios, PERT can be undertaken in particularly large-scale, one-time, non-routine projects that are complex in nature. It is in these scenarios that a higher success rate is always encountered.
Henry Ford was one of the forerunners to successfully implement PERT when it came to the mass production of automobiles back in the 1920s and this approach/tool was further even put to use in the 1968 Winter Olympics held in Grenoble.
PERT took into accounts all the statistical data available for a manufacturing line and would then enable the project manager to countdown to the time each activity would require. It was through the years that managers were able to cascade this type of approach to fuel the smooth functioning of business and software development projects alike.
They are often constructed with the end in mind, or in other words, from the back to the front of the project, as most often project end dates are slated and project/program managers have to work their way up.
What Will You Find in PERT?
In this section, we will go through a range of PERT terminologies that are used during the implementation, so you can have a good idea of the elements involved before we get to its working.
A PERT charts, as you know, presents a graphical representation of a project in the form of network diagrams. Here is what each aspect of the network diagram is supposed to mean to you:
PERT Events: These diagrams consists of nodes, which represents events. These events are project milestones. They can either denote the start of a task or the completion of one. These events don't consume any time or resources and just mark the event in its action. It is denoted as follows:

Note: an event is said to be completed only when all the activities leading to that particular event is completed.
Predecessor event: This event can be termed as an event that immediately precedes another event without any other event in between.
Note: one event can be the predecessor event for multiple events and can have many predecessor events of its own.
Successor event: This event can be termed as an event that immediately succeeds another event without any other event in between.
Note: one event can be the successor event for multiple events and can have many successor events of its own.
PERT Activity: This can be the described as the actual performance of a task. Activities consume time and resources (materials, space, labor, machinery) and can be interpreted as representation of time, effort, and resources moving from one event to another. This can be denoted as follows:

Note: A PERT Activity can't be performed until a predecessor event has been completed.
PERT Subactivity: A PERT Activity can be further broken down into subactivities for easier management of the activities by the manager. A subactivity can further be broken down into subactivities.
Note: Subactivities have the same properties as that of activities.
PERT Dependent Activity: Dependent activities are activities that don't require resources to complete the task.
Optimistic time (OT): This is the minimum possible time needed to complete a particular task or complete a path from one event to another, all this assuming that everything proceeds better than what is normally expected. Best case scenario.
Pessimistic time (PT): This is the maximum possible time needed to complete a particular task or complete a path from one event to another, all this assuming that everything gets delayed or goes wrong (not considering natural disasters). Worst case scenario.
Most Likely time (MT): This is the best estimated time needed to complete an activity or transverse a path, where everything go on as normal.
Expected time (ET): This is the best estimated time needed to complete an activity or transverse a path, accounting for the fact that things don't always go on as normal. This can be denoted as follows:
ET = (OT + 4 x MT + PT) / 6
Standard deviation of time: This is the variability of the time taken for completion of an activity or a path. This variance can be calculated as follows:
= [( PT – OT ) / 6] 2
Lead time: This is time by which a predecessor event needs to be completed so as to allow sufficient time for the activities that must elapse right before a specific event is accomplished.
Lag time: This is the earliest time given to a successor event by which it can follow a specific event.
Critical path: This is the longest, continuous pathway undertaken from the first event to the terminal event of a project. This will determine the total time in calendar days required by the project for its completion.
Note: any time delays occurring to reach the terminal event will delay the accomplishment of the terminal event by the same amount.
Critical activity: An activity that has a total slack count equal to 0.
Fast tracking: This is when a project handles many critical activities in parallel.
Slack: This is the measure of the excess time and resources that are available in order to complete a particular task. Positive slack would mean the task is ahead of schedule, whereas a negative slack would mean behind schedule. Zero slack would indicate on schedule.
How Does it Work?
Listed below are the steps to be followed in order to have a successful PERT implementation:
Identify the activities to be undertaken and the milestones to be achieved.
Determine the sequence of these activities.
Construct a network diagram.
Estimate a possible timeframe for each activity.
Highlight the PERT charts critical path.
Update the PERT charts as the program progresses.
Identifying Activities and Milestones
You will need to chalk out the events and describe the activities that link one event with another. Once you've identified these entities, you can move one step closer to scheduling your project in the most accurate way.
Determining the Sequence
Sequences can determine the path that your project needs to take. This sequence can also determine which are dependent events or activities and which can take place alongside other events and activities. Analysis is important to determine the correct sequence of these activities and events involved in the pathway.
Constructing a Network Diagram
Now with the needed information and the sequence, you can now jot down a network diagram that will help in understanding the time sequences between events. This will give us an accurate picture about the stages and what will lead to completion of the project.
Estimating Time frame for Activity
The time for each activity is estimated at this stage and is calculated in the measure of weeks.
Highlighting the Critical Path
Adding the time taken for each activity and determining the longest pathway is what is conducted in this step. Once highlighted, the time it estimates is taken as the total time that is required for the project from its start through till its end.
Once you know this approximate end date of the project, you can then add resources if you need the work to be completed earlier than expected.
Updating the PERT Charts
As the project progresses, it's essential that you update the PERT charts. Estimated times can be replaced with actual times as the project unfolds itself. This should reflect in the PERT charts in order for the project to be estimating accurate timelines and hence, schedules.
PERT Analysis
For managers, peeking into a PERT charts is like gaining complete knowledge about the proceedings of a project. Due to its schematic and diagrammatic representation, it becomes easier to read as well as understand.
Analysis on the PERT charts will show the sequence of activities and events that need to be undertaken in order to see the project through till its completion. Based on this fact, it becomes easier for a manager to make decisions, which involve removing resources from one activity and pushing them towards another, depending on the timeline and dependency factors for these events.
Knowing the PERT chart slack time proves to be beneficial to make such movements while the project is ongoing and can help managers allocate resources accordingly. This takes care of a major undertaking of a manager and that is of control. This benefit urges managers and analyst to make sure that the information and data fed into the PERT is accurate so that the output can be obtained in a jiffy.
Pros and Cons
Each technique or tool comes up with its own set of advantages and disadvantages. The PERT charts advantages need to be tapped on while the PERT charts disadvantages need to be kept at bay for as much as possible. PERT has been ruling the project management scene for quite a long time now and its integration with other commendable tools have turned tables like no other. Each tool has its nooks and crannies. I've jotted them down as follows: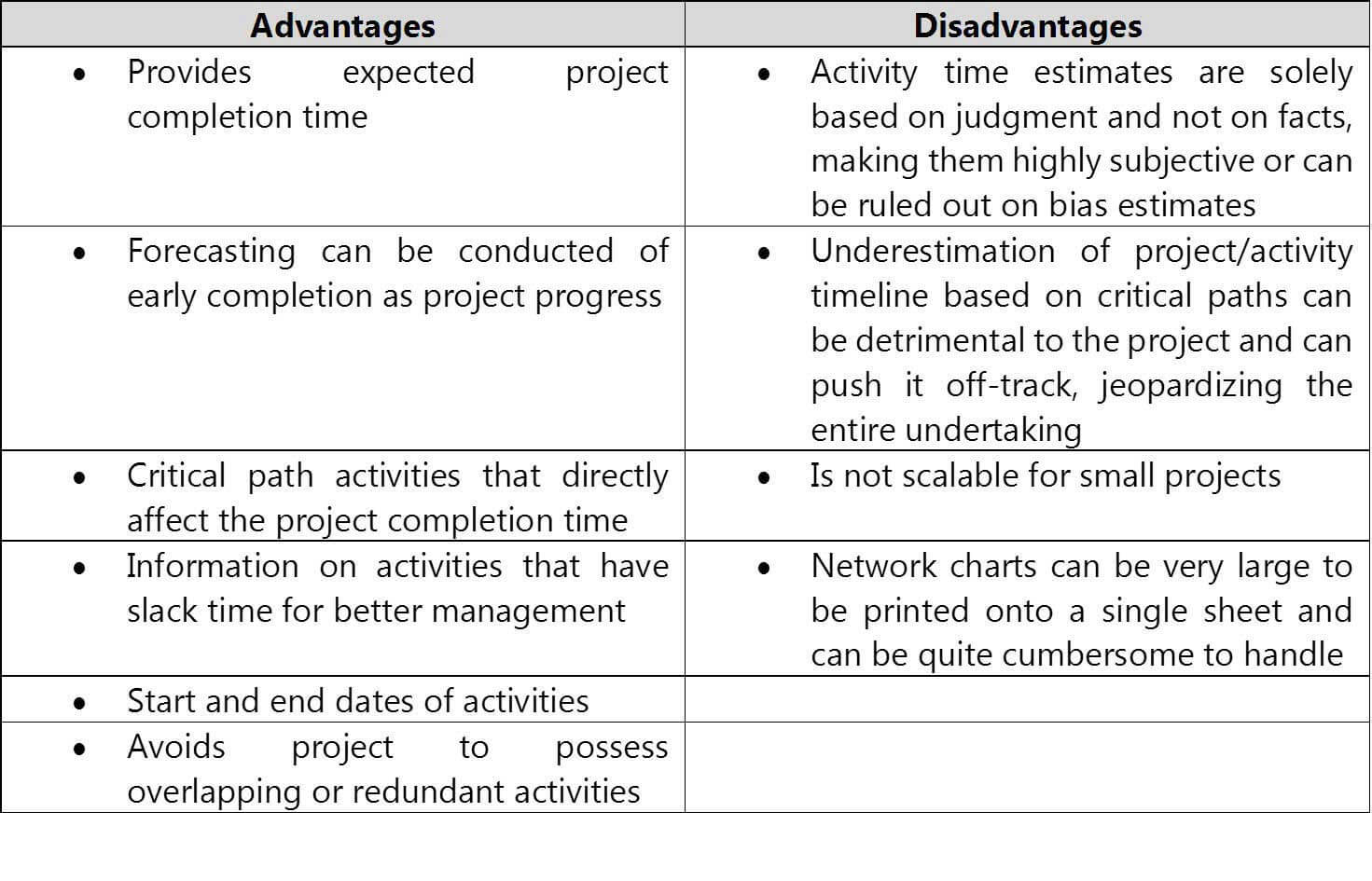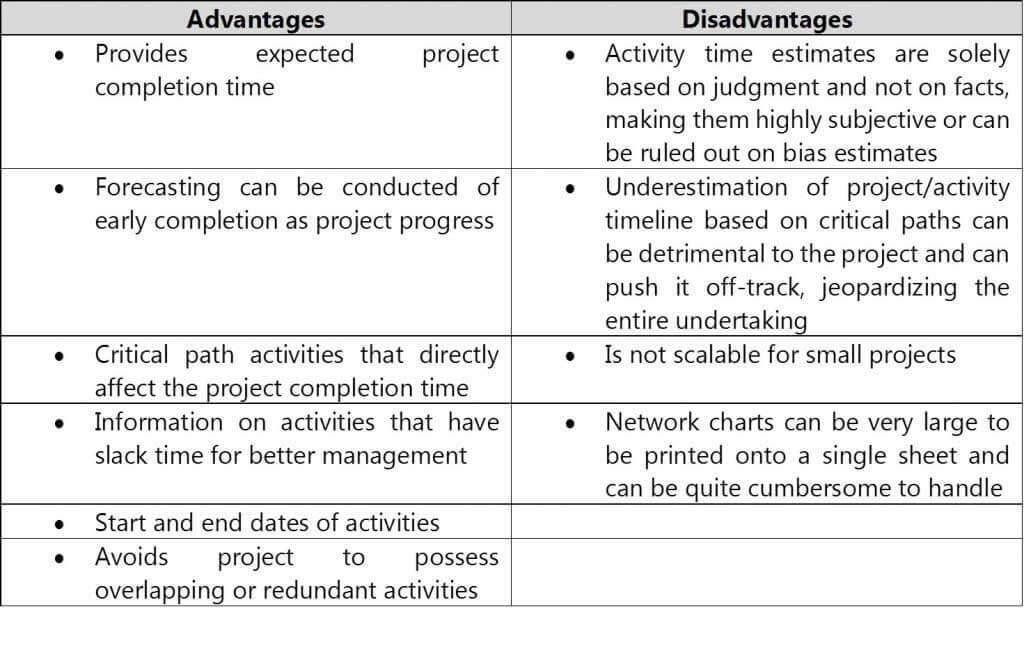 As we come to end, I hope that you've taken a lot back to your workplace that can be helpful for you to plan and schedule your project more accurately.
Do check out the many articles set up that can help you in all your project management needs. Do click on the Share button and spread the good news of this wonderful tool that can make scheduling easier to conduct. Happy Project Managing!
Recommended Articles
This has been a guide to PERT Charts for Dummies. Here we discussed the basic concept, working, pert analysis along with pros & cons. You can also go through our other suggested articles to learn more –