Updated June 8, 2023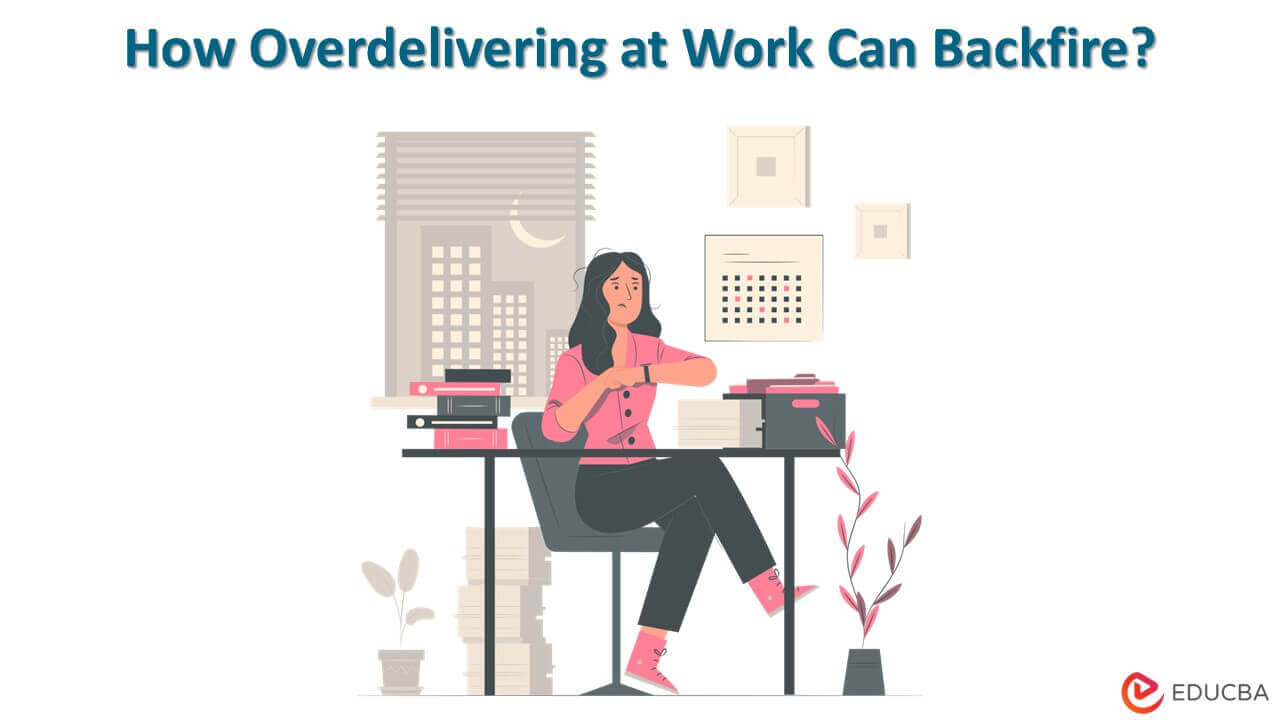 Overdelivering
Overdelivering refers to surpassing the expectations or requirements of a task, project, or job. It represents going beyond what is expected or promised. It provides more value, quality, or quantity than initially agreed. Overdelivering is usually viewed as a positive attribute in business that leads to increased customer satisfaction, loyalty, and repeat business. It can also contribute to a positive reputation and word-of-mouth marketing.
Managing expectations is the most central section of any business or relationship, which can be problematic. The term "under promise and overdelivering" is not unknown in today's generation.
Let us understand why this is a bad idea.
"The substantial menace for our preponderance lies not in setting our goal too high and plummeting it too short, but in setting our objective appropriately and achieving our spot."
How does overdelivering at work backfires?
#1. Overdelivering – Setting Impractical Beliefs
Imagine a scenario where your employer has assigned you some work, and you committed to doing it in three weeks. Your company allocates an assignment, and you undertake it in two weeks. In a common situation of overdelivering, you finish it in just one week. It probably will feel divine, and your employer may even pat your back for the accomplishment, but with this appraisal, you have established a prevailing thought in your employer's brain. The expectation is that you can complete your task before the deadline. Suppose you don't get cautious on time. In that case, your employer might probably start expecting overdelivering at every possible opportunity, irrespective of the deadline you have agreed to.
#2. Overdelivering – Don't Give Impossible Ideas
When your client says they welcome the "out of the box" kind of thinking, you immediately start developing challenging and disruptive ideas. But at the time of the presentation, your client gets aggravated and proves to be unimpressed. The only thought that comes to mind is, "All we did was, provide some extra benefits; then what went wrong that aggravated the client's temperament, and why the client became so mad that they threatened to cut the knots with the firm?"
Suppose the new "overdriven" plan is not working with the original method and is irrelevant to the client's business. Hence, it's better to think through all possible doubts and obstacles and exhibit how the plans are related to the exact business model of your customer before you present your idea. Once the customer starts to believe that your thinking has nothing to do with reality, then fixate in your heart that this perception of the customer is hard to dismiss and, in the long run, might adversely affect your relationship with your customer.
#3. Overdelivering – Wastage of Time and Funds
There are cases where companies deliver because they have fixated that the overdelivering product is much better than initially planned. This leads to a complete waste of resources and time. For instance, if your employer gave you a file and told you to check the correctness of the data in the file, but you, along with checking the data, spent your time advancing its outlook. For the time being, it might appear to be a great idea, but without a solid pathway to follow, it simply becomes a waste, an underuse of time and money.
#4. Overdelivering – Stop Adding Unnecessary Stuff
To stay on top of the newest know-how, fashions, product modernisms, and technical updates; there are various sources from which you can get these latest stories, like the different industrial sites, LinkedIn, Twitter, and Facebook. Being a worker at the agency, you might love to share this exciting information with your clients. But the reality is that what might appear interesting to you may be useless for your client. Hence, sharing a link whenever you find something interesting to your customer can backfire. If you want a full appraisal from your client for the extra effort you put in, choose you're outstripping. Most importantly, check and make sure whether the information you are sharing with your client is relevant to their business, and if yes, then in what ways.
#5. Overdelivering – Taking the Wrong Route
Nothing could be worse than wasting time and resources on unnecessary, pointless work. But the truth is, overdelivering something damages or disrupts the other projects. The reality is that we can never know the whole picture within a firm. In fact, in large companies, no one can know the entire plan and only a fragment of the scheme is introduced to each except the knowledge relevant to their working on the project. Hence, it is possible that you might not know what other people are working on or what the progress rate of other projects is. If, by any chance, you go rogue, even though unintentionally, you affect the other items adversely, making coworker relationships troublesome and complicated.
#6. Overdelivering – Half-Cooked Plans
Sometimes companies get excited about finding fascinating chances and possible methods of changing the client markets. In this excitement, they set an introductory meeting with the clients to get their feedback and check the occasion's merits. These kinds of meetings backfire on the firm because even though the agency was holding an informal discussion, the clients attended it in the hopes of it being proper. These scenarios put the agency in a backlog in the client's view. The aftermath of these cases is not gentle or peaceful. To avoid these situations, the companies should explain the presentation's limitations to the customer beforehand.
#7. Overdelivering – Don't Wait for the Appraisal
Project scope creeps or commonly known as client direction change, is the term of which almost all firms have been a victim in one way or another. In most cases, companies perform their tasks or go above and beyond. It is not wrong for them to see themselves as heroes, but this backfires. Placed or accessed wrongly, this overdelivering work can be the companies' weakness, and this perception continues in the long run. To avoid these situations, never be quiet nor expect applause for the extra labor. But neither leave the credit you deserve. This can happen by maintaining constant communication throughout the project and letting the client know why and how the project team has delivered much of the effort.
#8. Overdelivering – Eyes On The Trophy
The most philanthropic work to deliver overdelivering facilities to clients can backfire at any moment. The clients will be liable for the overdelivering of products, mistakes, miscommunication, or interruptions even though no correlations exist. If your customer perceives you have been unfocused and distracted in routine matters, you might lose your client's trust. No matter what, the client's perception is always right. So in due time, ensure that your company takes care of the client's standard requirement before taking care of the value-added service, or this might jeopardize your professional relationship.
#9. Overdelivering- Cut to the Quick
Occasionally, people get pretty possessive of their work. The company's extra effort may be considered an invasion of their comfort zone and might put your business in the bad eye of the client and may get you bad feedback.
In this competitive world, everyone wants to be ahead of the other. This should not be taken negatively, as putting in extra effort at work is great and often does the trick. Still, there is nothing wrong with being attentive and knowing when and how you are over-delivering. You never know when it might backfire, and all your efforts may end. As no two people are alike, how can the same tactic work for all? Similarly, overdelivering is not for all, nor is it appropriate for all conditions. Everything has a boundary; one must learn to look for these limits.
So how do you negotiate – and set the platform for long-term fidelity and dependability?
There are three ways of doing so, which include:
know the boundary of using time, resources, and money;
be up-front concerning the intentions; and
having at least a two-week processing time for the project completion.
Conclusion
Under-promise and overdelivering helps eliminate the unwanted risk that can hamper the firm's reputation in the most dangerous ways. It puts the company in compromising positions and may even break the client's trust. If the companies wish to overdeliver the product, they should contemplate hard and plan it thoroughly to work in their favor and not on the contrary.