Updated July 4, 2023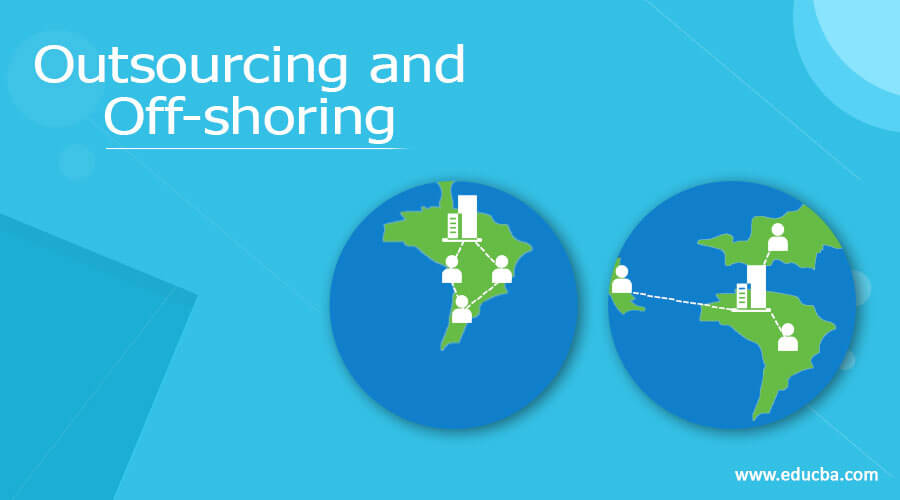 Introduction to Outsourcing and Off-shoring
For various reasons, big and small businesses, domestic and international, have been outsourcing most of their business activities to third parties. Hence outsourcing is a vital part of business, and so is Offshoring. These two terms are used so often that people think they mean the same. But how many of us understand the difference between the two? Well, there is a difference between the two.
What is Outsourcing and Off-shoring?
You will understand the key and major differences between the two terms by reading the notes below. Let us start by explaining the two rather than understanding the two before we understand the difference.
Outsourcing
Meaning and Understanding:
We know the basic meaning of outsourcing today because businesses have made it very common and popular. Ok, let us confirm the meaning once again. Outsourcing is giving the processing of your business activity to a third person. Several companies outsource more than one activity to a third party for various reasons. So let's explain this better.
You can say outsourcing is getting a service or a product from a third party, which can be big or small companies, small enterprises, individuals, etc. These services can include accounting services, manufacturing, or giving services. Usually, outsourcing is using the services of another service provider for your business. This outsourcing can be both domestic as well as international. There are different reasons for outsourcing services to a third party; one major reason is saving, as outsourcing saves you many bucks.
Reasons for Outsourcing:
Cost Saving:

Usually, outsourcing is done to save on some costs for the company. Not compromising on quality, the companies would want to save on their cost; hence they outsource. Sometimes the companies compromise on quality as outsourcing will not always guarantee quality as good as your internal system. However, the management needs to accept the quality it outsources. Cost saving can be don't in departments such as IT and finance as the companies can get some good cost benefits.

Different Specialties: Sometimes, companies and people deliver high-quality and finished products in manufacturing. In contrast, when it comes to service, some companies can provide much better service than when compared to the principal company. The company outsources its business to specialists in specific fields to deliver superior quality work or products to its customers.
Flexible payments: Payment flexibility is also why companies outsource their business activities. For example, if a company is handling its business activities house, it has to have additional specialized resources to handle the project, for whom they will have to pay salaries. In contrast, if the company outsources its work to a specialist, it will only pay for the work done or for hours put in. This is where payment gets flexible for the company. The company can pay at its convenience.
Offshoring
Offshoring is generally a little different from outsourcing. Lets us understand it before we compare the two. Offshoring is nothing but outsourcing business activities to a company outside the borders of your country or internationally, or to another country. Usually, people in the news refer to Offshoring when they have to talk about outsourcing. Well, there is a little difference that is important to understand. Indeed, offshoring can be understood as a form of outsourcing where the business chooses to work with a different company in another country. It involves relocating certain business operations to a different country altogether. The products and services are available in the same country. Companies conduct business activities across various countries. You can say that if a computer manufacturer in Germany opens a factory in India to manufacture a few parts, they are not just still the same company. They are offshoring their business activity to a different country. Off-shoring need not be giving your business activity to a different company. However, it can still be with the same company in a different country for various reasons.
Reasons for Offshoring:
Cost Cutting: Traveling offshore is a real monetary benefit for these companies as it helps them save a lot of money. Whether manufacturing in Thailand or IT services that are provided in India are much cheaper for the USA companies as they do cut down on some good manufacturing and service cost of the company, it is seriously a big cost-cutting strategy for a company that works in favor of the company's profit maximization.
Saving on Tax and Tariffs: Tax tariff of different countries is different; hence several offshoring decisions are taken with the thought of taking advantage of tax rebates available in certain countries. Moreover, a few countries with loopholes can allow companies to cut down on huge costs even after importing the products to the top country.
Maximize Control: Your customers trust you as a company for your quality and the work you deliver. However, the same quality is impossible by outsourcing, for the quality standard you are looking for might differ. If the standard is low in most cases, it can disrupt the company's reputation. Hence, to maximize its control, the company offshores its business activities to a different country under its supervision. The same quality with a good labor cost in countries like the US is costly and not affordable for many companies. However, under the same brand name and supervision, the same quality can be delivered from a different country cheaply. This helps the company maximize its profits and maintain its quality standards.
Now that the two terms are clear enough, it might be easy for you to differentiate between them. So now, let us look at the difference between these terms, as this will help you understand them better.
Difference Between Outsourcing and Off-shoring
Outsourcing is handing over the processing of some of your business activities to a third company or a third person for various reasons such as cost cutting, specializations, flexible payment options, etc.; however, all of this is done in the same country.
Offshoring is similar to outsourcing, with some basic differences. For example, the business processing is moved to a different country, not necessarily to a different company in a different country; the same brand can have its operations moved to a different country and continue to sell in its top country.
1. Outsourcing gives business processing to a third party with its operations within the same national border. However, Offshoring goes outside the national borders to gain benefits available in that country for profit-maximizing and other reasons.
2. Both outsourcing and Offshoring give the company the benefit of cost-cutting if the motive of the company is the same. Cost cutting for any company is an essential means of increasing its profitability; the lower the cost of production and service, the higher the company's profitability. And, of course, who does not want to mend money? I mean, everyone wants great returns.
3. Outsourcing and Offshoring are done if a company intends to add better products or services with the help of outsourcing to a specialist. The same can be done either in the same country to a third party or in a different country. However, the motive here is to get better quality goods or services delivered to the consumers.
4. In both cases, when work or business is outsourced, the company can pay for the work done as decided in the mutual agreement between the two companies. However, if the same job is done in-house, the employees hired by the company have to be paid a specific salary and a specific amount. Outsourcing and Offshoring give companies a great advantage of payment flexibility.
5. Several countries offer tax rebates for specific operations; even after producing and importing, the parts will be much cheaper than the taxes paid in specific countries for certain operations. Many companies outsource their business activities to save on these taxes, which will help them maximize profits. This option is valid only for Offshoring, as outsourcing for tax savings in the same country will not make any difference. Hence Offshoring gives you the flexibility of saving on these taxes.
6. Offshoring also benefits you from controlling your business in a different country. Whereas within the country, changing your location to control your business is no point. Outsourcing involves a third party helping you handle a part of your business activity; of course, you will pay for outsourcing. However, you can handle your business in Offshoring in a different country.
Now, if you are wondering why you need to offshore if you have to handle your business, the answers to this can be –
You would not want to compromise on your quality standards which you might do with offshore outsourcing. So you can here control your business.

You might prefer to offshore to save on tax tariffs which you can do by Offshoring.

You can offshore your business to hire specialists from a specific country and save on the hiring cost.

You can also offshore to cut costs without losing the authority to control your business.
And the reasons do not end here. They will continue.
Outsourcing refers to companies hiring someone else within the same country to do work for them. At the same time, offshoring involves work done overseas by a third party or the offshoring company itself.
Examples of Outsourcing and Off-shoring
A business in the USA sets up a caption BPO or its BPO in India. Any famous city you can consider specifically to serve its USA-based customers is called Offshoring. The company is establishing its business activity in a different country without involving any third party.

A USA-based company contacts an overseas contractor to manufacture toys for sale in the USA. The company is engaging in both outsourcing and offshoring. This scenario includes an overseas business manufacturing activity manufactured by a third party.

A USA-based company outsources its IT job to an IT company in the USA that specializes in the field and is only outsourcing its IT job without sending the job offshore; this is a clear example of outsourcing a job in the same country to a specialist.
There are several advantages and disadvantages of both Outsourcing and Off-shoring. The disadvantages have always been in debates on these terms, such as political debates, unemployment in the offshoring country, failures due to inadequate communication, quality of the products and services, and time commitment. At the same time, the advantages include cost savings with lower cost and higher productivity, special skills, tax savings, labor flexibility, quality skilled work, etc.
Conclusion
In this article, Outsourcing and Off-shoring, each company has a different motive behind outsourcing or offshoring its business activities. The management needs to jot down its importance, advantages, and disadvantages. After putting in all the calculations, they need to make the right decision to benefit the company and help it maximize its profits correctly. Decisions taken by the management are usually long-term and only after calculating all the numbers.
The meaning and explanations in the notes above are enough to clarify the concept of Offshoring and outsourcing. The examples add more clarity to the content. Now there will be no more confusion as the concept is clear.
Recommended Articles
We hope that this EDUCBA information on "Outsourcing and Off-shoring" was beneficial to you. You can view EDUCBA's recommended articles for more information.