Updated March 15, 2023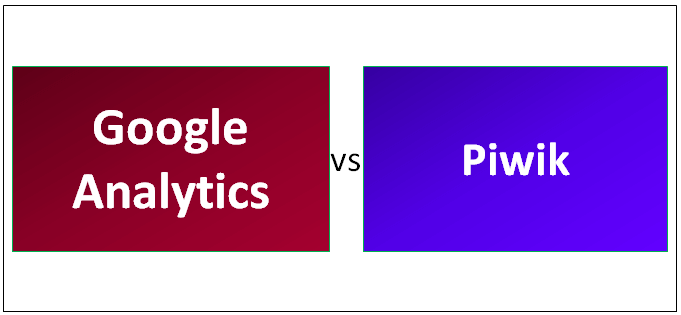 Differences between Google Analytics vs Piwik
Google Analytics is an industry leader, Piwik is an open-source web analytics tool.
Google Analytics
Google Analytics is free as well as premium service that tracks and reports website traffic. Google Analytics is obviously the most widely used web analytics service on the Internet. It has two additional versions: the subscription-based Google Analytics 360 targeted at enterprise users, and Google Analytics for Mobile Apps which allows gathering usage data from iOS and Android App
Piwik
Matomo, formerly Piwik is a free and open-source web analytics application developed by a team of international developers. It runs on a PHP/MySQL webserver. Piwik tracks online visits to one or more websites and displays reports on these visits for analysis. According to Wikipedia Piwik has been translated into 54 languages so far.  New versions are also released regularly meaning it has active support available.
There could be several reasons why one might want to consider an alternative to Google Analytics. For example:
It can be really uneasy for someone to share its data with anyone else – Nobody wants to disclose information about its clients to other companies, also many companies are not legally allowed to do so.
If somebody wants to have more than one analytics tool at their disposal i.e. wants to check if there are any discrepancies between reporting in Google Analytics and other platforms.
Those who are seeking features that GA doesn't have – after all, different organizations could have different needs.
Head to Head Comparison Between Google Analytics and Piwik (Infographics)
Below is the top 11 comparison between Google Analytics and Piwik:

Key Differences Between Google Analytics and Piwik
Below is the difference between Google Analytics and Piwik are as follows:
Now that we have seen the comparison table with essential Differences Between Google Analytics vs Piwik, here we shall be focusing on key features that each tool provides.  Hence comparison here is more in terms of functional specifications rather than the technical specifications.
Key features of Google Analytics are as below:
Campaign Management: Traffic
Track Goals: Website conversions and user activity
Audience report: know users
Flow visualization: follow every step
Custom report: analytics data
Key features of Piwik are as below:
A/B Testing
Funnels
Heatmaps
Tracking and Reporting API
Facebook Ads, Yahoo! Search Marketing
Bing Ads: Paid search marketing campaign
Cost Per Click (CPC)
Comparison Table between Google Analytics and Piwik
Below are the lists of points, describe the Differences Between Google Analytics and Piwik.
Google Analytics
Piwik
Google Analytics is remotely hosted
Piwik is self-hosted (PHP/MySQL)
Google Analytics provides the total current live visitors on the page
Piwik does not make it clear which visitors are still on the page.
With the per minute page views (GA) chart, it is also easy to estimate the average number of pages a visitor is viewing which is very good to have feature.
Piwik makes such analytics impossible due to the scrolling action.
Google Analytics gives us top pages, top sources, visit page views, top locations, and visitors currently on the website on its dashboard.
Piwik's information representation is largely unclear and the real-time function does not serve a definite purpose.
Data in Google Analytics remains consistent across screens.
Piwik does not share data on the screen so the screens are not consistent with each other.
Google Analytics has a large number of reports that one can import even when it is created by another user. Hence, reporting is quite easy.
Piwik is missing such a feature.
Google's Tag manager is free and it is also easy to set up. It has inbuilt Google Analytics code integration so if using Google Analytics; Google tag manager is very easy.
Google Adwords conversion code or remarketing tags also integrate smoothly with the tag manager.
Piwik integration of Goals is probably the only insight for an eCommerce site with Piwik. It is still in nascent stage.
Google Analytics provides a clear browser version e.g. "chrome" family of browsers.
This feature is missing in Piwik
Google Analytics is underreporting desktop browsers. Because desktop browsers can have AdBlock extensions and mobile browsers can't (broadly), the majority traffic GA isn't reporting is from desktop browsers.
Because Opera started blocking GA by default, one should be seeing a lot more Opera traffic in the Piwik data.
As Google is hosted remotely, a user tends to have a data privacy concern.
Matomo (Piwik) also protects your visitor privacy with advanced Privacy features. When using Matomo for Web Analytics, one can be sure that its visitor's behavior on a website(s) is not shared with advertising companies.
Google offers a comprehensive set of features like dashboards, reporting, real-time visitor tracking, visitor's activity tracking etc.
Matomo offers nearly all features that other tools may offer and also has some unique features such as Real-Time visitor details, E-commerce Analytics, Visitor Profile, Real Time Visitor Maps and an awesome Mobile App for iOS and Android.
Conclusion
From the above comparison, it is clear that Google Analytics is a clear winner. Particularly, for someone who is a small vendor and needs to use the only basic set of data, Google analytics is much convenient for him. Google analytics is simpler to learn and easier to install. For somebody who loves open source product, Piwik might be a good choice, But, honestly, Piwik still needs to cover a lot of ground to provide something that users can really enjoy.
For the sake of user convenience, a simple rule is created below, one can follow that to choose the right tool for its need.
If a criterion is ease of use go for Google Analytics
If a criterion is featured go for Google Analytics
If a criterion is data manipulation go for Google Analytics or Piwik, anyone would do.
If a criterion is easy to set up again go for Google Analytics or Piwik (minimal install ).
If a criterion is custom segmentation go for Google Analytics.
If the criterion is third-party integrations go for Google Analytics
If the criterion is additional goodies go for Google Analytics
If the criterion is data ownership go for Piwik.
Recommended Articles
This has been a guide to Differences Between Google Analytics vs Piwik. Here we have discussed Google Analytics vs Piwik head to head comparison, key differences along with infographics and comparison table. You may also look at the following articles to learn more –