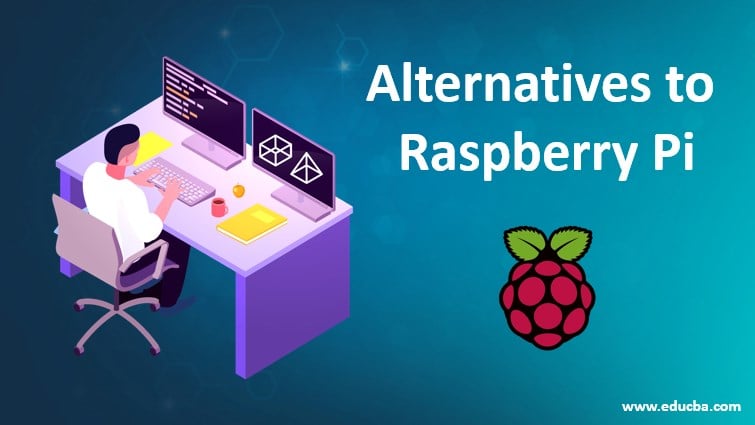 Introduction to Alternatives to Raspberry Pi
Raspberry Pi is currently the most widely used single board computer. It can be used as a cost-effective system for coding your DIY projects, or it can be used as a media server software for media streaming at your convenience. There are many uses of Raspberry Pi, but there are many other options available in the market for cheaper and strong boards. Regardless, for a variety of reasons, we need Raspberry Pi alternatives. So we'll discuss in this article the seven best single-board computers we believe to be the best alternative to Raspberry Pi.
Top 7 Alternatives to Raspberry Pi
Raspberry is the most popular single-board computer now, but there are a few alternatives to this software; below are the Top 7 alternatives to raspberry pi:
1. ASUS Tinker Board S

ASUS Tinker Board S is a single board computer but a powerful solution. The 40 pin connector is the same as the standard Raspberry Pi 3 Model, but it provides a powerful processor and a GPU. It is also open. The Tinker Board S also has the same size as the Raspberry Pi 3 standard. The key feature of the board is the availability of 16 GB eMMC.
Key Specification of ASUS Tinker Board S:
It has a Rockchip Quad-core Rk3288 processor.
It also has an integrated Graphics Processor and with a Micro SD Card Slot.
2. ClockworkPi
When you want to install a lightweight retro game console, Clockwork Pi is typically a part of the GameShell Kit. You may also purchase the board for $49 separately. Its compact size, WiFi access, and micro HDMI port make it an excellent option for many things.
Key Specification of ClockworkPi:
It has Bluetooth connectivity and wifi Connectivity of version 4.
It also has a microSD card slot.
It also has an output of Micro HDMI.
3. Libre Computer Le Potato
The AML-S905X-CC Le Potato is available from a free computer. The flagship of free computing rocks Kodi, Linux, RetroPie, and Lakka support with the support of Android 9 and Android TV. The shape factor imitates the Raspberry Pi for Raspberry Pi case compatibility. A 64-bit, Penta-core 3D GPU with OpenGL ES 2.0 support has a quad-core low-power CPU.
Key Specification of libre Computer Le Potato:
It has an HDMI interface and 16 GB eMMC.
With the help of the Integrated Graphics Processor, it also has 2 GB DDR3 RAM.
4. Rock64 Media Board
You're getting a faster processor and twice the memory on Rock64 Media Board for the same investment you'd make on a Raspberry Pi 3 B+. However, if you want a 1-GB RAM configuration, it is also a cheaper alternative to the Raspberry Pi – $10 less. However, there is no Wi-Fi Like Raspberry Pi. It consists of USB 3.0 and HDMI 2.0.
Key Specification of Rock64 Media Board:
It has a MicroSD card Slot.
The Rock64 Media board also have 2Gbyte LPDDR3 RAM.
5. Helios64 by Kobol
In January 2020, Helios64 was scheduled for sales. You can start pre-ordering through your official notification post. It should be very well if you keep an eye out for a board that is ideal for creating a NAS server – even if you did not try it personally. You can pick either the board or the entire kit, which includes the case. Please note that this board is expensive, so it might not actually be an option for Raspberry Pi for everyone. When you pre-order it, the board alone costs you $189.
Key Specification of Helios64 by Kobol:
In the Helios64 BY Kobol has onboard HDD Power.
It also has Dual DC Input.
6. Orange Pi Zero
The incredibly low-cost alternative to Raspberry Pi is the Orange Pi Zero. You can get it on Ali Express or Amazon for nearly $10. You can get 512 MB of RAM for a little more investment. If that's not enough, you can also go for Orange Pi 3, which has great features and costs around $25.
Key Specification of Orange Pi Zero:
This Orange Pi Zero has TF card Support With the wifi and USB 2.0.
It has an H2 Quad-core Cortex A7.
7. NanoPi NEO4
The NanoPi NEO4 holds the Pi in its name and a Raspberry Pi rival with a Rockchip Rk3399 SoC in its core and 1 GB DDR3 RAM. With its hexa-core processing, the beastly CPU makes it an excellent dev Board with a starting price around the Raspberry Pi. The 1 GB of RAM is sadly very small. Now, the 2.4GHz Wi-Fi connection and Bluetooth are available, along with a USB 3.0 port and PCIe x3 with a GPIO header of 40-pin. The NanoPi Neo4 is a good alternative to the Raspberry Pi since it's small and strong.
Recommended Articles
This is a guide to Alternatives to Raspberry Pi. Here we discuss the top 10 alternatives along with key features of Raspberry Pi. You may also have a look at the following articles to learn more –