Updated March 2, 2023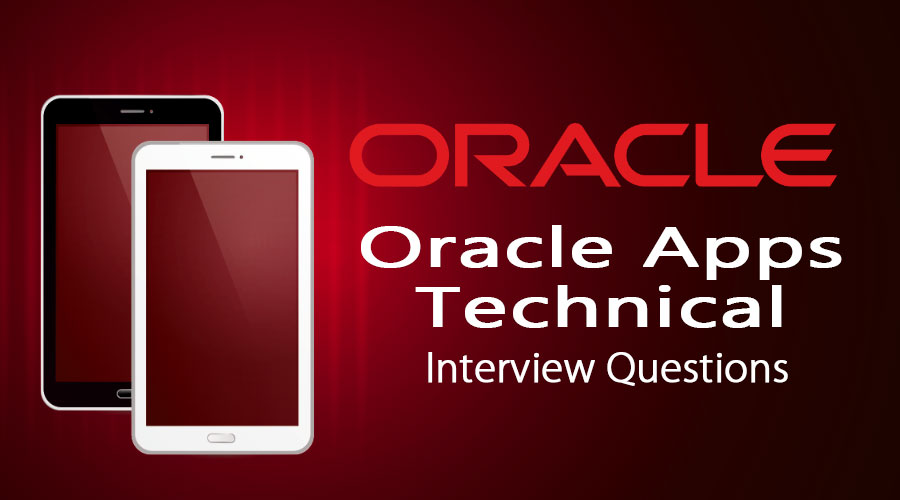 Oracle Apps Technical Interview Question and Answer
Oracle applications consist of business software or application software of the Oracle company. It refers to non-middleware and non-database paths. Oracle launched its application suite primarily for a financial domain which then got extended to Supply chain management, warehouse management, human resource management, call center services, customer relationship management, product and lifecycle management, etc. If you are searching for Oracle apps technical interview questions, your search is over now. There are many companies today which demands oracle apps specialist. Without much ado, let's start with our set of oracle apps technical interview questions and answers.
Now, if you are looking for a job which is related to Oracle Apps Technical then you need to prepare for the 2023 Oracle Apps Technical Interview Questions. It is true that every interview is different as per the different job profiles. Here, we have prepared the important Oracle Apps Technical Interview Questions and Answers which will help you get success in your interview.
In this 2023 Oracle apps technical interview questions article, we shall present 10 most important and frequently used Oracle Apps technical interview questions. These questions are divided into two parts are as follows:
Part 1 – Oracle Apps Technical Interview Questions (Basic)
This first part covers the basic Oracle Apps Technical Interview Questions and Answers
Q1. Explain about different Flexfields in oracle financials?
Answer:
Assets: Location flexfield, Asset Key flexfield, Category flexfield
General Ledger: Accounts related flexfield
Service: Item flexfield
Inventory: System items flexfield, item categories flexfield, item catalogs flexfield, sales orders flexfield
Receivables: Sales tax and location flexfield, Territory flexfield
Q2. What does dynamic insert signify?
Answer:
This is the basic Oracle Apps Technical Interview Question asked in an interview. It is a common feature of Oracle applications which allows the different kind of users to enter new account combinations by making use of any window/form. In a case where this feature is not available or disabled, the user is unable to create different account combinations with the help of any form or window. They have a fixed set of combination form where you can straight away enter different code combinations and this is the only option left in case dynamic insert is unavailable.
Q3. Explain in oracle applications, what do you mean by value set?
Answer:
Any flexfield segment can be used to display the approved values for entry. The list of all the actually approved values is also contained in a value set. There are some below characteristics related to the value sets:
One value set can be shared by different flexfields. For example, the names of all the regional offices which are contained in a value set can be a part of multiple flexfields.
The value ranges for different value sets are limited. Some have next to negligible restriction while others have permission to allow for a certain set of values.
There can be a different set of values present for different value sets.
Same value sets can be used by multiple other segments of the same flexfields. Even when there are different structures for a particular flexfield, a common value set can exist. SRS or the Standard Request Submission have many additional report parameters that share the same value sets.
Let us move to the next Oracle Apps Technical Interview Questions.
Q4. Explain Accounting period statuses?
Answer:
NEVER OPENED: This means that the journals cannot be entered or posted in this status.
FUTURE ENTERABLE: This status means that the journal may be entered but not posted. The fixed number which is stated in the book set window tells about the period of Future Enterable.
OPEN: The journals can be entered and posted to any amount of timeline in the open period. Special care should be taken while opening unlimited periods that it may slow the entire process of posting and can also be a bit more cumbersome for the fresh users trying to enter the journals.
CLOSED: This status means that the journals cannot be posted during this period and that the periods have to be reopened if you want to post journals. Whenever you are done with your annual/month/quarter processing, these periods should be manually closed.
PERMANENTLY CLOSED: These are the periods that can never be opened again. The purge and archived data can be depicted with this status.
Q5. Describe the role of the field, "the future period"?
Answer:
The value tells how many periods are enterable when the users can enter their journal entries. The prerequisite, in this case, is that the future period should be in an opened state. Good care should also be given to ensure that the users are not unintentionally entering the entries in a wrong period.
Part 2 – Oracle Apps Technical Interview Questions (Advanced)
Let us now have a look at the advanced Oracle Apps Technical Interview Questions.
Q6. Explain Retained earnings account?
Answer:
It is used to define the net earnings in percentage which is not a part of dividends but is saved by the company who plans to reinvest the same amount in their business or for any other company related financial transaction such as paying a debt, etc. Shareholder's equity records this on balance sheet.
Q7. Explain the use of transaction calendar?
Answer:
It is defined as the one responsible for applying average balance transaction processing. The numbers of business days are also tagged along with the optional transaction calendar.
Let us move to the next Oracle Apps Technical Interview Questions.
Q8. Explain different segments of Key flexfield in General ledger?
Answer:
It consists of 15 columns where every field represents a segment. The different types are :
Balancing segment
Intercompany segment
Cost center segment
Account segment
Q9. Explain Custom Top?
Answer:
This is the most asked Oracle Apps Technical Interview Questions in an interview. It is another name for customer top where only the customers are the ones for which the accounts have been created for. Based on the type of client requirement, there can be more than one custom tops created. All the customized and the developed components are stored in it. In case of any patches which are applied by the Oracle Corporation, all other modules are overridden except for the custom top.
Q10. Explain MRC?
Answer:
It is the abbreviation of Multiple Reporting Currencies. The default currency is $. In case, there is a need for booking by making use of some other currency, then MRC is put to use. Therefore, we can choose the currency as per our will by making use of MRC. We have brought to you a comprehensive set of interview question and answers for Oracle Applications. Keep following us for more articles.
Recommended Articles
This has been a guide to the list of Oracle Apps Technical Interview Questions and Answers. Here we have listed the top 10 Interview Questions and Answers that are commonly asked in the interview with detailed responses. You may also look at the following articles to learn more –