Updated March 6, 2023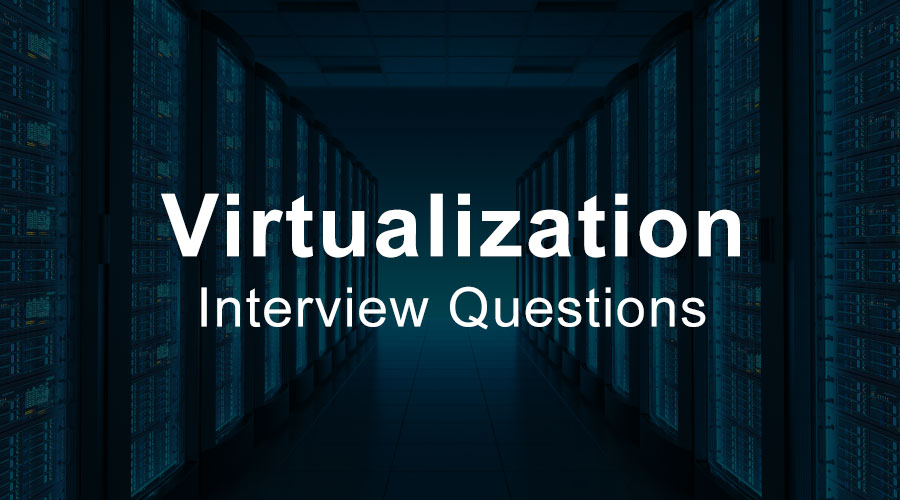 Introduction to Virtualization Interview Questions And Answers
Virtualization is the technique to create virtual resources. These virtual resources include servers, memory, network and OS. it involves the process of abstracting the application from the underlying hardware or software area, which decreases the number of resources involved. Operating system virtualization is the use of software that drives a piece of hardware to run multiple operating system images simultaneously. Being founded a long ago, allowing administrators to avoid wasting expensive processing power. The process of Virtualization has sprinted across networks, devices, data, etc. This allows for greater flexibility, control, and isolation by removing the dependency on a given hardware platform.
Now, if you are looking for a job related to Virtualization, you need to prepare for the 2023 Virtualization Interview Questions. Every interview is indeed different as per the different job profiles. Here, we have prepared the important Virtualization Interview Questions and Answers, which will help you get success in your interview.
This 2023 Virtualization Interview Questions article will present the 10 most essential and frequently used Virtualization interview questions. These interview questions are divided into two parts are as follows:
Part 1 –Virtualization Interview Questions (Basic)
This first part covers basic  Interview Questions and Answers.
Q1. Mention the types of virtualization?
Answer:
Types of Virtualization are as follows:
User Virtualization
Application Virtualization
Hardware virtualization
Desktop Virtualization
Network Virtualization
Server Virtualization
Q2. Benefits of virtualization?
Answer:
Below are the benefits of Virtualization :
Cost and resource reduction.
Reduces hardware dependency for running giant applications.
Allows installing multiple systems on a single platform.
Reduces the amount of space involved in installing data centers.
Q3. Different types of server software's VMware provides?
Answer:
They are as follows :
VM ware ESX server
VMware server
VMware ESXi server
Q4. Explain Farm and zone in Citrix?
Answer:
These are the common Virtualization Interview Questions asked in an interview. The farm allows multiple servers consisting of multiple applications that further provide reachability to multiple users, which can be considered a single unit. So this allows the administrator to be much easier.
Zones are a subset of Farm. It is a grouping of presentation server that shares common data collector. Zones are very helpful in controlling traffic.
Q5. What is VM cloning?
Answer:
A process of cloning existing VM with transparent configurations, so once the cloning process is completed, the new one becomes a separate VM machine. The actual VM becomes a parent.
Part 2 – Virtualization Interview Questions (Advanced)
Let us now have a look at the advanced Interview Questions and Answers.
Q6. Explain memory and storage virtualization?
Answer:
Memory virtualization is the process of creating a memory pool by aggregating the resources of RAM.
Storage virtualization is the method of extracting a logical storage from physical storage. A computer program, a Virtual disk drive, follows an optical disk drive or a hard disk drive in virtualized setup.
Q7. Explain VM ware DRS?
Answer:
VM ware DRS is a distributed resource scheduler that balances the resources of a resource pool. It also configures the various rules and policies followed by a VM machine for resource deployment and prioritization of the same.
Q8. What is QEMU?
Answer:
It is a virtualized and emulator that runs programs and OS that is made for one machine on a different machine during the process of machine emulation. It can achieve very good performance by using dynamic translation.
Q9. Specify the key components of VM infrastructure?
Answer:
This is the most popular Virtualization Interview Questions asked in an interview.
Databases maintained by database servers.
Web browsers
The virtual center server tracks VM images.
VM client
Q10. What is a Zone data collector?
Answer:
Data collector stores all the dynamic information like session, load & published applications in the servers in their zones and communicates the zone information to other data collectors in other farm zones. The data collector is a Citrix presentation server whose IMA service takes on the additional role of tracking all of the dynamic information other presentation servers' dynamic information.
Recommended Articles
This has been a guide to the list of Virtualization Interview Questions and Answers so that the candidate can crackdown these Interview Questions easily. Here in this post, we have studied top Virtualization Interview Questions, which are often asked in interviews. You may also look at the following articles to learn more –