Updated November 8, 2023
Difference Between Notion AI and ChatGPT
Artificial intelligence is a field that is rapidly evolving, and two of the most prominent players in this space are Notion AI vs ChatGPT. Both of these companies offer unique capabilities and applications. In this article, we will look at a comparative analysis of the two companies, examining their features, use cases, and potential for integration. We hope to assist readers in making well-informed decisions about how to use these cutting-edge technologies for varied purposes by analysing their strengths and limitations.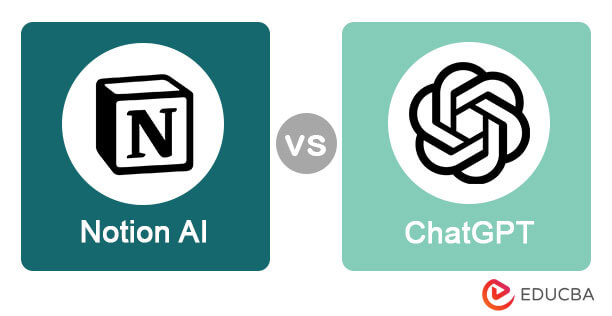 Table of Contents
Key Takeaways
Notion AI vs ChatGPT plays different but complementary roles in the AI ecosystem.
Notion AI is particularly effective in organizing data and managing knowledge.
On the other hand, ChatGPT is a versatile conversational AI that is suitable for a variety of purposes, including customer support, content generation, and more.
The choice between the two depends on integration options and specific use cases.
As AI technology continues to evolve, it holds even greater potential for the future.
What is Notion AI?
Notion AI is an advanced tool that uses artificial intelligence to help users organize, manage, and analyze information. It simplifies the process of structuring and categorizing data, making it easier for users to make data-driven decisions.
Pricing:
Notion AI is available as an add-on to any Notion plan, including Free, for $10 per member per month. Plus, Business and Enterprise plans receive a 20% discount when billed annually.
If you choose monthly billing for Notion AI on Free plans or any paid plan, it costs $10 per member per month.
For even more savings, you can opt for annual billing, priced at $8 per member per month for paid plans and Free plans.
Rating:
Users and experts alike have praised Notion AI for its intuitive interface and powerful organizational capabilities. Ratings typically range from 4 to 5 stars on review platforms, indicating a high level of user satisfaction.
Benefits of Using Notion AI:
Efficient Data Organization: Notion AI simplifies organizing vast amounts of data, enabling users to categorize and structure information effectively.
Collaborative Workspaces: facilitates collaborative work environments, allowing teams to work together on projects in real-time, enhancing productivity and teamwork.
Flexible Customization: Users can customize Notion AI to create personalized databases, task lists, notes, and more, tailoring the tool to their needs and workflows.
Integration Capabilities: Notion AI integrates seamlessly with various third-party applications, enhancing its functionality and providing users with a comprehensive workspace.
Language Models:
Notion AI uses advanced natural language processing algorithms and machine learning techniques to comprehend and process text-based information. These language models allow it to effectively parse and classify data, thereby improving its capability to help users organize and manage their information.
User Opinions:
Positive Feedback: Users commend Notion AI for its user-friendly interface, flexibility, and collaborative features. They appreciate how it streamlines complex data structures and simplifies teamwork.
Constructive Criticism: Some users may experience a learning curve as they adjust to Notion AI's wide capabilities. Users may look for additional tutorials or resources to help them get the most out of the tool's capabilities.
Overall Consensus: Despite minor learning curves, user feedback is generally positive. The adaptability, customization possibilities, and collaborative functions of Notion AI make it a popular choice for individuals and organizations looking for efficient data management solutions.
What is ChatGPT?
OpenAI created ChatGPT, a cutting-edge language model. It is intended for natural language comprehension and generation, making it an advanced conversational AI. ChatGPT can hold human-like text-based discussions, answer questions, provide recommendations, and generate content in a range of disciplines.
Pricing:
ChatGPT Plus Subscription: It is priced at $20 per month and covers usage on chat.openai.com, offering benefits like faster response times.
Token-Based Pricing: In addition to the subscription cost, there's token-based pricing for the ChatGPT API. It costs $0.002 per token or $20 per 1,000 tokens.
Rating:
ChatGPT has received positive reviews for its impressive natural language understanding and generation capabilities. Ratings commonly range from 4 to 5 stars on review platforms, reflecting the model's high user satisfaction.
Benefits of Using ChatGPT:
Conversational Abilities: ChatGPT is an AI-powered assistant to engage in natural and human-like conversations. It is ideal for virtual assistants, chatbots, and customer support.
Content Generation: It can generate high-quality content, including articles, reports, and creative writing, saving time and effort for content creators.
Knowledge Retrieval: ChatGPT has access to a wide range of information and can provide quick answers and explanations for queries, making it a valuable research tool.
Scalability: ChatGPT is highly scalable, allowing businesses to integrate it into various applications and platforms to improve user experiences.
Language Models:
Cutting-edge language models power ChatGPT, as they are pre-trained on vast amounts of text data. This enables ChatGPT to understand and generate text in a contextually relevant and coherent manner. The designers crafted the underlying model architecture to handle linguistic nuances and respond effectively to diverse user inputs.
User Opinions:
Positive Feedback: Users appreciate ChatGPT's conversational capabilities, ease of integration, and ability to generate high-quality content. They often commend it for its accuracy and contextual understanding.
Constructive Criticism: Some users may encounter challenges in fine-tuning the model for specific tasks, and it may occasionally produce incorrect or nonsensical responses. Proper configuration is necessary to optimize performance.
Overall Consensus: ChatGPT is widely praised for its advanced language capabilities, making it a vital tool for organizations and developers looking to improve customer service, content production, and knowledge retrieval. To achieve optimal performance, users should be prepared to fine-tune the model for their needs.
Notion AI and ChatGPT Comparison
Let's discuss the top comparison between Notion AI vs ChatGPT:
| | | |
| --- | --- | --- |
| Section | Notion AI | ChatGPT |
| Primary Functionality | Data organization, knowledge management, content structuring | Natural language understanding and generation, conversation, content creation |
| Target Use Cases | Knowledge management, task tracking, team collaboration, note-taking | Customer support chatbots, virtual assistants, content generation, knowledge retrieval |
| Customization | Highly customizable with options to create personalized databases, task lists, notes, and more | Can be fine-tuned for specific tasks and integrated into various applications and platforms |
| Collaboration | Supports collaborative workspaces, real-time team collaboration, and project management | Effective for teamwork and user engagement through chat interfaces |
| Integration Capabilities | Integrates with third-party applications, providing a comprehensive workspace | Can be integrated into various applications, websites, and platforms to enhance user experiences |
| Learning Curve | May have a moderate learning curve for users adapting to its extensive capabilities | Requires proper configuration and fine-tuning for specific tasks to optimize performance |
| Scalability | Effective for organizing and managing data at both individual and team levels | Highly scalable and adaptable to various domains and applications |
| Content Generation | Focused on data organization and knowledge management, limited content generation | Capable of generating content, including articles, reports, and creative writing |
| User Satisfaction | Generally positive with high user satisfaction, praised for its interface and collaboration features | Well-received for its advanced language capabilities and contextual understanding |
| Interface | Web-based, user-friendly | API-based requires integration |
| Support | User community, online documentation | Developer community, official OpenAI resources |
Comparative Analysis
Let's analyze the differences between Notion AI and ChatGPT with real case examples to illustrate their use cases.
Notion AI:
Case Example 1: Project Management
A small marketing agency uses Notion AI to manage its projects. They create a workspace in Notion where each project has its own dedicated section. Within these sections, they can manage tasks, deadlines, and communication. The AI assists in categorizing and organizing data, ensuring that team members can easily find the information they need. For instance, if they receive feedback from a client in an email, Notion AI can automatically categorize it into the relevant project section, allowing team members to address the feedback promptly.
Case Example 2: Knowledge Base
A technology company employs Notion AI as a knowledge base for its IT support team. When employees encounter IT issues, they can search for solutions within the Notion database. Notion AI helps by offering search suggestions, categorizing articles, and presenting relevant information in an organized manner. This makes it easier for the support team to find answers quickly and resolve employee issues.
ChatGPT:
Case Example 1: Customer Support Chatbot
A popular e-commerce website uses ChatGPT to power its customer support chatbot. When customers have questions about products, shipping, or returns, they engage with the chatbot. ChatGPT leverages its conversational abilities to provide quick and accurate responses, addressing common inquiries and assisting with order tracking. This automation reduces the workload on human customer support agents and ensures customers receive timely assistance.
Case Example 2: Content Generation
A content marketing agency employs ChatGPT to generate articles and blog posts. When a client requests content on a specific topic, the agency inputs the subject and requirements into ChatGPT. The model generates a well-structured and coherent article that requires minimal editing. This significantly accelerates content creation, allowing the agency to produce more content for its clients.
Comparative Analysis of the above Examples:
Notion AI focuses primarily on data organization and knowledge management, making it valuable for projects that require structured data and collaboration. It excels in scenarios where information needs to be categorized, tracked, and shared among teams.
ChatGPT is geared towards conversational AI and content generation. It's ideal for tasks that involve engaging in natural language conversations, such as customer support, virtual assistants, and content creation. ChatGPT shines in scenarios where text-based interactions are crucial.
Drafting Ideas and Creativity
Notion AI Ideation Tools:
Notion AI provides several features that can aid in ideation and creativity:
Knowledge Base and Research: Notion AI can help you gather and organize research materials, articles, and sources related to your creative project. Additionally, you can build a knowledge base with relevant information, making it easier to brainstorm and create.
Task Lists and Planning: Notion AI provides task management capabilities that can help structure your creative process. To-do lists, deadlines, and project steps can be created to help you keep on track with your creative endeavours.
Templates: Notion's templates for different creative projects, from content planning to design briefs, provide a starting point for your work, saving you time and helping you structure your ideas.
Collaboration: Notion AI supports collaboration among team members, making it an excellent platform for creative brainstorming sessions. Multiple users can contribute to the same workspace, adding their thoughts and ideas and providing real-time feedback.
Organization: With Notion AI, you can categorize your ideas, concepts, and creative assets. This structured approach makes it easier to retrieve and build upon your creative work over time.
ChatGPT: Your Creative Collaborator:
ChatGPT can be your creative collaborator in various ways:
Brainstorming: Engage in text-based conversations with ChatGPT to brainstorm ideas and concepts. ChatGPT can suggest creative ideas based on your input, sparking your creativity.
Content Generation: If you're working on content creation, ChatGPT can help you draft articles, stories, or even poetry. It can generate text based on the topics and themes you specify, providing a foundation for your creative work.
Feedback and Critique: You can share your creative work with ChatGPT and ask for suggestions or critiques, receiving feedback based on patterns in the data it was trained on. ChatGPT offers fresh perspectives, aiding in the improvement of your creative pieces.
Role-Playing and Character Development: If you're a writer or storyteller, ChatGPT can assist in developing characters and their dialogues. You can have dialogues with ChatGPT in the roles of different characters to explore their personalities and behaviors.
Idea Validation: Before fully diving into a creative project, you can discuss your initial concepts with ChatGPT to see how they resonate. ChatGPT can provide insights and alternative angles you might have yet to consider.
Creating Summaries and Condensing Content
Notion AI: Streamlining Your Notes
Notion AI assists you in streamlining your notes and condensing content with the following features:
Categorization: Notion AI can automatically categorize your notes and content based on keywords, topics, or context, saving you time and making it easier to locate relevant information.
Content Structuring: Organize and structure your content effectively using Notion's templates and tools. Whether it's meeting notes, research findings, or personal journals, you can format and layout your content for clarity.
Task Lists: Notion AI includes task management features that allow you to create task lists within your notes to highlight key action items, making it easier to see what needs to be done.
Search and Retrieve: Notion AI's robust search functionality enables you to find specific information within your notes swiftly, helping you access content for reference or summarization.
Collaboration: Notion AI facilitates collaboration, making it easier for multiple users to contribute to the same document or workspace, condensing and summarizing content collectively.
ChatGPT: Summarization Made Easy
With ChatGPT, summarizing and condensing content has never been more accessible. Here's how:
Summarization: Input lengthy articles, reports, or documents into ChatGPT, and it can generate concise summaries of the content, making it easier to grasp the key points.
Content Paraphrasing: ChatGPT can rephrase the content while retaining its meaning, creating text variations, or making it more digestible.
Extraction of Key Information: ChatGPT can extract specific information from large datasets or documents, summarizing data tables, reports, and more.
Topic Focusing: When dealing with extensive content, ChatGPT can help you focus on specific topics or sections by summarizing or condensing content related to those subjects.
Language Translation: ChatGPT supports translation, so you can input content in one language and receive a summarized version in another language, facilitating cross-language communication and understanding.
Finding Answers to Questions – Notion AI vs ChatGPT
ChatGPT: The Answer Seeker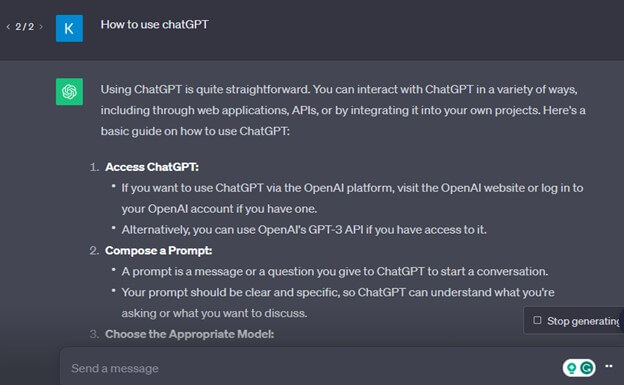 ChatGPT is an AI-powered assistant that can assist users in finding answers to their inquiries using its natural language processing capabilities. It can understand the question's context and offer detailed and relevant responses based on the information it has been trained on. ChatGPT efficiently retrieves information and can answer a wide range of questions conversationally.
Notion AI: Contextual Clarification

Notion AI assists users in finding answers to their questions by providing contextual clarification. It is proficient in organizing and managing information, enabling users to structure their data effectively. By creating databases, notes, and knowledge bases within Notion, users can easily clarify and access information, making it simpler to find answers to their queries within their organized content.
Translation Capabilities
Notion AI: Language Learning Aid
Notion AI can be a great help for people trying to learn a new language.
It can aid language learners by providing translations and explanations of words and phrases in different languages, helping them understand the meaning and context of the target language…
Additionally, Notion AI can also assist learners with grammar and language structure, making it an invaluable tool for those trying to master a foreign language.
Please note that it is not intended for real-time multilingual communication. Rather, its purpose is primarily educational.
ChatGPT: Multilingual Communication
ChatGPT is a great tool for communication and conversation through text-based interactions.
It can be used for multilingual communication by translating text between languages during a conversation. Users can type in one language, and ChatGPT will react in another, thereby acting as a real-time translation.
ChatGPT excels in handling real-time, multilingual interactions and serves various communication purposes.
Stability and Reliability
Notion AI: A Steady Supply
Notion AI provides a stable and reliable platform for users who require consistent and dependable performance. It offers a steady supply of tools for data organization, knowledge management, and collaborative workspaces. Users can rely on Notion AI for consistent performance, ensuring their data and projects are secure and accessible whenever needed. Notion's track record of reliability makes it a trusted choice for individuals and teams who depend on stable digital environments.
ChatGPT: Maturing Stability
ChatGPT, developed by OpenAI, has demonstrated maturing stability in its capabilities. Through continuous updates and improvements, ChatGPT has evolved into a more stable and reliable conversational AI tool. Although it may occasionally encounter limitations or require fine-tuning for specific tasks, its ongoing development indicates a commitment to enhancing its stability. Users can expect ChatGPT to deliver an increasingly reliable performance as it continues to evolve and address user needs.
Generating To-Do Lists and Organization
Notion AI: Action Items Made Easy
Notion AI simplifies the process of generating to-do lists and organizing tasks. Its features enable users to create and manage action items effortlessly. The platform provides tools for structuring tasks, setting deadlines, and categorizing items within a project or workspace. With Notion AI, task management becomes streamlined, making it easier to track and complete action items efficiently.
ChatGPT: Personalized To-Do Lists
ChatGPT provides a personalized approach to creating to-do lists. Users can engage in a conversation with ChatGPT and specify their tasks and deadlines. Based on the user's input, ChatGPT generates a to-do list tailored to their unique needs. This personalized approach ensures that the to-do list aligns precisely with the user's requirements, enhancing task organization and productivity.
Conclusion
Notion AI vs ChatGPT are powerful AI tools that serve distinct but valuable purposes. Notion AI excels in data organization, knowledge management, and collaborative workspaces, while ChatGPT aids in customer support, content creation, and answering questions. When deciding between these technologies, users should think about their individual demands. Notion AI is a go-to option for structured data management, while ChatGPT shines in text-based interactions and content generation. By understanding the strengths and limitations of these AI technologies, individuals and organizations can enhance productivity, creativity, and problem-solving in their workflows.
Recommended Articles
We hope that this EDUCBA information on "Notion AI vs ChatGPT" was beneficial to you. You can view EDUCBA's recommended articles for more information.