Updated November 8, 2023
What Are ChatGPT 3.5 vs 4
Artificial intelligence is a rapidly evolving field, and ChatGPT is at the forefront of this transformation. It has revolutionized how we interact with technology, from ChatGPT-3.5 to ChatGPT-4, pushing the boundaries of what language models can achieve. This article explores the journey of ChatGPT, discussing the advancements that have led it to become a pioneer in AI interaction and how it has revolutionized various industries.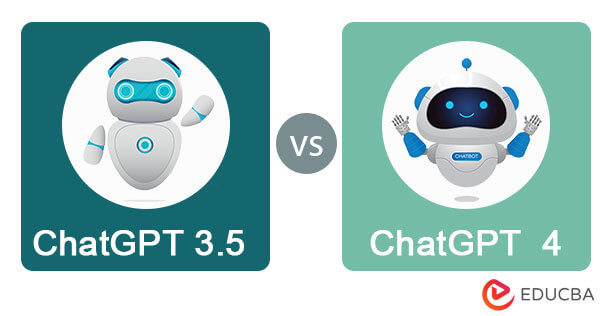 Table of Contents
Key Takeaways
ChatGPT-4 excels in performance and capabilities over ChatGPT-3.5.
When choosing a subscription price, keep your needs and budget in mind.
GPT-4 leads the way in AI-driven interactions, shaping the future of AI.
Continuous evaluation of AI models is crucial to stay at the forefront of technological advancements.
Which Version is Better- ChatGPT 3.5 vs 4?
In the discussion regarding the superiority of ChatGPT-3.5 or ChatGPT-4, we need to analyze the primary features of each to make an informed comparison.
Key Features of ChatGPT-3.5
Versatility: ChatGPT-3.5 is renowned for its exceptional versatility. It can generate human-like text in various contexts and is proficient in various tasks, from answering questions to creating creative content.
Parameter Size: With 175 billion parameters, ChatGPT-3.5 has an extensive knowledge base, allowing it to provide accurate and contextually relevant responses.
Integration: It has been seamlessly integrated into various applications and platforms, making it easily accessible to developers for creating chatbots, virtual assistants, and more.
Language Support: ChatGPT-3.5 can handle multiple languages, making it a universal solution for language-related AI tasks.
Fine-Tuning: Developers can fine-tune the model for specific tasks, which enables greater customization.
Key Features of ChatGPT-4
Enhanced Performance: ChatGPT-4 improves upon the strengths of its predecessor with improved performance, particularly in generating coherent and contextually relevant responses.
Parameter Size: With an even larger number of parameters, estimated to be in the trillions, ChatGPT-4 boasts an expanded knowledge base, potentially leading to higher-quality responses.
Multi-Modal Abilities: ChatGPT-4 may have improved multi-modal capabilities, allowing it to understand and generate text alongside other forms of content, like images and videos.
Robustness and Generalization: It is expected to exhibit improved robustness and generalization, reducing the likelihood of generating inappropriate or biased content.
Ethical and Regulatory Considerations: ChatGPT-4 will likely come with enhanced safety and ethical considerations as OpenAI continues its efforts to mitigate potential misuse.
Performance Comparison ChatGPT 3.5 vs 4
The table below compares ChatGPT 3.5 and 4 based on AI, industry, Memory, Plugin, and technology.
| | | |
| --- | --- | --- |
| Section | ChatGPT-3.5 | ChatGPT-4 |
| Natural Language Understanding | Strong but occasional lapses | Improved with fewer discrepancies |
| Unparalleled Parameter Count | 175 billion parameters | Estimated trillions of parameters |
| Multimodal Capabilities | Text-focused | Improved multimodal integration |
| Multilingual Capabilities | Supports multiple languages | Likely expanded multilingual support |
| Fine-Tuning and Customization | Customizable for tasks | Enhanced fine-tuning capabilities |
| Complex Problem Solving | Competent in various tasks | Expected to excel in complexity |
| Speed Matters | Efficient but not the fastest | Expected to be faster |
| Plugin Integration | Compatible with plugins | Enhanced compatibility |
| Extended Memory | Limited memory retention | Expected to remember context well |
| Steerability | Moderate steering ability | Expected to offer better steering |
Is GPT-4 Worth Its Subscription Fee?
GPT-4's worth depends on various criteria, including the user's or organization's individual needs, the intended applications, and the available budget. Here are some things to consider before making a decision:
Performance Requirements: If the user wants exceptional performance, particularly in complicated activities, greater natural language understanding, and enhanced contextual reactions, GPT-4 is worth the cost. It is expected to offer superior capabilities compared to its predecessors.
Budget Constraints: The cost of a GPT-4 subscription may be significant for individuals or small organizations with limited budgets. It is essential to compare the membership charge against the value gained from better performance and capabilities.
Application Scope: Consider the scope of applications. If the customer requires advanced AI skills for crucial applications such as medical research, software development, or content creation, the expanded features of GPT-4 may justify the subscription cost.
Competitive Advantage: For firms looking to acquire a competitive advantage in their market by exploiting cutting-edge AI technology, the additional capabilities of GPT-4 could be invaluable, potentially justifying the membership fee through enhanced productivity and innovation.
Alternative Options: Compare the expenses of various AI solutions. GPT-4 should be compared to other AI models and services to ensure that the chosen solution provides the most value for money.
Future Upgrades: Consider the possibility of future updates and enhancements. AI technology is always changing, so signing up for a service that provides regular upgrades and enhancements may bring long-term benefits.
Trial Period: Before committing to a subscription, take advantage of any trial periods or limited access deals offered to evaluate the actual performance and applicability of GPT-4 for specific use cases.
ChatGPT 3.5 vs 4: A Clear Winner
The battle between GPT-4 and GPT-3.5 has come to a conclusion, with GPT-4 being the clear winner. Its improved performance, expanded features, and enhanced capabilities make it a significant leap forward in AI language models. GPT-4 has an estimated parameter count in the trillions, unparalleled natural language understanding, advanced multimodal capabilities, and improved fine-tuning options, making it a powerhouse for various applications.
While GPT-3.5 was a robust and versatile model, GPT-4's advancements, especially in complex problem-solving and memory retention, set it apart. The significant parameter increase allows GPT-4 to process information more comprehensively, resulting in more contextually relevant and coherent responses. Additionally, GPT-4's enhanced speed, plugin integration, and steerability make it a compelling choice for developers, businesses, and researchers seeking cutting-edge AI solutions.
The evolving landscape of AI technology implies that GPT-4's superiority in multiple key aspects makes it the clear winner. It offers users unprecedented capabilities and sets new standards for AI-driven interactions. As the field of artificial intelligence continues to progress, GPT-4 stands at the forefront, demonstrating the immense potential of next-generation language models.
Conclusion
ChatGPT-4 is a remarkable achievement in AI language models, providing better performance, wider capabilities, and greater potential for various applications. While ChatGPT-3.5 was a significant breakthrough, ChatGPT-4 surpasses it with its superior natural language comprehension, larger parameter count, multi-modal abilities, fine-tuning, and more, making it the optimal choice for those seeking state-of-the-art AI solutions. This sets the stage for a more advanced and dynamic AI landscape.
Recommended Articles
We hope that this EDUCBA information on "ChatGPT 3.5 vs 4" benefited you. You can view EDUCBA's recommended articles for more information.