Updated November 8, 2023
Introduction to Google Bard vs ChatGPT
Google Bard and ChatGPT are two remarkable AI language models developed by OpenAI, each with its own set of distinctive features and capabilities. These models have garnered attention for their ability to understand and generate human-like text, making them valuable tools for a broad spectrum of applications. However, they exhibit key differences in their functionality and strengths, from content generation and summarization to interpersonal communication and incorporating images into their responses. This comparison will explore the attributes of Google Bard and ChatGPT, shedding light on their respective strengths and best use cases, helping users choose the most suitable AI model for their needs.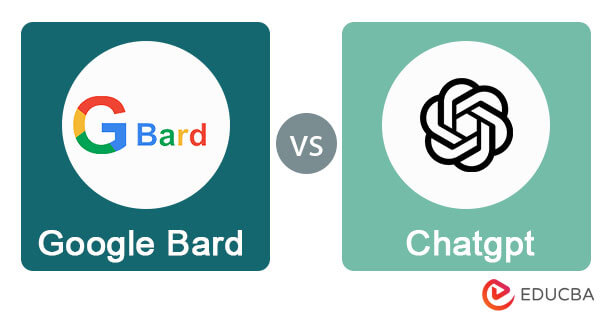 Table of Contents
What is ChatGPT?
ChatGPT represents a sophisticated natural language processing model developed by OpenAI, leveraging the GPT-3.5 architecture. Its primary function revolves around comprehending and generating human-like text in response to input queries. ChatGPT is a versatile tool suitable for many natural language tasks such as information retrieval, question answering, text generation, providing detailed explanations, and engaging in text-based dialogues.
AI-generated content by ChatGPT can cover a wide range of topics and formats. Some popular use cases and content types include:
Text Generation: ChatGPT can create human-like text for various purposes, such as blog posts, news articles, creative writing, and marketing copy.
Conversational Agents: It can be used to develop chatbots and virtual assistants for customer support, providing information, or engaging in natural language conversations.
Language Translation: ChatGPT is a multilingual content creation tool that can translate text between languages.
Code Generation: It can assist in generating code snippets or helping with programming-related tasks.
Content Summarization: ChatGPT can summarize long articles or documents, making it easier to extract key information.
Answering Questions: It's often used to answer factual questions or explain complex topics.
Text-based Games: ChatGPT can generate text-based game scenarios, such as text adventures or role-playing games.
Educational Material: It can generate explanations, tutorials, and learning materials on various subjects.
Email Compositions: ChatGPT can assist in composing professional and informative emails.
Content Ideation: It can help brainstorm ideas for content creation, including article titles, blog topics, and more.
Poetry and Creative Writing: ChatGPT can be used to generate poetry, short stories, or other forms of creative writing.
Social Media Posts: It's valuable for creating engaging and informative posts for platforms like Twitter, Facebook, and Instagram.
Legal and Technical Documents: ChatGPT can assist in drafting legal documents, technical reports, and other professional documents.
Product Descriptions: It helps generate product descriptions and marketing content.
AI-generated Art: While primarily a text model, ChatGPT can also be used for AI-generated art descriptions and explanations.
What is Bard?
Bard is an AI-powered chatbot developed by Google, designed to engage in human-like conversations using natural language processing and machine learning. Initially utilizing Lambda for dialogue applications, Bard has since upgraded to Google's advanced language model, Palm 2 (Pathways Language Model), known for its improved commonsense reasoning, logical abilities, and speed.
Bard's primary objective is to provide conversational information distinct from traditional search engine results. It offers detailed responses to user queries and serves as a personal assistant, helping with tasks like booking vacations, managing reservations, and meal planning. It operates on natural language queries rather than relying on keyword-based searches. Moreover, Bard is accessible to the public and supports over 40 languages in more than 230 countries and territories.
Comparing Bard and ChatGPT: Capabilities Across Various Tasks
1. Content Summarization
Efficiently conducting research is often time-consuming, and having a tool that can streamline this process and provide concise summaries of key insights is undeniably advantageous. With its prowess in scanning search results to deliver the most relevant resources, Google is a prime example of this. Similarly, Bard demonstrates excellence in this task, simplifying the research process for its users. With Bard, users merely need to supply a link to an article and request a summary, and the model takes care of the rest.
However, the accessible version of ChatGPT has some limitations in comparison. Unlike Bard, it cannot directly summarize articles from web links, necessitating users to copy and paste the complete text manually. Additionally, ChatGPT employs a token-based system where each token corresponds to either a character or a word, and any given query is restricted to 4,096 tokens. Consequently, if the article's length exceeds approximately 3,000 words, opting for ChatGPT Plus becomes a practical choice to ensure a comprehensive response.
ChatGPT Plus provides an extended feature set, enabling it to access web pages through links. Moreover, plugins like WebPilot can further enhance its capacity to summarize content effectively. In a demonstration, ChatGPT Plus showcased its ability to break down a given article into four key sections and accurately identify the primary takeaways, showcasing the model's potential in research assistance and summarization tasks.
2. Current Events Insights
ChatGPT and Bard's notable divergence is their ability to offer accurate and current information. The free version of ChatGPT is constrained by its knowledge cutoff in September 2021, making it unable to access recent information. This limitation becomes apparent when seeking information about contemporary events, such as the recent wildfires in Canada. To obtain real-time data, users must opt for the premium version, ChatGPT Plus.
ChatGPT Plus, benefiting from internet access, can provide users with the most up-to-date information. In the case of the Canadian wildfires, it confirmed their ongoing status at the time of the query and suggested relevant follow-up questions to acquire more comprehensive details.
In contrast, Bard, while proficient in creative content generation, possesses a different capability for providing real-time data. It excels in artistic expression and context, making it an excellent choice for creative responses. However, for precise, up-to-the-minute information on current events, like the Canadian wildfires, ChatGPT, particularly the ChatGPT Plus version, is the more suitable choice due to its capacity to access the internet and deliver real-time insights.
3. Contextual Communication
Both ChatGPT and Bard can assist with interpersonal communication, such as requesting a project extension. Bard excels in brevity, crafting concise emails that effectively address the deadline adjustment request. In contrast, ChatGPT can generate emails but may be more verbose due to its prompt-based approach. It adapts to conversation cues and may require multiple prompts for optimal results.
Both models also maintain conversation context, allowing for easy follow-ups. Bard and ChatGPT provide coherent responses. ChatGPT is more comprehensive, proposing potential solutions to prevent future delays.
4. Content Generation
A prominent function of generative AI is its capacity to generate original content, ranging from fictional stories to informational blog posts and even test questions. ChatGPT and Bard exhibit this capability, but they differ in how they approach specific tasks. Generative AI leverages machine learning to comprehend user prompts and provide tailored responses.
As an illustration, when asked to generate a short science fiction story, ChatGPT composed an engaging narrative with imaginative elements. In contrast, Bard, presented with the same request, crafted a story that contained creative elements and included vivid descriptions of the characters and settings, immersing the reader in a more detailed and immersive storytelling experience. This highlights Bard's strength in adding depth and richness to its generated content, making it an excellent choice for creative writing tasks.
These distinctions highlight how generative AI models like Bard and ChatGPT can excel in content generation but may differ in the depth and format of their generated content, depending on the specific task at hand.
5. Content Rewriting and Updating
Regarding rewriting text to update existing content, ChatGPT and Bard can be valuable tools, but they each offer distinct approaches. ChatGPT excels at providing clear and concise revisions, making it well-suited for updating a wide range of content, such as blog posts, reports, or articles. It can generate fresh content while retaining the essential ideas from the original text. On the other hand, Bard, with its specialization in creative content generation, including poetry and artistic text, takes a more imaginative and artistic approach. When using Bard for content updates, you can expect a more creative and artistic touch, which is particularly suitable for refreshing creative works or content that benefits from a unique flair. The choice between ChatGPT and Bard depends on the specific content and the style desired for the update.
6. Coding Assistance
While coding and writing content share a common thread in the creative process, evaluating the outcome is notably more objective in coding, primarily hinging on functionality. When we tasked ChatGPT with generating JavaScript code for a tic-tac-toe application, it promptly delivered code for a basic 2D format. Impressively, upon testing in OnlineGDB, this code revealed no errors, showcasing its aptitude for functional code generation.
On the other hand, Bard, when presented with the same coding challenge, produced three code drafts. However, what sets Bard apart is that one of its drafts included additional CSS and HTML code to complement JavaScript. When put to the test, these drafts displayed consistent errors, indicating that Bard's users might need to invest additional effort to achieve a fully functional end product. This contrast underscores the practicality of ChatGPT in delivering code that works right out of the gate, whereas Bard's code may require more refinement for functionality.
7. Image Generation
A significant distinction between Google Bard and ChatGPT lies in their ability to integrate images into their responses. ChatGPT functions as an AI chatbot primarily limited to text in its basic version. If you request its image results, it will provide descriptive text instead of actual images.
ChatGPT Plus, however, can harness plugins to include image results in its responses. For instance, when asked to display artwork in the style of painters like Vincent van Gogh, it generated descriptions and presented five stylistically similar paintings.
Bard stands out by accessing Google's image search to provide users with image results within the platform seamlessly. When prompted to share art by artists resembling van Gogh, Bard displayed images and added informative sentences describing each artist. Interestingly, conducting the same command in a standard Google image search yielded predominantly images of van Gogh's work. This highlights Bard's unique capability to provide curated image results with additional context directly within the platform.
Is Google Bard better than ChatGPT?
Better user experience
Draws from Google Search
Fast Responsiveness
Summarizing content for research
Main differences between Google Bard vs ChatGPT
Development and Ownership:
ChatGPT: OpenAI developed ChatGPT, a product of OpenAI, a prominent AI research organization.
Bard: Google created Bard, a chatbot developed by one of the world's leading technology companies.
AI Model Used:
ChatGPT: ChatGPT is based on the GPT-3.5 architecture, a part of the GPT series of models.
Bard: Bard originally used Lambda for dialogue applications and later upgraded to Google's Palm 2 (Pathways Language Model).
Language Capabilities:
ChatGPT: ChatGPT is renowned for its versatile language capabilities, including text generation, answering questions, and engaging in conversations. It is trained on a diverse dataset from the internet.
Bard: Bard focuses on simulating human conversations, providing detailed answers to user queries, and assisting with tasks like vacation booking and reservations. It utilizes natural language queries for search.
Commonsense Reasoning and Logic:
ChatGPT: GPT-3.5 models, including ChatGPT, possess notable commonsense reasoning and logical deduction capabilities.
Bard: Bard's Palm 2 model is designed to excel in commonsense reasoning, logic, and mathematics, making it a suitable choice for various conversational tasks.
Speed:
ChatGPT: The speed of ChatGPT may vary depending on the implementation but generally provides relatively fast responses in real-time interactions.
Bard: Google claims that the Palm 2 model used in Bard is faster than previous versions, enhancing the chatbot's responsiveness.
Use Cases:
ChatGPT: ChatGPT can perform various NLP tasks, such as generating content, answering queries, and holding text-based conversations.
Bard: Bard's primary goal is to provide conversational information and assist with tasks like vacation booking and meal planning. It aims to retrieve specific information in a more user-friendly manner than traditional search engines.
Availability and Languages:
ChatGPT: The availability of ChatGPT may vary depending on the platform or implementation. It can understand and generate text in multiple languages.
Bard: Bard is available to the public and supports content in over 40 languages, making it accessible to a wide global audience.
Ownership and Privacy Concerns:
ChatGPT: OpenAI has established policies and guidelines to address data storage and privacy concerns. Data handling may depend on the specific implementation or platform using ChatGPT.
Bard: As a Google product, Bard is subject to Google's privacy policies and data handling practices. When using Bard, users should refer to Google's privacy policies for data handling.
Data Source:
ChatGPT: ChatGPT is trained on a diverse dataset from the internet, encompassing a variety of texts and information. This dataset enables ChatGPT to know about numerous topics, and its training data extends to September 2021. It's important to note that ChatGPT, including the paid version ChatGPT Plus, incorporates GPT-4 technology, representing the latest advancements in OpenAI's models.
Bard: Bard utilizes Google's Palm 2 model, part of Google's advanced language models. While specific details about Palm 2's data source are not explicitly provided, it's developed by Google, a major technology company with access to extensive web data. Google's language models, like Palm 2, benefit from the company's resources and capabilities for data collection and processing. It's worth mentioning that Bard has been upgraded to Palm 2 from its original Lambda architecture, enhancing its capabilities in terms of natural language understanding.
Google Bard vs ChatGPT: Pros and Cons
ChatGPT
Pros:
Versatility: ChatGPT, especially the paid version ChatGPT Plus with GPT-4 technology, offers high versatility and suits a wide range of NLP tasks, from content generation to answering questions.
Broad Knowledge Base: It possesses a vast knowledge base, thanks to its diverse dataset from the internet until September 2021.
Availability: ChatGPT is accessible on various platforms and integrates with different applications.
Language Support: It comprehends and generates text in multiple languages.
Cons:
Generates Generic Responses: Occasionally, ChatGPT produces generic or inaccurate responses, especially for highly specific or technical topics.
Lacks Specificity: It may not consistently provide highly detailed or context-specific answers.
Cost Involved: While a basic version of ChatGPT is frequently available for free, more advanced versions may come at a cost.
Bard
Pros:
Conversational Skills: Bard excels at simulating human-like conversations and delivers detailed answers to user queries, making it superb for user-friendly interactions.
Specialized Tasks: It's well-suited for tasks like vacation booking and reservations, delivering information in a conversational format.
Rapid Responsiveness: Bard claims to be faster, enhancing its responsiveness in real-time interactions.
Language Support: Bard accommodates content in over 40 languages, ensuring global accessibility.
Cons:
Focused Use Case: Bard's primary focus centers on conversational tasks and specific information retrieval, potentially limiting its versatility compared to ChatGPT for various NLP applications.
Limited for Content Generation: Bard is designed for something other than content generation or addressing open-ended questions as comprehensively as ChatGPT.
Privacy Concerns: Data handling and privacy policies are subject to Google's standards, which might raise concerns among certain users.
Google Bard vs ChatGPT Pricing
ChatGPT Pricing
ChatGPT by OpenAI offers free access to its basic version. Users can engage with the model for a limited number of interactions at no cost.
OpenAI also introduced a subscription plan called "ChatGPT Plus," priced at $20 monthly. Subscribers to ChatGPT Plus received benefits like general access even during peak times, faster response times, and priority access to new features.
OpenAI has introduced or changed the pricing tiers since my last update.
Bard Pricing
In my last knowledge update, Google Bard is not specified in terms of pricing. It's important to note that Google frequently offers its products and services with various pricing models, often based on usage or specific business needs.
Pricing for Bard depends on the use case, the scale of usage, and the features offered. Google typically provides detailed pricing information on its website.
Conclusion
Google Bard and ChatGPT are two formidable AI language models, each with its own set of strengths and capabilities. Google Bard shines with its creative and artistic text generation, making it an excellent choice for poetry and imaginative content. On the other hand, ChatGPT, with its versatility and adaptability, excels in various practical tasks like content summarization, code generation, and research assistance.
While ChatGPT's ChatGPT Plus version offers web access for real-time information, Bard adds a creative flair to its responses, often providing an artistic touch to the content. The choice between these models ultimately relies on their specific use case and the desired output style.
Recommended Articles
We hope that this EDUCBA information on "Google Bard vs ChatGPT" was beneficial to you. You can view EDUCBA's recommended articles for more information.