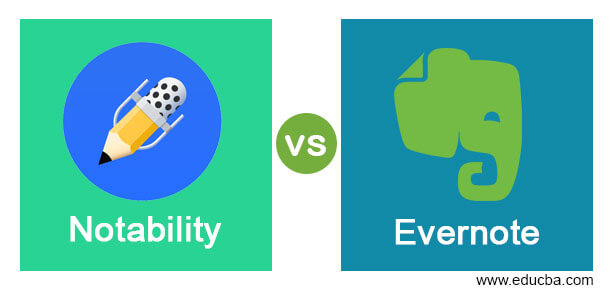 Difference Between Notability vs Evernote
The following article provides an outline for Notability vs Evernote. Notability is defined as the note-taking applications, in which students can store notes and information digitally in a systematic way on a cloud-based storage system, can also type, write, and draw notes on the device by using pen and paper, Whereas, Evernote is a free application which is designed for note-taking, task management and allow users to create text notes, own drawing, audio, to save web content from meeting and projects, which is a helpful to-do list, to arrange creative ideas, also it keeps everything in sync between our computer, smartphone, or tablet, it is fast in finding information and sharing notes with anyone.
Head to Head Comparison Between Notability vs Evernote (Infographics)
Below are the top 10 differences between Notability vs Evernote:

Key Difference Between Notability vs Evernote
Let us discuss some of the major key differences between Notability vs Evernote:
Productivity and Features: Notability is the best note-making application for students or to be used in commercial offices where only note-making is not enough. We can work on the iPad with its Apple pencil. It has integrated features like creating audio, we can create scribbled notes, it provides some space so that we can make drawing in it, it has typed text, we can add images in the note, it has in-built pdf feature so that we can share it with other not notability users also. In Notability, it has a feature of voice recording so that we can sync voice recording with text notes. While, Evernote is popular in the note-taking game, with its comfortable interface that users can work comfortably and it has some upgraded mobile features so that users can arrange and organize their folders. It also changes features according to plans. Evernote also has a scan feature so that it is secure while multiple users can work together on the same document. Evernote can record a voice note, if we want to save any note then there is a Mic button separately to attach any voice note we need to press that button while creating or saving the note. Notability and Evernote both having an export feature, Notability can export audio recorded files and pdfs also. In Notability file sharing can be done between two notability users.
Cross Platform: Notability is platform-dependent because it works on only iPad, iPhone, and Mac operating systems. The functionality between the applications is different in notability. Notability is only available on Apple devices, in which apps are paid and it stores information in a proper format, it known thing is that they getting specific things right. Whereas, the Evernote app is not platform dependent because that works on all platform. Evernote has applications for Windows, Mac, iOS, Android, and most importantly it has web applications. If we do not want to spend more time on the note-making app or we do not require a very high specification note-making app then Evernote is a good choice where we can spend slightly and we can enjoy the full-matured features in notability app.
Cost Factor: Evernote is free to use, which means it has no cost to use and it has premium plans monthly or yearly to upgrade new features. It has features to access notes offline so that we can access notes without the internet, also it provides the mobile security feature for security purposes additionally, and has several other features with upgrades. Evernote has a premium plan to use the offline support feature which is not free. On the other hand, the cost of Notability is dependent on the platform, which means which platform we are using for notability the cost varies according to them. The cost for Mac operating system is different with its features and the cost for iOS is different with its features. It has upgraded in-built offline support features with premium plans.
Notability vs Evernote Comparison Table
Let's discuss the top comparisons between Notability vs Evernote:
| | | |
| --- | --- | --- |
| Sr. No | Notability | Evernote |
| 1 | The notability allows users to create 'Subjects' and users can do this very easily. | Whereas, Evernote allows users to create 'Notebooks' and user can organize their notes. |
| 2 | Notability does not work on all platforms, it can only use for iOS and Mac. | Whereas Evernote works on all platforms, it is suitable for android or windows users also. |
| 3 | The cost of notability is depended on the platform means its price for iOS is different and the price for Mac is different. | It is free to use. If we want new features in Evernote then we need to take premium plans. |
| 4 | Notability has an in-built offline support feature. | Whereas in Evernote, we need to take premium plans for the offline feature. |
| 5 | In notability we can search our handwritten notes across all our notes and notability can only process the handwriting in existing notes when the app is open. | Whereas, Evernote scans our handwritten notes and allows us to search through them. |
| 6 | In notability, we can record audio while typing. | In Evernote, when we create a new note then we need to start recording by pressing on 'Mic' button. |
| 7 | The notability provides integrated features like creating audio, scribbled notes, drawing, typed text, imported images, and pdfs. | Whereas Evernote has only audio and text creating a feature in it. |
| 8 | Notability has an in-built integrated feature to import pdfs. We can export audio and pdf files separately in a note. | In Evernote, if we want to define any document inside note then that document needs to be in pdf format and we have to take premium plans for this feature. |
| 9 | In notability, multiple users do not work together on one document but a user can share a notability file with other notability users. | Evernote has sharing features so that multiple users can work together on the same document. |
| 10 | Notability uses the iCloud server to sync between the devices. | On other hand, Evernote uses its server to sync between devices. |
Conclusion
In this article, we conclude that Notability and Evernote both are note-taking applications, useful for students. Evernote is safe because it will scan handwritten notes, pdfs, images and it allows users to search through them easily and notability is also a good application, it is best in what they work on but it has some limitations.
Recommended Articles
This is a guide to Notability vs Evernote. Here we discuss Notability vs Evernote key differences with infographics and comparison table respectively. You may also have a look at the following articles to learn more –