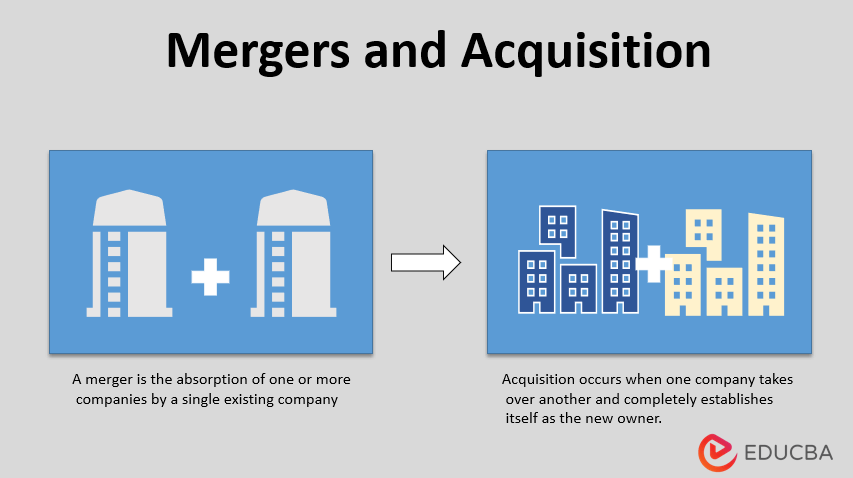 Introduction to Mergers and Acquisition
This is an outline on Mergers and Acquisition. There is an age-old equation "One plus one makes three", which explains the key principle behind mergers and acquisitions. In today's market, the main objective of the firm is to make profits and create shareholder wealth. A merger is the absorption of one or more companies by a single existing company. Acquisition occurs when one company takes over another and completely establishes itself as the new owner.
Mergers and Acquisitions in 2019 as a growth strategy have gained spurt because of increased deregulation, privatization, globalization, and liberalization adopted by several companies all over the world. Mergers and acquisitions have become an important medium to expand product portfolio, enter new markets, acquire new technology, gain access to research and development and gain access to resources that would enable the company to compete on a global scale.
Mergers and Acquisition Motives
There are four main motives for a firm to execute M&A
Quick growth comes through Mergers and Acquisition.
Economics of scale may be gained through M & A.
More access to a capital market, would in the future lead to a lesser cost of capital.
A firm with superior management skills might also look at M&A with anticipation of higher gains through other organizations' business.
M&A is driven by many complex motives, and all of these are not at all similar in any form and would always vary from deal to deal which can never be justified with a single approach.
Examples of Mergers and Acquisition
The most successful mergers and acquisitions examples are given below.
Airtel – Loop
This was one of the greatest Mergers and Acquisition in 2019 in the telecom sector
Bharti Airtel is set to acquire Loop Mobile in a Rs 700-crore deal which includes repayment of debt worth Rs 400 crore in what will be the first consolidation move in the country's telecom industry since 2008, taking India's biggest operator to the top spot in Mumbai.
The deal will be via a slump sale, in which one or more undertakings are transferred for a lump sum, without values being assigned to individual assets and liabilities. Airtel will get Loop's 3 million subscribers, about 400 telecom towers, the optic fiber connecting the towers, and electronic equipment on which Loop's network currently runs.
Is the deal fruitful for both companies? / Outcome of this deal
For Airtel, the deal is very profitable as its subscriber base will increase which makes it no.1 on the list followed by Vodafone. In the case of Loop mobile, the employees fear losing their job. The risk is more for lower-level employees as Airtel wasn't keen to take on board a large number of employees as it already has the workforce in the Mumbai circle, it could retain a few key senior functionaries, although temporarily.
It is a win-win deal.
GlaxoSmithKline and Novartis

Britain's GlaxoSmithKline and Swiss rival Novartis have agreed on a multi-billion dollar swap of assets in a move that led to a rally in pharmaceutical stocks as investors bet on a renewed burst of deal-making across the sector.
The two drug companies will join forces in the consumer healthcare sector to combine brands including Aquafresh, Beechams, and Tixylix, while exchanging their on-Shares in GSK rose 5.2% to £16.40 and Switzerland's Novartis rose 2% to 76.40 Swiss francs (£51.28).logy and vaccine businesses.
 How the deal helped GlaxoSmithKline and Novartis?
Opportunities to combine high-quality assets in vaccines and consumer healthcare are scarce. With this transaction, they will substantially strengthen two of their core businesses and create significant new options to increase value for shareholders.
Dabur India LTD and Northern Aromatics LTD
FMCG firm Dabur India Ltd has acquired its vendor Northern Aromatics Ltd. which is an existing vendor for Dabur that manufactures glucose, shampoos, and shilajit for Dabur, It's core business of manufacturing and marketing fragrances, flavors, and essential oils.
Northern Aromatics Ltd. Manufacturing facility in Pantnagar, Uttarakhand was on a slump sale basis for Rs. 15 crores. Dabur said the facility will be used to manufacture its food products, ayurvedic medicines, and cosmetics. Dabur had agreed to purchase the business including the manufacturing facility and all assets and liabilities relatable to the said facility.
Pros of Acquisition:
Dabur India Ltd by acquiring Northern Aromatics Ltd (NAL) has been in a very profitable situation. It is always easy to acquire an already working manufacturing unit than to build a separate one altogether. And in the case of Dabur, NAL already manufactured some products for them. So it was a very profitable deal for Dabur India Ltd.
Future Lifestyle Fashion LTD
Future Lifestyle Fashion Ltd, part of the Kishore Biyani-led Future Group, has divested its minority stakes in ethnic wear firm Biba Apparels and designer Anita Dongre-owned AND Designs. The divestment was for Rs. 450 crores. Future Lifestyle Fashion Ltd demerged its fashion business in November 2018 and formed a new company called Future Lifestyle Fashions. It has a portfolio of over two dozen fashion and lifestyle brands. Both investments were made more than five years ago. The Future Group generally exits investments when they become large. The company has stated that it made a profit of Rs 190 crore from the sale of a stake in Biba. It had a 22.9 percent stake in AND Designs and a 25.8 percent stake in BIBA Apparels. They first acquired a 6.5 percent stake in Biba in 2007, which gradually increased to 25.8 percent in 2017.
BlackBerry and FAIRFAX

BlackBerry Ltd. completed the $1-billion US financing in November 2019 after Fairfax Financial scaled down a larger plan to buy the company outright. More than half of the money came from two institutional investors they are $300 million from Canso Investment Counsel Ltd. of Richmond Hill and $250 million from Fairfax Financial Holdings Ltd., which is BlackBerry's largest shareholder.
Fairfax and the other investors had 30 days to buy an additional $250 million of the interest-paying notes, which could be used to buy BlackBerry shares for $10 US each. BlackBerry shares were at $6.77 on the Toronto stock exchange and $6.475 on Nasdaq, where most of the companies trade their shares, down from $7.77 US on Nov. 1, before Fairfax changed its proposal. BlackBerry had announced that it no longer seek any buyer and would continue as an independent publicly-traded company, indirectly acknowledging that Fairfax hadn't found support for a $4.7-billion deal that required a group of investors to pay $9 per share in cash.
Funds that were managed by Mackenzie Financial invested $200 million; $100 million came from Qatar's sovereign wealth fund, $70 million from Virginia-based Markel Corp., and $10 million from Brookfield Asset Management of Toronto, according to a Nov. 8 filing. Funds that were managed by Manulife Financial Corp also invested $70 million to acquire BlackBerry's convertible debt, which was exchanged for shares of the company under certain conditions.
In a way, it was a fair deal for the smartphone maker Blackberry. It was going through a bad time as its smartphone market was taken over by other players like Samsung, Nokia, and Apple which are among the top 5 ranking companies in the market. This also led to possible new routes for blackberry to revive. Even if its share prices went down the deal was for blackberry's overall benefit.
Future of Mergers and Acquisition
A number of factors have influenced Mergers and Acquisitions in 2019 but the market is the primary force that drives them. Another factor in the rise in mergers is a booming economy, which is growing at unprecedented levels. As the country faced a recession in the past decade, many companies were forced to downsize, and the number of major mergers decreased accordingly. Improvements in the economy, as well as potential legislative changes, very well sparked another wave of mergers.
Despite negative studies and resistance from economists, Mergers and Acquisitions continue to be an important tool behind the growth of a company. The reason is that the expansion is not limited by internal resources; no drain on working capital, stocks are attractive as a tax benefit and above all can consolidate the industry and increase the firm's market power.
With the FDI policies becoming more liberalized, Mergers and Acquisitions talks are heating up in India and are growing with an ever-increasing cadence. They are now not limited to one particular type of business. The past mergers cover every size and variety of business. Mergers and Acquisitions are on the increase over the whole marketplace, providing platforms for the small companies being acquired by bigger ones.
Indian markets have witnessed an increasing trend in mergers which may be due to business consolidation by large industries, consolidation of business by multinationals operating in India, and increasing competition against imports and acquisition activities. Therefore, it is a ripe time for business houses and corporates to watch the Indian market and grab the opportunity.
Career Scope
Opportunities to learn about particular industries in detail.
Training in financial modeling and company/asset valuation techniques.
Plenty of time is spent reading about companies' financial statements and analyst research reports.
Becoming an expert in Microsoft Excel, Word, and PowerPoint.
A broad range of career opportunities is available after doing Investment Banking.
Pursue summer internships to demonstrate your interest in finance/banking.
Recommended Articles
This is a guide to Mergers and Acquisitions. Here we discuss the introduction, examples of successful companies, and the future of mergers and acquisitions. You may also look at the following articles to learn more –