What is Market Share?
Market share refers to the portion or percentage of total sales within a particular market that a company or brand captures. It is calculated by dividing a company's sales by the total sales within the market and expressing the result as a percentage. It is an important metric for companies to track as it can indicate their competitiveness and success within a specific industry.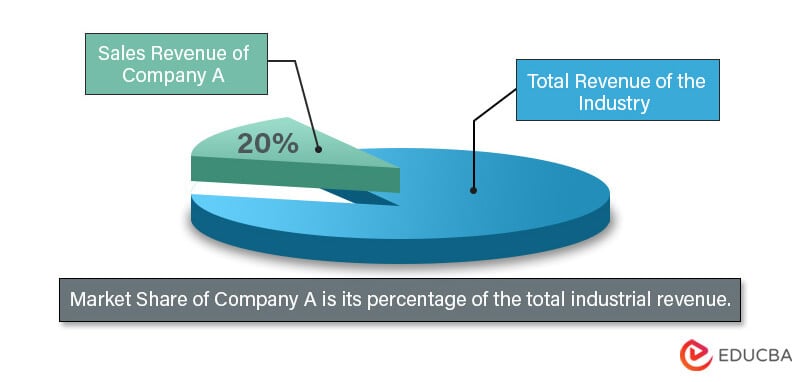 Key Highlights
The market share of a company has a significant impact on its profitability, brand recognition, pricing power, growth opportunities, and financial stability.
When it is high, it indicates that a company has a strong brand and enjoys a significant portion of customer demand.
When it is low, it indicates that a company faces strong competition and needs to improve its offerings to remain competitive.
It increases with the company increasing its customer loyalty, ensuring high quality, developing a strong brand image, and improving marketing strategies and tactics.
Market Share Formula
Market Share = (Company Revenue / Total Market Revenue) * 100
Company Revenue denotes the total income of the company from sales of the products in a given time.
Total Market Revenue is the revenue from the overall industrial sales over the same period.
How is Market Share Calculated?
Here are the general steps for calculation:
Step #1 Define the market
Identify the market that you are interested in analyzing. This could be a specific geographic region or a particular industry.
Step #2 Define the period
Determine the period for which you want to do the calculation, such as a month, a quarter, or a year.
Step #3 Gather data
Collect data on the total revenue for the entire market during the period, as well as the revenue for each company operating in the market.
Step #4 Calculate total market sales
Add up the revenue for all companies in the market for the defined period.
Step #5 Calculate individual company sales
Determine the revenue for the company you are interested in doing the calculation for.
Step #6 Calculate using the formula
Divide the revenue of the individual company by the total revenue of the market, and multiply by 100 to get the percentage.
Step #7 Interpret the results
The resulting percentage represents the company's share for the specific period.
Examples
#1 Bicycle Manufacturer
In the USA, a bicycle manufacturing company, PQR, produced bicycles worth $30,000 in the financial year 2021-2022. If the total revenue from bicycles produced in the USA is $600,000 in the same financial year, calculate the share of the Company PQR for 2021-2022.
Given,

Solution,

Here, we divide Company PQR's sales by the total sales of the USA bicycle industry in the financial year 2021-2022 and multiply the result by 100. Therefore, Company PQR has a share of 5%.
#2 Toy Manufacturer
A children's toy company in Britain, MNO, produced toys worth $3,000 in the financial year 2021-2022. The total production of toys in Britain in the same financial year produced revenue worth $30,000. Calculate the market shares of Company MNO for 2021-2022.
Given,

Solution,

To determine Company MNO's share, you need to divide its sales figures by the total sales of toys in Britain during the financial year 2021-2022. Afterward, multiply the result by 100 to obtain a percentage. The resulting percentage shows that Company MNO holds a share of 10% in the market.
Global Examples
#1 Apple Inc.
Apple held 17.2% of the total global smartphone market until the third quarter of 2022. It has grown from its humble beginnings as a computer startup to become one of the world's most valuable corporations. This success can be attributed to the company's ability to maintain a strong share percentage in the global technology industry.
#2 Amazon Inc.
Till June 2022, Amazon controlled  37.8% of the global e-commerce market. This outstanding performance can be attributed to Amazon's ability to provide competitive prices and reliable delivery services.
Amazon has also expanded its operations by entering new markets, such as music streaming, which has grown to become the second-largest music streaming platform in the United States.
#3 Walmart Inc., USA.
Walmart controls nearly 6.3% of the global e-commerce market. It has dominated the retail industry both domestically and internationally by employing aggressive pricing strategies, rigorous customer service initiatives, and an efficient supply chain.
It recently acquired Flipkart, one of India's leading e-commerce companies, to strengthen its position in the country's retail market.
Types
Value Share
Value share refers to the proportion of total category value (i.e., the total revenue or sales) that a brand or company captures in a market.
Divide the company's total revenue or sales by the total revenue or sales of the overall market and express it as a percentage.
For example, if a consumer purchases 1000 toys in a year, 300 of which are from Company EFG, the company's value share is 30% [(300/1000)*100].
It can help companies focus on creating and delivering products and services that provide the most value to customers, and differentiate themselves from competitors.
Volume Share
Volume share refers to the proportion of total products or units sold by a brand or company in a market, compared to the total products or units sold by all companies in that market.
Divide a company's total sales volume by the total sales volume of the overall market, and express it as a percentage.
For example, if a company sells 5000 units of a product in a market where a total of 50,000 units are sold, the company's volume share would be 10% [(5000/50000)*100].
Relative Market Share
Relative share compares a company's market share to that of its largest competitor in a specific market.
A value of less than one indicates a smaller share value than the largest competitor, and a value of greater than one indicates a larger share percentage.
A high relative share value indicates that a company is the market leader, while a low relative value suggests that a company may need to focus on improving its competitive position.
Relative Market Share Formula
Relative Market Share = (Company's Market Share / Market Share of its nearest competitor) * 100
For example, let's say that a company has a market share of 15%, and its largest competitor has a share percentage of 25%. Using the formula, we can calculate the company's relative share as:
= (15 / 25) x 100 = 60%
It means that the company's market share is 60% of its largest competitor's share. It suggests that the company controls a smaller part of the market than its competitor.
Importance
Profitability
Companies with a larger share of the market typically have higher profits.
The more products or services a business provides, the more likely customers are to purchase them.
Brand Recognition
A larger share in the market can give a business greater visibility and recognition.
The more people become aware of the brand, the more likely they are to become loyal customers in the future.
Additionally, having a strong presence in the market can help a company attract new customers that are looking for exactly what it offers.
Pricing Power
The ability to set one's prices grows with the growth in its share in the market.
When a company controls a larger part of the market, it can offer discounts and promotions without affecting its profit margin.
Opportunities for Growth
Having a large share in the market allows businesses to experiment with new products or services without fear of competition.
A business can increase it by investing in market strategy research.
Financial Stability
When a business has a larger share of the market, it has more control over pricing, which can help to achieve financial stability and growth.
This can also reduce the risk of losses due to sudden changes in the market.
How to Increase Market Share?
Increasing customer loyalty
Customers will remain loyal and continue to purchase from companies that provide excellent customer service.
It increases the company's overall share in the market and revenue.
Providing high-quality products or services
To gain a competitive advantage over its competitors, any company must provide high-quality products and services.
To provide high-quality customer service, it is important to make sure that the employees are well-trained and well-versed with the product.
Developing a strong brand image
A strong brand image is defined by how well it represents its customers and stakeholders.
Companies can achieve this by implementing consistent branding campaigns in TV commercials, billboards, social media posts, etc.
Improving marketing strategies and tactics
It is the set of guidelines that marketers use to develop and implement a marketing strategy.
The primary goal of marketing is to help an organization in attracting new customers, retain existing ones, and increase the company's share.
Frequently Asked Questions (FAQs)
Q.1. How can we increase market share?
Answer: There are several ways a company can increase its share. Here are a few strategies:
Improve product quality
Offer better customer service
Price competitively
Increase marketing and advertising
Expand product or service offerings
Acquire or merge with other companies
Q.2. What are the different types of market share?
Answer: The two different types are- Value and Volume.
Value share measures the total revenue generated by a company in comparison to the total revenue of all companies in the market.
Volume share measures the total number of products or units sold by a company in comparison to the total sales of all companies in the market.
Understanding these two types is essential for assessing a company's market performance and strategizing ways to increase its share.
Q.3. What is a good percentage of market share?
Answer: What constitutes a good market share can vary widely depending on the specific industry, market conditions, and the size of the company.
For example, in some industries with high levels of competition, a market share of 10% or less may be considered a significant accomplishment. In other industries, a company may need to capture 30% or more of the market to remain competitive and profitable.
Recommended Articles
This was an EDUCBA guide to market share. To learn more, please refer to EDUCBA's Recommended Articles.