Updated June 15, 2023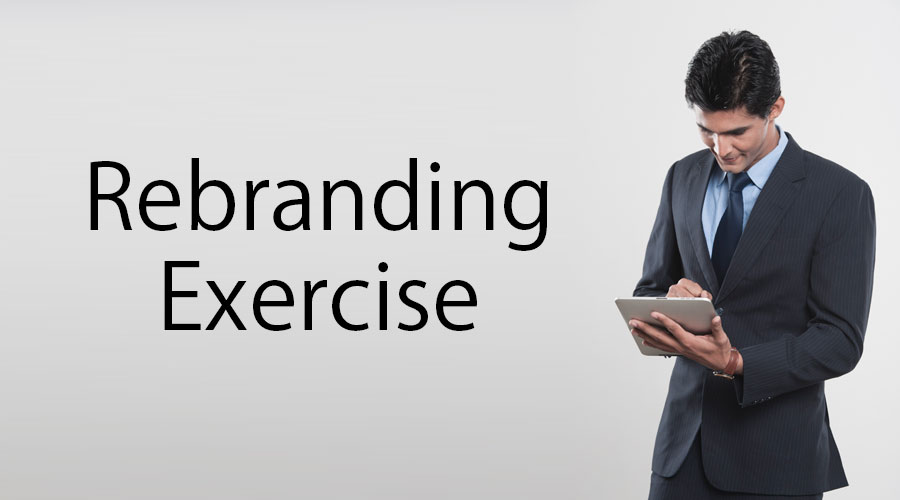 Introduction To Rebranding Exercise
Have you heard of companies such as BackRub, Research In Motion, Brad's Drink, Tokyo Tsushin Kogyo? Not likely unless you are closely tracking companies or doing some research. These are the old names of Google, Blackberry, Pepsi, and Sony, respectively! In this article, we will discuss the Rebranding Exercise in detail.
Some of the leading brands in the world had changed their logos, packaging, and brand names much before they became famous; as the result, not many people know their old name. The process of changing logos, brand names, packaging, and changing the focus of marketing promotion is called the Rebranding Exercise. This is done with the intention of creating a new brand identity and differentiating from the competition.
There are several reasons why companies go for rebranding exercise – it may be due to loss of relevance due to changing technologies or market conditions, mergers and acquisitions, a negative image, loss of market share, confusion with another brand name, or failure to have an impact on the market.
6steps to successful rebranding
Here are six steps to successful rebranding exercise and improved market performance:
1. You have outgrown your name or expanded your operations
Imperial Tobacco Company of India Ltd (ITC Ltd) was originally a tobacco company under British ownership registered in 1910. When it fell into Indian hands and as it began to produce and market more products and entered into new businesses- it changed its name to India Tobacco Company Ltd in 1970 before it was renamed I.T.C Ltd. It added a range of products – consumer goods, agarbathis or incense sticks, notebooks, paper boards, stationery products, hotels, agri-business, and information technology. Subsequently, the name was changed to ITC Ltd without the full stops.
IBM was originally known as Computing-Tabulating-Recording Company (C-T-R) following the merger of three businesses in 1911. Thereafter, it was rechristened by International Business Corporation in 1924, following which it came to be known as IBM. The major reason for a change in branding was due to geographical and functional expansion.
ICICI Bank, the largest commercial bank in India, was incorporated in 1995 as Industrial Credit and Investment Corporation of India, promoted by the World Bank, Indian Government, and industry representatives. The objective was to provide finance to Indian businesses. However, over the years, it ventured into commercial banking, insurance, credit cards, home loans, securities, and several other businesses that the original name did not do justice to its scale of operations. Now it is known as ICICI Bank.
When you add more products or businesses or expand operations, an original brand name may not be comprehensive enough to encompass them all. It is a valid reason to go for a rebranding exercise.
Sometimes rebranding exercise has to be done because they are not internet or search engine friendly. Would the computer firm Apple be named that way if it were launched in the internet era? According to analysts, the brand name that closely reflects the industry or product is more likely to succeed. The rebranding exercise also necessitates making changes to keywords, making changes to search engine optimization and content/articles, blogs related to it.
Infosys denotes information systems that gel with their functional domain. Likewise, Hindustan Computers Ltd (HCL), which was originally into computer hardware only, found the name inconvenient when it ventured into software development and systems. Thereafter it was rechristened HCL.
2. Rebranding exercise due to a negative image
KFC was originally Kentucky Fried Chicken but following the negative association of 'fried' food. Italian chocolate brand Italo Suisse had changed to ISIS three years ago but had to quickly retrace its steps soon as a terrorist group by the same name emerged. A bad reputation cannot be changed by just change in nomenclature alone. Sometimes, it may require a change in product quality, positioning, and re-engineering.
McDonald's was originally known as McDonald's Famous Barbecue, but its business couldn't take off due to a perception of unhealthy food, and it was changed with the help of a new logo with a focus on healthy food with the inclusion of salads and new varieties. This has led to increased sales and better brand perception regarding McDonald's quality. It is also catering to coffee lovers with its premium coffee offerings. Rebranding exercise involves not just change in logo or name but countering the public perception with better offerings.
Wal-Mart came to be associated with cheap brands and that necessitated a change in its tagline from 'Always Low Prices' to 'Save Money, Live Better. For Wal-Mart, it was not just changed in the tagline that mattered. They made changes to interiors providing a great new in-store experience. It helped fetch them a Rebrand 100 Global Award and became the world's largest corporation in terms of revenue in 2010. Wal-Mart realized that focusing on improved lifestyles and living helps create a positive feeling among consumers for its products sold.
Philip Morris rebranded to Altria to wipe out the negative perceptions of tobacco having an impact on its other businesses, especially food. The 1196 plane crash led ValuJet to rename itself as Air Tran Airways.
When Ramalinga Raju of Satyam Computers was caught for forging a balance sheet, the ownership subsequently went to Mahindra. It changed the name to Mahindra Satyam to ward off negative perceptions of the brand.
3. Don't make haste with the rebranding exercise, do market research
You have decided to rebrand, but should it be done in a hurry? There are several causes of a rebranding exercise that were done in a hurry or without any market research leading to a return to the previous name. It is important to identify competitors and potential competitors and their offerings. How should your company stand out from the rest by a differential look and offers? It is very important to create buyer personas- or fictional characters based on age, gender, interests, income, the social status they belong to. It can be based on the existing customer database too. It is very important to assess the perception of existing customers about the brand and what impact the rebranding exercise will make on them.
When a brand name is suddenly changed, it could have implications for the consumer who may be confused as to what happened with the previous brand. Brand consultants suggest spending at least six months to more than two years to launch the new brand with adequate promotions and campaigns.
Master Card had a two-circle logo which had become quite familiar, but a bubble or circle was added with added elements. This was not received well by the public, and it had to recall.
Likewise, Radio Shack, the shopping center, removed Radio from the name and did a #200 mn campaign for the new name The Shack, throwing the company into a financial crisis. Likewise, Pizza Hut removed Pizza as part of a rebranding process, only to bring Pizza back.
Tropicana, the Pepsi brand, went for a major packaging change, but the new one looked like a generic fruit juice, thus resulting in a drop in sales. Pepsi is reported to have lost about $140 mn in two months.
Apparel firm Gap had to restore its logo to one seen on the right after netizens raised an outcry against the new logo shown on the left. It had to recall within a fortnight, and the company has attributed it to a lack of research and doing rebranding exercises in the wrong way.
The above examples denote haste in going ahead with rebranding exercise can cause both financial damage and loss of reputation. It would also cause a lack of continuity of brand in the minds of consumers.
4. Hold interviews with customers, stakeholders, and employees
A rebranding exercise should not emerge just in the minds of the management and branding consultant or agency. It should involve existing distributors, employees, customers who actually patronize the brand. Sometimes the general public can be involved by holding contests.
'Crowdsourcing' by contests has proven to be a success in the past. NASA held a naming contest for its free-flying robot to be launched in 2017 at its International Space Station. Even new ideas for products can be gained through crowdsourcing. There are also crowd-sourced naming websites to launch contests, or it can be done on newspapers and your own websites. Announce attractive rewards for the prize-winning entry.
It is very important to do internal awareness campaigns in the organization. Make sure it is understood, rolled out and embraced by the internal stakeholders. They are the first brand ambassadors of the company. Prepare a document having Frequently Asked Questions (FAQ) that address all aspects of the rebranding exercise.
5. Set objectives for the rebranding exercise
The rebranding should be result-oriented- it should lead to increased market share, increased brand recall, increase sales and profits. If such variables have to be accounted for, the company has to calculate the existing market share of the company and brand and have a target to achieve.
It is also better to set a budget for the rebranding strategy as it involves making changes in hoardings, letterheads, websites, blogs, all printed materials, including the checkbook in the case of the bank. The rebranding strategy can turn costly- for, eg. Axis Bank spent Rs 50 cr, Bharti Airtel Rs 300 cr, Videocon Rs 200 cr, and Hero MotoCorp Rs 200 Cr. But that doesn't mean rebranding strategy has to be costly; smaller agencies can do a good job at lower costs.
Canara Bank went for a rebranding strategy, recently pointed out that the new logo represents the bank's initiative to reach out to all its stakeholders, including creditors, government, depositors, institutions and the society at large. The blue color is denotive of depth and scale while Yellow shows energy, vibrancy and optimistic outlook.
6. Don't go for fancy names or hard to pronounce names
Shakespeare said, 'What's in a name, a rose smells sweet by any other name'. But when it comes to business and branding, rose smells more when it is called a rose. Therefore, it is better not to take the risk and go for fancy names or hard to pronounce names. Also, avoid names that can be spelled, pronounced in different ways, making it difficult for people to search on the net. Your brand name has to be memorable, easily recalled along with a logo and not easy to be duplicated.
It is also better to avoid names that don't convey anything. Consulting firm Accenture was created when Arthur Andersen left Andersen Consulting. A marketing consultant advised the firm to change the name to Accenture- denoting an accent on the future. However, the rebranding resulted in a loss of $100 mn and ranked as one of the worst name changes in history.
SyFy, the Sci-Fi channel's rebranding exercise, bombed as it is a slang for syphilis, the sexually transmitted disease affecting men. The company justified saying that Sci-Fi was not traded mark-able and could appeal to the younger crowd than 18-24 techies. However, it received a negative reaction and turned out to be a marketing disaster.
Conclusion
Business history is replete with both success and failures in rebranding strategy but that shouldn't discourage a company from doing so. Familiarity breeds contempt goes the old saying but it may not be with the brand- as it can also create a liking. In such cases, a change in a brand name can evoke strong reactions leading to loss of goodwill from stakeholders. There should be a compelling reason for rebranding strategy and some are unavoidable as in mergers and acquisitions. Rebranding strategy should convey the continuity associated with the company's founders and principles but at the same time embody the new principles or values imbibed with the changing times as in Canara Bank's case- bonding with stakeholders reflecting the new era.
Rebranding strategy shouldn't be done in a hurry and lack of planning can wreak havoc on the company finances as several examples cited show. Just because some companies have gone for a rebranding strategy is no reason for you to keep up with the Joneses. It should be based on a genuine need, well thought out market strategy, and good homework are done with existing stakeholders. Some companies, especially in pharma, footwear, and nutrition, have entry-level, generic, and premium brands being handled by different divisions or subsidiaries of the holding company. The recent hiving off of premium brands S-Cross, Baleno, and Breza by Maruti Suzuki India Ltd is one such example of the company not losing its focus on entry and mid-segment cars while at the same time tasting success with premium brands that had failed earlier.
Recommended Articles
This has been a guide to the process of changing logos, brand names, packaging, and changing the focus of marketing promotion is called rebranding exercise. These are the following external link related to the rebranding exercise.