Difference Between Living Wage Vs Minimum Wage
In living wage vs minimum wage, a living wage is an income an individual needs to comfortably afford basic needs. On the other hand, a minimum wage is the mandatory amount an employer must pay its employees.
Take, for instance, company ABC, paying its employees $12 per hour, the minimum wage. But when you add up the costs of things like food, housing, clothes, and health services, it turns out individuals need $16 per hour—a living wage—to cover it all. This highlights the difference between what's legally required (minimum wage) and what's actually needed for a basic, decent life (living wage).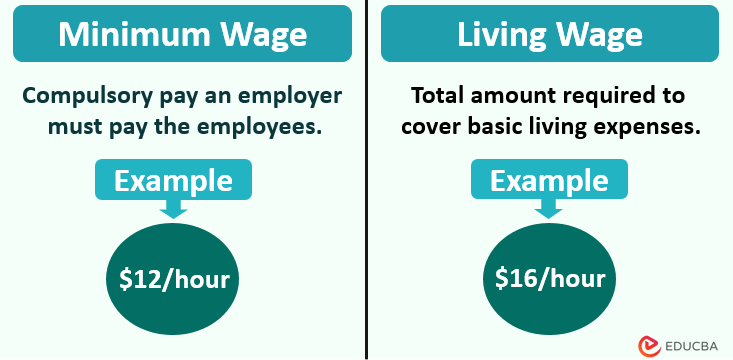 Table of Contents
What is Living Wage?
A living wage is an income an individual or employee needs to meet their basic needs and other essential expenses to support themselves and their families. It includes expenses such as food, housing, healthcare, transportation, etc. However, it depends on geographic location, family size, and living standards. In 1886, the American Federation of Labor (AFL) proposed a living wage for the first time to support families and sustain a decent standard of living.
Unlike the legally set minimum wage, it's typically a voluntary standard employer, unions, or advocacy groups set.  The idea is to ensure employees can live decently without relying on public assistance programs, thereby reducing income inequality & poverty and promoting economic stability.
How to Calculate Living Wage?
The MIT living wage calculator outlines the following steps to determine an individual's living wage:
#1: Calculate the annual cost of basic needs like food, childcare, healthcare, housing, transportation and other necessities.
#2: Divide by the total number of working adults in the family to find the individual income required to support everyone.
#3: Consider the income and payroll taxes using the TAXSIM model of the U.S. Federal and State income tax system.
#4: Divide the total earnings by 2,080 hours, assuming the working adults work 40 hours a week for 52 weeks a year full-time to find the hourly wage.
The working individual must earn this hourly wage to cover their family's basic needs and taxes in their area.
How are Minimum Wages Set?
Different countries set minimum wages in various ways.
Infographic on Living Wage Vs Minimum Wage
The following is the infographic showing the key difference between living wage vs. minimum wage.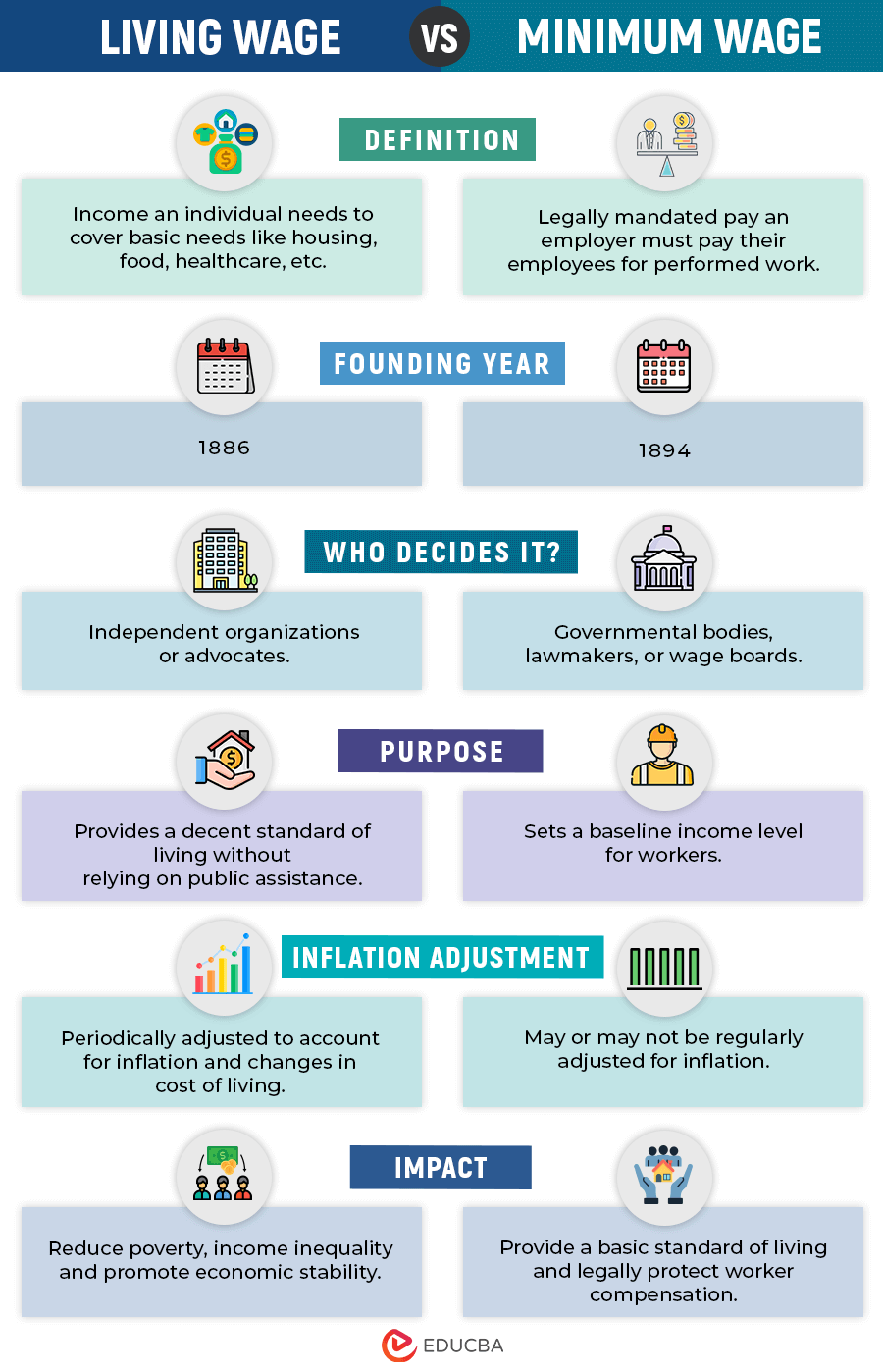 Final Thoughts
The difference between living and minimum wage lies in their scope and purpose. A living wage covers costs essential for a decent standard of living, such as housing and healthcare, aiming to ensure individuals can support themselves and their families without public assistance. On the other hand, the minimum wage serves as a legal baseline, usually the lowest pay set by government regulations to meet the cost of living.
Frequently Asked Questions (FAQs)
Q1. Why is the living wage higher than the minimum wage?
Answer: The living wage is usually higher than the minimum wage because it covers the basic necessities and other essential expenses required for a decent standard of living. It considers a broader spectrum of costs, including housing, healthcare, transportation, and the overall local cost of living in a particular location.
Q2. How can a living wage reduce poverty?
Answer: The following are some ways in which the living wage reduces poverty.
It ensures that individuals can afford basic necessities, reducing the risk of the rise of poverty due to inadequate income.
Individuals are less reliant on government aid or support programs, decreasing the overall burden on social welfare systems.
It improves financial stability as individuals save for emergencies, invest in education, or access better healthcare.
Individuals will have more purchasing power, stimulating local economies and creating more jobs.
Recommended Articles
We hope that this article on Living wage vs. minimum wage was informative. For more guidance on related topics, we suggest exploring the following articles: