Updated November 21, 2023
Advantages and Disadvantages of Advertising – Introduction
Advertising is a marketing strategy that aims to promote a specific product, cause, or service. The term "advertising" comes from the Latin word "adventure," which means to turn someone's attention towards something. A business, company, or organization tries to reach a large audience through advertising. Print media, digital campaigns, and social media are used for advertising today. Though advertisement has its advantages at the same time, it also has its disadvantages. This article aims to cover the advantages and disadvantages of advertising.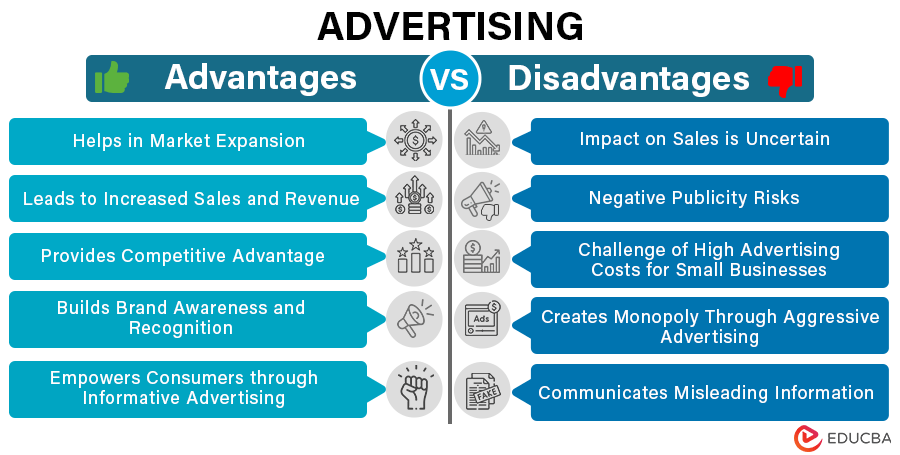 Advantages of Advertising
With advertising, a business or an organization needs a new product. It is the best method for communicating any information to old and new prospective customers. Here are the advantages of advertising:
1. Helps in Market Expansion
Through advertising, businesses can reach new markets and demographics, expanding their customer base.
Example: Airbnb's ads show many different and interesting places to stay, attracting all kinds of travelers, not just those who usually stay in hotels. This helped Airbnb reach more people and become popular with a wider audience.
2. Leads to Increased Sales and Revenue
One of the primary goals of advertising is to drive sales and boost revenue for businesses. Effective advertising campaigns can create awareness and generate interest, increasing sales.
Example: Coca-Cola successfully boosted its revenue with the "Share a Coke" campaign, which featured common names on the bottles that personalized its products. This strategy increased sales and promoted a unique and memorable engagement with consumers.
3. Provides Competitive Advantage
Effective advertising can differentiate a product or service from competitors, giving a company a competitive edge.
Example: Samsung often uses an aggressive advertising strategy, directly comparing its products with its competitors. This has helped position Samsung as a viable alternative to Apple in the smartphone market.
4. Builds Brand Awareness and Recognition
Advertising helps create and maintain brand awareness. Consistent exposure to a brand through various channels increases the likelihood that consumers will remember and recognize the brand.
Example: Apple's advertisements and product launches ensure the brand stays in people's minds. Also, its commitment to innovation and high-quality products has earned a special place in the hearts of consumers.
5. Empowers Consumers through Informative Advertising
Advertising provides a platform for businesses to educate consumers about their products or services. Detailed information helps consumers make informed decisions.
Example: Pharmaceutical ads often include information about a medication's benefits and potential side effects. This helps people make smart decisions about their health.
6. Offers Innovative Promotion
Advertising encourages businesses to innovate and improve their products or services to stay competitive. Companies often highlight new features or advancements in their advertising campaigns.
Example: Tech companies like Apple and Samsung showcase the latest technological innovations in their product advertisements, pushing the boundaries of what consumers can expect from their devices.
7. Powerful for Social Welfare Campaigns
Advertising is a powerful tool for promoting social causes and public awareness campaigns. It can gather support and resources for health, education, and environmental conservation issues.
Example: The "Truth" campaign, which targeted the prevention of tobacco use among youth, successfully employed advertising tactics to communicate anti-smoking messages and support for a healthier way of life.
8. Helps Differentiate Product in a Competitive Market
Advertising allows companies to highlight their products' unique features and benefits, aiding product differentiation in a competitive market.
Example: Car manufacturers frequently employ advertising strategies to highlight distinct features, such as safety ratings, fuel efficiency, or cutting-edge technology, aiming to set their products apart from competitors in the automotive industry.
Disadvantages of Advertising
As we have seen the advantages, now let us look at some of the disadvantages of advertising:
1.  Impact on Sales is Uncertain
Advertising, despite its significant costs, does not guarantee sales. Various factors, including market conditions, consumer preferences, and the competitive landscape, can influence an advertisement's effectiveness in driving actual purchases.
Example: The 2013 introduction of Google Glass shows that substantial advertising doesn't guarantee sales success. Despite a strong promotional effort, the product fell short due to privacy concerns, design flaws, and a high price, underscoring the importance of aligning with consumer expectations for driving sales.
2. Negative Publicity Risks
Advertising campaigns can backfire and lead to negative publicity, especially if the content is controversial, offensive, or misinterpreted by the audience. Negative publicity can harm a brand's reputation and impact consumer perception.
Example: Critics slammed the Pepsi commercial featuring Kendall Jenner for trivializing the Black Lives Matter movement by portraying a protest where Jenner diffused stress with a can of Pepsi. Critics argued that it exploited serious social issues for commercial gain, leading to widespread public anger and damaging the brand's reputation.
3. Challenge of High Advertising Costs for Small Businesses
Advertising campaigns, especially on popular platforms or during prime time on television, can be extremely expensive, making it challenging for small businesses to compete.
Example: Advertisers widely recognized Super Bowl commercials demanding millions of dollars for a half-minute slot. This expense may not be feasible for many smaller companies.
4. Creates Monopoly Through Aggressive Advertising
In some cases, aggressive advertising by a dominant player in the market can create a monopoly, limiting consumer choice and stifling competition.
Example: Microsoft's aggressive advertising for Windows creates a market dominance that limits alternatives. The widespread use of Windows can lead to a quasi-monopoly, restricting consumer choices in the operating system market.
5. Communicates Misleading Information
Some advertisements may exaggerate or misrepresent product features, leading to consumer confusion and dissatisfaction.
Example: The Federal Trade Commission (FTC) has taken action in cases involving weight-loss products that made misleading claims, ensuring that advertisers deliver truthful information to consumers.
6. Leads to Overconsumption and Greediness
Excessive advertising can contribute to a culture of overconsumption and greediness, encouraging people to buy more than they need. 
Example: Aggressive advertising by fast fashion brands often promotes the latest trends, contributing to a throwaway culture where consumers quickly discard clothing in favor of the next fashionable item.
7. Increase in Intrusiveness and Privacy Concerns
Advertisements often invade personal spaces, appearing on websites, social media, and emails, raising privacy concerns.
Example: The issue of online tracking for targeted advertising has ignited discussions about intrusiveness and privacy as users express concerns about monitoring their online activities for advertising purposes.
8. Cultural and Social Impact
Advertisements can reinforce stereotypes or promote unrealistic body images, contributing to societal pressures and expectations.
Example: Companies often edit pictures of models to make them look perfect in ads for beauty products. This can make people feel they must look a certain way, which isn't real. It especially affects young people and can make them feel bad about their bodies.
Final Thoughts
Advertising is a great weapon to stay ahead of your competitors and also helps create monopolies over products and services, but at the same time, there is no set of rules that can tell if an advertisement will work or not. Thus, advertising is a risk companies and manufacturers must take to stay relevant in this competitive market. Thus, there are advantages and disadvantages of advertising.
Recommended Articles
We hope this EDUCBA information on "Advantages and Disadvantages of Advertising" benefits you. You can view EDUCBA's recommended articles for more information,