Updated June 23, 2023
Overview
Online games have evolved over time, from simple text-based games like Multi-User Dungeon to high-end open-world games such as Red Dead Online. They can be classified into two types: browser-based games and downloadable video game titles with online connectivity components. Various genres of online games are available, such as simulation, puzzle, action, racing, and strategy-based games. Players can play against other players in real-time or against the computer. The latest developments in online gaming also allow multi-player participants to have full-fledged video-based interaction for better coordination during the game. However, there are various advantages and disadvantages of online games.
Evolution of Online Games
Before proceeding, here is a brief history of the online gaming industry. The 1970s saw the beginning of online games with the creation of text-based adventure games such as Zork. In the 1980s, networked computer games emerged, which allowed players to compete against each other in real-time. However, with the advent of the internet in the 1990s, the online gaming industry observed a boom. In the 2000s, browser-based games and popular titles like World of Warcraft became more mainstream. Online gaming became more social, with players forming online communities to compete and collaborate. At present, online gaming has evolved into a multi-billion dollar industry that is growing exponentially.
Types of Online Games
There are various types of online games. A few common ones are:
Massively Multiplayer Online Games (MMOs): In these games, players take on the roles of characters in a virtual world. It often involves players customizing their characters and having a large number of players simultaneously. Common examples of MMOs are Final Fantasy XIV and World of Warcraft.
Battle Royale Games: These are multiplayer games that involve people playing against each other in a last-man-standing competition. They have gained widespread popularity recently. Some common battle royale games are PUBG, Fortnite, etc.
First-Person Shooter Games: These action games revolve around fighting out enemies with firearms and are played from a first-person perspective. They are highly popular among gamers, and some common examples are Call of Duty, Counter-Strike, etc.
Casual Games: They are simple to play with and have simple rules and goals. They are often played on mobile devices and personal computers (often non-gaming ones) for recreation. Some common ones are Candy Crush, Angry Birds, Tetris, Bejeweled, etc.
Other categories of online games include simulation, racing, sports, board games, etc.
Key Advantages and Disadvantages of Online Games
As mentioned before, online games have various advantages and disadvantages. The following are some of the key points: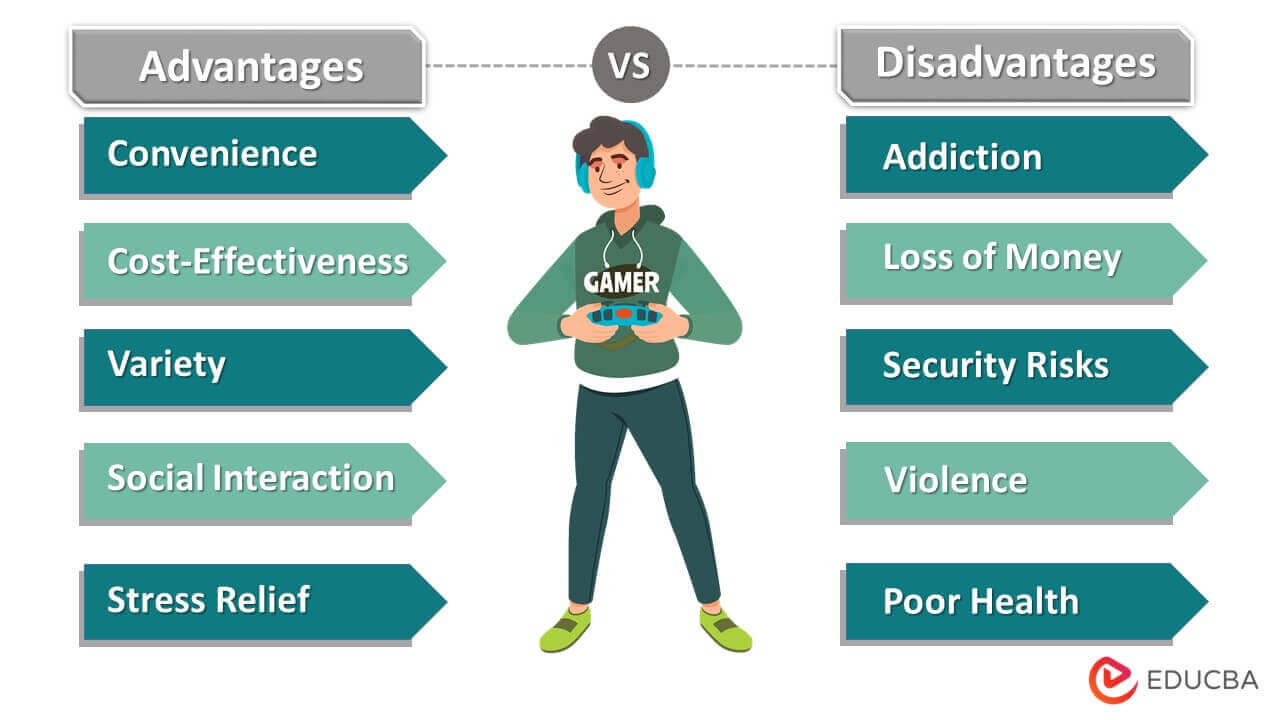 Advantages of Online Games
1. Convenience: Online games are convenient. One can play them from the comfort of their home or during travel, unlike physical games, which are limited to a particular location and often requires much physical effort. Furthermore, many online games can be played on browsers via laptop or smartphone, whereas a lot of traditional video games require high-end computers or gaming consoles.
2. Cost-effectiveness: Browser-based online games are usually very affordable or even free of charge. This is in contrast to traditional video games, which often need to be purchased (online or offline), or certain physical games that may require an entry fee or incur traveling expenses. Hence, online gaming stands out to be the most cost-effective game outlet.
3. Variety: There is a wide variety of online games available. A player can always find a game that suits his preferences, viz. classic board games, intellectual puzzles, action-adventure games, racing, and many more.
4. Social Interaction: Real-time interaction with co-players and building gaming communities is a key development in the online gaming domain. While real-time interaction enhances coordination between players during gaming, online gaming communities facilitate the participants to engage in discussions revolving around various topics such as gaming interests, sharing tips and strategies, etc.
5. Stress relief: Online games can be a great outlet for releasing stress after a demanding workday or week. People can spend some leisure time with their family on weekends by playing video games together for a while.
Disadvantages of Online Games
1. Addiction: One of the major disadvantages of online games is their addictive tendencies. People can potentially spend excessive time in these games and center their daily lives around them, which can lead to decreased productivity and increased chances of depression.
2. Loss of Money: Many online games involve real-money transactions for various purposes, such as registration or in-game purchases. This can often lead to people squandering too much of their money on these virtual pursuits, thereby causing financial difficulties in real life.
 3. Security Risks: Online games are vulnerable to hacking attacks. Which can expose players' bank accounts and personal information. This is due to the fact that some online games may require users to enter their credit card details or residential address for verification purposes.
4. Violence: A huge number of games feature violent content in one form or another. Such content can have drastically negative impacts on children (and even adults), for instance, desensitization to violence and aggressive behavior, which can even reach the extent of mass shootings and serial killings.
5. Poor Health: Spending excessive time on online games can lead to physical health issues, such as poor posture, carpal tunnel syndrome, headaches, and eye strain. It can also lead to poor mental health, including anxiety disorders and depression.
Interesting Facts of Online Gaming- Infographic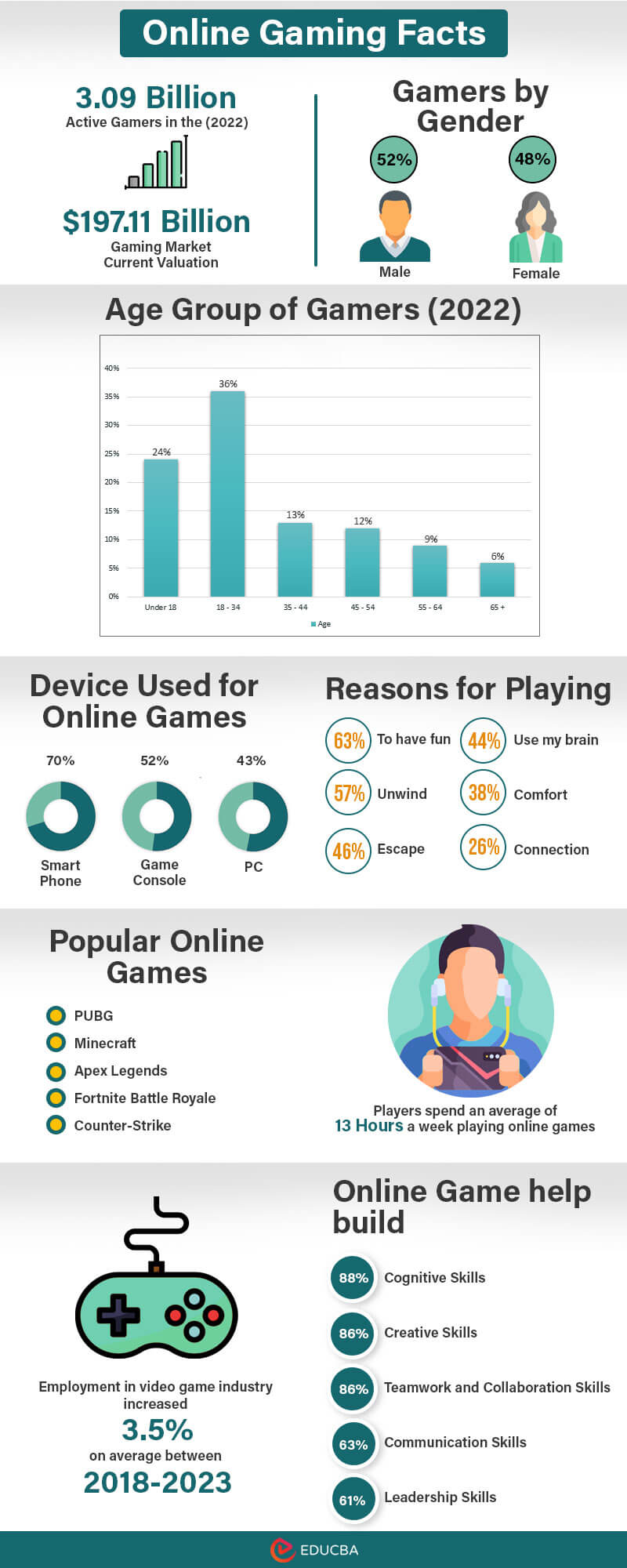 (Source: Statista, ESA)
Tips for Healthy Online Gaming
Here are some tips for maintaining healthy gaming habits:
1. Regular Breaks: It is important to take periodic breaks while playing games in order to prevent eye strain, headaches, posture problems, and so on. For example, take a break every 30 minutes, or take a day off from gaming.
2. Well-lit Room: Sitting in front of computers for a prolonged time in a dimly lit room can affect vision and cause many problems.
3. Set Limits: Predetermine the maximum time to be given to gaming activities and get off the screen once the limits are reached. It is important to determine a moderate to minimal amount of time and not let gaming take away most of the day.
4. Maintain Sleep Patterns: Avoid gaming habits at night, as it will disturb your sleep patterns and adversely affect your health. Do not compromise when it comes to the required portion of sleep.
5. Monitor Activities: Always monitor your children's gaming habits and activities, especially online ones. Caution them not to reveal any personal details on the web and inform them of its harms. For an adult as well, it is also necessary to exercise extra vigilance when interacting with strangers on the internet.
6. Physical Activities: Never forget to give your time to physical activities and explore the real world. It is always beneficial to take some time out of your day that is devoid of any digital devices, perhaps exploring nature or interacting with friends and family in person.
Comparison Table: Advantages and Disadvantages of Online Games
| | |
| --- | --- |
| Pros | Cons |
| Provides entertainment and social interaction to other players across the globe. | Can be addictive, distracting, and consume a significant amount of time. |
| More affordable than the costly traditional video games. | Can contain in-game purchases. |
| More convenient than traditional video games, as one can access them from any device with an internet connection. | Internet connectivity can sometimes expose the players' personal details and lead to theft or cyberbullying. |
| Can potentially keep the minds sharp and stimulated, as many games require strategic thinking, problem-solving, and decision-making skills. | Conversely, online games can cause various mental health issues like anxiety, depression, and a preference for isolation. |
Online Games Industry and Future Trends
The online gaming industry has experienced tremendous growth and has become a billion-dollar industry in recent years, with its current market valuation being $197.11 billion. The mobile gaming industry, particularly, is booming due to the widespread availability of budget smartphones. This trend is expected to continue as more people gain access to smartphones and game developers produce various games for mobile devices.
There have been various trends in the gaming industry, for instance, Augmented Reality (AR) and Virtual Reality (VR). AR technology allows gamers to experience games in the real world by overlaying digital objects onto the physical environment, for example, Pokemon Go. On the other hand, VR technology offers immersive virtual worlds to make gamers feel as though they are inside the game. In addition, the rapid development of artificial intelligence (AI) and machine learning (ML) provides developers with new ways to create more engaging and immersive gaming experiences. Recently, the phenomenon of Esports, i.e., competitive video gaming, has become popular, with major tournaments being held and attracting millions of viewers.
Impact on Social Interaction
There are both advantages and disadvantages of social interaction in online games. One of the positive aspects includes increased socialization between people. For example, real-time interaction between multiplayer participants can lead to better coordination in the game. These can often foster long-term bonding between players. Furthermore, many online gaming communities have emerged where gamers worldwide can participate in gaming tips and strategies, interests, and trivia discussions.
On the flip side, there is also the risk of cyberbullying and harassment. As these platforms often provide anonymity, people may be more audacious to engage in disrespectful and vile behavior towards others. Such behavior towards children, particularly, can have a negative impact on their mental health and personality.
Parental Concerns
Many parents may be concerned about their children's involvement in online gaming, including exposure to inappropriate content such as sexually explicit material, violence, and gore. Consequently, the parents may be concerned about the potential for their children to develop aggressive or sexually aberrant behaviors due to such exposure. Moreover, children are likely exploited by online predators they have met in gaming communities.
Effects of Online Games on Mental Health
Online games have several benefits. For instance, they can improve cognitive faculties such as problem-solving and decision-making abilities, as gamers need to consider various aspects and take strategically optimal steps in a game. Additionally, online gaming can facilitate improved hand-eye coordination in people.
Moreover, online gaming can serve as a primary outlet for stress relief for many people. Friends and family may gather on weekends to spend leisure time playing video games, which can increase bonding between individuals. However, it is important to note that online competitions can sometimes escalate into real-life fights between people. Thus, online games about mental health can have advantages and disadvantages.
Addiction to Online Games
Online gaming habits can escalate into addiction, which can negatively impact the physical and mental health of the individual. Physical harm, for instance, can include reduced sleep, vision problems, back pain, poor diet, and carpal tunnel syndrome. In addition to that, one can experience various other problems due to the lack of physical exercise.
Furthermore, gaming addiction can also lead to varying mental health issues. People may experience anxiety or depression owing to failures in the game. One may withdraw from social activities to prioritize gaming, affecting a person's real-life responsibilities. Such people may face difficulties in maintaining normal human relationships.
Conclusion
Online games can be a good source of entertainment and provide many benefits, such as developing problem-solving skills and spending leisure time with friends and family. However, there are also some disadvantages to playing online games. One significant negative effect is the potential for addiction, which can decrease productivity and social isolation. Additionally, online gaming can increase the risk of violent behavior among children.
Recommended Articles
Here are some related EDUCBA's recommended articles for expanding understanding: