Updated May 8, 2023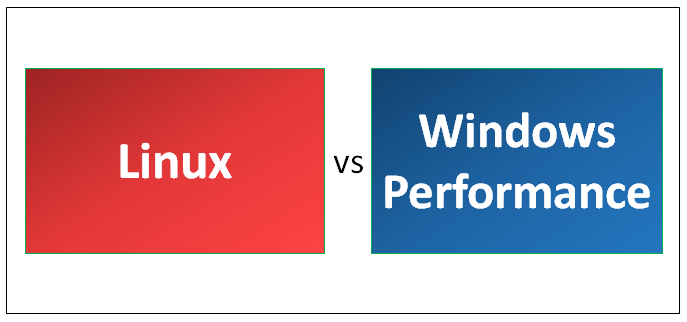 Differences Between Linux vs Windows Performance
Linux is an operating system. It is an open-source operating system built around the Linux kernel.it is packaged in a form known as Linux distribution and is used for desktop and server applications. Technical people generally use it because a person should know the various Linux commands. Windows is an operating system. It has a rich user interface; it is a paid operating system. For non-technical people, it is simple; technical and non-technical persons can also use it.
Let us learn much more about Linux and Windows Performance in detail.
The defining component of a Linux distribution is the Linux kernel, an operating system kernel first released on September 17, 1991, by Linus Torvalds. Many Linux distributions use the word Linux in their name. Linux was initially developed for personal computers based on the Intel x86 architecture but has since been ported to more platforms than any other operating system. Because of the dominance of the Linux kernel-based Android OS on smartphones, Linux has the most extensive installed base of all general-purpose operating systems.
Microsoft developed an operating environment named Windows on November 20, 1985, as a graphical operating system shell for MS-DOS in response to the growing interest in graphical user interfaces. Microsoft delivered many versions Windows operating system from time to time. It has created its dominance in the field of GUI-based operating systems.
Linux includes many releases like Android, Arch Linux, Debian Linux, Gentoo Linux, kabunto, Mandriva Linux, PC Linux, Red Hat Linux, Sabayon Linux, Slackware, and Suse Linux.
Microsoft delivered many versions of Windows from time to time which is the following.
Dos Based operating system includes Windows1, Windows2, Windows2.1x, Windows3, and Windows3.1x.
Windows 9x follows Windows 95, Windows 98, and Windows ME.
Windows NT  Client versions –Windows XP, Vista, Windows 7, Windows 8, Windows 10
Windows Server – Server 2003 (Home Server), Server 2008  (EBS 2008 ).
Head-to-Head Comparison Between Linux and Windows Performance (Infographics)
Below are the Top 5 Comparisons between Linux and Windows Performance:

Key Differences Between Linux and Windows Performance
Below are the lists of points that describe the key Differences Between Linux and Windows Performance:
Linux is an open-source operating system; anyone can download it, change the content as required, and distribute it.
Windows  OS is not an open-source operating system; if anyone wants to use Windows OS, he has to buy it .its; no one can change content as per their requirement, like Linux.
The Linux-based driver is not readily available because of its open source. This creates problems in using a particular hardware device. It is an open-source company that does not make a driver for Linux like Microsoft and Mac OS.
Windows OS is not open source, so its drivers are readily available; The availability of all hardware drivers allows plugging any hardware device into a Windows computer.
Linux is an open-source operating system, so users do not need to pay money to use Linux.
Windows OS is a product of Microsoft Company; it is not an open-source product, so to use the Windows operating system, users need to pay money then only they user can use it.
Support is an issue for open-source products; the company that distributes Linux makes money through the support.
While Windows OS support is available Out of the box, you don't need to worry about the support like the Linux product because it is a paid product. All hardware manufacturers will support Microsoft Windows. Due to many Microsoft users and a broader driver, all the hardware devices are supported.
Linux Operating system is very secure; it is famous for its security
When compared to Linux. Windows is much more prone to viruses and other attacks.
Most companies use Linux as a server because of its security and power; many companies support Linux, but a few are Red Hat, SUSE, and CANONICAL.
The Windows platform is most suggested if you plan to develop Windows-based applications, as Linux does not support Windows applications. In the case of the web, windows hosting makes it much more quickly. You don't have to worry if it helped or not.
Linux and Windows Performance Comparison Table
Following is the comparison table differences between Linux and Windows Performance.
BASIS FOR

COMPARISON

Linux
Windows Performance
Definition
It is an open-source operating system
It is an operating system developed by  Microsoft Company
Usage
People use Linux as an operating system and server since it provides a platform for running other applications.
Windows is an operating system that provides a platform to run other applications. It is an Operating system for personal computers, servers, mobile, etc.
Benefits
Linux is open-source; a developer can download and modify its kernel according to requirements and distribute it but has a restriction that can't charge for the money.
Windows is a low-cost operating system compared to Mac OS; having a rich graphical user interface makes this OS  easy to use.
Disadvantages
Driver issues are among the most significant problems with the Linux operating system. Its drivers are required to use any hardware device; in the case of the Linux operating system, it may become a big problem due to the availability of drivers.
Windows is paid operating system; Its driver is easily availed to computer manufacturers' websites; any hardware device can be plugged and played with the Windows operating system.
Developed Year
The first release of Linux came in 1991
It was developed in 1985 to use as an operating system.
Conclusion
The open-source software development model assembles this operating system, which finds its primary use in server purposes. It supports many programming languages like C, C++, JAVA, etc. You need not spend much money to obtain a license as its software comes from the GNU General Public License. Linux provides high performance on workstations and networks; you don't have to reboot periodically to maintain performance.
It is a family of operating systems from Microsoft. Programming languages such as Visual Home Page, The Official Microsoft ASP.NET Site, Visual C#, and Visual C++ are used, then it is better to opt for Windows hosting. Microsoft Windows has made many advancements and changes, which made it easy to use the operating system. It is easier than Linux. It needs to be rebooted periodically; otherwise, a system hang-up is possible.
Both Windows vs Linux Hosting has advantages and disadvantages. Choosing which hosting suits, you better would be best based on your requirements.
Recommended Articles
This has been a guide to the Differences Between Linux vs Windows Performance. Here we have discussed Linux vs Windows Performance head-to-head comparison, key differences, infographics, and comparison table. You may also look at the following articles to learn more –