About Kalpana Chawla
Kalpana Chawla (1962-2003), an Indian-American astronaut, was born in Karnal, India. A trailblazer, she became the first woman of Indian origin in space, soaring aboard the Space Shuttle Columbia. Her journey from a small town to NASA exemplified resilience and determination. Kalpana's contributions extended beyond her two spaceflights; she broke gender and cultural barriers, inspiring global collaboration in space exploration. Tragically, the Columbia disaster claimed her life in 2003. Still, her legacy endures, fostering educational initiatives and encouraging countless individuals to reach for the stars, making her an eternal symbol of courage and scientific achievement.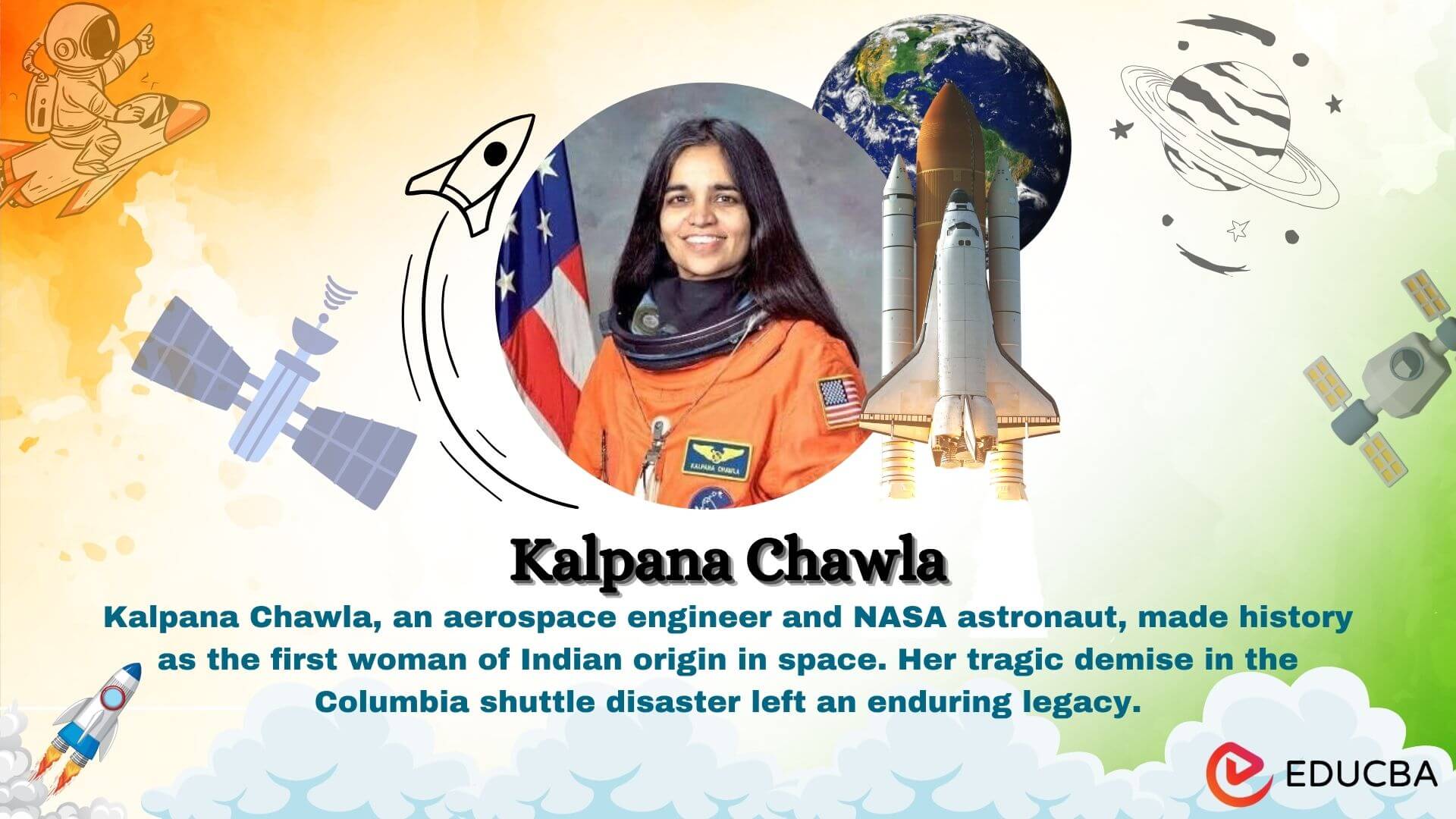 Significance and Impact of Her Contributions
Kalpana Chawla's achievements go beyond her impressive astronaut resume. Her achievements hold immense significance in various realms:
Breaking Barriers: Chawla dismantled barriers based on gender and culture, encouraging girls and women to choose careers in STEM.
Global Collaboration: As an international symbol of collaboration, Chawla's work with NASA showcased the power of global cooperation in pursuing scientific knowledge and space exploration.
Scientific Advancements: Chawla's space missions contributed to significant scientific advancements. Her involvement in various experiments and projects expanded our understanding of microgravity's effects on physical phenomena and biological processes.
Indian Pride: As the first woman of Indian origin in space, Kalpana Chawla became a source of immense pride for the Indian nation. Her achievements symbolize the potential of individuals from diverse backgrounds to reach new heights.
Educational Advocacy: Chawla's passion for education and learning was evident in her efforts to promote science education. Her legacy includes initiatives to encourage students to pursue STEM fields and reach for the stars.
In essence, Kalpana Chawla's life and work transcend the boundaries of space exploration. Her legacy continues to inspire and shape the future of scientific endeavors and the aspirations of individuals worldwide.
Early Life and Education
A. Childhood and Upbringing
Humble Origins: Kalpana Chawla was born on March 17, 1962, in Karnal, a small town in Haryana, India, into a middle-class family: her parents, Banarasi Lal and Sanjyothi, instilled values of hard work and perseverance.
Curiosity and Ambition: Even as a child, Chawla exhibited curiosity about the world around her. Her early fascination with the skies and stars laid the foundation for her future aviation and space exploration endeavors.
Supportive Family: Despite societal norms at the time, Kalpana's family encouraged her academic pursuits. Her parents recognized and nurtured her intellectual curiosity, providing a supportive environment for her aspirations.
B. Educational Background and Early Interest in Aviation
Academic Excellence: Kalpana excelled academically throughout her schooling. She pursued a degree in aeronautical engineering from Punjab Engineering College, Chandigarh, where her passion for aviation began to take flight.
Determination to Soar: Chawla's early interest in aviation transformed into a determined ambition to become a pilot. Despite the male-dominated field, she pursued a Master's in Aerospace Engineering from the University of Texas, further solidifying her commitment to an aerospace career.
First Glimpse of the U.S.: Kalpana Chawla's journey took a significant turn when she traveled to the United States for her higher education. This marked the beginning of her connection with NASA as she embarked on a path that would lead her to the stars.
Journey to NASA
Chawla's Path to Becoming an Astronaut
Educational Foundation: Kalpana Chawla's journey to NASA began with a solid educational foundation. Armed with a Master's degree in Aerospace Engineering from the University of Texas, her academic prowess set the stage for her future endeavors.
Professional Experience: Before joining NASA, Chawla gained practical experience in the aeronautical industry, working in the private sector in the United States. This real-world experience bolstered her credentials and showcased her capabilities in the field.
NASA Selection (1994): In 1994 NASA selected Kalpana Chawla as an astronaut candidate. This marked the formal initiation of her journey towards becoming an astronaut.
Astronaut Training: Chawla underwent intensive astronaut training at NASA, encompassing various skills and simulations. From mastering spacecraft systems to practicing spacewalks, her training equipped her for the challenges of space exploration.
First Spaceflight (STS-87): The culmination of Chawla's path to becoming an astronaut occurred on November 19, 1997, when she made history as the first woman of Indian origin in space during the STS-87 mission. Her role as a mission specialist was a testament to her dedication and competence.
Challenges Faced and Overcome in the Pursuit of Her Dream
Gender and Cultural Barriers: Kalpana Chawla faced the inherent challenges of being a woman in a predominantly male field. As an Indian-American, she navigated cultural differences, breaking through barriers to pursue her dream.
Competitive Selection Process: The selection process to become an astronaut at NASA is highly competitive. Chawla overcame numerous challenges to secure her place among the elite group of astronauts, showcasing her technical skills and resilience.
Intensive Training Regimen: Astronaut training is physically and mentally demanding. Chawla had to overcome the rigorous training regimen, demonstrating her ability to adapt to challenging situations and excel in high-pressure environments.
Personal Sacrifices: The pursuit of becoming an astronaut often requires personal sacrifices. Chawla's journey involved relocating, long hours of training, and separation from her family, illustrating her sacrifices to achieve her dream.
Columbia Space Shuttle Disaster: The ultimate tragedy struck during Chawla's second spaceflight, STS-107, in 2003. The Columbia Space Shuttle disintegrated upon re-entry, resulting in the loss of Chawla and her fellow crew members. This devastating event highlighted the inherent risks and challenges of space exploration.
Space Missions
Overview of Kalpana Chawla's Spaceflights
STS-87 (1997): Kalpana Chawla made history on November 19, 1997, as the first woman of Indian origin in space during the STS-87 mission. Serving as a mission specialist, she contributed to various experiments and conducted the first deployment of the Spartan satellite.
STS-107 (2003): Chawla's second spaceflight, STS-107, began on January 16, 2003. This mission aimed to conduct experiments across various scientific disciplines during a 16-day orbit.
Notable Achievements and Experiments Conducted in Space
Microgravity Experiments: Chawla actively participated in experiments that explored the effects of microgravity on physical and biological processes. These experiments contributed valuable insights into the behavior of materials and organisms in space.
Spartan Satellite Deployment: During STS-87, Chawla played a crucial role in deploying the Spartan satellite, a solar-observing satellite designed to study the Sun's outer layers. The successful completion of this mission was a significant achievement in space exploration.
Advanced Spaceplane Design: Chawla's aerospace engineering expertise contributed to spaceplane design advancements. Her insights and experiences on the Columbia mission added to the ongoing efforts to enhance the safety and efficiency of space travel.
Human Adaptation to Space: Chawla's presence on both spaceflights allowed scientists to study how the human body adapts to extended periods in microgravity. These findings were crucial for planning future long-duration space missions.
Materials Science Experiments: Chawla participated in experiments that investigated the behavior of materials in unique space conditions. These studies had implications for developing new materials with enhanced properties on Earth.
Educational Outreach: Besides scientific experiments, Chawla actively engaged in educational outreach from space, connecting with students and inspiring the next generation of scientists and space enthusiasts.
Tragedy and Resilience
1. The Columbia Space Shuttle Disaster
Mission Overview:
STS-107: On February 1, 2003, the Columbia Space Shuttle tragically disintegrated during re-entry into Earth's atmosphere. This mission, designated STS-107, marked the end of a 16-day scientific research expedition.
Loss of the Crew:
Catastrophic Consequences: The disaster led to the tragic loss of all seven crew members, including Kalpana Chawla. The crew's untimely demise sent shockwaves through the global space community.
Investigation and Findings:
Root Causes: Subsequent investigations revealed that damage to the shuttle's thermal protection system during liftoff had led to the fatal breach during re-entry. The tragedy underscored the risks inherent in space exploration.
2. Chawla's Legacy and Impact on Space Exploration
Symbol of Inspiration:
Eternal Symbol: Kalpana Chawla's legacy endures as an inspiration to aspiring astronauts and scientists worldwide. Her life story serves as a beacon of hope and determination, especially in adversity.
Advancement of Diversity:
Breaking Barriers: Chawla's journey shattered gender and cultural barriers, paving the way for increased diversity in space exploration. Her achievements demonstrated that talent knows no boundaries.
Educational Initiatives:
Commitment to Education: Chawla's legacy extends to educational initiatives that foster students' interest in science and space exploration. Scholarships and programs in her name continue to support aspiring scientists.
Impact on Space Safety:
Safety Enhancements: The Columbia disaster prompted a reevaluation of space shuttle safety protocols. Chawla's sacrifice contributed to implementing rigorous safety measures to safeguard future space missions.
Global Collaboration:
Legacy of Unity: Chawla's work with NASA emphasized the importance of global collaboration in space exploration. Her legacy encourages international partnerships in the pursuit of scientific knowledge beyond Earth.
Memorial Recognition:
Honors and Memorials: Kalpana Chawla received posthumous honors and memorials worldwide, including naming a crater on Mars in her honor. These recognitions symbolize the lasting impact of her contributions to space exploration.
Inspirational Figure
Chawla's Influence on Aspiring Astronauts and Scientists
Breaking Gender and Cultural Barriers:
Pioneer for Women: Kalpana Chawla's journey to become an astronaut broke gender barriers, inspiring women globally to pursue careers in STEM fields. Her achievements demonstrated that gender should not limit one's aspirations.
Diversity and Inclusion:
Cultural Diversity Advocate: As the first woman of Indian origin in space, Chawla became a symbol of cultural diversity. Her success encouraged individuals from various backgrounds to pursue careers in space exploration.
Resilience in the Face of Challenges:
Overcoming Adversity: Chawla's story of resilience in the face of challenges, including the Columbia disaster, is a powerful lesson in perseverance. Her ability to navigate setbacks is a source of inspiration for those facing obstacles.
Educational Advocacy:
Passion for Education: Chawla actively engaged in educational outreach, inspiring countless students to dream big and pursue careers in science. Her passion for education left a lasting impact on the next generation.
Living the Dream:
From Dreams to Reality: Kalpana Chawla's journey from a small town in India to the vastness of space illustrates that dreams, no matter how audacious, can be realized with dedication, hard work, and a commitment to excellence.
Awards and Honors Received Posthumously
Recognition of Contributions:
National and Global Honors: Kalpana Chawla received posthumous recognition for her contributions to space exploration. Awards and honors from India and worldwide acknowledge her impact on science and humanity.
Educational Initiatives in Her Name:
Legacy Scholarships and Programs: Educational initiatives and scholarships established in Chawla's name continue supporting students pursuing STEM fields. These initiatives uphold her commitment to education.
Eternal Symbol of Courage:
Remembering the Sacrifice: Kalpana Chawla remains an eternal symbol of courage and sacrifice in pursuing scientific knowledge. Her legacy serves as a reminder of the inherent risks and the indomitable spirit of exploration.
Role Model for Future Generations:
Enduring Inspiration: Chawla's life and achievements make her a role model for future generations. Her impact extends beyond her time, inspiring individuals to aim for the stars and reach new heights.
Conclusion
Kalpana Chawla's spirit was indomitable. She embarked on a trailblazing journey, becoming the first woman of Indian origin to travel to space. Tragically, her life ended in the Columbia disaster. However, her legacy endures. Her impact extends beyond the scientific realm, influencing global perspectives on diversity, education, and the pursuit of dreams. Chawla's resilience, advocacy, and contributions to space exploration continue to inspire generations. As we reflect on her personal and professional legacy, we recognize the lasting imprint of a visionary whose courage and achievements transcend the boundaries of space. Her inspiration echoes in the hearts of those who continue to be inspired by her.
Recommended Articles
We hope that this EDUCBA information on "Kalpana Chawla" was beneficial to you. You can view EDUCBA's recommended articles for more information,