Updated November 8, 2023
Sardar Vallabhbhai Patel Essay
Sardar Vallabhbhai Patel, a towering figure in Indian history, is widely recognized as the "Iron Man of India." Born in 1875, Patel played a crucial role in India's independence movement, working closely with Mahatma Gandhi. His significance lies in his unparalleled leadership, unwavering determination, and remarkable statesmanship, which were instrumental in uniting the diverse princely states into a single, unified India after gaining independence from British rule in 1947. His dedication to national integration earned him the title of the "Bismarck of India." Sardar Patel's legacy continues to shape the political and social landscape of the world's largest democracy.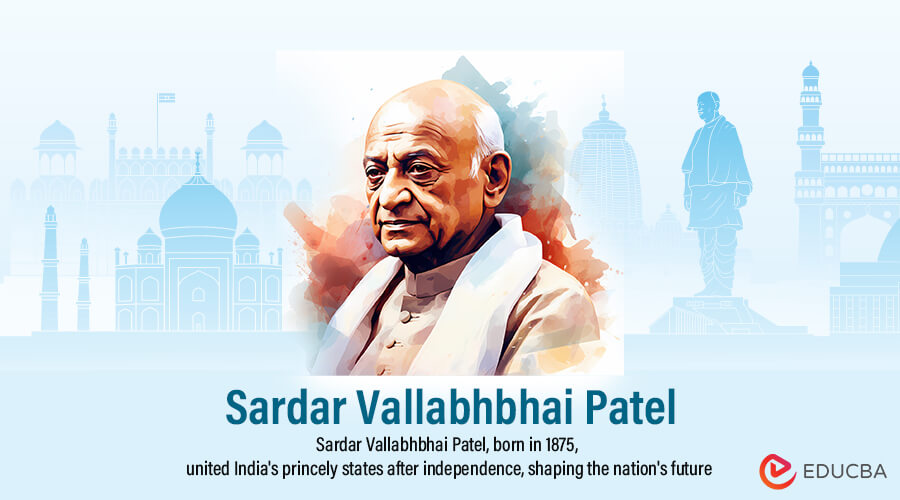 Early Life and Family Background
He hailed from a humble, agriculturally oriented family with a deep-rooted belief in traditional Indian values and culture.
His father, Jhaverbhai Patel, was a farmer, and his mother, Ladbai, was a profoundly religious and supportive figure in his life.
The Patel family had five children, and Vallabhbhai Patel was the fourth. His early life was marked by a close-knit and nurturing familial environment.
He exhibited leadership qualities from a young age, demonstrating a strong sense of responsibility and an unwavering commitment to his family's well-being.
Patel's upbringing instilled a profound respect for his cultural heritage, shaping his vision for a united and culturally rich India.
Patel's humble beginnings and family background made him a resilient leader in India's independence struggle.
Education
Early Education: Vallabhbhai Patel's early education took place in Karamsad, a small village in Gujarat, where he received primary education in a local school.
Higher Education: He moved to Nadiad to continue his education, where he attended the N. K. High School and, later, the Central High School before completing his schooling.
Law Studies: Vallabhbhai Patel pursued a degree in law in England at the Middle Temple Inn in London. This decision was influenced by his desire to advocate for the rights and justice of his fellow countrymen.
Barrister-at-Law: After completing his legal studies, he became a barrister-at-law upon returning to India. He began practicing law in Godhra, and his legal career was the stepping stone to his political journey.
Role in Legal Cases: Patel gained recognition as a skilled and principled lawyer who represented the underprivileged and fought for their rights.
Connection with Mahatma Gandhi: His involvement in civil rights cases brought him into contact with Mahatma Gandhi, who was impressed by his commitment to justice and asked him to join the Indian National Congress and the freedom struggle.
Educational Advocacy: Patel was also a proponent of education and understood its importance for developing individuals and the nation. He advocated for quality education and played a role in educational initiatives.
Leadership and Legacy: Patel's education not only equipped him with the legal knowledge to fight for India's independence but also instilled in him the principles of justice and unity, which he later applied as the "Iron Man of India"
Legal Career and Political Awakening
Vallabhbhai Patel embarked on a successful legal career after studying law in England, where he honed his skills as a barrister.
His legal practice in Gujarat brought him in contact with social and political issues, leading to his political awakening.
Inspired by Mahatma Gandhi's non-violent philosophy and principles, Patel joined the Indian National Congress in 1917.
He quickly rose through the party ranks and became an integral part of India's struggle for independence.
Patel's legal expertise and political acumen contributed significantly to the Congress's efforts in challenging British colonial rule.
His passion and commitment to the cause of India's freedom marked the start of his revolutionary political career in India.
Role in the Indian Independence Movement
Sardar Vallabhbhai Patel, with his active participation and countless contributions, played a vital role in the Indian independence movement:
Non-Cooperation Movement: Patel staunchly supported Mahatma Gandhi's non-violent non-cooperation movement, which aimed to boycott British institutions and products, emphasizing civil disobedience as a means to challenge colonial rule. He actively participated in various non-cooperation activities.
Civil Disobedience Movement: Patel continued his involvement in the Civil Disobedience Movement, which urged Indians to break oppressive laws and pay no taxes. He was detained multiple times for his role.
Bardoli Satyagraha: Patel's leadership shone in the Bardoli Satyagraha, a successful peasant movement in Gujarat. He spearheaded the farmers' protest against oppressive tax policies, earning him the title "Sardar" (leader).
Salt March: Patel played a supporting role in the historic Salt March led by Mahatma Gandhi. This march to the Arabian Sea, where people illegally produced salt, represented a significant protest against the British monopoly on salt production and distribution.
Quit India Movement: During World War II, Patel supported the Quit India Movement, which called for an end to British rule in India. He, along with other leaders, was imprisoned by the British.
Patel's unrelenting commitment to the cause of independence, his leadership in numerous movements, and his support for Gandhi's principles made him a famous and influential figure in the nation's freedom struggle.
Unity and Integration of India
Sardar Vallabhbhai Patel's contribution to India's unity and integration after independence was monumental:
Integration of Princely States: After India gained independence in 1947, the subcontinent was divided into princely states, with many of them hesitating to join the Indian Union. Patel, as India's Deputy Prime Minister and Minister of Home Affairs, took on the colossal task of integrating these states into a unified nation.
Diplomacy and Persuasion: Patel used diplomacy, negotiation, and persuasion to convince the reluctant princely rulers to accede to India. He emphasized the benefits of joining a united and diverse India and often visited princely states to secure their accession.
Use of Force When Necessary: Patel was also prepared to use force when peaceful methods failed. In the case of the princely state of Hyderabad, they launched a military operation, codenamed 'Operation Polo,' to ensure its integration into India.
Successful Integration: Patel's relentless efforts led to the successfully integrating of over 560 princely states into the Indian Union, creating a geographically and politically unified India. His leadership in this endeavor earned him the title "Architect of United India."
Sardar Patel was pivotal in ensuring India's territorial and political integrity after gaining independence from British colonial rule.
Challenges and Achievements
Sardar Vallabhbhai Patel faced tremendous challenges when he integrated princely states into the newly established Indian Union, yet his achievements were nothing short of extraordinary.
Challenges
Reluctant Princely States: Many princely states, especially those with Muslim-majority populations like Junagadh and Hyderabad, expressed reluctance to join India and even contemplated aligning with Pakistan.
Geographical Diversity: The scattering of India's princely states across the subcontinent posed logistical challenges in communication and administration.
Ethnic and Linguistic Diversity: India's princely states were diverse in terms of languages, customs, and cultures, making the integration process complex.
Lack of Resources: Patel had limited resources for the integration efforts, which included convincing, cajoling, and sometimes using military action to secure accession.
Achievements
Diplomatic Success: Patel's tireless diplomatic efforts and persuasive skills led to the majority of princely states agreeing to accede to India peacefully.
Operation Polo: When peaceful negotiations failed in the case of Hyderabad, Patel sanctioned "Operation Polo," a military action that swiftly integrated the Nizam's dominion into India.
Junagadh and Kashmir: Patel successfully resolved the disputes over Junagadh and Jammu and Kashmir, ensuring these states' accession to India.
Creating a United India: Patel's vision and determination successfully integrated over 560 princely states into a unified India, ensuring its territorial and political integrity.
Iron Man of India: Patel's accomplishments earned him the title "Iron Man of India" and a place in history as one of the architects of India's unity.
Legacy of Sardar Vallabhbhai Patel
India will always value the legacy of Sardar Vallabhbhai Patel:
Architect of United India: Patel's most notable achievement was integrating over 560 princely states into the Indian Union after independence, ensuring India's territorial and political unity.
Symbol of Unity: He remains a symbol of national unity and integrity, as his efforts prevented the partitioning of India into multiple, fragmented entities.
Political Stalwart: Patel's leadership, pragmatism, and dedication inspire leaders and citizens alike, emphasizing the importance of strong, principled leadership.
Statue of Unity: In honor of his legacy, Gujarat erected the "Statue of Unity," the world's tallest statue, signifying his enduring influence.
Founding Father: Patel's role in shaping the Indian nation, both during the independence movement and post-independence, secures his place among the founders of modern India.
Comparison with Other Leaders
When one compares Sardar Vallabhbhai Patel to other prominent  leaders of his day, it reveals distinct differences in their roles and approaches:
Mahatma Gandhi: Gandhi and Patel, prominent leaders in the Indian independence movement, differed in their approaches. Patel's recognition stemmed from his practicality and readiness to use force when necessary, while Gandhi advocated a well-known philosophy of non-violence and civil disobedience. Their approaches worked well together, with Gandhi providing the moral and philosophical foundations and Patel contributing his strategic and administrative expertise.
Jawaharlal Nehru: Patel and Nehru played significant roles in the Indian government after independence. As the Deputy Prime Minister and Minister of Home Affairs, Patel took responsibility for integrating princely states into the newly formed country. At the same time, Nehru served as the first Prime Minister, concentrating on developing foreign policy and nation-building. Navigating the complex challenges faced by India after gaining independence was crucial for their partnership.
Subhas Chandra Bose: Bose, unlike Patel, had a more aggressive approach to achieving India's independence, seeking support from Axis powers during World War II. Patel's loyalty was to Gandhi's non-violence, which led to differing strategies in the quest for independence.
B.R. Ambedkar: While Patel was deeply involved in integrating princely states and the unification of India, Ambedkar played a crucial role in drafting the Indian Constitution and advocating for the rights of marginalized communities. Their roles were distinct but complementary in shaping India's post-independence future.
Conclusion
Sardar Vallabhbhai Patel's journey from humble beginnings to "Iron Man of India" reflects his unwavering dedication and leadership. His pivotal role in India's struggle for independence and the successful integration of princely states into a united nation underscores his significance in Indian history. Patel's legacy as a unifier, diplomat, and statesman continues to shape the principles of unity and leadership in India, reminding us of the crucial role he played in the country's freedom and its post-independence consolidation. Sardar Vallabhbhai Patel's contributions remain an enduring source of inspiration for generations to come.