Updated November 8, 2023
About Rabindranath Tagore
'Ekla Chalo Re'
In the peaceful moments of dawn, when the world is still covered in darkness, a gentle melody often floats through the air and touches the hearts of millions. Rabindranath Tagore was born on May 7, 1861, in Calcutta, British India, which is now Kolkata. India's versatile poet, philosopher, and Nobel laureate echoes not only across time but also across borders, bringing with it a message of strength and individuality. Tagore's life was a symphony of art, literature, and visionary ideas, and within his verses lies an extraordinary journey that transcends generations and continues to inspire us to this day.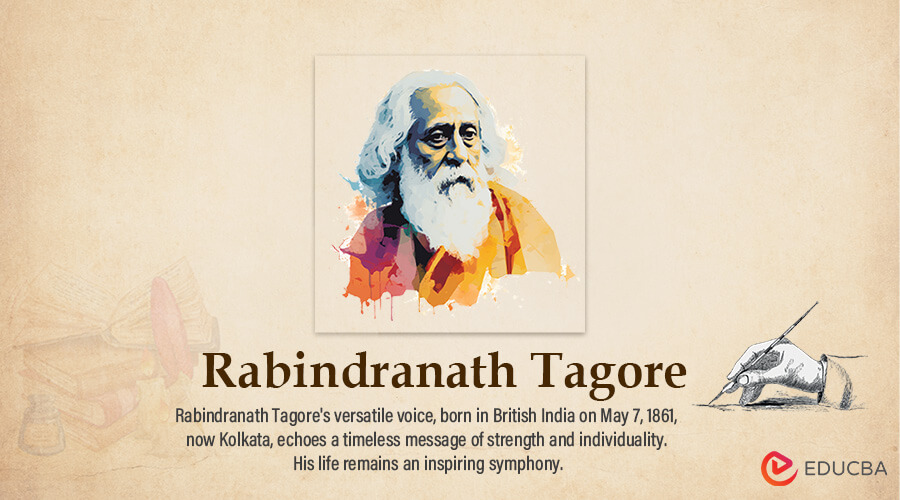 Table of Contents
Early Life and Family
"The child who is not embraced by the village will burn it down to feel its warmth."
This quote exemplifies Tagore's profound understanding of the significance of community and the early influences that molded his life. Now, let's explore his early life and family background.
Rabindranath Tagore was born into a family of wealth and intellect. His father, Debendranath Tagore, played a significant role in the Brahmo Samaj, a social and religious reform movement in 19th-century India. Rabindranath's mother, Sarada Devi, instilled in him a deep appreciation for the Bengali language and its cultural legacy.
Tagore began his formal education in England at the age of eight but preferred to learn through personal exploration and discussions with scholars. His family environment, characterized by intellectual curiosity, artistic expression, and social awareness, played a crucial role in shaping his identity as a poet, writer, and thinker. These formative years made him a global literature icon and a visionary leader in India's struggle for independence.
Education and Literary Beginnings
"Don't limit a child to your own learning, for he was born in another time."
This insightful quote by Tagore emphasizes the importance of adapting education to the unique needs and individuality of each child, reflecting his progressive views on education. Let's take a closer look at his education and literary journey.
Rabindranath Tagore had an unconventional education journey. He was sent to England at 13 for formal education but returned to India to embark on a journey of self-education. He started composing poems, plays, and songs that showcased his natural gift for poetic expression. At 16, he published his first collection of poems titled "Kabi Kahini". A profound connection to the natural world and a deep empathy for human experiences characterized his literary journey. He left an indelible mark on the world of literature and earned recognition as one of the greatest poets and writers ever.
Works of Rabindranath Tagore
"Poetry comes from the heart; it is not about rules but the essence of life."
This profound quote captures Tagore's philosophy on poetry and creativity, setting the tone for discussing his diverse and impactful body of work.
Rabindranath Tagore's literary repertoire is vast and varied, encompassing poetry, prose, plays, essays, and songs. His works are deeply rooted in the cultural and philosophical traditions of India, yet they possess a universal appeal that transcends geographical and linguistic boundaries. Here are some of his most significant contributions:
1. Poetry
Many regard Tagore's poetry as the heart and soul of his literary legacy. His poetic compositions, both in Bengali and translated into English, exhibit lyrical beauty, profound spiritual insights, and deep emotional resonance. His magnum opus, "Gitanjali" (Song Offerings), a collection of poems, earned him the Nobel Prize in Literature in 1913. In these verses, Tagore explored themes of love, spirituality, and the divine, leaving an indelible mark on the world of poetry.
2. Prose
Tagore's prose writings include novels, short stories, and essays that reflect his keen observations of society and human nature. "The Home and the World" (Ghare-Baire) is one of his acclaimed novels, addressing themes of nationalism, individuality, and the clash of traditional and modern values. His short stories, collected in works such as "Galpaguchchha" (The Home and the World of Stories), showcase his mastery of storytelling, delving into the intricacies of human relationships and societal norms.
3. Plays
Tagore was a prolific playwright, and his theatrical works often revolved around complex characters and philosophical dilemmas. His plays, including "The Post Office" (Dakghar) and "The King of the Dark Chamber" (Raja), blend poetic language with deep philosophical undertones, exploring themes of freedom, human suffering, and the search for truth.
4. Essays and Prose Poetry
In addition to his creative works, Tagore wrote essays and prose poetry on various topics, including education, nationalism, spirituality, and social issues. His essays, collected in volumes like "Sadhana" and "Nationalism," showcase his intellect and visionary ideas, inspiring generations of readers and thinkers.
5. Songs (Rabindra Sangeet)
Tagore composed over 2,000 songs, collectively known as Rabindra Sangeet. These songs, blending soul-stirring melodies with poetic lyrics, celebrate the beauty of nature, love, and spirituality. His songs remain an integral part of Indian music and cultural heritage, revered for their timeless appeal.
Contribution to Politics
"Where the mind is without fear, and the head is held high, where knowledge is free, where the world has not been broken up into fragments by narrow domestic walls."
This famous quote reflects Tagore's vision for a world free from fear and division, emphasizing the importance of knowledge and unity.
Rabindranath Tagore was not just a literary giant; he was also a visionary leader who made significant contributions to Indian and international politics:
Nationalism and Freedom Movement: Tagore was an ardent advocate for Indian nationalism and played a crucial role in the freedom movement. However, his approach was unique; he emphasized a more inclusive and humanistic form of nationalism. He composed the national anthems of both India ("Jana Gana Mana") and Bangladesh ("Amar Shonar Bangla"), which are sung with great pride to this day.
Critique of Nationalism: While he supported the cause of Indian independence, Tagore was critical of certain forms of nationalism that he saw as divisive. He famously renounced his knighthood in protest of the Jallianwala Bagh massacre and spoke out against blind nationalism, emphasizing the importance of transcending narrow domestic walls.
Internationalism and World Peace: Tagore strongly advocated for international cooperation and peace. He traveled widely and engaged with global thinkers and leaders. He spoke at the League of Nations and promoted the idea of a united world without borders, where humanity could live in harmony. His works, such as the play "The Post Office," conveyed messages of peace and universal brotherhood.
Educational Reforms: Tagore's educational philosophy was deeply intertwined with his political vision. He founded Visva-Bharati University to foster a spirit of learning and culture that transcended national boundaries. This institution embodied his belief in education as a means to bring about social and political change.
International Recognition
"The butterfly counts not months but moments and has time enough."
This insightful quote highlights Tagore's profound understanding of time and the fleeting nature of life's moments. It serves as an apt introduction to his international recognition, which was marked by timeless achievements.
Rabindranath Tagore's genius transcended borders, earning him international recognition and acclaim in various spheres:
Nobel Prize in Literature: In 1913, Rabindranath Tagore became the first non-European to win a Nobel Prize for his collection of poems "Gitanjali", which gained him worldwide recognition and underlined the universal appeal of his poetry.
Global Travels and Lectures: Tagore's travels took him to numerous countries, where he engaged with intellectuals, artists, and political leaders. He delivered lectures at prestigious institutions, including Harvard University and Oxford University, sharing his thoughts on various topics.
International Friendship and Correspondence: Tagore formed deep friendships with luminaries such as Albert Einstein, H.G. Wells, and Romain Rolland. His correspondence with these influential figures enriched his intellectual and cultural exchange with the Western world.
Promotion of Indian Culture: Tagore actively promoted Indian culture and art internationally. He introduced the world to Indian classical music and dance and was instrumental in popularizing the concept of "India" in the global imagination.
Translation of Works: Many of Tagore's works were translated into various languages, making his poetry and prose accessible to a wider international audience. These translations helped spread his message of spirituality, humanism, and love.
Universal Appeal of His Poetry: Tagore's poetry, with its themes of love, nature, spirituality, and human emotions, resonated with people worldwide. His works continue to be celebrated and translated into numerous languages, ensuring his enduring legacy.
Rabindranath Tagore Writings
Poetry:
Gitanjali (Song Offerings)
Gitimalya (Wreath of Songs)
Sonar Tari (The Golden Boat)
Balaka (The Flight of Cranes)
Purabi (The Eastern Surges)
Kheya (The Boat)
Gitanjali (Song Offerings) – English translation
Muktadhara (The Fountain Head)
Fiction:
Ghare-Baire (The Home and the World)
Chokher Bali (The Grain of Sand)
Noukadubi (The Wreck)
Char Adhyay (Four Chapters)
Malancha (The Garden)
Shesher Kobita (The Last Poem)
Drama:
The Post Office (Dakghar)
The King of the Dark Chamber (Raja)
The Red Oleander (Raktakarabi)
The Waterfall (Nabajatak)
The Crown (Mukut)
Essays and Prose:
 Sadhana: The Realization of Life
Nationalism
The Religion of Man
My Reminiscences
Creative Unity
The Centre of Indian Culture
The Home and the World (A collection of essays)
Songs (Rabindra Sangeet):
Gitabitan (Song Compilation)
Conclusion
"In the world's audience chamber, the simple blade of grass sits on the same carpet with the sunbeams, and the stars of midnight." – Rabindranath Tagore
Rabindranath Tagore was a poet whose life and legacy reflected universalism present in his poetry. He was able to bridge cultures, inspire people, and promote values such as love, humanity, and oneness. His influence left a lasting impact on literature, art, and people's hearts worldwide. His words encourage us to strive for a world where diversity can coexist with harmony and even the simplest things can bring meaning to our lives. In essence, Rabindranath Tagore is the timeless poet of humanity.
Recommended Articles
We hope that this EDUCBA information on "Rabindranath Tagore" was beneficial to you. You can view EDUCBA's recommended articles for more information.