Updated July 3, 2023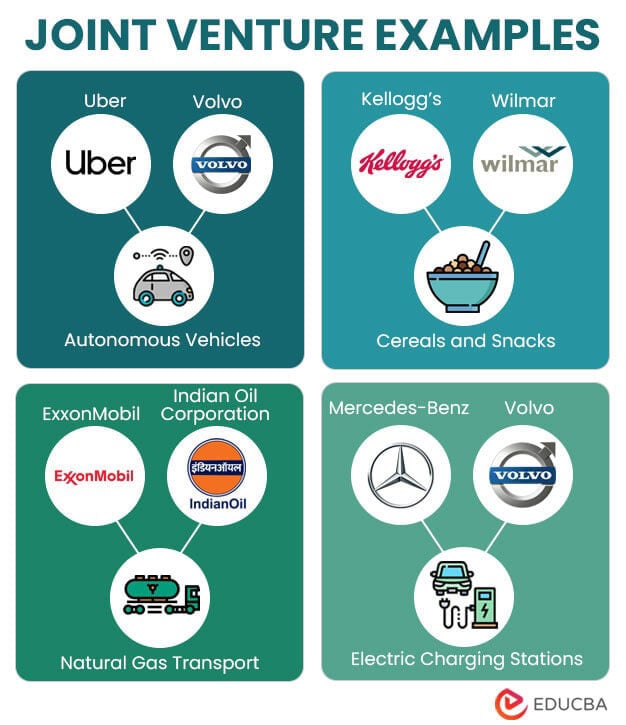 Overview of Joint Venture Examples
Joint Venture is a collaboration of two or more parties for a common business purpose. These parties, also known as co-ventures, can be enterprises, organizations, or even individuals. In a joint venture, the involved parties agree to share the profits and incur the losses in accordance with their ownership ratio.
Joint ventures can serve various purposes, such as exploring a new market or a region, actualizing high-budget projects, innovating new products, etc. These ventures can be a partnership, a separate legal entity, or a contractual agreement. Furthermore, there is no designated governing body for overseeing joint ventures' operations, although they may be subjected to various laws and regulations depending on the industry.
Examples of Joint Venture
The following are some examples of a joint venture project:
#1 Verily and GlaxoSmithKline
Verily, the life sciences unit of Alphabet Inc. (Google's parent company), entered into a joint venture agreement with the British pharmaceutical company, GlaxoSmithKline (GSK), to develop bioelectric medicines. The project aimed to create miniature electronic implants that treat various conditions, including asthma and diabetes. The estimated cost of the venture was $715 million.
Under the agreement, GSK will have a majority ownership of 55% in the joint venture, while Alphabet will hold a minority ownership of 45%. This partnership aimed to combine GSK's pharmaceutical expertise with Alphabet's advanced technologies to develop innovative treatments for various health conditions that can improve the quality of life for patients worldwide.
#2 Uber and Volvo
Taxi giant Uber and heavy vehicle manufacturer Volvo announced a joint venture agreement to develop self-driving cars. The two companies planned to jointly invest $300 million in the project, each contributing $150 million. Hence, the ownership ratio between the two companies was 50%-50%.
The joint venture aimed to develop autonomous vehicles that could be used for ride-hailing services. Uber provided its ride-hailing services and autonomous technology expertise, while Volvo contributed its experience in automotive design and manufacturing.
#3 Sony and Ericsson
Sony Ericsson was a joint venture between Japanese electronics conglomerate Sony Corporation and Swedish telecommunications firm Ericsson, established in 2001. The collaboration aimed to manufacture mobile phones and other gadgets under the brand name "Sony Ericsson."
The joint venture combined Sony's expertise in consumer electronics with Ericsson's expertise in mobile telephony. It became one of the largest mobile phone manufacturers in the world, known for producing some of the most innovative devices, such as the Walkman. In 2012, Sony acquired Ericsson's share in the joint venture and renamed it Sony Mobile Communications.
#4 NBC and Disney
NBC Universal Television Group (a subsidiary of Comcast) and Disney ABC Television Group (a subsidiary of The Walt Disney Company) entered into a joint venture in 2008 to create a new online video streaming platform "Hulu."
The aim was to provide a high-quality streaming service allowing viewers to watch TV shows, movies, and other content on computers, laptops, and mobile devices. In 2022, Hulu had over 48 million subscribers valued at over $25 billion.
#5 Kellogg's and Wilmar
Another joint venture formation example is between Kellogg's and Wilmar International Limited. The former wanted to expand its cereals and other snack foods business in the Chinese market.
The partnership allowed Kellogg's to benefit from Wilmar's extensive distribution and supply chain network in China. In contrast, Wilmar was able to expand its business and streams of revenue. The joint venture was a successful partnership that helped both companies attain their business objectives.
#6 Microsoft and Cruise
Microsoft and Cruise formed a strategic partnership in January 2021 to speed up the commercialization of driverless vehicles. Microsoft will invest $2 billion in Cruise as part of the joint venture, and Cruise will use Microsoft's cloud computing and AI technology to create and deploy self-driving vehicles.
The partnership between Microsoft and Cruise also includes GM (or General Motors), the parent organization of Cruise. GM acquired Cruise in 2016 and has since been heavily investing in the development of self-driving technology.
#7 Apple and Unicom
Apple and China Unicom entered into a joint venture in 2009 to bring the iPhone to China's huge growing market. As per the agreement, China Unicom became the exclusive carrier for the iPhone in China and agreed to purchase a certain number of iPhones from Apple over three years.
This was Apple's official breakthrough into China's telecommunications sector. However, Apple encountered substantial obstacles in China, such as fierce competition from local smartphone manufacturers and government rules that hampered the company's ability to completely penetrate the Chinese market.
#8 Mercedes-Benz and Volvo
In 2020, Daimler (now Mercedes-Benz) and Volvo Group signed a joint venture to design and deploy recharge stations for heavy-duty trucks and coaches. The firms agreed to invest 1.2 billion Euros over the next few years, with Daimler and Volvo Group holding a 50% stake in the initiative. The collaboration was viewed as a significant step in developing sustainable transportation systems.
#9 ExxonMobil and Indian Oil Corporation
ExxonMobil and Indian Oil Corporation, alongside Chart Industries, have agreed upon a joint venture to build a virtual pipeline project in India. The objective is to transport liquefied natural gas (LNG) via road, rail, and water to areas of the country that currently lack pipelines.
Both ExxonMobil and Indian Oil Corporation are working on innovative supply-chain methods to facilitate gas access across the nation.
More Recent Joint Venture Examples
| | | |
| --- | --- | --- |
| Joint Venture Name | Year of Formation | Reason |
| Honda and General Motors | 2020 | Jointly develop electric vehicles |
| Volkswagen and Ford | 2019 | Develop and produce commercial vehicles |
| Boeing and Safran | 2019 | Develop and produce auxiliary power units |
| Toyota and Subaru | 2019 | Develop and produce electric vehicles |
| Hyundai and Aptiv | 2019 | Develop and commercialize autonomous driving technology |
| BP and Equinor | 2018 | Develop and produce offshore wind projects |
| Amazon and Berkshire Hathaway and JPMorgan Chase | 2018 | Create a new healthcare company for employees |
| Total and Sonatrach | 2018 | Develop and produce shale gas in Algeria |
| GE and Baker Hughes | 2017 | Combine their oil and gas businesses |
Reasons for Joint Venture
Here are some reasons for initiating a joint venture project:
| | |
| --- | --- |
| Joint Venture Benefit | Explanation |
| Market Expansion | Joint ventures help parties explore new markets with local assistance, reach new customers, and expand business. |
| Resource Pooling | Parties contribute resources (such as labor, technology, and capital) to achieve shared goals, reducing costs and risks. |
| Creating Synergies | Joint ventures combine the strengths of two firms to produce revenue and create innovative products beyond what each firm can do alone. |
| Tax Benefits | Joint ventures offer tax benefits, like deducting losses in one partner's jurisdiction while earning profits in another. |
| Legal & Regulatory Compliance | Joint ventures help meet legal and regulatory requirements, such as government mandates for international corporations to partner with local companies. |
Conclusion
Joint ventures are becoming increasingly significant in business as a form of strategic alliance. The trend is expected to continue, with more companies exploring joint ventures to leverage their resources, expertise, and market reach to achieve common business goals.
Additionally, a joint venture can be terminated or liquidated once a specific business objective has been achieved, allowing partners to reap their share of the profits.
Recommended Articles
Here are some further articles to learn more: