Updated July 5, 2023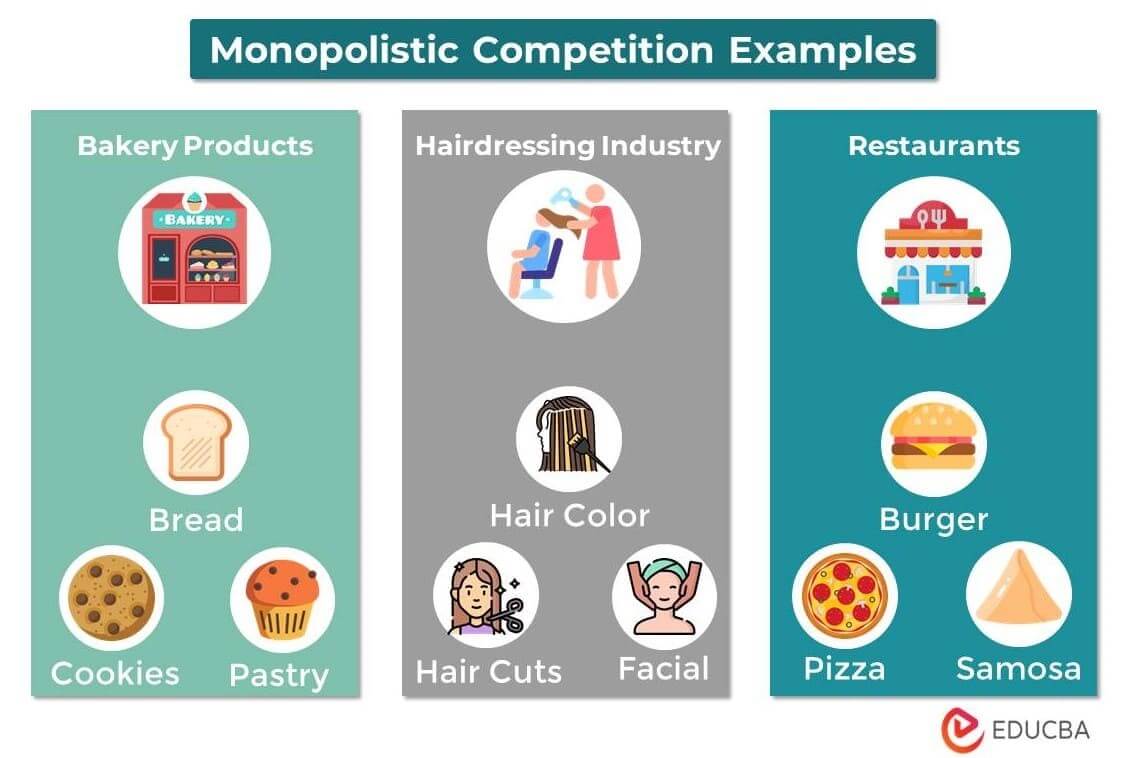 Monopolistic Competition Definition
In monopolistic competition, many firms compete with each other in selling products that are similar yet differentiated from those of their competitors. Monopolistic competition can exist in various markets, with the fast food, soft drink, and automobile industries being some of the primary examples. Firms differentiate their products through branding, packaging, design, and features to make them stand out.
Examples of Monopolistic Competition
Below are some examples of Monopolistic Competition:
Example 1: Hairdressing Industry
The hairdressing industry provides a good example of monopolistic competition. There are a lot of hairdressers in every city, and each has slightly different skills or service preferences. Also, they have various premises in different locations where they provide the services. This differentiation creates a different image in the eyes of consumers.
The hairdresser service is not a particular big-brand chain industry. Thus, it is away from the oligopolistic market structure with specific brands dominating the industry. Moreover, the prices offered by hairdressers depend on the services they provide and their uniqueness. This uniqueness gives them the power to charge more.
For instance, if a hairdresser is known for providing the best services, like hair coloring, which does not include chemicals, they can charge a higher price because consumers may be willing to pay more for superior services. Thus, the service provides a reputation to the firms for the quality they offer. Also, relatively there is a low barrier for exit and entry for setting up a new hairdresser shop which is one of the important features of the monopolistic structure.
| | | |
| --- | --- | --- |
| Product Differentiation | Hairdressing Firm A | Hairdressing Firm B |
| Haircut Style | Classic hairstyles | Modern hairstyles |
| Hair Products | Organic and natural products | Premium products |
| Specialization | Hair Color | Hair extensions |
A fashion enthusiast may prefer modern hairstyles with premium products, while a normal person would choose classic hairstyles with no chemicals. Many places are available per preference, like Toni & Guy, Supercuts, Vidal Sassoon, Great Clips, Regis Salon, etc.
Example 2: Bakery Shop
Bakery shops are a classic example of monopolistic competition. In most towns, various bakeries sell similar products in slightly different ways. However, if there is only one bakery in a particular area of the town, then it can demand a slightly higher price for its products.
For instance, if any particular bakery is known for providing the best pastries and loaves of bread in the town, it can increase its prices. Some bakeries may only focus on a certain type of product or flavor. It can leverage this to its advantage due to its brand name and loyalty among consumers who can pay slightly more for a better, unique product.
| | | |
| --- | --- | --- |
| Product Differentiation | Bakery A | Bakery B |
| Bread | Whole wheat | Sourdough |
| Cake | Dutch chocolate | Red velvet |
| Pastry | Croissant | Tart |
Every person has a different preference. One person may desire a red velvet cake, while their partner may want a Dutch chocolate cake. Many other options exist, like Panera Bread, Cinnabon, Au Bon Pain, Baskin-Robbins, Dunkin' Donuts, etc.
Example 3: Restaurants
In any city, many restaurants compete based on the quality of their food and prices. The basic concept of providing hospitality services differs when restaurants change their execution. It depends on factors like location, quality of services, and the amount charged.
For instance, one restaurant might charge $50 for a pizza and burger combo, while another might charge $80 for the same order. The price of the dish can also depend on other factors, such as the quality of the ingredients used, the restaurant's location, its popularity, and other services they offer. This product differentiation is a key element of the restaurant business. Additionally, there is a low barrier to entry and exit for setting up new restaurants, an important feature of the monopolistic structure. This situation is better explained as follows:
| | | |
| --- | --- | --- |
| Product Differentiation | Restaurant A | Restaurant B |
| Location | City Center | Suburban Area |
| Ingredients | Organic and locally sourced | Premium imported ingredients |
| Services | Friendly and attentive | Professional and personalized |
| Prices | Moderate | High |
Many factors affect a simple decision about where to eat a pizza due to the many options and varieties available. Olive Garden, Applebee's, Chili's, Outback Steakhouse, and Red Lobster are popular restaurants with unique varieties.
Example 4: Clothing Industry
Monopolistic competition is detectable in the clothing industry, where multiple brands offer similar products with unique styles and target markets.
For instance, one brand focuses on a younger audience with its preppy clothing and marketing campaigns, while another provides trendy clothing at affordable prices. Brands differentiate themselves by their branding and store design. For example, Brand A stores have dim lighting and loud music, while Brand B stores are brightly lit and organized by color and style.
| | | |
| --- | --- | --- |
| Company | Product Differentiation | Advertising Differentiation |
| Brand A | Trendy clothing at affordable prices | "Fashion for all" slogan, eco-friendly initiatives |
| Brand B | Fast fashion, frequent new arrivals | Minimalist advertising campaigns, emphasis on the in-store experience |
The choice of purchase depends on the product specifications and the advertising techniques. Many local and renowned brands compete for market recognition, like Zara, H&M, Gap, Forever 21, Nike, etc.
Example 5: Running Shoes
In monopolistic competition, brands offer distinct features and characteristics in the running shoe market. Athletes and non-athletes prefer running shoes depending on factors like stability, weight, fashion point of view, or price flexibility.
For instance, one brand of shoes may be lightweight as it uses FltyeFoam technology, while another may be fashionable for street-style athletes. Companies can add new features to their products and charge consumers accordingly. If the consumer finds the new feature worth the price, they will buy it, but if not, they won't.
| | | |
| --- | --- | --- |
| Product Differentiation | Brand A | Brand B |
| Fashion | Sturdy Design | Street Style Fashion |
| Texture | Soft | Rough |
| Popularity | Domestic | International |
One can choose running shoes from several brands, such as Nike, Adidas, New Balance, Reebok, Puma, etc. Each brand offers a unique feature that gives them the power to charge a price different from their competitors.
Note:
Terms like Monopolistic Competition,
Monopoly
, and Oligopoly can be confusing. Please check the table below to understand their notable differences.
| | | | |
| --- | --- | --- | --- |
| Market Structure | Monopolistic Competition | Oligopoly | Monopoly |
| Market Size | A large number of firms | A small number of dominant firms | Single dominant firm |
| Barriers to Entry | Relatively lower barriers to entry | High barriers to entry | Extremely high barriers to entry |
| Product Differentiation | Slightly differentiated products | May have differentiated or undifferentiated products | Unique product |
Conclusion
Monopolistic competition is a market structure that combines elements of both monopoly and competitive markets. In this type of market, there is freedom for players to enter and exit, and they offer products that have similarities but are not perfect substitutes. Each player can set prices for their products or services independently. If an industry with monopolistic competition generates super profits, it can attract new firms to enter the market since there is freedom of entry. However, in the long run, the entry of new firms will lead to regular profits. Overall, these are examples of monopolistic competition in various industries.
Frequently Asked Questions(FAQs)
Q1. What is the difference between monopolistic competition and perfect competition?
Answer: In a perfect competition market, multiple firms produce identical products and access resources and technology equally. The sellers do not have any control over the market or the product price. Additionally, there are no barriers to entering or exiting the market.
On the other hand, in a monopolistic competition market, many firms produce similar yet differentiated products, each uniquely distinguished from the others. These firms have some degree of control over the market and product price. Furthermore, there may be barriers to entering a monopolistically competitive market, depending on the industry and market conditions.
Q2. How do firms in a monopolistic competition set their prices?
Answer: Various factors influence the determination of the price of a product in monopolistic competition, such as the level of product differentiation, demand, and market competition. Since each product is distinguished from the other, firms have greater market price control. While better product quality may lead to an increase in price, tough competition in the market can lead to a decrease.
Q3. What is the role of advertising in monopolistic competition?
Answer: Advertising is the most crucial element in monopolistic competition, as it helps in product differentiation and brand building. Advertising can create brand awareness and inform the target audience of the uniqueness of their product. Firms use advertising to convince consumers that their product is of higher quality than others, thereby charging a higher price.
Recommended Articles
This has been a guide to Monopolistic Competition Examples. Here we discussed the top 3 Monopolistic Competition Examples and a detailed explanation. You can also go through our other suggested articles to learn more: