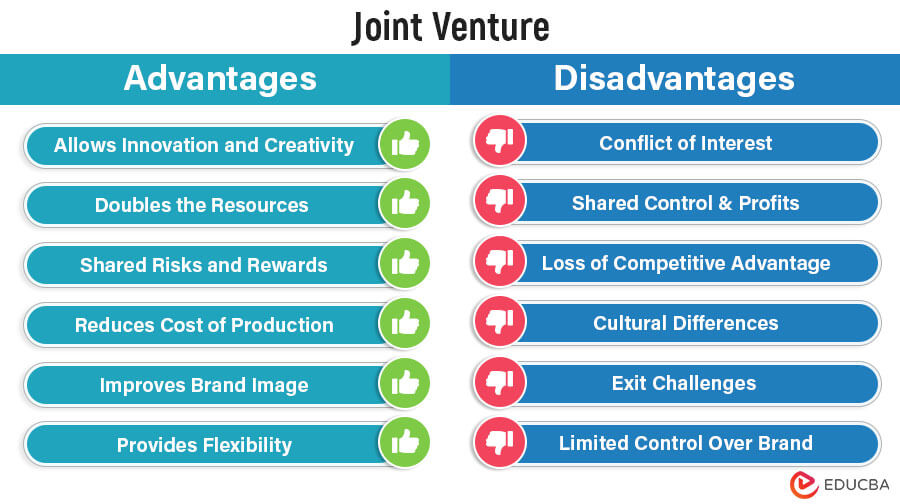 Advantages and Disadvantages of Joint Venture – Introduction
Disney and Pixar entered into a joint venture partnership in 1991 and gave us timeless animated classics such as "Toy Story" and "Finding Nemo." This joint venture allowed both companies to pool their resources and expertise and resulted in some of the most beloved animated movies of all time.
Think of joint ventures like the friendship between Woody and Buzz Lightyear in "Toy Story." Just as these characters team up for exciting adventures, joint ventures bring together different parties, individuals, companies, or organizations for a specific project or business activity. They combine their resources, expertise, and capital to achieve a common goal. It is a temporary partnership where they share the risks and rewards.
While joint ventures have these advantages, they also have challenges like management differences and conflicts. Let's explore some advantages and disadvantages of joint venture.
Advantages of Joint Venture
1. Combined Skills Lead to Better Results
When companies form joint ventures, it means they use their strengths and skills together. Imagine if you are good at sketching, and your friend is great at painting. If you work on a project together and combine your drawing skills with your friend's painting skills, you can create something beautiful. Joint ventures work the same way for companies as they combine their strengths. For instance, one company may be good at technology and another at marketing. This combination can make their businesses stronger and perform better in the market.
Example: IBM and Palantir entered into a joint venture. IBM had cloud and AI skills, while Palantir had data analytics expertise. By combining these capabilities, they made advanced AI apps for businesses.
2. Allows Innovation and Creativity
When companies work together, creating new and innovative ideas becomes easier. It happens because they use their different perspectives and skills. It makes them think creatively and plan for the future. It also indirectly helps to create a culture of creativity and forward-thinking.
Example: A classic example of this happened in 2020 when Pfizer and BioNTech collaborated. They worked together to create a groundbreaking COVID-19 vaccine using mRNA technology. This collaboration was crucial in fighting the pandemic.
3. Doubles the Resources
Companies in joint venture arrangements typically share their financial, technological, and human resources. Thus, they have more tools and talents to achieve their combined goals.
Example: The partnership between Amazon and Rivian provided Amazon with access to Rivian's electric delivery van technology and manufacturing capabilities.
4. Shared Intellectual Property and Expertise
Sharing knowledge and intellectual property can result in mutual benefits. It enables both partners to leverage each other's expertise and proprietary information for mutual gain.
Example: GlaxoSmithKline and Pfizer's joint venture combined their brands and intellectual property for consumer healthcare products.
5. Shared Risks and Rewards
Partners usually share the risks and rewards of a venture. This spreads the financial and operational burdens while allowing for equal distribution of profits.
Example: ExxonMobil and Qatar Petroleum teamed up to invest in natural gas exploration projects, sharing the financial risks and potential rewards.
6. Opens Doors to New Markets and Distribution Networks
Joint ventures often provide access to markets and distribution channels that are difficult for a single partner to reach on their own.
Example: Nestlé's partnership with Starbucks allowed for global distribution of Starbucks products via Nestlé's network.
7. Reduces Cost of Production
By pooling resources and sharing production facilities, companies can reduce costs, improve efficiency, and optimize production processes.
Example: Apple's partnership with contract manufacturers like Foxconn and Pegatron for iPhone production in China resulted in economies of scale and cost-effective manufacturing.
8. Provides Flexibility
The flexible structure of joint ventures allows partners to include the unique needs and objectives of all the partners.
Example: Uber partnered with Toyota to develop self-driving cars, allowing Uber to leverage Toyota's expertise in automotive technology.
9. Limitless Potential
Joint ventures can open up new growth opportunities that may not have been achievable individually. It allows partners to explore new business avenues and achieve limitless potential for expansion.
Example: Tesla's collaboration with CATL (Contemporary Amperex Technology Co. Limited) to develop more advanced electric vehicle batteries aimed at unlocking the limitless potential of EV technology.
10. Improves Brand Image
Partnering with well-established and reputable companies can enhance your brand's image and credibility. This association can attract more customers and build trust in the marketplace.
Example: Marriott's partnership with various luxury hotel brands, like Ritz-Carlton and St. Regis, to attract high-end travelers and enhance its hospitality portfolio.
Disadvantages of Joint Venture
1. Conflict of Interest
Partners may have conflicting goals, strategies, or priorities, leading to disagreements and disputes.
Example: A Joint Venture between AT&T and Discovery faced a conflict of interest when both parties wanted their own executives to lead the venture, resulting in leadership disputes.
2. Shared Control
Joint ventures require sharing control and decision-making, which can result in slower decision processes and reduced autonomy.
Example: The Airbus-Boeing joint venture, United Launch Alliance, often faces challenges due to shared control and decision-making in the highly competitive space launch industry.
3. Risk of Partner Mismanagement
If one partner mismanages their responsibilities or resources, it can adversely affect the joint venture's success and reputation.
Example: The Theranos-Walgreens joint venture in the healthcare sector faced issues when Theranos, one of the partners, was accused of mismanagement and fraudulent practices.
4. Loss of Competitive Advantage
Sharing proprietary information or technology with a partner could lead to losing a competitive advantage if the partner gains access to valuable knowledge.
Example: Google's collaboration with Ascension Health to develop healthcare applications faced scrutiny for the potential loss of patient data privacy, potentially impacting Google's competitive advantage.
5. Cultural Differences
Cultural differences between partners can create communication and operational challenges that hinder the success of the joint venture.
Example: Walmart faced cultural challenges when partnering with Indian e-commerce company Flipkart, as their work cultures and business practices differed.
6. Complicates Management Tasks
Managing a joint venture can require careful coordination and integration of two or more organizations.
Example: A Joint Venture between Sony and Microsoft for cloud gaming services required complex management to align the goals and strategies of both companies.
7. Exit Challenges
Exiting a joint venture can be difficult and expensive, and disputes may arise over the division of assets and responsibilities.
Example: When Ford and Mazda decided to end their joint venture in the 2000s, exit challenges arose, including disputes over the division of assets and technology.
8. Shared Profits
While sharing profits can be an advantage, it also means that each partner receives a portion of the earnings, which may be less than if they operated independently.
Example: The joint venture between Sony and Ericsson, Sony Ericsson (now Sony Mobile), shared profits but struggled to gain significant market share in the highly competitive mobile phone industry.
9. Limit on Resource Usage
Sometimes, joint ventures have limited access to the resources and capabilities of the parent companies, limiting growth and innovation.
Example: The Microsoft-Nokia joint venture for Windows Phones faced resource constraints and challenges competing with established smartphone competitors.</div.
10. Limited Control Over Brand
In some joint ventures, one partner may have less control over the brand's reputation and image, which can be detrimental if the other partner's actions affect the brand negatively.
Example: When Starbucks formed a joint venture with Tata Global Beverages in India, Starbucks had to adapt its brand to local preferences and had limited control over the brand's image in the Indian market.
Final Thoughts
Joint ventures are strategic partnerships that can help businesses grow and adapt to changing trends. They provide several benefits, but they also come with challenges. In essence, understanding all advantages and disadvantages of joint venture can make it a valuable tool for your business's future growth.
Recommended Articles
We are hopeful that this article listing the advantages and disadvantages of joint venture was useful to you. For more such articles, visit the following links: