Updated April 15, 2023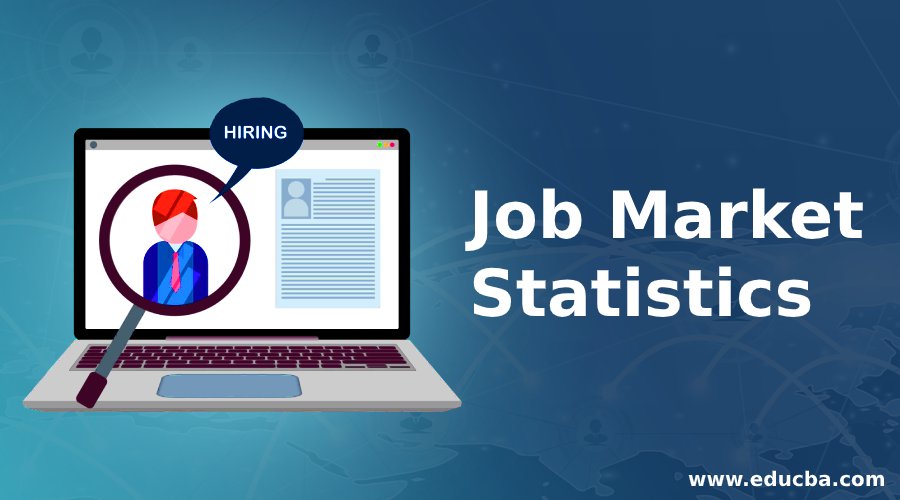 Introduction to Job Market Statistics
When you are in your early 20s, all you can think about is how to get a job. You went to college, graduated with a degree, and even gained some experience with a couple of internships and studying some other courses. Still, somehow, getting a job doesn't seem to get easier. The question that now arises is, what else can you do?
This is not a tutorial on how to get a job. Here you will learn just a simple rule or, rather, a fact. You are a product that can help improve the status of a company and add value to the company. This might seem a bit harsh, but it is the truth. The company you get hired by is going to exploit you as much as it can, and are ready to pay a sum for it. This is basically your salary, sometimes a huge amount and most of the time penny. So, why should a company spend a sum of its revenue on a product like yours? What is your selling point? In short, why are you a better product than the others in the job market statistics? Why should you be getting a job when there are hundreds with more qualifications, more experience, and better knowledge?
Only one thing can answer all these questions. Your BRAND NAME. You buy Reebok instead of any local brand shoes because you know Reebok stands for quality, and you get a branded product for what you paid. Likewise, when you find yourself in the job market statistics, your brand name must reflect that you are a company's best bet. Here, you will learn how to brand yourself successfully.
Image source: pixabay.com
10 Best Strategies for Yourself in the Job Market Statistics
Without further ado, let's have a look at the 10 best strategies you can adopt in order to brand yourself in the job market statistics successfully-
Provide eye-catching packages
When you find yourself attracted to a SALE, you know you'll get a quality product at a price that suits your budget. This is when you are the customer. But consider that the employers are now the customers because you are the product and need to sell yourself. You need to provide them with the best possible services, skills, and talents you possess in an eye-catching way. Your product description lies in your Resume, and your Resume has to be crisp and attractive at the same time.
It is said that, on average, employers spend only 10 seconds going through our Resume and deciding whether we should be hired. The rest of the interview only ensures they made the right decision. It takes 10 seconds! So obviously, this means that your resume has to be short and to the point. It should contain your accomplishments and only the ones that are necessary for that job. It should contain your skill sets but only the ones that are useful for the position you are applying for. Moreover, it should also contain your past experience but only the ones that are relevant to the field.
But your Resume only comes in handy when you have an interview to attend. You must build a network in order to get an interview with a well-known organization. Meet influential people and dress the part when you do so. How you present yourself and carry out your personality plays a big role in making you the brand everyone talks about.
Strategic use of attributes
You won't find the description of Reebok's clothing collection on the boxes that carry their shoes. Because you as a customer are interested in the shoes, not the clothes. If the product description is more of something other than the product itself, it is more likely that the product will not be bought. So, only showcase the desirable attributes and keep all the irrelevant ones to a minimum.
Your profile must consist of the attributes that satisfy the needs of the Recruiters. The strategic use of keywords most likely to do that job for you must be included in your Resume and your Profiles (online or otherwise). Do a little bit of job market statistics research about the company you are interviewing for, and repeatedly use the keywords that appear in the company's profile. Also, during your interview, make sure you use these keywords as often as possible to portray your skills and value.
Decide your USP
Now here comes the point where you, as a customer, decide why Reebok is better than Adidas. Does this basically mean that what do you have that your competitors don't? What is your USP? Your Unique Selling Proposition is a major contributor to your brand name. So obviously, you need to be careful in determining what makes you stand out in a crowd.
In your interview, and even in your Resume for that matter, speak about what more you will bring to the company as an individual. Even though you hold the same degree as the others who applied for this position, what qualities do you possess that set you apart? Mention the experience that made you own the unique combination of talents and skills essential for the job. Stress on the skill-sets that are differentiating and are potentially more likely to help you get the job.
Get yourself referred
Continuing with our analogy of Reebok shoes, you definitely decide to buy them because a trusted friend highly recommended it. You know to trust the brand because someone already had the experience of using it. This is what you need to gain the trust of your new employer.
Once you have built your network, let them know when and how they can help you. A referral from them can really make a difference. Provide the contact details of your referee so that the Recruiter knows that the referral is legit. Not just that, but make sure that the person referring you know exactly what your career brand is so that they can communicate it better.
Google yourself
Online shopping is a trend spreading like fire today. Everything you need is just a click away. And if Google knows who you are, it is a great advantage.
But sometimes, being visible on Google can backfire. A post with a person's name similar to yours can be ranked first, which is bound to degrade your reputation.
Control what your Google search results look like. A job market statistics online presence is a must because all your future employers and clients will Google you first in order to find out more about you. Having no search results can prove that you are not an active social media user which mainly implies that you are not social. Start with creating your account online on sites like LinkedIn, Facebook, Twitter, etc. Not just that, make these accounts search engine optimized by building them appropriately. The more active you are, the more optimized your site becomes.
If you do have a website of your own, but it doesn't show when you Google your name, then go through Google's SEO starter guide to find the measures to rank your website higher in Google's search results.
Who do you want to be sold to?
Reebok knows that the customers who will purchase their products are the youth or mostly those in the 15-34 age group. They design their product accordingly. You must identify your target audience and sell your brand name to only those interested.
Determining which company or employer will need your services and for whom you can come up with better solutions is the key. Make sure that your brand name reaches them either through recommendations or online.
Keep on reviewing
Self-assessment should be done on a regular basis. Make sure whatever you do is only to enhance your brand name. Also, are all your methods and platforms used to make you a successful brand name consistent? What message do you want to portray? Does the same message come across on every platform? If no, then frequently make amends to your methodologies.
Be flexible
There comes a time while shopping when it is the time to pay for the product you wish to buy, and you always find a need to bargain because you want the price to fit your budget. You expect the product to be a little bit flexible when it comes to pricing. That is how you should be.
As job seekers, we always go into an interview with the desired salary in mind, but you should always be flexible about it. A Recruiter might not always offer you the salary you wish for, but rejecting the job offer because of that leads to losing the opportunity completely. If you are unsure how much salary you should demand based on your qualification and experience, visit the sites "Salary.com" and "Glassdorr.com" to find your job market demand and value. Once you have decided your income range, be open to negotiations and do not give the impression that you are too expensive. There also has to be some benefit in hiring you for the employer.
You should always be open for negotiations but always know how much value you are going to add to the company. If the value you are going to add is more and you have full confidence in yourself, then you can fix it on a particular salary or package.
Prepare your Elevator Speech
An Elevator speech is nothing but a short 20 to 30-second speech you must have in your kitty when going for an interview or meeting a group of professionals. Mostly when you are sitting in front of your Recruiter, the first question you will face is, "Tell me something about yourself". In the next 20 seconds, whatever you speak must incorporate your brand name, which basically includes who you are, your stand-out qualities, and why you should be hired.
The impact you make in these 20 seconds is the deciding factor in you getting the job. The speech should only contain relevant points and should be attractive. It should hook your listener's attention.
SWOT Analyze yourself In the job market statistics
In the job market statistics, you are alone. Nobody will help you improve yourself because they are busy thinking about themselves. A SWOT analysis is your only weapon in a battle this tough.
SWOT stands for Strengths, Weaknesses, Opportunities, and Threats. A SWOT analysis should be based on your surrounding environment or the environment you wish to be surrounded in. You cannot have Marketing listed as your strength if all your competitors have that quality and that job market demand this skill set. It just means that it is necessary, and you must have it.
The same applies to your weaknesses. Your opportunities and threats only showcase how you are better or not than everybody else. A regular SWOT analysis will help you improve your brand name better. So, basically, you need to identify your weakness, work on your strengths, look for the opportunities best fitting your profile in the job market statistics, and brand yourself as the best-fit person for the job.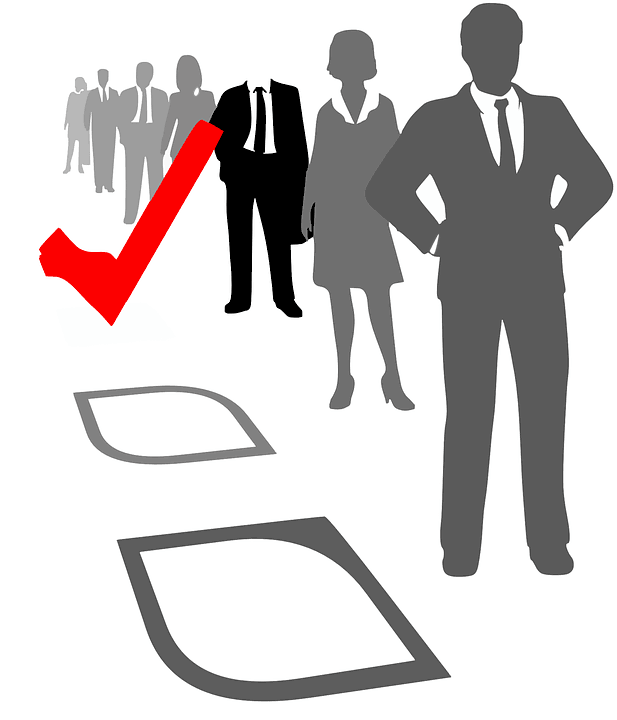 Image source: pixabay.com
The key thing to remember is that you are only as good as your brand name in today's world. It is how people will evaluate you and form an impression of you. The first impression is the last impression, correct? Then work hard to make that count because your future depends on it! Working hard is always paid, but working smarter pay you quickly and makes you famous. Publicize your work amongst others and portray your strongest points in such a way that people choose you over others. But you should always be confident about yourself and what you are doing. Believe in yourself and work towards making yourself a well-demanded brand.
Recommended Articles
This article has been a guide to your job market statistics. You are alone. Nobody is going to help you make a brand yourself better because they are busy thinking about themselves. These are the following external link related to the job market statistics.