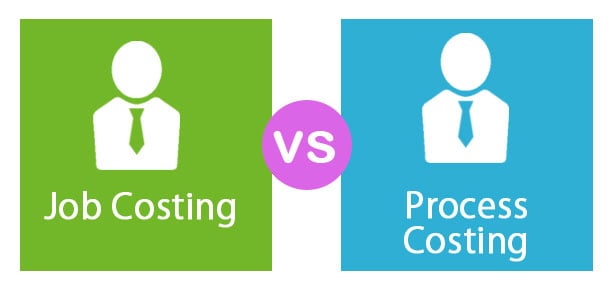 Difference Between Job Costing vs Process Costing
The following article provides an outline for Job Costing vs Process Costing. An order-specific costing technique is used when each product is tailor-made and customized as per customer need. Job costing incorporates keeping direct and indirect costs in an account. Moreover, both types of costs are related to each other(a job involves a sufficient amount of labour and material that requires a huge source of power, machine time, inspection time, and apart from that need to supervise the thing closely). Process Costing is a process by which we determine the cost of each process at every stage of operation, i.e. Process of production. It is a more common practice adopted by the manufacturer or industries where a standard product is produced initially and passes into various phases of production for being transformed into the final product.
Job Costing
Indirect cost is a fraction of the direct cost, which is considered while calculating the overall cost of the product. For example, job costing is implement on constructing a customized machine, structuring a software program, set up new building construction, and batch production of limited products.
Apart from that, it involves some of the accounting activities as follows:
Materials: It involves the cost of components and incorporates this cost to the final cost of the components are used.
Labour: Production cost of the product depends upon the specific jobs, and employee charges their time to a specific job.
Overhead: It calculates the overall cost of the volume of jobs and then apply it to a specific job.
Job costing contains lots of discrete information about each job and cost accountant based on their experience assign to each job.
Process Costing
Various other features of Process Costing are as follows:
The plant has many divisions, and each division specifies for each operation to perform.
Each process is a continuous, sequential, and simultaneous operation to perform on each component.
An output of each process is the input of another operation.
In the last process, we obtain homogeneous products.
Both direct and indirect cost applies to it.
The outcome may result in joint and by-products.
Losses may happen either normal or abnormal at different stages of production.
Sequential processes involve the profit at each stage of the operation and while not transfer at the cost.
If there remain the stocks of finished goods which are also expressed in similar to completed units. Its define as
Equivalent units of semi-finished goods or WIP =The actual number of units in the process * Work completed in (%)
Head to Head Comparison Between Job Costing vs Process Costing (Infographics)
Below is the top 11 difference between Job Costing vs Process Costing

Key Differences Between Job Costing vs Process Costing
Let us discuss some of the major differences between Job Costing vs Process Costing:
Job costing is a method of evaluating the cost of the tailor-made component, which is ascertained for each job. Conversely, process costing is a costing technique that is used to determine the cost of each process.
Job costing is used to determine the cost of the specialized job which is manufactured to meet the client's specific need. Whereas Process Costing is used for standardized products are being produced.
Each product is dissimilar from others, and it involves different processes of operation due to this reason, job costing has product-specific pricing. While process costing is a volume-based costing of jobs have been produced under a specific set of arrangement which is then dispersed over the number of units produced.
In job costing, a cost center is a job that is being prepared while the process is in itself a cost center in the case of process costing.
There is no feature of the transfer of cost available in the job costing for any of the components. However, the cost of the last process is transferable to any subsequential process.
Minimization of cost in job costing is slightly rare while; there is more probability of price deduction.
Job Costing vs Process Costing Comparison Table
Let's look at the top 11 Comparison between Job Costing vs Process Costing
| | | |
| --- | --- | --- |
| A Basis of Comparison | Job Costing | Process Costing |
| Meaning | Job costing is used to calculate the cost of the tailor-made component to meet the client's specific needs. | In process costing, in which charges are implied based on operations are performed at each stage, and operations are ascertained. |
| Nature | Customized or Tailor-made production | Standardized production. |
| Cost Implication | Determine individually based on the operation. | In this process, the cost is determined for the whole volume of the process and spread over the produced units. |
| Cost Center | The specific unit of production. | Overall process. |
| The scope of Cost Minimization | Negligible, Because of a lot of time-consuming, specific resources are required. High skill employed. | High, because it produces components in bulk and a definite set of specific operations on each component minimizes the production cost of operation. |
| Transfer of Cost | Non-transferable. | Cost is transferable from one operation to other operators. |
| Identity | Unique, each component is dissimilar from the others. | Products are manufactured sequentially. Meanwhile, they lose their identity. |
| Cost Ascertainment | At the finished product. | End of the cost period. |
| Industry Type | Job costing is preferable to the job-based production industry, which manufactures products in batches as per customer's guidelines. | This process is suitable for an industry where we produce jobs in bulk quantity to meet the customer's need. |
| Losses | Losses are usually not segregated. | Most of the time, normal losses are unpredictable, while abnormal losses are bifurcated. |
| Work in Progress(WIP) | At the end of the financial year, WIP may exist or may not exist. | WIP is always present at the beginning of the Financial year or the end of the year. |
Conclusion
Both jobs costing vs process costing themselves are different from each other, One is used job-based industry based on batches, and another process-based product is used in mass production industries. And one of the major differences between job costing vs process costing is the job-based process requires high precision and control over the job. Conversely, process-based products are a standardized products produced in mass, require less handling compared to the job-based. Other difference is job-based products are quite expensive and time-consuming while process-based product is less expensive and less time to consume to operate.
Recommended Articles
This has been a guide to Job Costing vs Process Costing. Here we also discuss the Job Costing vs Process Costing key differences with the infographics and comparison table. You may also have a look at the following articles to learn more –