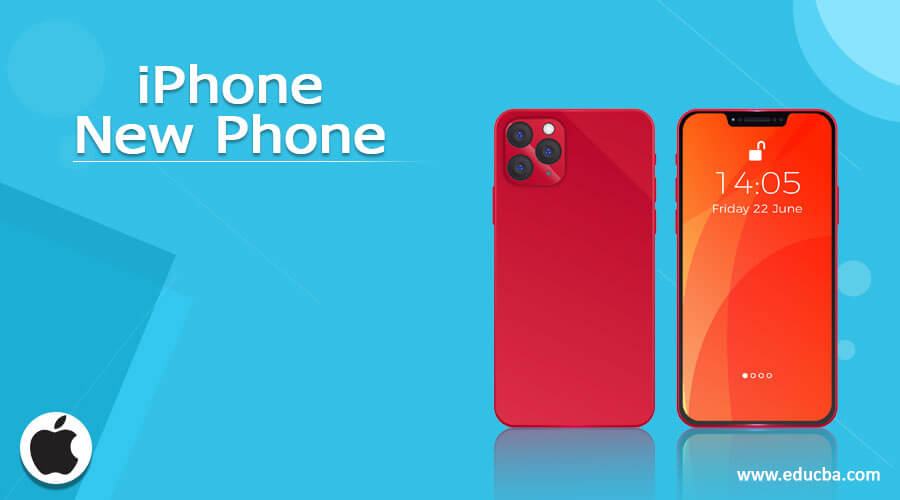 Introduction to iPhone New Phone
If you are tech-geek and crazy about Apple products, then the iPhone new phone might be your playbook for testing new features. iPhone new phone from all angles has a specific reason and has hidden features.
Below list shows the generation of iPhone new phone that Apple has launched:
Category 1:
iPhone 6 and iPhone 6 plus (latest one)
iPhone 5c, iPhone 5S
iPhone 4S and iPhone 5
Category 2:
iPhone 4
iPhone 3GS, iPhone 3G, iPhone (1st generation)
The list of iPhone new phones in category 1 supports the latest iOS version released by Apple, i.e. iOS 8.4. On the other hand, the list of iPhone new phones in category 2 is obsolete, i.e. they cannot run the latest version of iOS released by Apple since the hardware is not compatible with features released in iOS. Most of iPhone users might not be aware of the features that the latest iPhone new phone offers.
Here are ten new iPhone features in your iPhone can do that common users might be familiar with, but most people have no idea about it.
Helpful Tips & Tricks of iPhone New Phone
Below are some tips & tricks:
1. Take a screenshot
There may be the situation that requires you to take the screenshot of websites, emails, messages or any app state. It pretty simple to take the screenshot on iPhone new phone. Just hold the home button down and the on/off button at the same time.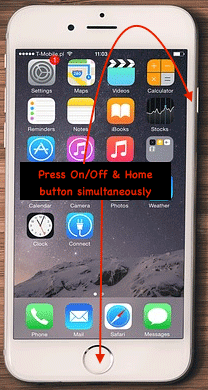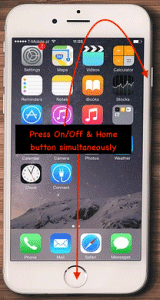 If the screenshot is captured successfully, you can notice the image being saved in the camera roll as well as shutter sound. The screenshot will be saved in your camera roll location. This method of taking the screenshot on iPhone new phones is applicable to iPad devices as well.
2. Set timer for music at bed-time
If your ears are tuned to music at bed-time, then this tip is for you!
It happens to most music lovers to fall asleep while playing music at bedtime. This drains your device battery. You can set the timer to turn off music during bedtime.
Below are steps to set the timer for music.
Open the clock app with a single tap on it.
Select the Timer button present in the lower right-hand corner.
Set a timer for the duration you want music to play.
Tap "When Timer Ends".
Scroll down to the bottom. Tap on "Stop Playing".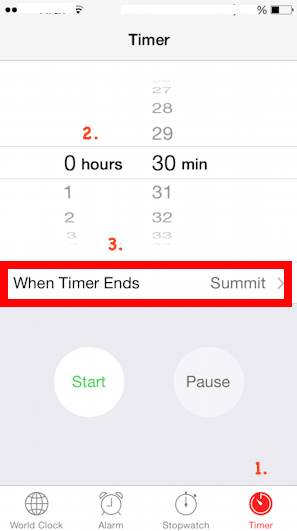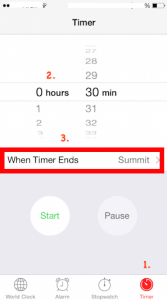 3. Teach siri how to pronounce words
Siri is an artificially intelligent personal assistant built-in into Apple device (iPhone/iPad) that can simplify your task using voice commands.
At times it happens Siri to pronounces things incorrectly, especially in the case of a person name. You can now tell Siri how to pronounce a name or phrase correctly. Siri will listen to the way you pronounce a name or phrase and then give you a few pronunciation options based on what you've said.
Below are steps to teach Siri to pronounce names or phrases correctly:
Open, Siri.
Say, "That's not how you pronounce [name/phrase]". E.g. That's not how you pronounce Rahul Kumar.
Siri will ask you to pronounce each word.
Now, you'll need to select a proper pronunciation for each word.
Siri will confirm what you've selected by saying the [name/phrase].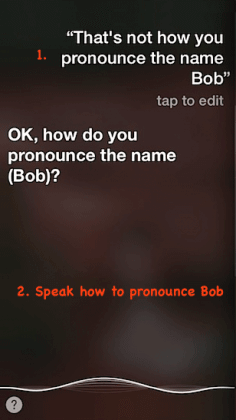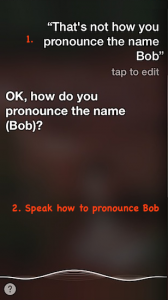 4. Multi-Photo shots
There may be a situation where you want to capture multiple photos within a short period of time. For example, Press Meeting, Wildlife Photography, Amazing Moments, etc. You can capture n-number of photos using a built-in camera in the iPhone/iPad device.
To take multi-photo shots, use below steps:
Open the camera by a single tap on the app.
Hold down the shutter button in your camera.
This automatically activates burst mode.
Release the shutter button when you're done capturing.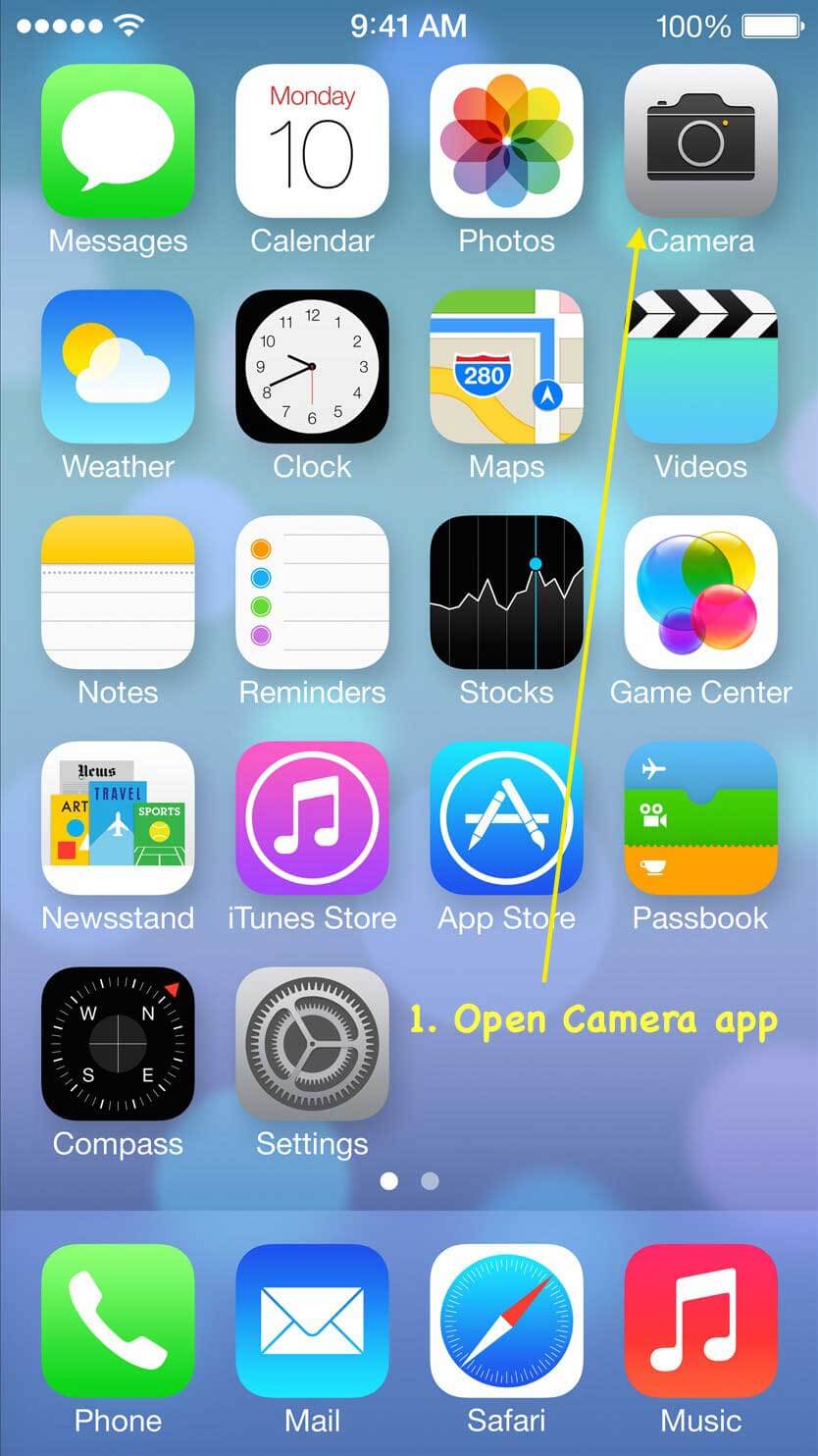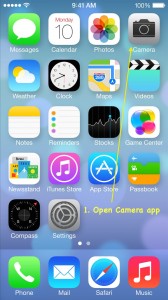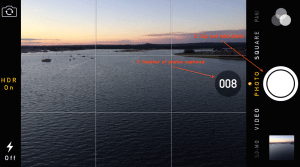 Your device (iPhone/iPad) will capture a ton of photos in rapid succession. These photos will be saved in the camera gallery. You can see the total number of photos captured in the camera in burst mode itself.
5. Set letter passcode instead of numbers
The default passcode setting in iOS 7 allows only four-digit numeric string, also known as simple passcode. If you are really worried about the security of your device, then opt for the complex passcode.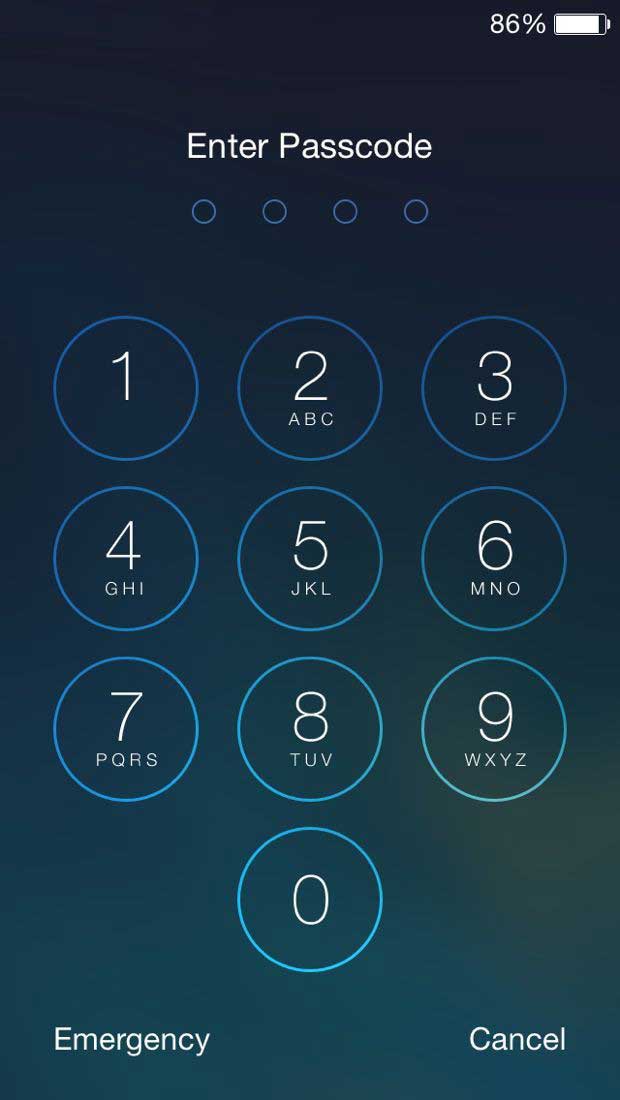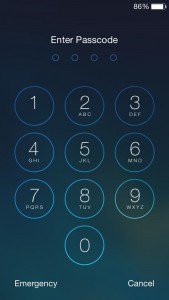 Complex passcode includes letters, numbers and special characters. It can be much longer than just four-digit characters.
In order to set complex passcode, use below steps:
Go to Settings -> General -> Passcode Lock (or Touch ID & Passcode)
Toggle off the "Simple Passcode" setting
If you haven't set up the passcode at all, then you'll have to select "Turn Passcode.
On" option present at the top of the settings screen.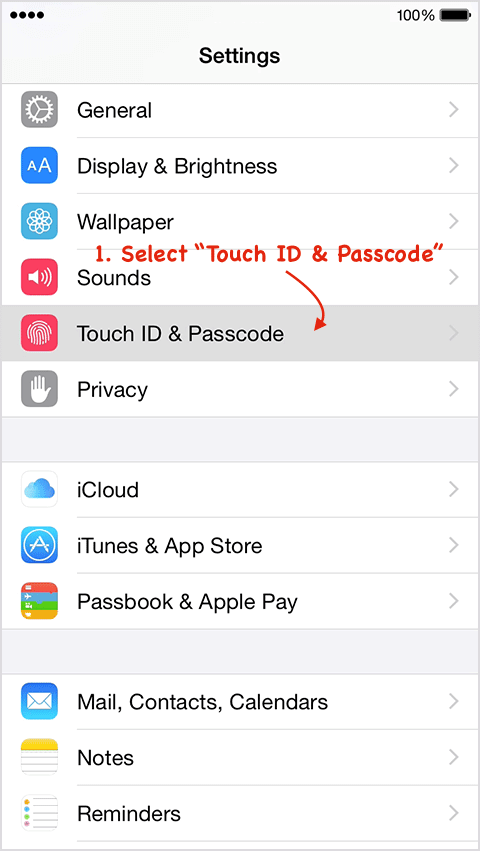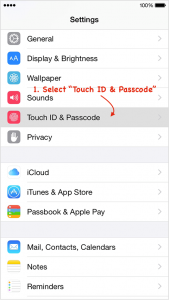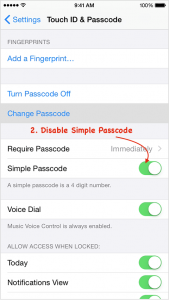 You'll be prompted to enter a complex passcode (includes numbers, letters, and special characters). You'll be prompted to enter the passcode twice, the first time, you tap 'Next' to continue and the second time, you tap 'Done.
Once you've configured a complex passcode, your new passcode lock screen will offer the full text-and-number keyboard for passcode entry.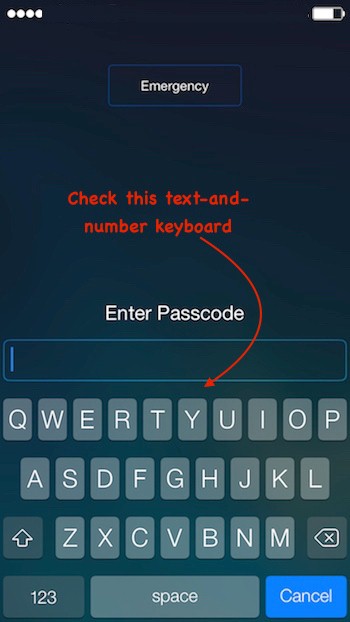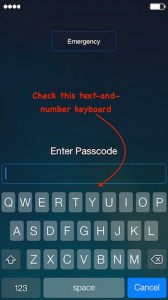 6. View timestamp of text messages
iOS 7 provides the ability to view the timestamps for individual text iPhone tricks messages. You can check the timestamps of any conversation by simply swipe to the left. Timestamps will appear to the right side of the screen.
This is the really awesome feature of hiding timestamps details from the user and showing only when the user is interested.
As an example, what a typical iMessage conversation might look like. With a quick swipe to the left, you can now see at which time each individual message was sent. The previous versions of iOS would group these messages together under the same timestamp.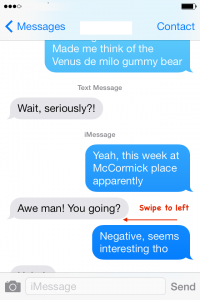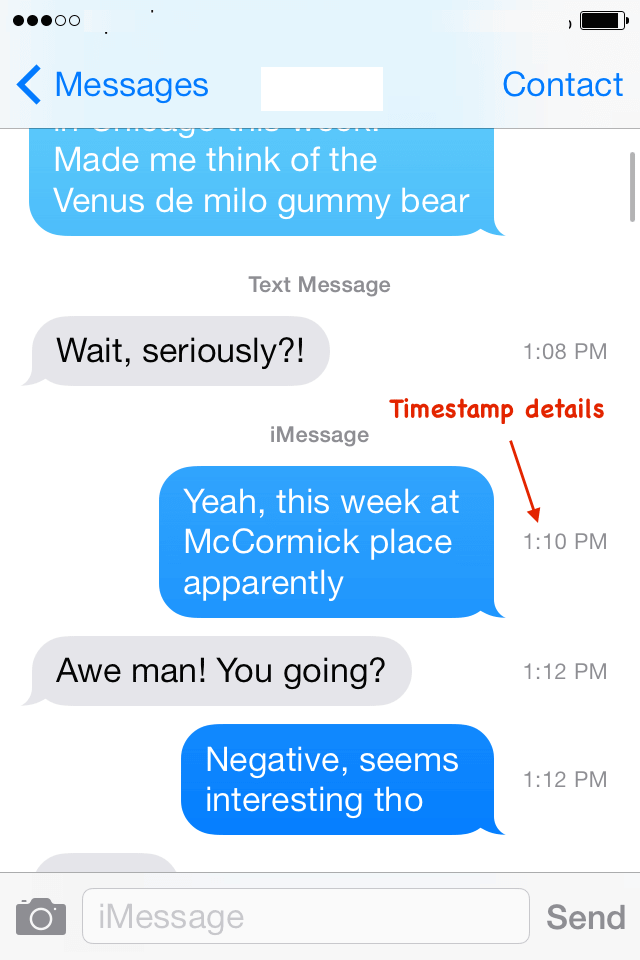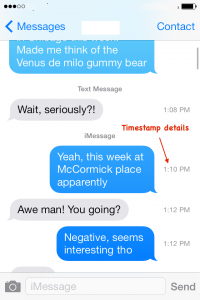 7. Boost device charging using airplane mode
You can boost device charging by enabling Airplane mode. There are some apps run in background mode (Eg. Facebook, Instagram, System built-in apps, Amazon, etc.) which consume battery. Also, radios that run Wi-Fi, cell phone signal, and bluetooth are all-consuming battery thus adding time for the device to get charged.
The new iPhone features has Airplane mode feature; Once the Airplane mode is activated, your iPhone turns off both the Wi-Fi and cellular connections. This means you will no longer be able to make or receive calls, texts, or e-mails or browse the Internet. Hence charging for the device gets boosted by 1.5 times.
You can enable airplane mode from Settings.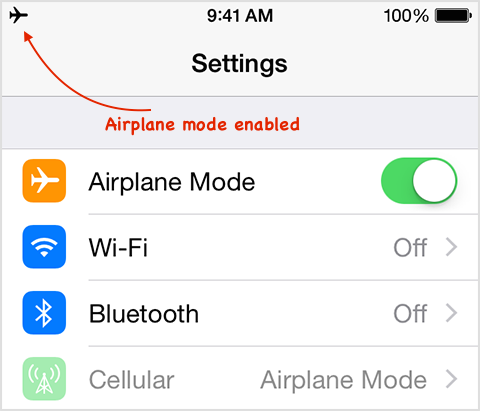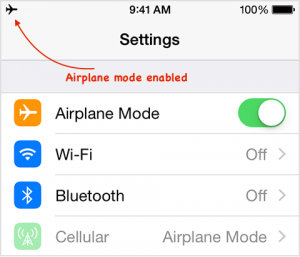 Go to Settings -> Airplane Mode and turn on switch control (turn into green)
In the phone's new phone, you can also swipe up from the bottom of the Home Screen to open Control Center and enable Airplane mode.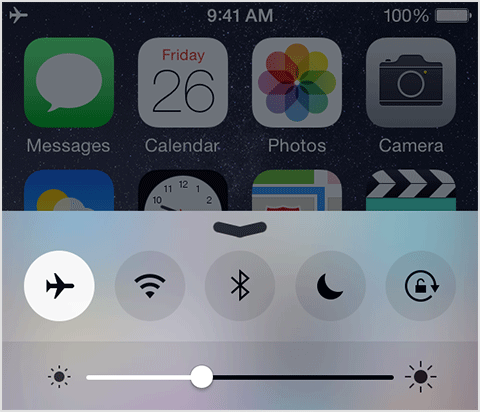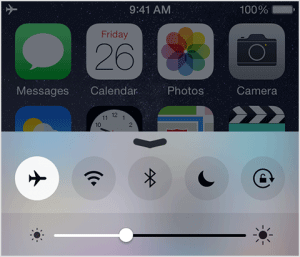 When Airplane mode is enabled, you can see airplane symbol on the status bar of the screen.
8. Share current location
Sometimes it becomes necessary to share your current location with someone (for example: traveling to a new place, traveling with strangers, etc).
In an earlier version of iOS (7 and below), you can share a location using the Maps app only. This doesn't give constant location information. The maps app is the built-in app of Apple that facilitates apple maps and its services.
With iOS 8, you can share specific location information as well as continuous location data with anyone else who is also using the iMessage app.
Below are steps to share location information using the iMessage app:
Open the Messages app on your device (iPhone or iPad). Note that your device should have iOS 8 or higher.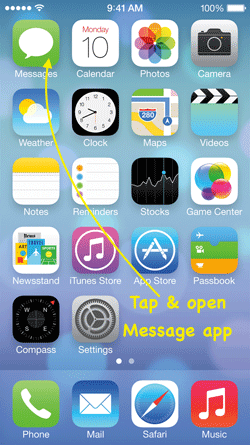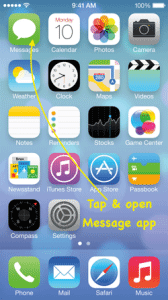 Open the message thread that you want to share your location in. It can be an individual person or a group.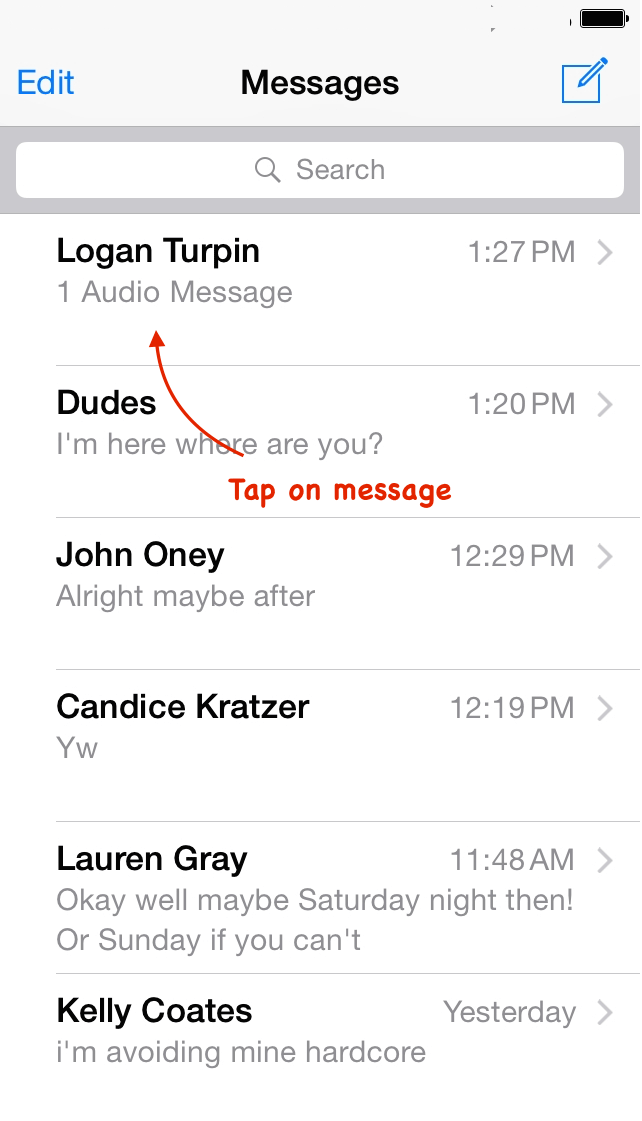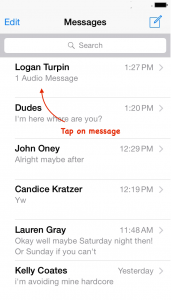 Now tap on Details in the upper right-hand corner.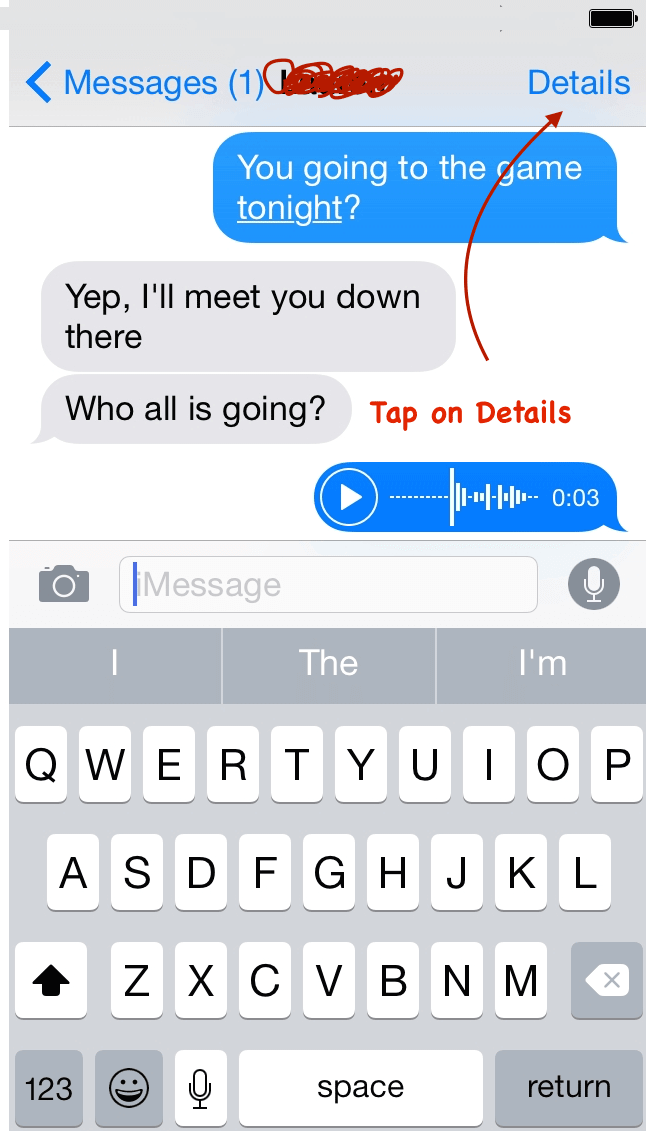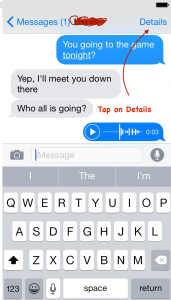 Tap on send my current location.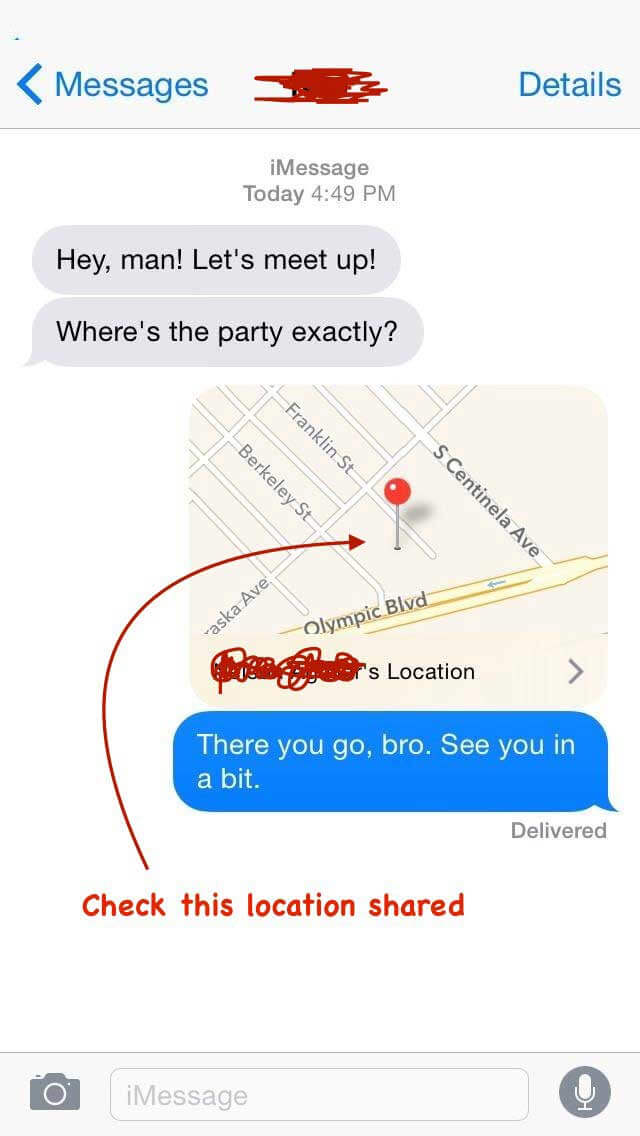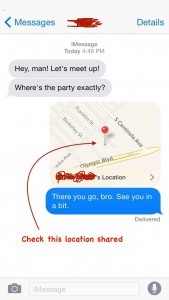 9. Send self-destructing audio and video messages
Apple has included self-destructing messages into the Messages app. You can send audio and video messages with expiration times. This is really a very important feature that Apple has provided. It makes you send a secure message from a third-person device or confidential messages.
However, this feature works only if both people (sender and receiver) are using iOS 8. If anyone or both are using an older version of iOS, then these features won't work. This provides some sense of security to people's privacy since the audio/video will be deleted after a period of time.
You set an expiration time for audio and video messages using the below approach:
Go to Settings -> Messages
Set Expire time in Audio Messages section
Set Expire time in Video Messages section
 You have two options to set expiration time viz, two minutes or never.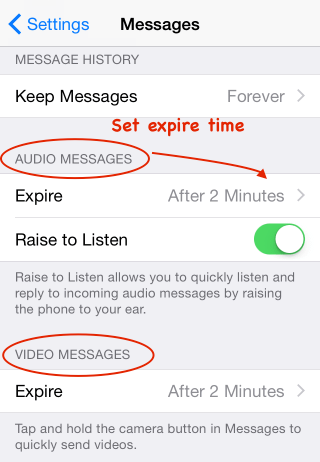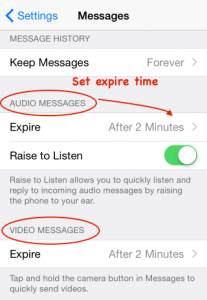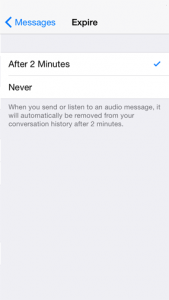 10. Add web suffixes easily
You can speed up typing of web addresses by long-pressing the period (dot symbol) key. You can quickly insert frequently used domain like .com, .net, .org, .edu etc.
Simply move your finger to the suffix you want to type and lift your finger to enter it. This may not work in every application but definitely works in the Safari web browser.
This is the great feature that Apple has provided for speedy typing URLs.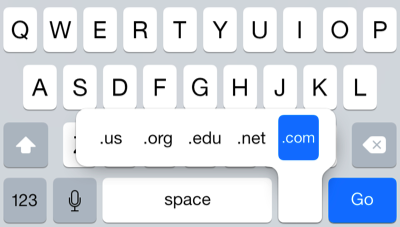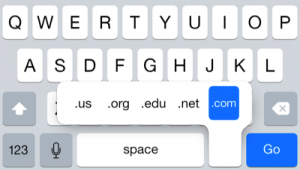 Recommended Articles
This is a guide to iPhone New Phone. Here we discuss the introduction and helpful tips & tricks of iPhone new hone. You may also look at the following articles to learn more –