Updated August 10, 2023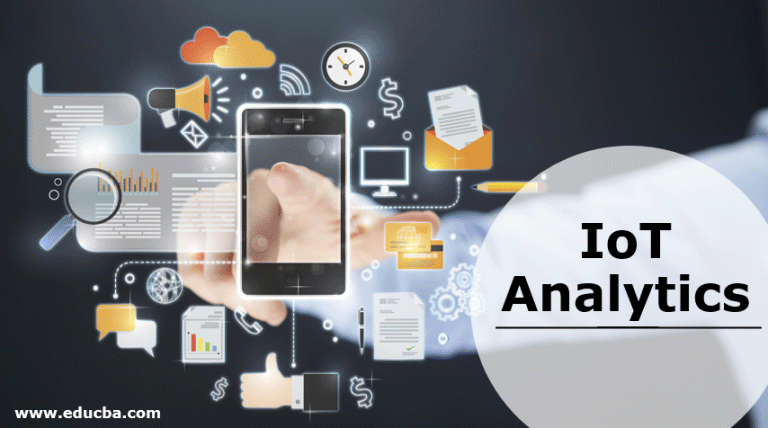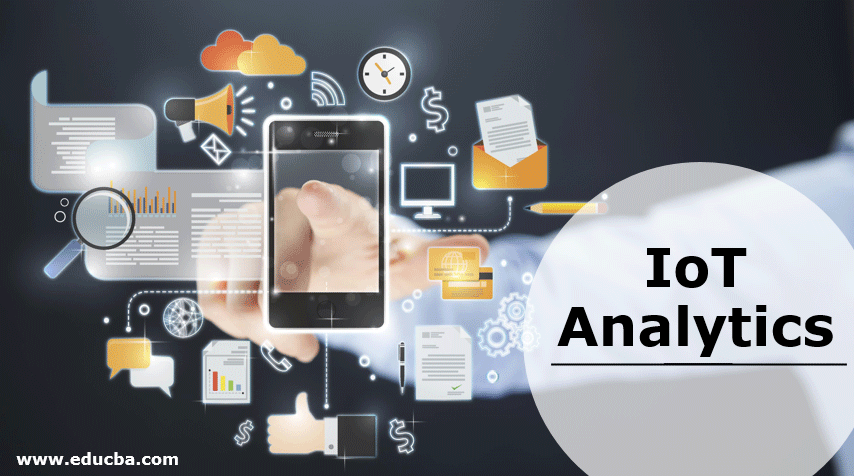 Introduction to IoT Analytics
In the era of the internet, where there are more than 6 billion connected devices, and petabyte-scale data is flowing in seconds, IoT or Internet of Things analytics is the next big thing. Before we discuss the analytics part, let's look at the definition of IoT from Wikipedia 'The Internet of Things (IoT) is a system of interrelated computing devices, mechanical and digital machines, objects, animals or people that are provided with unique identifiers (UIDs) and the ability to transfer data over a network without requiring human-to-human or human-to-computer interaction. Now the data collected by these devices can also be used to make decisions without manual intervention or rule-based applications. Let's discuss how they are taking place in the industry.
Why do we Use IoT Analytics and its Real-World Applications?
It is a field of data science where data from sensors and connected electromechanical systems are analyzed and converted to valuable business insights. Industry grade IoT applications are called as IIot(Industrial Internet of Things).
Let's see the Industrial applications of IoT analytics.
1. Manufacturing Industry
It has been changing the industry landscape for manufacturing sectors. Smart sensory data are used to prevent faults or breakdowns, requirement analysis, and resource optimization. IoT solutions help organizations in smart asset management, performance monitoring, which reduces asset downtime and increases hardware longevity. It also enables manufacturers with a lower time to marketability and large-scale customizations. For example, IoT helped bike manufacturer Harley Davidson to reduce the time to produce a complete bike from days to hours.
2. Healthcare
The popularity of smart wearables is increasing day by day. This enables researchers with more and more data to incorporate IoT solutions. Data from wearables are used to prevent heart attacks. IoT-based solutions with nanotechnology are even used to monitor cancerous cells inside the body.
3. Home Automation
Switching on the air conditioner before arriving home or switching off lights from a different location is no longer science fiction, It's already commercially available. IoT analytics is used to make decisions and optimize power consumption automatically. Google Home, Amazon echo, etc., are examples of some of the IoT-based home automation devices where analytics and machine learning are used heavily.
4. Automobile and Transportation
In the internet era, automobiles are also considered gadgets where upgrades can be made on-demand. They are being used for collision prevention, smart parking, and even for self-driving cars. The whole research area of self-driving cars is based on deep learning models based on data obtained from IoT devices like LIDERs and image sensors.
5. Insurance
As an Industry, Insurance seats on a gold mine of data, insurers slowly started adhering to analytics in their industry solutions. As per the Gartner report, it will change the industry landscape by 2020. IoT solutions can be used for automated claims processing, automated reserve setting, damage assessment, etc. In the case of automobile claims, image data based on deep learning solutions are incorporated.
6. Weather Forecast
One of the most important use cases of it is in weather forecasting. Weather stations and satellites collect atmospheric data every second. This data can be used to forecast extreme weather conditions like floods, drought much earlier. IoT solutions are also being used for automatically controlling the water levels in dams.
7. Energy Sector
It is helping energy sectors with valuable insights on power consumption, automated hardware maintenance, dynamic pricing, etc. The traditional power and energy sources and comparatively newer sectors like solar energy, wind energy, and waste recycling are getting benefited from it.
8. Telecommunication
The hardware deployment and maintenance cost for the telecommunication sector is always a pain for the telecom industry. It is helping telecom players to analyze bandwidth consumption, tower management, fault analysis, automated hardware maintenance with very little or no manual interference.
Trends
After the .com boom and the rising of connected devices, the use of it is also increasing. Let's take a look at the worldwide google trends on IoT analytics from 2004 to 2019.

Typical IoT Analytics Flow
Typical analytics use the following steps:
1. Data Collection: A collection of data from IoT sources like audio, image, light sensors. Handling streaming data is a great challenge for IoT applications.
2. Preprocessing of Data: The preprocessing of collected data is a tricky part of machine learning use cases. Suppose the feature engineering for heartbeat sensor data will be much different from the data collected in weather stations. But that's where the art part of data science/Analytics lies.
3. Analyzing Data: Thorough exploratory data analysis is done in this step of the IoT analytics use case.
4. Train and Test: After preprocessing, and EDA, various machine learning and deep learning models are trained as per use case and business requirements. Business and technical KPIs are decided upon a case basis. Based model is chosen through cross-validation, and offline and online testing is performed.
5. Deployment and Prediction: This is the part where systems act upon the insights gathered from the analytics solution. Based on the model performance, it is retrained or recalibrated.

The flow of a typical IoT analytics use case.
Conclusion
This article discussed the high-level view of IoT analytics, its industrial use cases, global trends in IoT analytics, and sample workflow of an IoT analytics use case. Despite the increasing demand and applications of it, there is another face of it. The concern of privacy can not be denied at all. Strong and balanced data governance is needed to build and maintain a sustainable end-to-end IoT ecosystem.
Recommended Articles
This is a guide to IoT Analytics. Here we discuss the introduction and the use of IoT Analytics and its Real-World applications. You can also go through our other suggested articles to learn more –