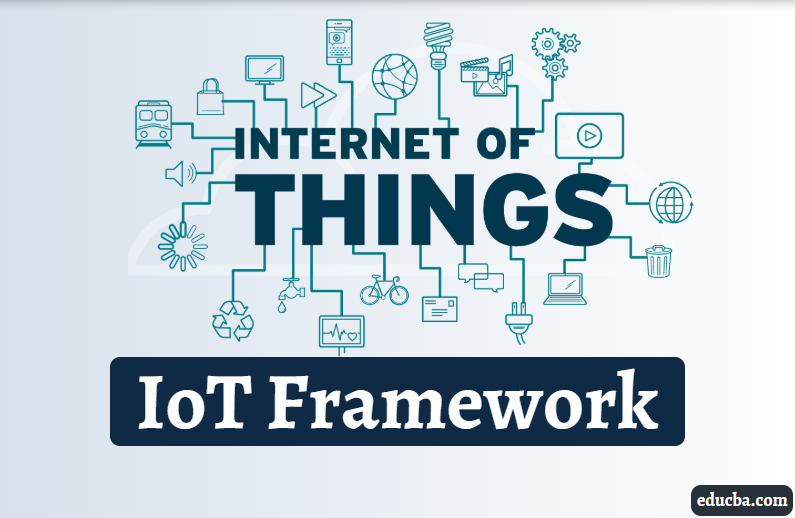 Overview of IoT Framework
IoT (Internet of Things) is a network of devices which are connected to the internet for transferring and sensing the data without much human intervention, the framework used to this is termed as the IoT framework, this framework consists all the required capabilities for the cloud support and other needs which is needed to satisfy the IoT technology, few of the common IoT frameworks that are used frequently are KAA IoT, Cisco IoT Cloud Connect, ZETTA IoT, SAP IoT, IBM Watson, Hewlett Packard Enterprise, etc
What is the IoT Framework?
IoT is a key part of a large IoT ecosystem, which promotes and links all elements in the scheme. It allows device management, handles communication protocols on software and hardware, collects / analyses information, improves information flow and intelligent apps functionality.
List of IoT Framework
Now we will discuss the IoT Framework one by one
1. KAA IoT
Kaa IoT is one of the most effective and rich Open Source Internet of Things Cloud Platforms, where anyone can freely implement their smart product concepts. You can manage an N number of devices connected to each other with cross-device interoperability on this platform. You can monitor your machine in actual time by providing and configuring remote devices. Kaa enables information exchange between linked devices, the IoT Cloud, information and visualization systems, as well as other elements of IoT Ecosystems
2. Cisco IoT Cloud Connect
Cisco IoT Cloud Connect provides robust, automated, and highly secure connectivity for the enterprise. IoT data management is done by the Cisco Kinetic IoT platform to extract, move and compute the data. As Cisco is very famous for its security services, it protects IoT deployment against threats with a secure IoT architecture.
3. ZETTA IoT
Zetta is nothing but a server-oriented platform developed based on the REST, NodeJS, and the Siren hypermedia-API-strip flow-based reactive programming philosophy. After being abstracted as REST APIs they are connected with cloud services. These internet services include tools for visualizing machine analytics and support such as Splunk. It builds a gero-distributed network through connectivity with systems like Heroku to endpoints like Arduino and Linux hackers.
4. Salesforce IoT
Salesforce is power by thunder. Thunder allows companies to unlock earlier unseen ideas and allows anyone to take proactive, personalized activities from any device to bring their clients closer than ever. More than 150,000 clients worldwide were held by Salesforce. Salesforce has a 19.7% market share in the globe of CRM. SAP (12.%1), Microsoft (6.2%), Oracle (9.1%) are far behind its nearest rivals. Many businesses now develop their apps or migrate to Salesforce on the Salesforce platform. This has raised demand for developers and administrators from Salesforce.
5. DeviceHive IoT
DeviceHive is another rich IoT open-source platform that is distributed under the Apache 2.0 license and can be used and changed free of charge. It provides deployment options for Docker and Kubernetes and can be downloaded and used both by public and personal cloud. You can run batch analysis and machine learning above and beyond your device information. DeviceHive supports several libraries, including Android and iOS.
6. Oracle IoT
We surely include Oracle, a worldwide software company known to offer its top level of solutions in database management, and business software, as we compare the top Internet-of-Things platforms. Oracle offers its flexible environment outstanding company possibilities to create company applications. Oracle supports the processing and builds large-scale IoT networks with very wide data. The use of advanced security systems to protect IoT systems against external threats is another worth mentioning. Since these systems usually have different devices, some of which have no security tool, it is not sufficiently justifiable to implement centralized security measures.
7. SAP IoT
The SAP Internet of Things cloud platform has everything you need to build and handle an IoT application. The SAP platform provides a convenient environment to remotely manage and monitor all connected devices of your IoT system. In the SAP Platform a remote-devices we can connect directly or through cloud service. Obviously, SAP can use IoT information to create machine learning and artificial intelligence applications while maintaining recent technological trends.
8. Microsoft Azure IoT
Without the Microsoft Azure solution, a cloud service giant with AWS and Google Cloud platform, the comparison of our IoT platform will be not complete. The Microsoft Azure IoT Suite provides preconfigured solutions and the ability to personalize and develop new solutions to meet the project requirements. The strongest safety mechanisms, superb scalability and simple integration with your current or future systems are achieved through Microsoft Azure Internet of thing Suite.
9. Google Cloud Platform – IoT framework
Things can be done by Google. Google Cloud is one of the best IoT systems available today with its end-to-end platform. Google stands out from the others because it can process the large quantity of information using Cloud IoT Core. Due to Google's Cloud Data Studio and Big Query you get advanced analysis. With the help of Google Cloud Platform, you can accelerate your business and with that, you can speed up your device.
10. IBM Watson – IoT framework
We can not expect the Big Blue to miss the chance to make a difference in the IoT segment. IBM Watson is very popular among the internet of thing platform among developers. The Bluemix hybrid cloud-supported Watson IoT platform allows developers to use IoT-applications easily. IBM Watson manages the secure communication and also data storage. Real-time data exchange also is done by IBM Watson.
11. Hewlett Packard Enterprise – IoT framework
Hewlett Packard Enterprise's universal business platform offers scalability for its customers by offering solutions to most of their problems. The platform provides cloud-based assistance or local support. In smart cities and the automobile industry, HPE universal of things platform was used properly. The data monetization of several businesses has been carried out by HPE. Hewlett Packard Enterprise Collects analyzes information in order to grow the company. In the Hewlett Packard Enterprise M2M device management in Single point, Single seller.
12. DataV by Bsquare – IoT framework
The next cloud platform is DataV by Bsquare. The company is working with the best in the company, including Google, Amazon web services, and Microsoft. Bsquare takes its services seriously and has introduced the DataV application, the hybrid framework for managing your services. It offers a variety of services that predict and analyze all of your ecosystem problems. It Improves the condition maintenances.
13. Mindsphere by Siemens – IoT framework
Mindsphere from Siemens provides a cost-effective platform as a service that is ideal for application development. The cost-efficient platform allows you to connect all your appliances to a cloud solution. In accordance with the DIn ISO / IEC 27001 standard, Siemens claims every stored information is strictly confidential. You can choose open interfaces and local connectivity from the business. Allow you to regulate machine information in order to open fresh opportunities.
14. Ayla Network – IoT framework
Ayla networks have developed their platform as a solution for enterprises. Agile Ayla networks have been established to support customers with the smooth establishment of services, not only to develop the product. In addition to the Ayla agile platform, AMAP is an agile mobile app platform from Ayla that develops and guides consumers through app development.
15. MBED IoT Device platform
The open-source service is available on the Apache 2.0 Arm MBED computer platform. It involves cloud services, developer tools, and operating systems, that facilitate the creation and operation of business goods. The service is designed to simplify users ' processes. MBED OS was designed to connect all your devices as an open-source platform. The platform provides services from over 60 partners and free access to a community of 200,000 designers. You can flexibly access MBED club service
16. Amazon Web Services (AWS) IoT framework
Amazon Web Services (AWS) is an IoT platform provided by Amazon. This IoT platform provides cloud computing, database, and security services through the AWS Console. There are so many other services such as Regions, Availability Zones, and Virtual Private Clouds (VPCs). It helps to ease out the improving durability, distribution, availability of the application. It provides Registry for recognizing devices, Secure Device Gateway, Compatible Software Development Kit for devices which AWS partnered with HW manufacturers like Intel, Texas Instruments, Broadcom and Qualcomm.
17. Mocana – IoT framework
The final one on the list is the Mocana company's safety platform. The platform seeks to provide industrial IoT devices and clouds with security. The company provides currently more than 100 companies with services.
18. RTI IoT
RTI is one of the IoT platforms that is the oldest and most pioneering provider and also it is the Most Influent Industrial of the internet of thing firm. Connext DDS is built especially for smart computers and their corresponding cyber-physical systems. Connext DDS does not require response brokers, directory services, servers, as well as administration, unlike messaging middleware designed mainly for IT systems.
Conclusion
IoT is a key part of a large IoT ecosystem. IoT promotes and links all elements in the scheme. We have seen different IoT Platforms which are helpful for You can choose given IoT Platforms as your requirements. It will absolutely help you.
Recommended Articles
This is a guide to IoT Framework. Here we discuss the basic overview and list of different Iot Framework which are helpful. You can also go through our other suggested articles to learn more –