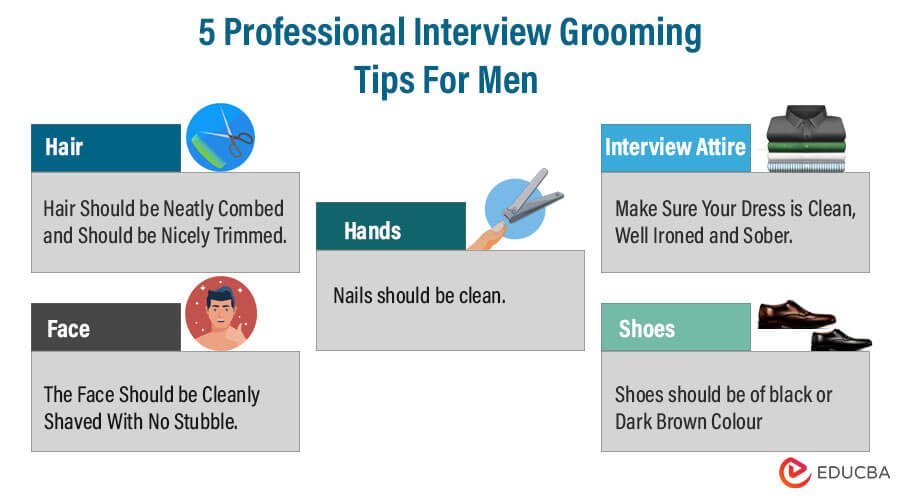 "Your appearance should say what you

Want others to know about you"
Interview Grooming Tips –
The day before the interview is indeed hard. You have to be prepared with your basics and fundamentals. But you are not just judged on your knowledge. Your appearance also forms an important part of the process. What you wear makes the first impression when you enter the interview room. So let's analyze some of the important points that you must keep in mind before going for an interview. Here are some Interview Grooming Tips for you!
It is important that your first impression on the interviewer is as good as the process of judging starts as soon as you enter the interview room. Here are some important grooming Tips and Tricks for Men which should be followed before going to an interview. Some of these tips can also form part of your daily routine.
Wear formal clothes.
Avoid use of strong perfumes as many people can be allergic to them.
Your hair should be well shampooed. Avoid oily hair.
Bring a professional looking folder to carry your Mark sheets, Resume and Certificates.
Keep your cell phone switched off or in silent mode.
Interview Grooming Tips – Standards for men
Hair
Hair should be neatly combed and should be nicely trimmed. 
Face
The face should be cleanly shaved with no stubble.
Moustache must be well trimmed.
Beards should be avoided except in cases of religious reasons. 
Hands
Make sure that you wipe your hands if sweaty before entering the interview room.
Nails should be clean.
Interview attire
The following Formal attire should be followed to get a Professional look for an interview
Make sure your dress is clean, well ironed and sober.
Wear formal trousers. The best colours to go for are black and blue.
Wear a full sleeved pastel colour shirt with a contrasting tie
The shirt pocket should not be loaded with stuff.
You can wear a business suit or a formal blazer. 
Shoes
Shoes should be of black or dark brown colour
Should be properly polished before.
The colour of the socks should match the colour of the trouser; preferably black socks should be worn.
Laces should be tied neatly and avoid shoes without laces.
This article on Interview Grooming Tips provides you with some good grooming tips for men. In the next article, we will provide some insights on Interview Grooming Tips for women.
Recommended Articles
Here are some articles that will help you to get more detail about the Professional Interview Grooming Tips so just go through the link.