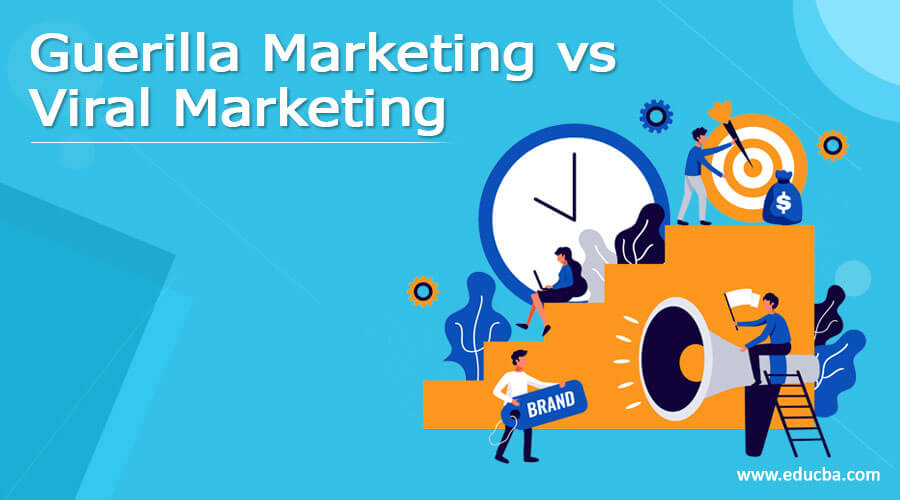 Introduction to Guerilla Marketing vs Viral Marketing
Guerilla Marketing vs Viral Marketing – It is not quite uncommon to find words or terms from other disciplines to enter management domain-ambush, strategic and tactical marketing, guerilla marketing are all from the fighting or war fields and terms such as viral marketing were inspired from the world of medicine and information technology (IT).
Traditional media such as television, newspapers, magazines and radio are more focused on creating brand awareness through good quality creative and some may have used animation and humor to attract readers and viewers. But the primary purpose was to create brand awareness and result in increased sales but not with the purpose of engaging or entertaining consumers.
With increasing competition, recessionary conditions, tighter marketing budgets for small and medium enterprises, marketers needed to innovate with cost effective tactics to get noticed and two such strategies are:- guerilla marketing and viral marketing, both of them are quite unconventional. They are attention seekers and their success depends on how sooner they are talked about either by word-of-mouth or shared through social media.
Guerilla marketing

The term guerilla marketing was coined by Jay Conrad in his 1984 book, Guerilla Advertising. It was borrowed from guerilla warfare adopted by armed civilians. It is quite irregular warfare that includes ambushes, sabotage, raids and elements of surprise.
Guerilla marketing also is unconventional, takes on the competition head on and there is always an element of surprise awaiting the targeted consumer. However, lot of care has to be exercised in guerilla marketing campaigns as it could backfire if the people and the regulatory agencies fail to understand the creative spirit and humor behind it by taking it too seriously.
What comes to mind is the 2007 Boston bomb scare created by Turner Broadcasting to promote a film featuring a Cartoon Network show called Aqua Teen Hunger Force. Turner Broadcasting employed Interference, Inc. They placed LED placards resembling the 'Mooninite' character of the cartoon show in Boston, Massachussets and surrounding cities. The placards would light up only in the night with 'Mooninite' character putting up his middle finger. The devices had resemblance to explosive devices and that caused a scare. It turned out to be a costly exercise as Turner Broadcasting and Interference Inc., had to incur $2 mn for the campaign.
If used wisely guerilla marketing can pay rich dividends as happened in the case of The Blair Witch project.
The graduates of the University of Central Florida Film program set up an internet campaign to spread rumors about the fictitious legend of 'Blair Witch' through a web site. It said three student film makers had disappeared in the woods near Burkittsville, Maryland while shooting a documentary and three years later the footage was found. The campaign created a sensation even before the psychological horror film was ready for viewing and it grossed $248,639,099 worldwide. Recently, in London Orangetheory Fitness Canada put up orange painted bicycles in London but they created the feeling about the so-called ghost bikes displayed as memorial s to cyclists hurt or killed on city streets.
Following protests in social media, the London franchisee of the Florida based firm withdrew the campaign. However, the campaign had worked in 98% of the markets they tried, according to Hifa Maleki, Senior Director of Orangetheory Fitness Canada. It was successfully done in Chicago, Vancouver, Seattle, Barrie, Newmarket and Waterloo.
In 2011, Coca Cola truck roamed the streets in Rio De Janeiro, Brazil and onlookers who pressed a special red button got special gifts. It ranged from a beverage to a surfboard spreading happiness around.
Viral Marketing
Just a virus spreads fast in a human body when immune system gets weak or in computer system when a user accidentally runs an execute program containing a virus software, viral marketing tries to spread a message, idea or image that contains a branding communication to as many people through social media and by getting a place in newspaper columns and electronic media.
To become viral there should be humor, a human interest element, surprise or some sensational content for it be shared and be called 'viral'. The most quoted viral campaign is the ALS Ice Bucket challenge. People had to pour a bucket of ice water on themselves, capture them on video and tag friends to join in. Soon celebrities like Bill Gates, Mark Zuckerberg and Martha Stewart among others endorsed the campaign meant for charity.
In the Old Spice campaign, a handsome man talks directly to women, 'your man could smell like me' which went viral with its cool, sexy tone. The Samung's LED TV campaign putting LED lights into sheep creating works of art drew 19 million views on the strength of its novelty.
Recommended courses
Comparative look at Guerilla and Viral Marketing
Guerilla and Viral marketing fall in the realm of unconventional marketing technqiues adopted by companies to get noticed. Sometimes it is used as a compliment to its mass media campaigns but for small and medium enterprises with lower marketing budgets, these unconventional methods may be the ticket to enter the big league.
Here is an attempt to find out the similarities and differences in Guerilla and viral marketing.
1. Surprise and bewilderment
Guerilla and viral marketing campaigns get better results on its ability to spring a surprise and awe for the viewers. Renault tried out a novel campaign in Belgium when it launched its new car Megane. Instead of featuring its new model in YouTube which may not be noticed much except by car enthusiasts, Renault went for getting real life experiences with its car. They placed camera and facial recognition software in Renault Megane, the first car in the world to detect real views. The campaign encouraged consumers to get rewarded for their attention by visiting a special site and predicting the real views on the car to win a ticket for Grand Prix F1.It attracted attention, increased traffic to site and engaged consumer interest. The most quoted viral campaign of Red Bull energy drink is another case of bringing surprise, shock into marketing. Their video showed Torro Rosso's F1 car being dropped by a helicopter into a ski slope and then raced. Torro Rosso's cars do not win raises but grab attention by shock and bewilderment which the markets really want.
Similarly, on October 12, 2012, Red Bull energy drink again stole the limelight when it made extreme athlete Felix Baumgartner set a world record for the highest skydiving jump at over 128,100 feet into the stratosphere. Red Bull got the much needed attention getting eight million confirmed views on YouTube. Or James Bond stopping fight mid-way for a refreshing sip of Heineken.
2. They are more suited for small and medium businesses
The growth of guerilla and viral marketing had much to do with its cost effectiveness. For a viral marketing campaign to be successful – sometimes all that was required was an amateur handycam, a mobile camera and some presence of mind to get the event as it happened and spreading it on YouTube and social media. It can be a great way to get noticed, distinguish from the competition, standout for the fun and entertainment value that it generates. However, Samsung, Red Bull, Turner Broadcasting, Vodafone, Coca Cola are in this game from time to time and hence quite universally applicable for small, medium and large companies.
3. The campaign should not offend cultural sentiments
The Orangetheory Fitness Canada franchisee in London had to backtrack on its orange cycle campaign as it began to be equated with the placing of cycles in memorial of dead cyclists. Although this campaign was successful in a some other markets, it received criticism in social media in UK. Therefore, the cultural context, local religious and ethnic differences can have an impact on the success of a viral and guerilla campaign. In US several liquor brands that created a sensation by branding it in names of Hindu gods had to be recalled due to popular discontent among large sections of Indian immigrants.
4. They reflect real life, most events on the road, air or water
Unlike the mass media campaigns which are scripted, shot in studio settings and edited, the unconventional marketing such as guerilla, viral are all unscripted or loosely scripted with only the strategy worked out in detail. Red Bull campaigns all happened in the air, Coca Cola campaigns on the street. It's happiness machine dispensed more than just cola at St John's University in January 2010. It had hidden cameras that captured the relation of students which went viral when put on YouTube with 4.5 mn views. It won the prestigious CLIO Gold Interactive Award.
5. There should be a brand connect
When we hear about several success stories in unconventional marketing campaigns, we also don't hear about several failures in this domain. Humor, surprise, bewilderment and shock will not bring the desired result if there is no connection with the brand being promoted. Humor may be enjoyed for the sake of it but not result in increased sales.
In UK, Kellog's 'ReTweet to Feed a Hungry Child campaign failed and the company had to apologize. The company was involved in charitable activities and known for it, yet people thought it was just a viral campaign that held the hunger of children hostage.There was no inherent message or brand connect that consumers could appreciate.
6. Involvement of people important
In Viral and Guerilla campaigns the involvement of the people in the street is more important than anything else. A New York city based Pretzel Company that makes sandwiches hit on a novel campaign by placing tiny sandwich boards around town announcing the new menu item. This encouraged people to take pictures and share them on social media. In the process, they earned discounts for their sandwich purchases. It was so successful that sandwiches are now a hotselling item for Pretzel.
7. It's not about money alone, but a noble cause
As the ALS Ice Bucket challenge shows, viral campaigns can be really good for a noble cause and you can rally celebrities to endorse it. Likewise, the Medecins Du Monde campaign pulled of one of the cleverest and most altruistic grassroots marketing efforts by highlighting the plight of homeless in Paris. The humanitarian organization distributed 300 'two second tents' to destitute Parisians sleeping outdoors. The prefab shelter with Medecins du Monde logo drew attention to the number of homeless and authorities acted quickly to approve $10 mn for emergency housing. During one of the worst floods in history in south Indian city of Chennai, Ola Cabs ferried boats to transport people stranded in different places and also for emergency relief. This was covered in television and newspapers giving the much needed branding image for the taxi cars operator.
8. No formula for success
All forms of unconventional marketing have no success formulas that can be uniformly applied. The outcome is unpredictable and a lot depends on the creativity behind it and the cultural context in which it is deployed. However, it can save a lot of money on advertisement costs and perhaps provide better return on investment (ROI). According to Ryan Lum, founder and editor of Creative Guerilla Marketing, America spends $250 bn on marketing and advertising every year. In this context, unconventional methods such a guerilla marketing is advertising with a wink, its dirt cheap and full of trickery.
Conclusion
The guerilla campaigns may be more about an event on the streets and its response via word-of-mouth and social media but viral marketing heavily depends on the social media to get noticed.
Sports events, films, favourite tv commercials and trade shows become favourite places for brands to launch innovative campaigns. PRWeek reported that this year's Super Bowl will be no exception. Outside of US, UK is the country tweeting most about the event. From the marketing point of view its reach has become phenomenal but not as much as the $3.2bn global tv reach of the soccer World Cup. It could emerge as an event that could witness several unconventional marketing strategies such as guerilla, ambush, viral among others.
Recommended Articles
This is a guide to Guerilla Marketing vs Viral Marketing. Here we have discussed basic concept, similarities and differences in Guerilla and viral marketing. You may look at the following articles to learn more –