Updated April 20, 2023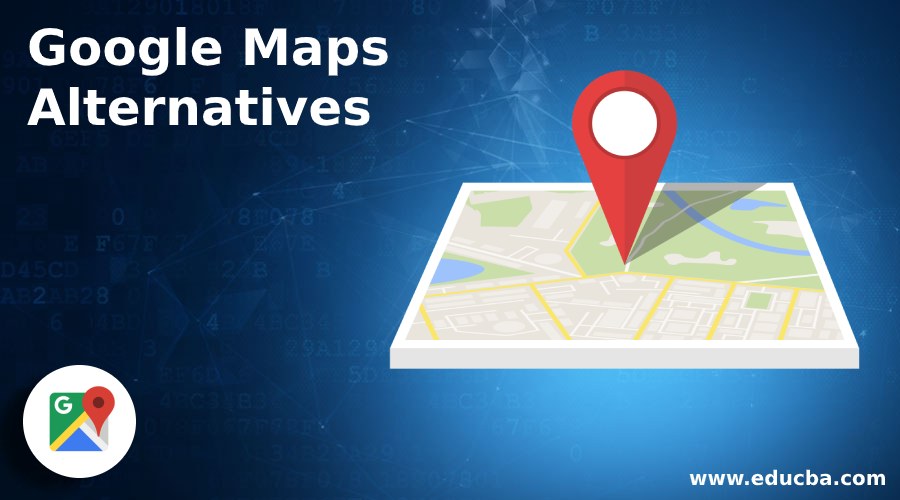 Introduction to Google Maps Alternatives
Google Maps Alternatives is a great tool for navigation and mapping, but for a number of reasons, there are actually many Google Maps solutions. How you want to plan your trips and how you use your maps is a total dependency on your preference. Do you want to plan your trips at home on the computer or do you plan and navigate most of your trip from your phone?
Various Alternatives to Google Map
Below are the alternatives to Google Map:
1. Pocket Earth
This map application for the only iOS uses specific information from OpenStreetMaps to provide up-to-date global navigation. Offline maps can mainly be downloaded and large organizational instruments are available for clustering, such as pins. There are many layers and information about how you can add Pocket Earth and how much detail is shown in your maps. The Wikipedia layer is a real bonus that links your map to an online encyclopedia for a number of points of interest.
2. Citymapper
Citymapper's scope is narrower than Google Maps, but its only job is better than any app. The map demonstrates how many of the world's best cities can be accessed by bus, subway, tram, and other public transport. This is a public transport map. The App maintains a state-of-the-art database with prices and notifications of every public transit route in its supported cities that lists your favorite destinations for your visit.
3. Bing Maps
Have you noticed that Google is as old as Bing Maps? Hey, the Microsoft-owned map service was initially known as MapPoint until it took its most capturing name. It offers many features, including traffic overlay and 3D views. Traditional mappers or those working in city planning have the complete regulator survey chart of the UK. Bing often chooses different routes from Google, which is usually the best way for Google to compare when it comes to planning travel. But Bing is worth a visit if you're looking for additional features like 3D views and OS maps and extensive street-view response.
4. BackCountry Navigator
Found in the middle of Lord Knows Where in a Canadian forest may be on the mountainside or through the thick woods. Google Maps isn't going to help much, as the topography of the country is not accurate like BackCountry. This map has been designed for hikers and outdoor types and uses GPS points of the way to do things such as entering the position coordinates for longitude/latitude. You are a key supporter when in nature, relying on highly detailed maps from several well-known sources including USTopo, OpenCycleMaps, and even nautical maps from the NOAA RNC.
5. Navmii
Navmii is a rich navigation and map service that serves over 85 countries. It provides everything, such as turn-by-turn navigation, bookmaking, locations closest to you, and search and satellite views. Alerts include speed limits, speed cameras, traffic, construction sites, slowdowns, etc. All of this is even better with community updates from other users of Navmii. In collaboration with TripAdvisor, Foursquare, and What3Words, Navmii also offers personalized search services. Other features are Google Street View, ETA, HD mapping, automatic re-routing, and full offline browsing. My favorite is driver measurements on your phone for your movement and GPS sensors! Google Street View is also available.
6. MapQuest
For Google Maps, MapQuest is one of the great alternatives, especially when traveling with public transport. Local services like car2go routes or Uber can be comparable to book cars from the web. It also provides immediate updates of all local transportation options in your area. It will show you how many calories you eat if you want to go to different places.
7. Maps.me
It's a lovely one now. Maps.me has everything you want from a map app — transport information, bike navigation, public transport, name it. However, contrary to many other apps on the map, Google Maps is also good for letting you download offline maps – useful when traveling through foreign cities or on the web. In any form of scenario, it's perfect. When you visit a town, it shows all that you have to see, while walkers often profit from the wilderness, as it has a daily update on a database of walking trails around the world. You can make a bookmark and send it to a friend once you have planned your trip or walk.
8. OsmAnd
The inclusion of offline maps, which makes it possible to find your way anywhere in the world – regardless of signal, is one of the most important features of this powerful open-source navigation app. The maps are very accurate, reminiscent of the esthetics of the maps of Ordnance Survey, and regular updates make you never outdated.
Conclusion
Most of the above requests are focused on providing up-to-date local information compared to the major G-Maps.  So in this article, we have seen various alternatives to Google Maps. You can choose any of them based on your requirements. I hope you will find this article helpful.
Recommended Articles
This is a guide to Google Maps Alternatives. Here we discuss an introduction to Google Maps Alternatives with 8 different map alternatives. You can also go through our other related articles to learn more –