Updated June 17, 2023
Introduction to Google Alternatives
Google alternatives are private search engines with better privacy controls and are more accessible to a non-English market.
Google's search engine is excellent for many things. But regarding your privacy, there are better safe search engine options. Google is one of the most tracking search engines out there. This is why there is an increasing demand for Google alternatives on the web. If you're looking for alternative search engines besides Google that don't track you, we have listed 16 of the best private search engines to consider.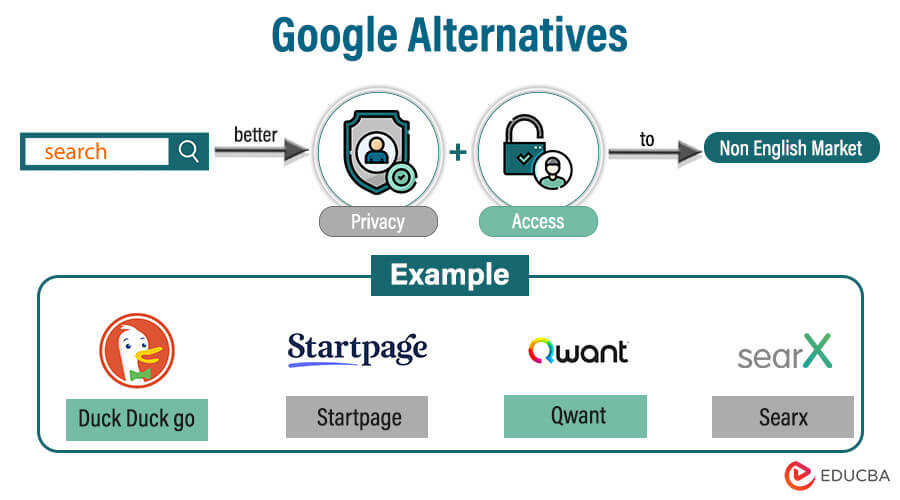 Key Highlights
Google alternatives are search engines that one can use if one prefers something other than working with Google.
These alternatives are safer to use and have features that might be lacking in Google.
Private search engines allow users to search the web without risking their private information to be monitored.
Many prefer to use private engines because they have all the features of a public search engine and the benefit of privacy.
Qwant, Searx, Gibiru, and Yippy are examples of Google alternatives.
What is a Private Search Engine?
A private search engine is a tool that allows users to search online and access information without having their data tracked or monitored.
You can see this site to learn more about private search engines.
It works by masking the user's IP address.
Therefore, their personal information can't link to their searches.
Why Use a Private Search Engine?
Private search engines are becoming increasingly popular.
It is for users who want to protect their data and browsing activity.
Using these can ensure that your personal information is safe from prying eyes.
These search engines provide users with the same level of search experience as public search engines but with the added benefit of privacy.
List of Google Alternatives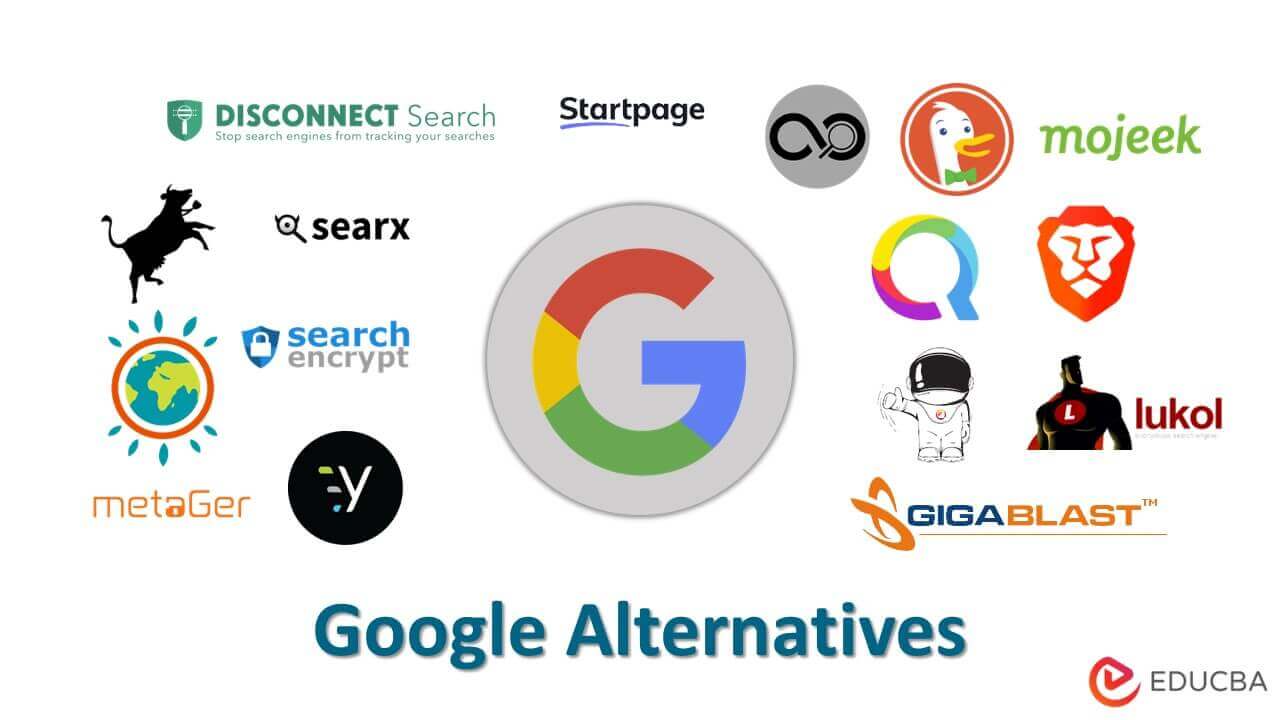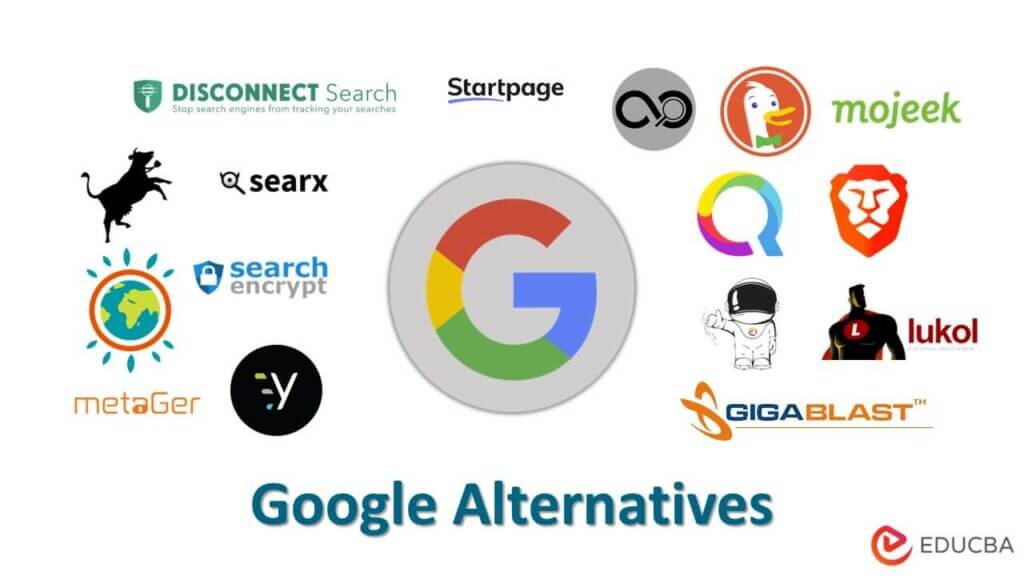 #1 DuckDuckGo
DuckDuckGo is the Google alternative you've been looking for.
Forget about intrusive tracking, data profiling, and targeted ads.
DuckDuckGo offers a safe, most private search engine browsing experience that doesn't compromise your online safety.
With enhanced security protocols and no user profiling, DuckDuckGo provides fast and accurate search results without tracking.
#2 StartPage
StartPage is a search engine that is not like Google. It is one of the best Google alternatives that one can use in 2023.
It offers search services without personalizing search results and tracking you.
StartPage works on encrypted search engine technology to ensure the privacy and safety of the user.
With StartPage, your search history, IP address, and personal information remain anonymous and private.
#3 Qwant
Qwant is a search engine that provides the same search capabilities as Google, without tracking your search history.
It is an encrypted search engine that actively ensures your search remains private and secure while providing relevant search results.
Qwant also has proxy search engines that allow users to search from anonymous IP addresses.
With its cutting-edge technology and high-level encryption, Qwant ensures that all search requests remain anonymous and secure.
#4 Searx
Searx is an open-source search engine and metasearch platform.
It combines results from numerous search engines, including popular search providers like Google and Bing.
Unlike many search engines, Searx does not track or store user data.
This makes it an excellent option for those looking for search engines other than Google that doesn't track you.
#5 SearchEncrypt
SearchEncrypt is the most private and secure search engine available today.
It is a Google alternative that offers users a safe and encrypted way to search online, protecting their data from prying eyes and providing a more secure browsing experience.
With SearchEncrypt, users can rest assured that their searches are entirely anonymous.
It has cutting-edge encryption algorithms to ensure a confidential browsing experience for users.
#6 Gibiru
Gibiru is the most secure search engine available today. It is a great Google alternative.
It gives its users a truly anonymous and secure online experience.
Gibiru leverages cutting-edge technologies to ensure that all searches occur in complete privacy.
With multiple layers of encryption, Gibiru ensures that nobody, not even the company itself, can access the data.
#7 Yippy
Yippy is one of the safe search engines that put your privacy first.
It guarantees no tracking.
Yippy utilizes safe and secure search technologies.
With Yippy, you can search for anything you want without worrying about your personal information or browsing history getting tracked.
#8 Ecosia
Ecosia is a safe and secure search engine that offers safe, no-tracking searches.
It is among the most popular safe search engines on the internet.
It has an ever-increasing user base of individuals and businesses who value their privacy when searching online.
Unlike other search engines, Ecosia does not collect or store users' information.
#9 Swisscows
Swisscows is a safe search engine that respects your privacy and data.
It provides enhanced security through its secure connection.
This allows users to browse the internet without being tracked or monitored.
It is completely decentralized, meaning no single entity, such as a government or corporation, can control it.
#10 Mojeek
Mojeek is an encrypted search engine that provides users with one of the most secure and private search experiences.
Unlike major search engines, Mojeek's encrypted searches are not accessible to other companies or government organizations.
This ensures that all user data remains confidential and secure.
#11 MetaGer
MetaGer is a secure encrypted search engine that ensures online privacy when searching the internet.
It provides maximum anonymity and security to its users.
It is one of the most secure search engines available.
Its unique encrypted search technology ensures that all searches remain encrypted, preventing them from being tracked or logged by any third party.
#12 Disconnect Search
Disconnect Search is a proxy search engine that provides safe and secure browsing for everyday users.
Its easy-to-use interface allows users to search without fear of privacy intrusion or security breaches.
With Disconnect Search, all web traffic is through proxy servers.
This way, users can remain anonymous and keep their data safe from prying eyes.
#13 Brave
Brave is a proxy search engine that provides safe and secure browsing experiences.
It protects users from malicious websites, viruses, and other online threats.
Brave also provides advanced filtering tools that allow users to customize their web filtering preferences for even greater security.
Brave is an ideal choice for anyone looking for search engines other than Google that don't track you.
#14 Lukol
Lukol is one of the most private search engines available today.
It is a safe search engine that does not allow explicit content on its results pages.
This provides users with a safe online experience. This way, it is a useful Google alternative for everyone.
With its secure encryption protocols, Lukol ensures complete user privacy without tracking from third-party sources.
#15 Infinity Search
This Google alternative has quickly become the most private search engine available online.
It ensures that users get complete anonymity when searching online.
This is done by not tracking IP addresses, location data, or search history.
Infinity Search's advanced encryption and decentralized database system ensure secure and anonymous searches.
#16 Gigablast
Gigablast is the most private search engine available today, offering users optimum levels of privacy and security.
It is the most advanced search engine in the world.
Gigablast allows users to be completely anonymous while searching for anything online.
The advanced security protocols that Gigablast uses ensure that no one can track users' data.
Final Thoughts
Google is great, but there are other search engines on the block. Many Google alternative private search engines might better fit you, depending on your needs. We've found the 16 best Google alternative private search engines so you can explore your options and use the one that works best for you. Happy searching!
Frequently Asked Questions(FAQs)
Q1. What is the safest search engine in 2023?
Answer: Startpage can be considered one of the safest search engines in 2023 because of its high-quality encryption. DuckDuckGo is also another such secure search engine to use. Both of these search engines work as great Google alternatives.
Q2. What is the best search engine to replace Google?
Answer: There are many Google alternatives on the internet. If you are looking for safer search engines, you can check out options like Lukol, MetaGer, Mojeek, DuckDuckGo, and many more. These search engines use good encryption to ensure your data doesn't leak.
Q3. Does Google own DuckDuckGo?
Answer: DuckDuckGo is an independent private search engine. It works as a good Google alternative. You can experience a safe searching experience with DuckDuckGo.
Q4. What is a google analytics alternative?
Answer: Many platforms give better analytics data compared to google analytics. These platforms are good google analytics alternatives. They are less complicated and don't change constantly. They have many tools that are not available on google analytics.
Q5. What is a Google Adsense alternative?
Answer: OpenX is an excellent google Adsense alternative. It is a programmable ad marketplace that has more than 30,000 advertisers. It also generates over 1 billion bids every month.
Recommended Articles
This article lists the 16 best Google alternatives. Read the following articles to learn more,