Updated June 14, 2023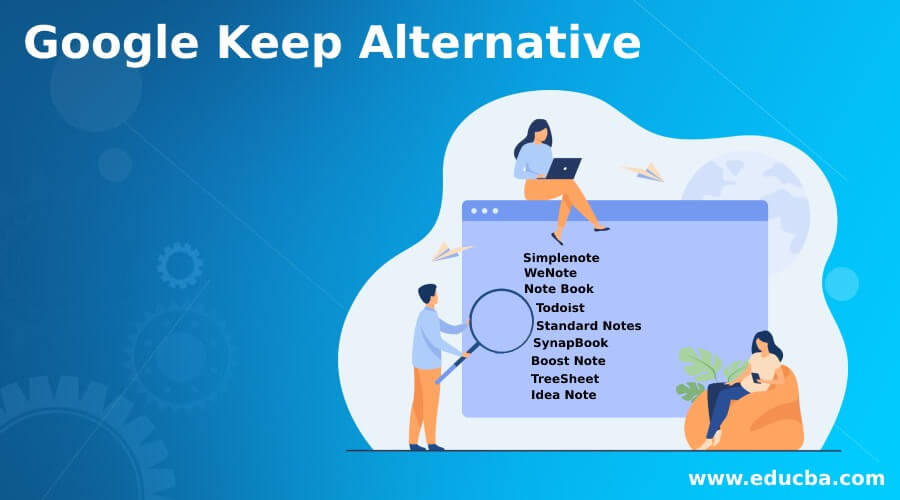 Introduction to Google Keep
The following article provides an outline for Google Keep Alternative. Google Keep, an innovative note-taking application, supports multiple platforms. A user's Google account can automatically save a note to a PC, iOS device, or Mac. Software features include Freehand note-taking, checklists, talk-to-text, and standard typing. Find notes by color or other attributes, such as lists with images and audio reminders, or look at shared notes. Keep will help you find what you're looking for even faster by remembering it.
List of Google Keep Alternative
Given below is the list of Google Keep Alternative:
1. Simplenote
Simplenote, available on iOS, Linux, Mac, and Windows, is one of the best Google Keep alternatives. You can also access it via the web, similar to Keep. This app is unique in that, like Keep, it does not include any unnecessary features. In terms of functionality, it delivers what one would expect from a note-taking app.
They are displayed in a list format with sorting options that can be customized. There's also a theme and font size option. The app also provides a PIN for added security. Others include note-pinning, checklist support, change-history tracking, note-recovery from garbage, and tag support, among other things.
2. WeNote
As Google Keep, WeNote will be a familiar app to many of you. First, you can attach files such as drawings, images, or audio recordings. Your notes can then be colored and labeled. The app's home screen has tabs, which is a slight change from the previous version. These tabs are the labels that identify where your notes are located. More options include sorting, viewing modes, font type, size, and more. Some of the other features include note pinning and reminder support. Unfortunately, even though the app offers Google Drive sync, it is only available on Android.
3. Note Book
There are many similarities between the Zoho Keep and this application from Zoho. Web versions and iOS and Mac versions are available. In contrast, to Keep, this app offers folder support. Folders, also known as notebooks, can be covered. As for the notes themselves, yes, they can be color coded. Notes allow you to attach a variety of file types. Other features include locking, version history, PDF export, reminders, recovering deleted notes, scanning notes, and much more. See a detailed comparison of Google Keep and Pocket.
4. Todoist
In addition to Google Keep, Todoist is the most popular freemium online note-taking app, with more features than the latter. You can take notes online and manage tasks using the same app to stay on top of any project. Cross-platform compatibility means you can start working on Windows or macOS and continue on iOS, Android, or Linux devices after you've stopped working. Among the other features you should try.
5. Standard Notes
The Standard Notes app is the way to go for those who value privacy above all else. The app uses end-to-end encryption and is so strict that it won't let you change your password. Your notes will be wiped clean if you forget them. Windows, iOS, Mac OS, Linux, and the web all support the app. It even has a built-in auto-save option. Reminders, checklists, and attachments aren't supported. Tags, archives, and pinning notes are.
6. SynapBook
Cloud-based note-taking tools such as Evernote, OneNote, Google Keep, and Workflowy can be used with SynapBook. Some of its features have been enhanced and differ from other tools. Quickly sync your knowledge with SynapBook. Mobile phone recording is simple, and PC access is powerful.
7. Boost Note
The online note-taking app Boost Note is ideal for programmers collaborating with remote colleagues on projects. The following are some of the features of this app. A markdown editor with code snippet note-taking capabilities. As well as exporting and saving notes to PDF and Text, it can also save notes to HTML and Markdown formats. You can lock notes, tally words or characters or add tags to notes.
8. TreeSheet
Google Keep, spreadsheets, mind maps, personal information managers (PIM), small databases, outlines, and text editors are all replaced by TreeSheet. TreeSheet is an online note-taking app that you and your team will love after following simple tutorials. The hierarchical Spreadsheet interface is ideal for complex data organization.
9. Idea Note
Those who enjoy Google Keep's voice transcription service will enjoy Idea Note. In this app, voice notes are the primary focus. Otherwise, you'll find that Google Keep is similar to this app.
Floating notes, on the other hand, are a handy feature that is accessible from any screen. All you have to do is swipe from the area where you want to change the color. Further, the app includes features such as pin, archive, remind history, lock, and labeling capabilities. Unfortunately, only image attachments are supported.
Conclusion – Google Keep Alternative
In this article, we have seen various Google Keep Alternatives. You can choose any of them based on your requirements.
Recommended Articles
This is a guide to Google Keep Alternative. Here we discuss the introduction and the list of google keep alternatives for better understanding. You may also have a look at the following articles to learn more –