Updated June 26, 2023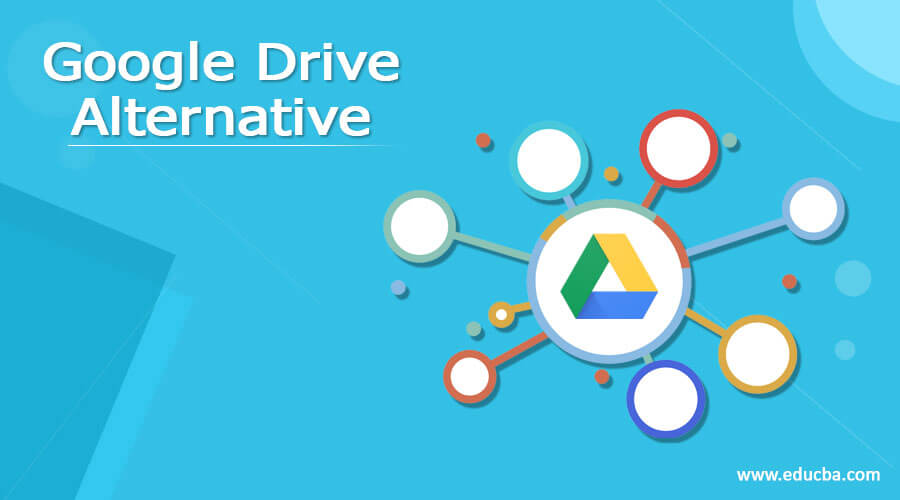 Introduction to Google Drive
Google Drive is a cloud-based storage solution to store and access files online from any smartphone, tablet, or computer. Using a cloud storage service such as Google Drive offers many benefits, such as easy file sharing and remote backups for your files. However, Google's popularity is built on useful collaborative tools and integration into Google's product and service suite compared with competing companies such as DropBox and Apple's iCloud service. Let's have a look at Google Drive Alternative.
Top 7 Google Drive Alternatives
Here are detailed explanations of the top 7 Google Drive alternatives:
1. pCloud
If Tresoritfocuses more on companies, pCloud is the perfect choice for people. It offers easy-to-use encryption software as powerful as Tresorit. Unfortunately, users must pay to access the encryption service, pCloud crypto. The app providers trust it's unbreakable and offer everybody who can decrypt it $100,000. You have even counted the number of people who have tried it so far; nearly 3000 hackers have already tried and failed. They are also serious about your privacy if they say they care.
2. Box
For companies and small teams, the Box is a great alternative. It provides a secure storage platform where your data is stored and offers various cooperation tools. You can immediately create files with Box and share them with your teammates. You can edit and comment in real time on your documents. The box is one of the most integrated applications in this list. Your teammates can edit your documents without leaving the platform with over 1 thousand leading software providers, Salesforce, Office 365, and Adobe Sign. It also offers detailed version monitoring so that each sync and modification you make can be seen.
3. Sync.com
Sync.com is your best bet if you want Dropbox-like, highly secure encryption like Tresorit and plenty of storage. This cloud storage provider puts a directory in your device and uploads all documents to the cloud. You can then synchronize all your files over several devices. It also provides a zero-knowledge and end-to-end encryption policy so that no one, including Syncstaff, can see your files. Up to 2TB of data can be stored for just $8 monthly.
4. Tresorit
Probably Tresoritis among the safest and private providers on the market of cloud drive services. Its main features include military encryption and public-key encryption. This means that your files are encrypted, so nobody, including Tresorit, can read the data stored on their servers before leaving the device. Tresorit relies so much on its encryption that it has offered $50,000 to anyone who can break it down. According to them, there have been and failed over a thousand hackers, Stanford, including MIT and Harvard people.
5. Dropbox
The pioneer of cloud storage, Dropbox, invented algorithms for block-level file transfer, which are now widely used by other cloud storage applications. Using Dropbox, you can have an online folder that syncs all your files automatically to the cloud or use it online. It will transfer the entire file when you first upload something, but only the edits will be synchronized later. Dropbox is a big Google Drive competitor. It is very simple to use, encrypts, and authenticates your data in transit and at rest. The rules on who can share and edit your documents are also much stricter.
6. NordLocker
NordLocker applies the latest encryption to encrypt files stored locally or in the cloud. NordLocker protects your data against any hacking, snooping, and unauthorized access. NordLocker is very easy to use for every level of expertise, just like other NordSec products. You drag and drop, and it will encrypt your file. You can sync files on any computer and fully control who can access them. NordLocker does not share password-protected files to keep them safe and hassle-free. You can send a link to the file and revoke their access whenever possible.
7. Nextcloud
In 2016, developers created Nextcloud, an open-source software that empowers users to run their private cloud storage service. It has features similar to other services like Dropbox. On Linux, you can install the Nextcloud server software without charge and install the custom software on Windows, OS X, or Linux computers. Mobile apps for Android and iOS are also available. Many initial OwnCloud team members have developed Nextcloud as part of the OwnCloud project. The two projects differ but are similar in their interface and licensing agreements, particularly for Enterprise Editions.
Conclusion
In this article, we have seen various alternatives to Google Drive. You can choose any of them based on your reply. We hope you will find this article helpful.
Recommended Articles
We hope that this EDUCBA information on "Google Drive Alternative" was beneficial to you. You can view EDUCBA's recommended articles for more information.